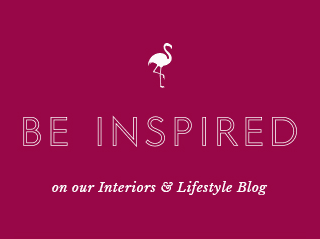 3 Tips for Styling Brass in your Home
14 Jan 2016
Who would be without brass? We at Audenza have always loved a bit of brass so we have brought you our 3 top tips for styling brass in your home. It's a great way to add some luxe to your interior décor whatever your style – be it vintage, contemporary, industrial or an eclectic approach. Brass is a warm earthy colour that adds cosiness – with a touch of glam – to your interiors and its reflective quality makes spaces seem bigger. It's a big vibe in interiors for the coming season so there's a lot out there to choose from.
Tip 1: If You're Unsure, Start small
If you are new to brass and the warm metals trend start small by introducing accessories in brass to give your home an instant update. Plant pots, vases, candle holders and of course kitchen utensils are an easy way to do this without splashing too much cash and it gives you a feel for the look. If you want to step up your game vintage pieces from every era are being reimagined in brass by today's designers for the contemporary home. Think of a drinks trolley or side table with marble shelves for jazz age glamour, a Victorian plant stand in pared down brass or table lamps in brass with concrete or glass. There is a whole new world of brass out there to explore so get started.
Tip 2: Brass goes with any colour scheme
Cherished Gold is the Dulux paint colour for 2016 following on from Copper Blush for 2015. So warm metals are the way to go for interiors from paint colours to furniture to accessories, and we love it. Pantone have chosen two colours for 2016 – Rose Quartz and Serenity – baby pink and baby blue to you and me. Now I'm not a pastel kind of person but there is serenity in these colours and with a hit of brass they instantly become more grown up and vibrant. Dark and moody kind of person? Well brass instantly adds light and shimmer to what could be cold and dark. Love shades of green and red – my favourite colour combo? Then brass brings vitality and warmth to what are essentially outdoor colours. In other words brass adds radiance to your interior décor and we all need a bit of radiance!
Tip 3: Brass doesn't have to be 80's bling
Brass was considered to be bling and ostentatious but the new era brass is a softer subtler version that adds light and warmth without stealing the show. Bathroom and kitchen hardware like taps and door handles are now available in brass and it creates a soft glow rather than the shiny hard gold of the past. Add textures like velvet and wool and plenty of house plants for a softer more vintage feel or if you want a contemporary vibe pair with marble and concrete. Brass looks fabulous in an industrial setting as a contrast to black and rough surfaces such as wood and brick. Create the look you want by picking the right complementary accents.  Brass adds light to strong colours and warmth to neutrals so there really is no excuse for missing out on the fab brass trend.
Shop brass homewares >>
Jacqui x
Never miss a post: follow us on Bloglovin'!
Photography: Amelia Brooks/ Styling: Jacqui & Amelia Brooks
4 replies to "3 Tips for Styling Brass in your Home"
Leave a comment
Your comments make us happy!
Blog Etiquette
Please note that all content, including text and images are copyright of Audenza, unless otherwise stated.

If you would like to use content from our site, then we're very flattered to hear that, but please note its origins on your site or blog, provide a link back to us and kindly let us know where you have used our content.

Thanks!