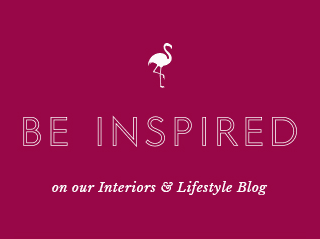 How to Choose Decorative Lighting
5 Feb 2021
There is a whole world of science out there about lighting your home, (a complicated and expensive one at that) but most of us just want atmospheric lighting for those dark evenings, and something that is decorative during the day. Lighting is not just about bringing light into your home on those dark evenings, it's also a way to create atmosphere and drama, day or night, and also a way to have some fun.   How to choose decorative lighting is certainly not rocket science, but here are a few helpful pointers to bear in mind.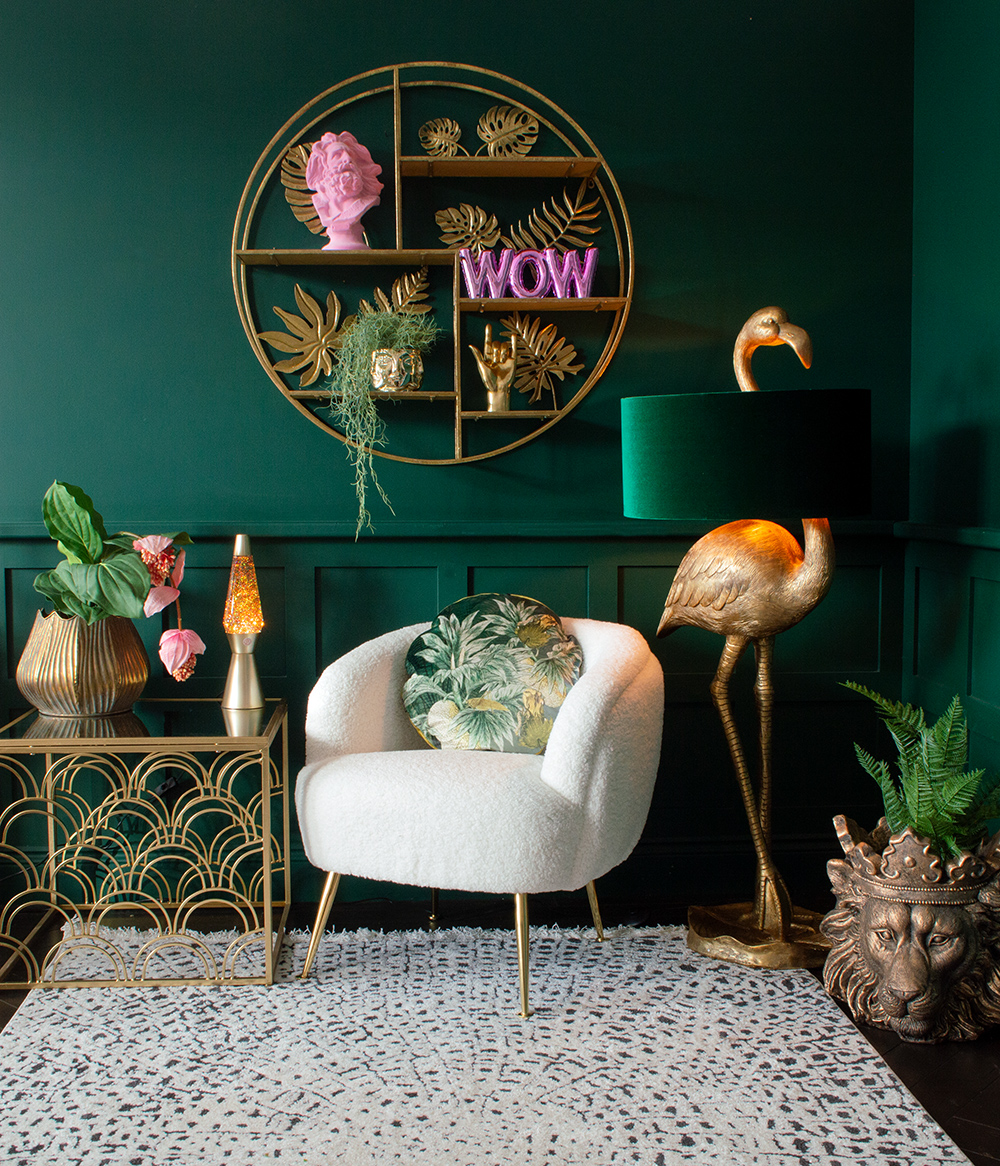 Flamingo Floor Lamp | Faux Sheepskin Chair | Lion Planter | Everything available from Audenza.com
Aim for at Least 4 Different Light Sources
When I say 4 different light sources I mean different types of lighting – ceiling lights, wall lights, table lamps, standard lamps and spotlights all have their part to play in illuminating a room, and creating atmospheric pools of light.  I always think lighting is like mirrors – you can't have too many!  Dark painted rooms will always require more lighting sources, otherwise you will have gloomy corners that make a room feel dull and unloved.  And lighting should be at different heights, just like furniture, to give a balanced look to a room and create interest.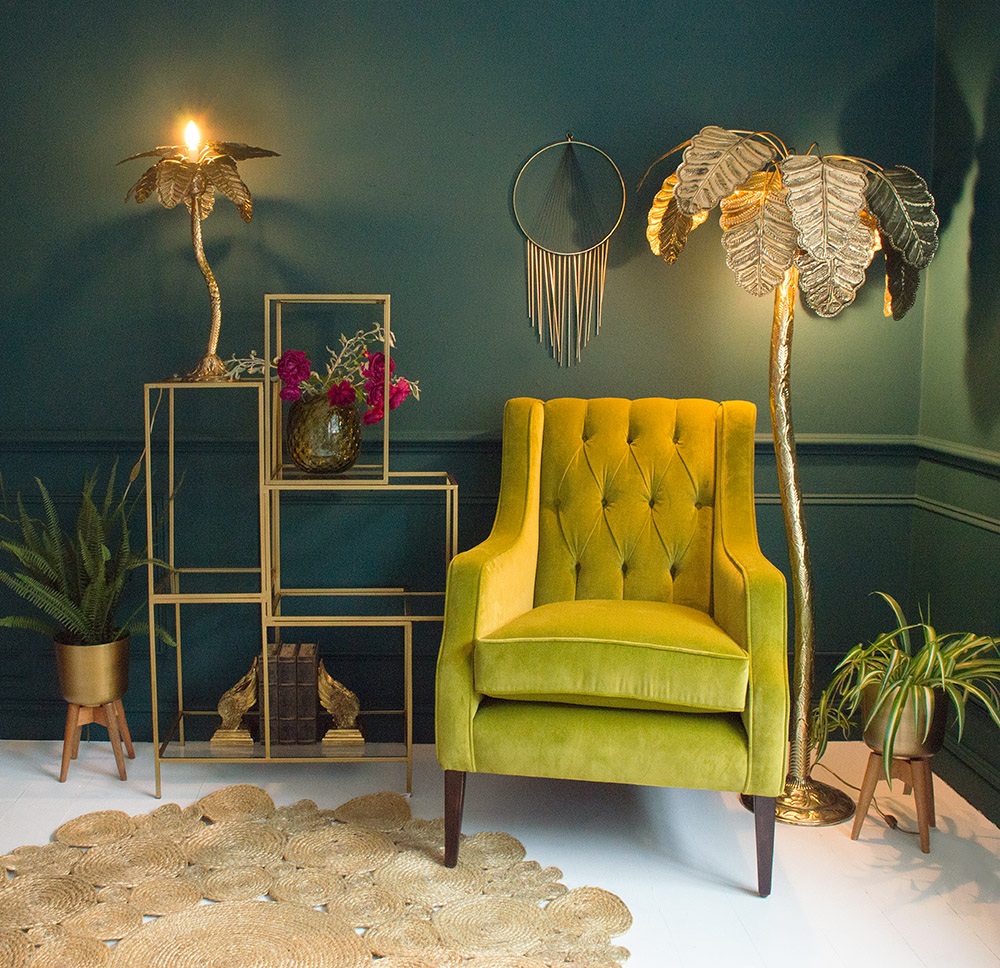 Palm Tree Floor Lamp
A Dimmer is Essential
If you have a central pendant light, put it on a dimmer switch so you can get a softer light and moodier atmosphere when required. Quite often a pendant light is more a style statement (on or off), than for the actual light so I think a dimmer is essential to create different light levels according to your mood or task.  I like to see my dinner when I'm eating, so I have the dining room pendant on full and then soften it down for the after dinner chat, pre Covid, of course!
Before Redecorating, Consider the Lighting
If you are redecorating consider your lighting options before going ahead, then any rewiring can be done first. Make sure you have plenty of wall sockets for table lamps in different areas of the room.  Do you want wall lights e.g either side of the fireplace?  What about shelving units and bookcases?  Down lighters can be wired in to illuminate them or LED strip lights behind each shelf to make a feature of them in the evening, otherwise they are liable to be a dark gloomy corner.  There is nothing worse than finishing a room and realizing you haven't got the lighting right, so think long and hard about your lighting options before wielding the paintbrush!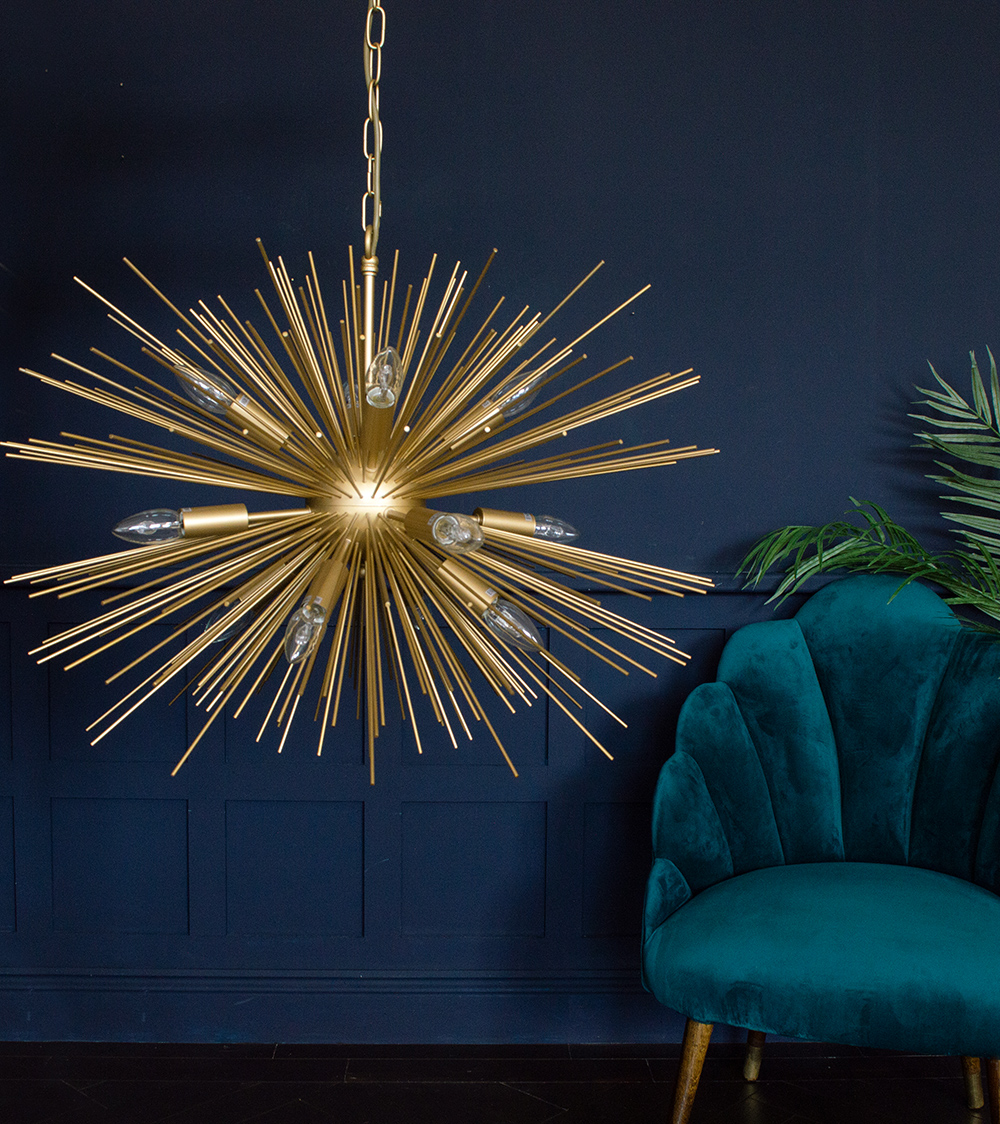 Gold Sunburst Pendant Light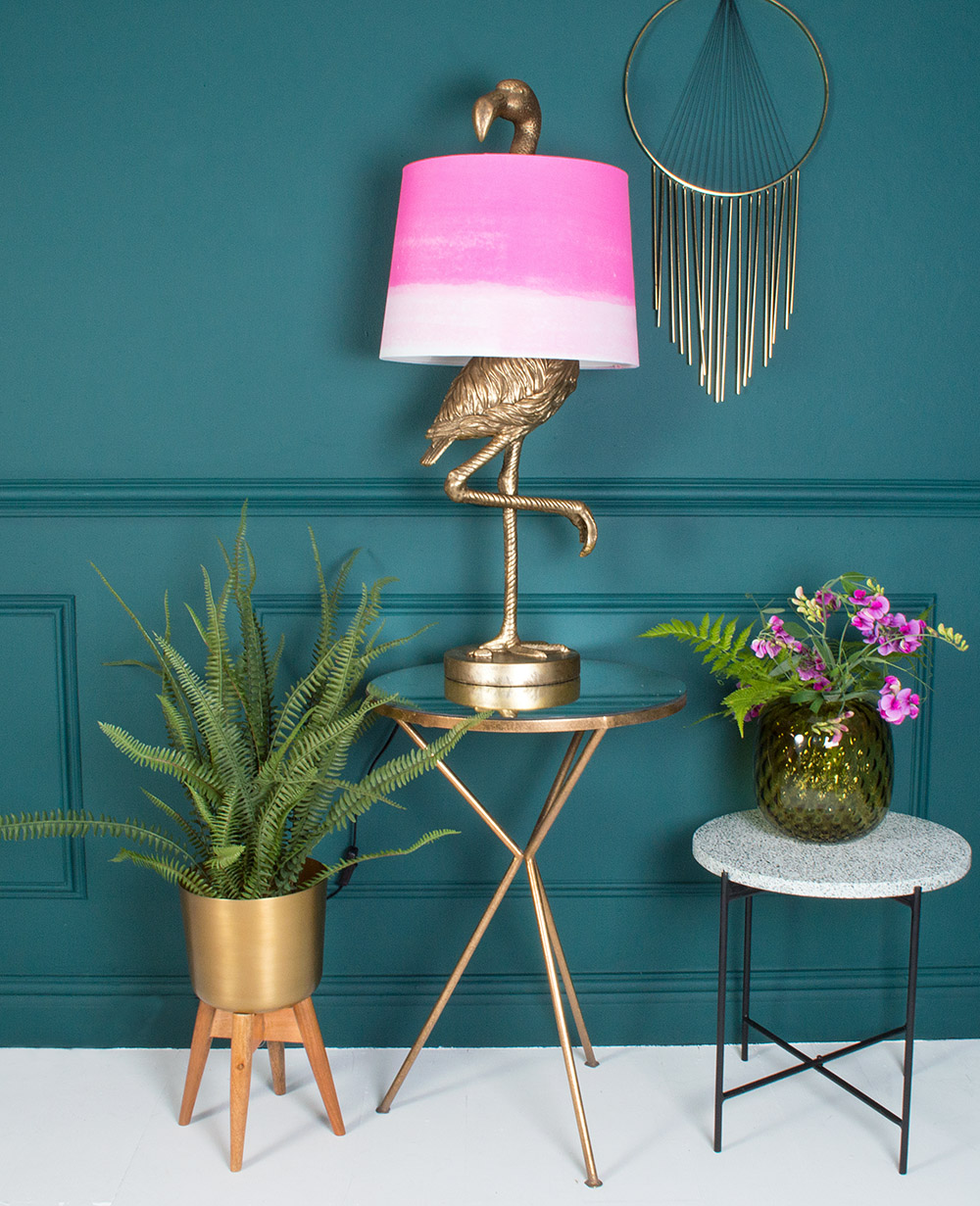 Brass Flamingo Table Lamp
Consider the Shade Colour & Lining
Think about what you want the light to achieve. Is it just for atmosphere and a warm glow, or is it task lighting whereby you want to be able to read or sew? For instance, darker lamp shades cast less light, whereas a pink shade, gives a really lovely warm light, and a light coloured lampshade will give a brighter light – obvious but sometimes we forget these things in the moment. Task lighting is essential if you want to read or sew, I have an Anglepoise floor lamp for my quilting which I wouldn't be without as it's high enough to angle down onto my work. Also bear in mind the lining colour of a lampshade.  White gives off quite a cool light (even with a warm white bulb in), whereas a gold metallic lining gives a very warm, soft glow.
Gold Snake Table Lamp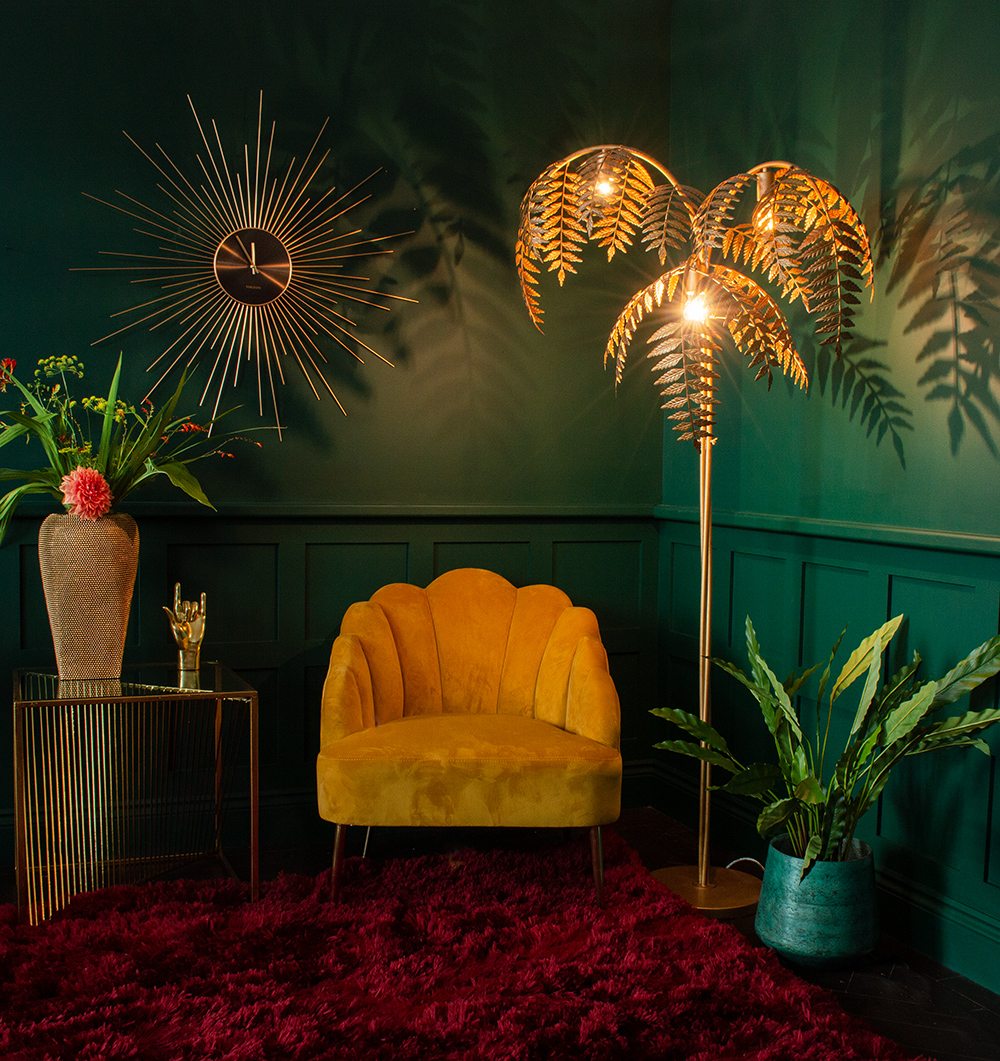 Bronze Palm Leaf Floor Lamp | Scalloped Velvet Chair | Everything available from Audenza.com
Create Ambience with Shadows
Think about the effect a light will have in the evening when it is lit up.  Our Antique Bronze Palm Leaf Floor Lamp casts amazing tropical patterns on the wall that are really quite stunning, and add a tropical vibe to your décor.  Similarly, a fretwork pattern on a lampshade will create patterns on the walls that just add that extra dimension to a scheme.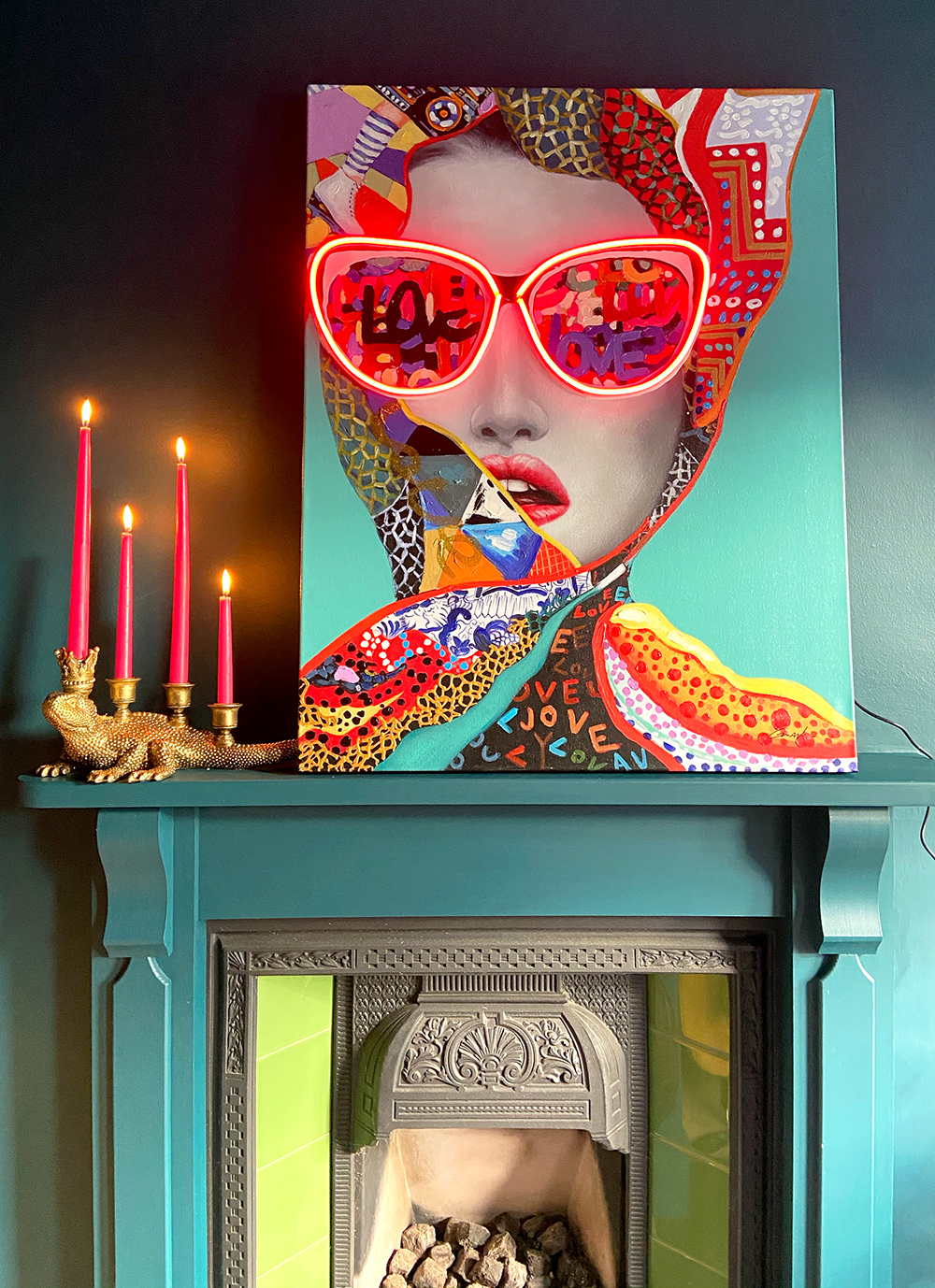 Gianna Neon Canvas Art 
Think Beyond Floor & Table Lights
You can add extra light sources in more unusual ways, like our Gianna LED Neon Canvas Art. It's a great way to add an extra light source, and combine a piece of artwork into the mix. Neon lights add a quirky splash of light that makes you smile. Also, candle holders are great for adding a soft glow on a mantelpiece or sideboard and creating more atmosphere. Wall sconce candle holders are another option to create a glow and interest on the wall, whether as part of a gallery wall or a display in themselves. If you are worried about using real candles and naked flames, then there is always the option of Led candles that give a remarkably realistic flicker and glow.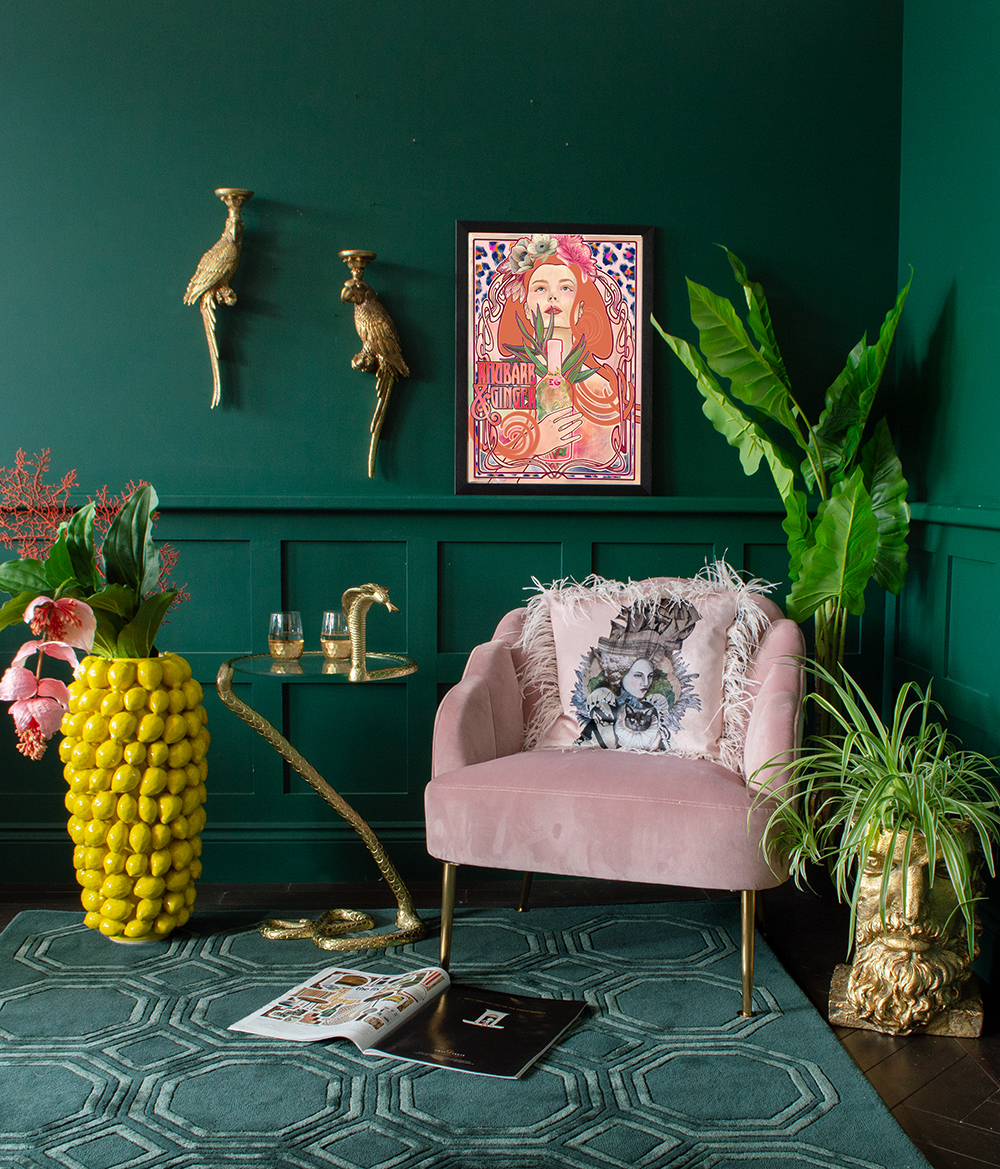 Lemon Vase | Parrot Wall Sconces | Rhubarb & Gin Print | Everything available from Audenza.com
Check your Measurements
Check the height measurements of table lamps before you buy. It has to look visually right against the other furniture, so hold a tape measure up to where the lamp will come to in relation to everything else. You want objects to sit at different heights to create more visual interest.  If they are all on the same level it can look flat and uninteresting.
Have Fun!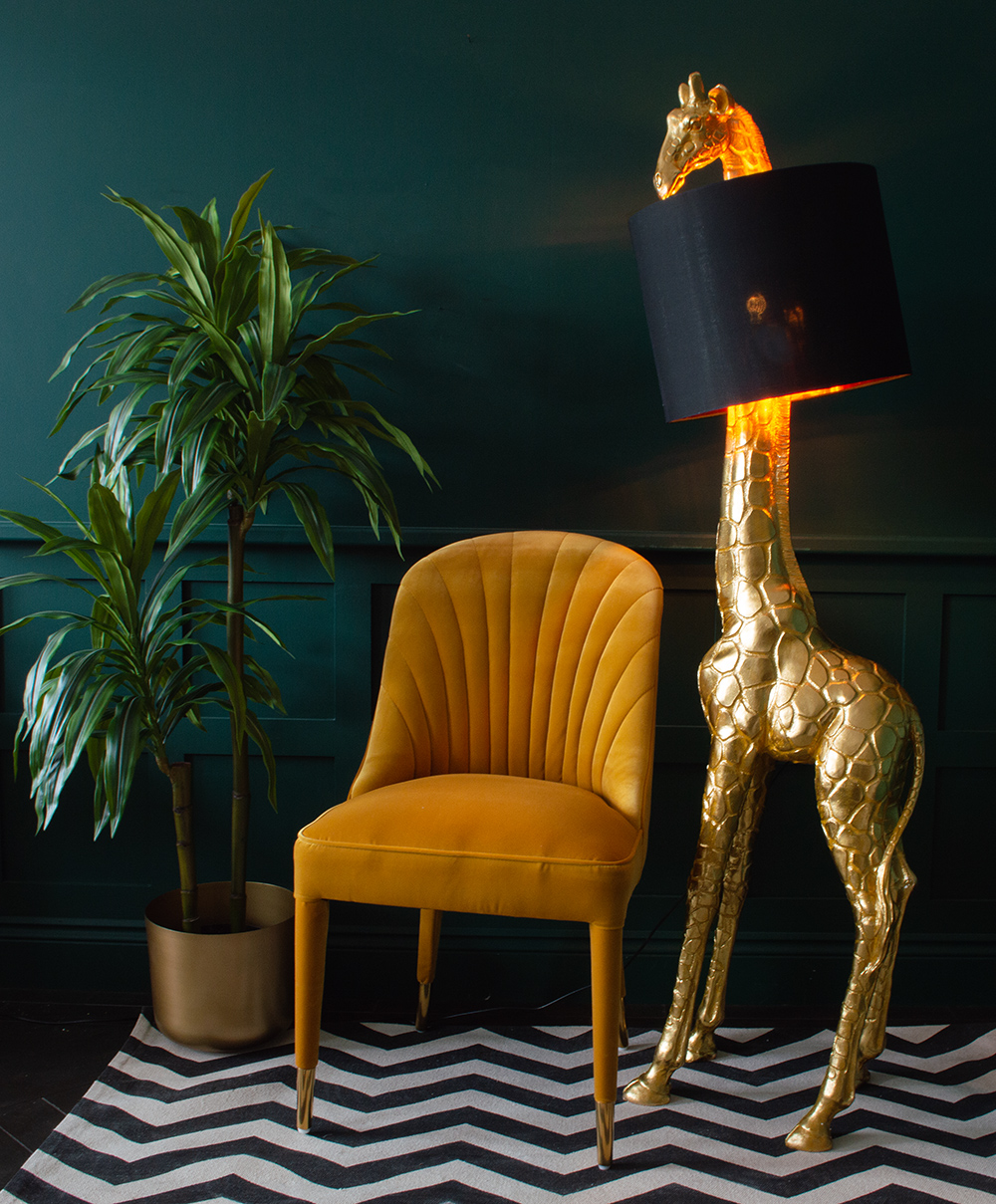 Gisella Giraffe Floor Lamp
And finally when it comes to choosing decorative lighting, have fun – after all, we all want something to make us smile in our decor! In the grand scheme of things lamps, like cushions,  are one of the easiest thing to change, and are a fabulous way to create drama and adventure in your home – lit or unlit!
4 replies to "How to Choose Decorative Lighting"
Leave a comment
Your comments make us happy!
Blog Etiquette
Please note that all content, including text and images are copyright of Audenza, unless otherwise stated.

If you would like to use content from our site, then we're very flattered to hear that, but please note its origins on your site or blog, provide a link back to us and kindly let us know where you have used our content.

Thanks!