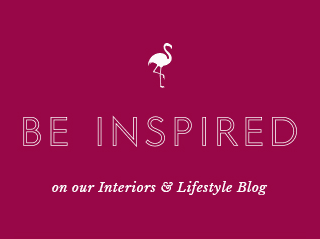 Décor Inspiration: 3 On Trend Interior Room Schemes with Colour Palette Suggestions
22 Oct 2021
It's 'new season new look' time of year again, but even without the added incentive of a new season it's always nice to have a rethink and revamp of our interior room schemes.  Even if it's just a case of looking and not doing, it's always fun just to seek inspiration.  We've got 3 on trend interior room schemes for you here, with colour palette suggestions to get you thinking about your choices and the effect these colours have upon your décor.  Playful pastels, rich wanderlust, or soothing natural elements – what's it to be?
Playful Miami Pastels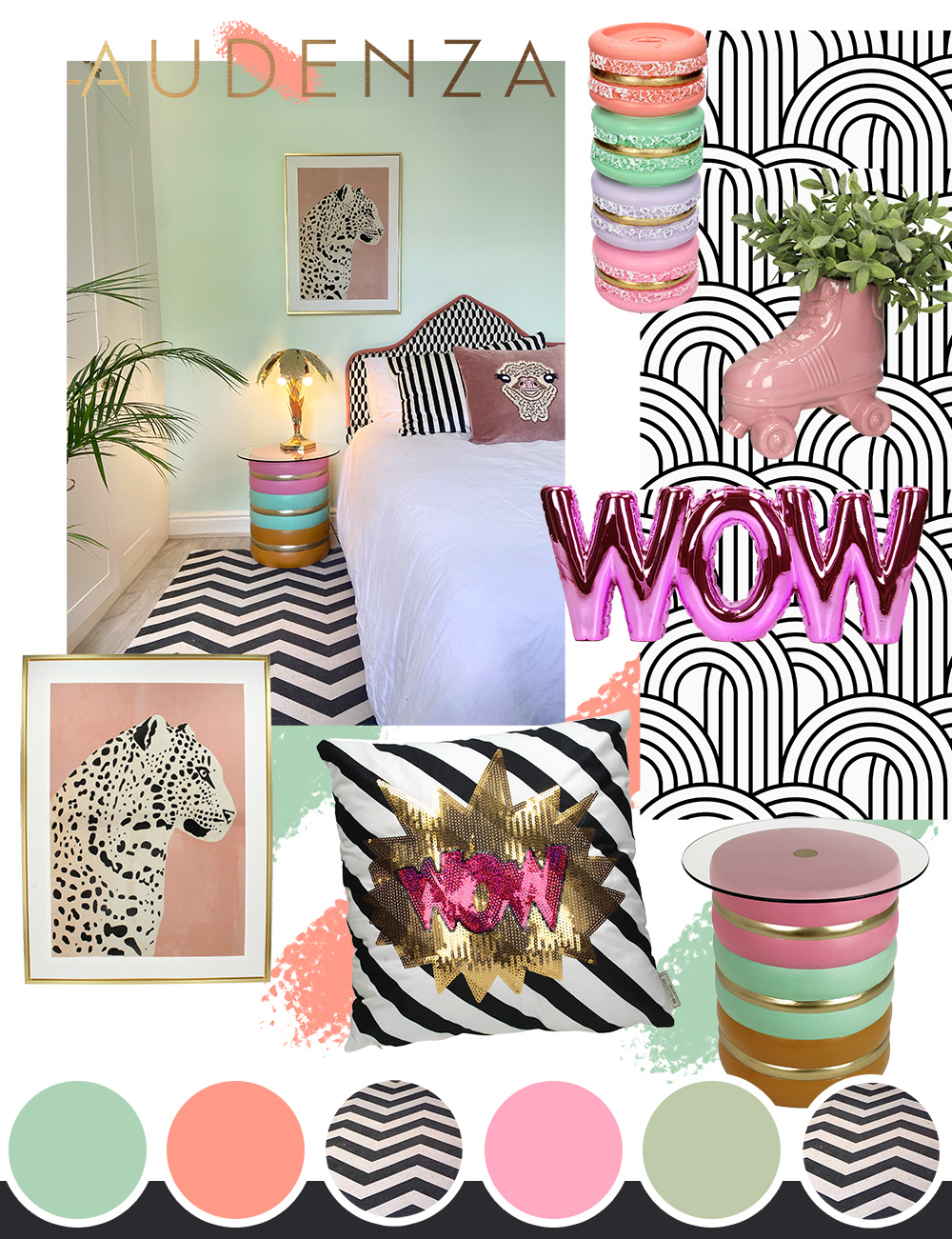 Macaron Candle Holder | Roller Skate Planter | WOW Balloon Ornament | Leopard Framed Canvas Art | Black and White Striped Cushion |  Macaron Table | Wave After Wave Wallpaper
Playful Miami Pastels is a fabulous way to bring joy and lightness of spirit to your interior room scheme.  The pastel ice cream colours so redolent of Miami interiors are brought to life with Art Deco influences in the soft furnishings with their black and white geometric designs, and the stunning Art Deco inspired wallpaper would also work well.  The monochrome patterns also help to sharpen up the scheme if you are not a fan of the full-on pastel.  Bring in some exotic influences with animal prints and tropical plants.  With the addition of a quirky pastel bedside table, and fun accessories such as the sequined cushion and pink roller skate planter, you can create a playful space with a contemporary vibe that brings a smile to your face.
Wanderlust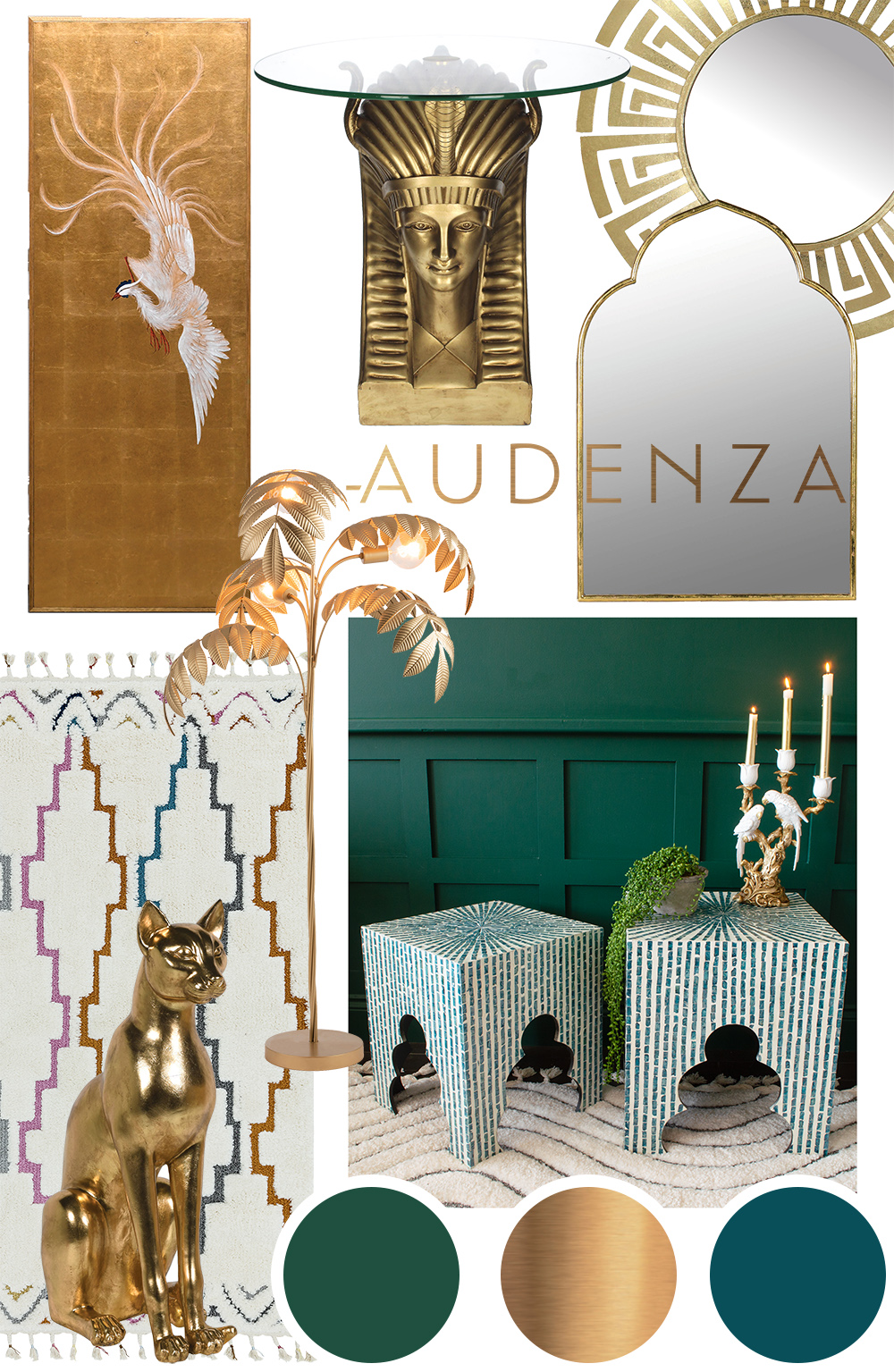 Gold Bird Art | Pharaoh Table | Greek Key Mirror | Moroccan Style Mirror | Exotic Palm Leaf Floor Lamp | Berber Style Rug | Golden Sphynx Cat | Inlaid Blue Capiz Stools
The Wanderlust is a jewel like room scheme that brings together influences from different cultures and fuses them together into an enticing harem like décor.  From Moorish, to Egyptian, to far eastern, whatever takes your fancy, you can create your version of wanderlust.  The deep green and teal walls give a sense of the warmth of exotic climes, while the gold palm tree floor lamp throws romantic shadows on the wall at night. Lashings of gold are essential to this scheme to give it its due richness and glamour.  With golden mirrors, wall panels and exotic creatures you really set the scene.  Plus, who can resist a golden Pharoah by their side in this ode to eastern culture?
Natural Elements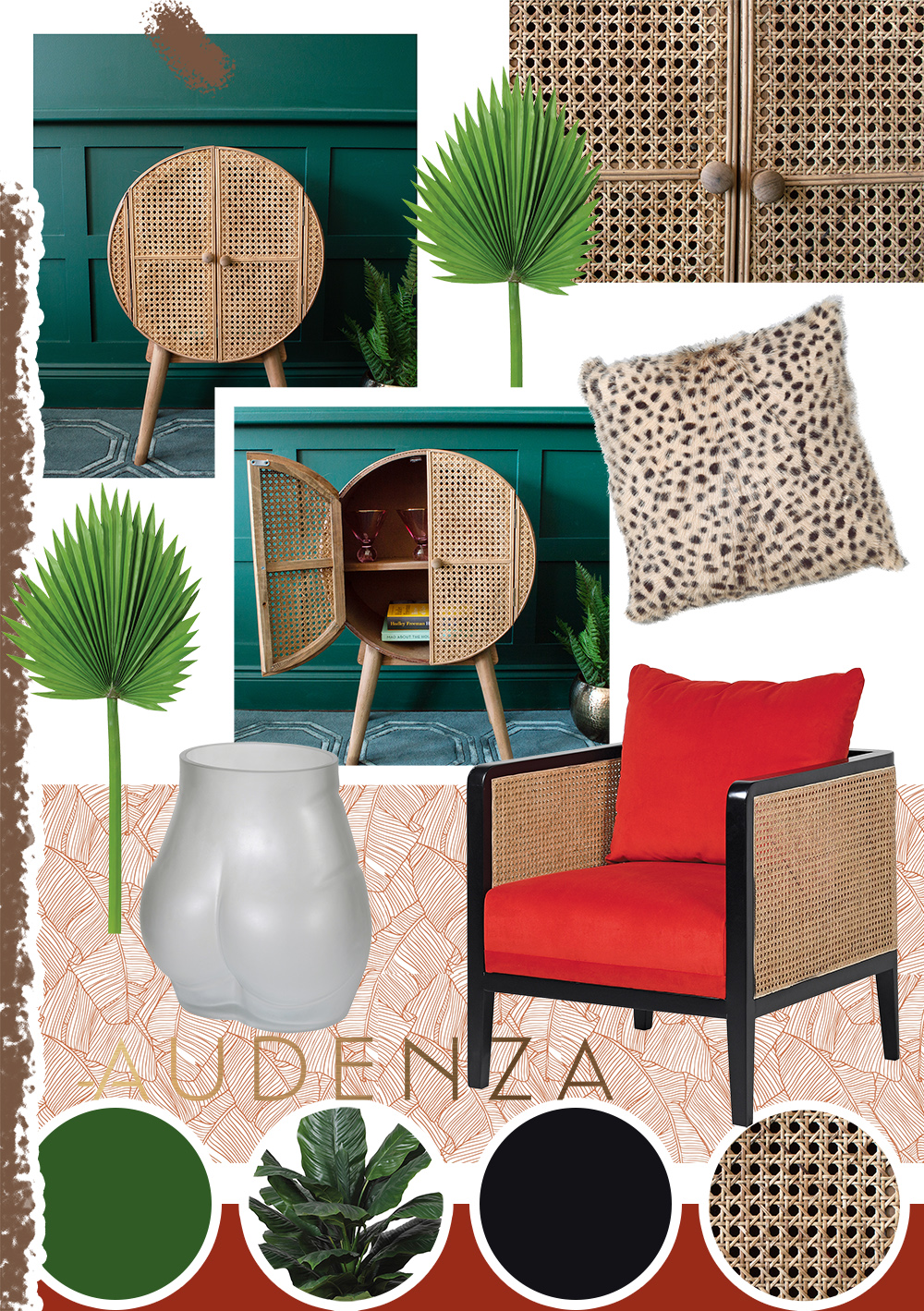 Round Rattan Cabinet | Artificial Fan Palm Stem | Leopard Print Goat Fur Cushion | Red Velvet and Rattan Armchair | Curvy Glass Bum Vase | Banana Leaf Wallpaper
The Natural Elements interior room scheme has a calmness and serenity to it which is perfect for those of you who want to be surrounded by the colours of nature.  Subtle linear banana leaf wallpaper in a soft terracotta and white palette picks up on the neutral colours of a rattan cupboard and easy chair.  The jewel tones of the velvet cushions on the easy chair echo the terracotta of the wallpaper and inject some vibrancy to what could be a flat colour scheme.  Mix up the textures of the velvet rattan with a leopard print goat fur cushion and a petrol hand tufted rug help to create warmth and contrast.  All of this is surrounded by soft greens and lush house plants for a restful laid-back scheme.
3 fabulous interior room schemes here, put together by our very own Amelia – who likes nothing better than playing with mood boards and colour schemes.  I love the Playful Miami Pastel look for my spare bedroom but in my long wait for the decorator I might change my mind again!  So many tempting colours and choices that its hard not be a magpie and want it all.  Do you struggle to pin down what look you like?  Do these mood boards help to clarify your thoughts and galvanize you to action?  Let us know what you think.
Leave a comment
Your comments make us happy!
Blog Etiquette
Please note that all content, including text and images are copyright of Audenza, unless otherwise stated.

If you would like to use content from our site, then we're very flattered to hear that, but please note its origins on your site or blog, provide a link back to us and kindly let us know where you have used our content.

Thanks!