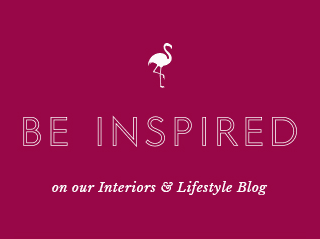 5 Gorgeous Books to Inspire
29 Jun 2012
Afternoon everyone!  So here we are, it's Friday again and the weekend is nearly upon us.  I hope you all have lots of lovely plans?
Loving everything interiors related, we have a huge collection of books to draw upon for inspiration, both when designing and styling our homes. So we thought we'd share with you five of our current favourites.
All of the books are gorgeous and beautiful in their own unique ways, all with a slightly different take on styling and colour, but what they all have in common is that we love them!!  So here they are (in no particular order!)…
1) The Printed Square, Nicky Albrechtsen
Amelia and I bought this book for our mum for her birthday this year.  Each page has a different vintage handkerchief pattern, divided into chapters based on colour, so it's perfect for a little design inspiration, but it also make a beautiful book to flick through and look at the lovely designs.
2) Homespun Style, Selina Lake, Joanna Simmons, Debi Treloar
We have a couple of of Selina Lake's books, so it was actually quite hard to pick which one to feature here, but we decided on her newest book, 'Homespun Style' because it's just so gorgeous and fits perfectly with our passion for crafting.  The emphasis in this book is about crafting and hand-making items, both yourself and sourcing items from other designer makers and craftspeople too, which is something we are very passionate about ourselves.  The photography is incredible and the images are accompanied by some brilliant styling tips as well… we'd be very happy living in any of the houses featured!
3) Rediscovered Treasures, Ellen Dyrop, Hanna Kristinsdóttir
There's something incredibly satisfying about turning something old into something new and that's just what this book is about.. forget filling your home with mass produced items, find unique vintage pieces and give them a new lease of life.  This book has much more of a vintage romantic feel, with softer styling and more muted colours to create a truly nostalgic feel.  If you're looking for ideas as to how to reinvent your vintage finds, then this book is for you!
4) All in the Detail, Caroline Clifton-Mogg
If you have a house full of beautiful things, but you just need a few ideas as to how to style them, then this book is perfect.  There are over 400 ideas as to how to add personality and your own touch to your home.   This book is fantastic for styling inspiration, when we are looking to have a re style, it's such a great place to start, the book is brimming with ideas and it really gets the creative thoughts flowing!  Simple touches, that needn't cost a lot is all it takes to make your house feel like home and that's what this book is all about.
5) Kaleidoscope of Quilts, Kaffe Fassett
My mum, Jacqui has been a passionate quilter for years, so it's no surprise that this book is in our top five.  Every page explodes with colour and eclectic styling, with quilts appearing in all sorts of quirky locations!  Of course, it's not all pretty pictures and there are step by step guides in the back for making the quilts so you can get hands on and create something equally as lovely for your own home.
I hope you've enjoyed our top 5 gorgeous books to inspire and that now you're itching to buy them and let the inspiration begin!  We're always on the look out for new lovely books, so please let us know some of your favourites in the comments section and hopefully we can expand our collection!
I would also like to mention that the styling and photography is Amelia's handy work, so from here on in, I'll be the words lady and Amelia will do the pretty stuff!
Have a great weekend.
Audenza x
5 Gorgeous Books to Inspire- By Hollie Brooks
4 replies to "5 Gorgeous Books to Inspire"
Leave a comment
Your comments make us happy!
Blog Etiquette
Please note that all content, including text and images are copyright of Audenza, unless otherwise stated.

If you would like to use content from our site, then we're very flattered to hear that, but please note its origins on your site or blog, provide a link back to us and kindly let us know where you have used our content.

Thanks!