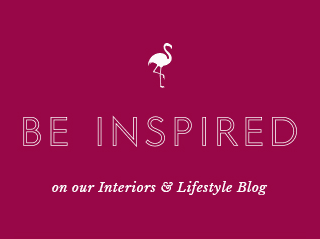 We Love: Earth Inke Wallpaper
17 Apr 2014
This week, I wanted to shine the spotlight on a very talented wallpaper designer, called Katherine Morris, whose company is called Earth Inke.  I came across Katherine's work on Twitter and showed my mum who happened to be looking for wallpaper at the time.  That evening she ordered samples (look out for the offer below for free samples) which came very speedily and sure enough, one of her designs is now adorning our hallway and stairs: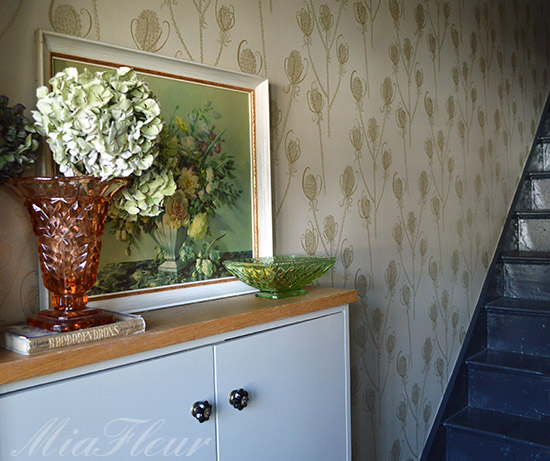 Image source: Audenza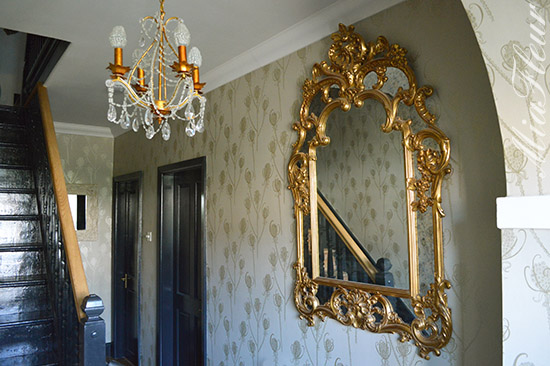 Image source: Audenza
Both images above are from our house, we went for the Teasels design in the 'Toad' colourway and teamed it with black gloss woodwork for the real wow factor.  Word of warning though- beware of black gloss paint! It shows up every morsel of dust and every imperfection in the wood.  That said, we love the impact that it gives as soon as you walk through the front door.  The gold accessories just give it that extra bit of bling!  What do you think?
I caught up with Katherine to find out a bit more about her:
What's your background?  How long have you been designing wallpaper?
I actually studied Countryside and Environmental Management at university, but art and drawing has always been something I have loved and continued doing, without even realising sometimes.
The wallpaper part comes from my love of paper products, drawing and interiors. My mother nurtured my flare for interiors from a young age. I helped her look through pattern books and she gave me full independence on designing my bedroom from as early as I can remember.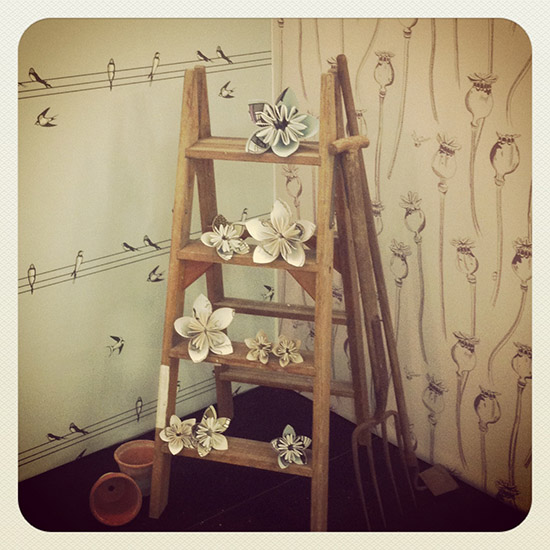 Image source: Earth Inke
Can you tell me a little bit about your design and production process?
The design emulates from a memory to a sketch.  If, like the 'Teasel' pattern, they are based on things I can go and find I will go out for a walk and bring them back home.  If not, I take photos and work from them.  I pencil sketch an idea and composition and then work the main design with pen and ink.  Its scanned into the computer and then created into a pattern.
I always wanted to keep an element of tradition into the way I printed. British manufacturing was also important to me and my business ethos. I found a family run printers in Lancashire who still produce wallpapers on 150 year old surface print machines. I knew it was right straight away so everyone of my wallpapers is printed there.
Do you have any of your wallpaper in your own home?  And what style of home do you envisage your wallpaper works best in?
I have only lived in this house a few months but I transformed the spare room into a show piece for 'Poppy Pepper Pots' in 'Dormouse'.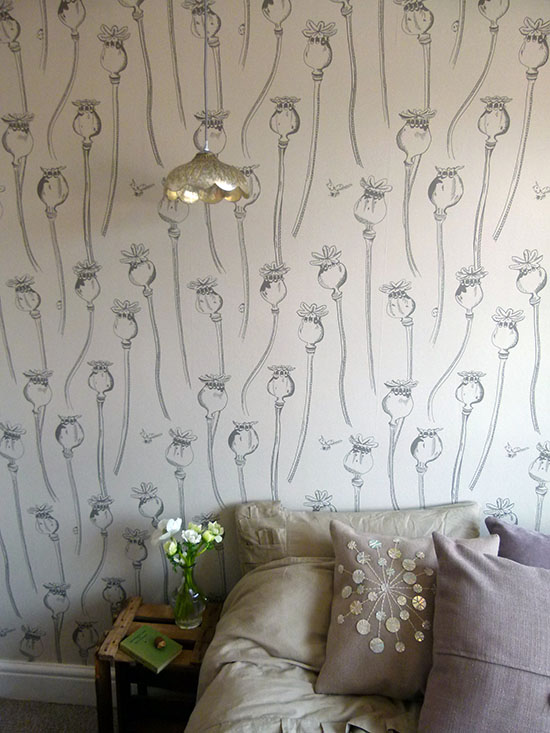 Image source: Earth Inke
I'd like to think that any house could look good with Earth Inke wallpaper. Whether it's a  country cottage with a full room full of 'Teasels' or a London apartment with an 'On A Wire' toilet, if you personally like it, it will work.
I had Teasels in Toad in my last house. it was packed with period features: cast iron fireplaces, stripped cupboards with cute brass locks so I kept it simple with a matt chalk putty coloured paint and crisp white paint work.  I have an inherited elaborate gold framed mirror which was center piece to the feature wall. I love the idea of black gloss work, that sounds amazing! I think with that particular colourway because it reacts and changes with lighting so beautifully a hall stairs and landing would be fantastic, as the pattern would look different night and day. It's soft enough for you to play with texture and dramatise with strong contrasting colours and statement pieces. Hanging art works would also work with this paper.
What style have you decorated your home in? Do you prefer antiques and vintage or new and contemporary?
Vintage and antiques all the way, I think not only is there wonderful hand craftsman ship to be had but great value for money.  I love a piece that can tell a story.  My favourite piece in all the world is my Globe Wernicke barristers bookcase, it makes me smile every time I walk past it.
 I am a super massive wallpaper fan, so I enjoy other people's designs in my home very much. I have a big soft spot for all things Cole and Son, that quirky, almost craziness in some cases really appeals to me. I love grubby green colours , pattern and colour – no magnolia for me!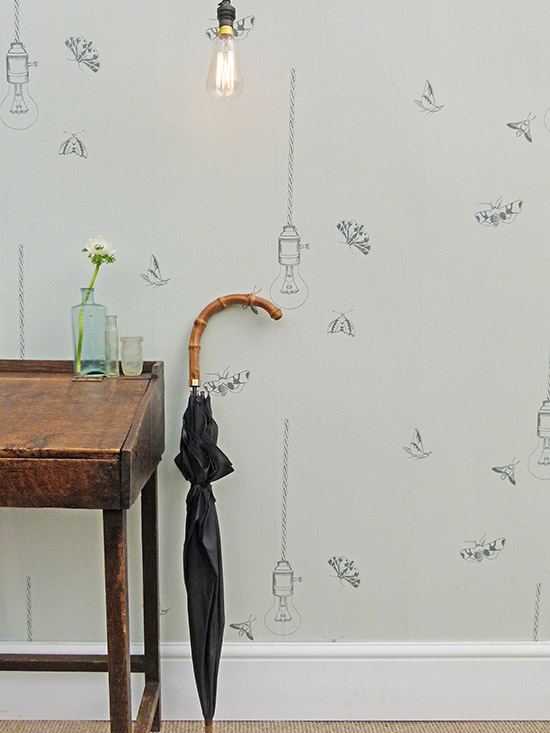 Image source: Earth Inke
Katherine has recently launched two gorgeous new designs, 'Moths' (above) and 'Poppy Pepper Pots'  and is very kindly offering Audenza readers free wallpaper samples.  Just mention in your email that you heard about Earth Inke through Audenza.
Thank you so much to Katherine for taking the time to answer our questions and please do head over to her website to have a look.
Hollie x
Sourcebook: Earth Inke Wallpaper by Hollie Brooks
7 replies to "We Love: Earth Inke Wallpaper"
Leave a comment
Your comments make us happy!
Blog Etiquette
Please note that all content, including text and images are copyright of Audenza, unless otherwise stated.

If you would like to use content from our site, then we're very flattered to hear that, but please note its origins on your site or blog, provide a link back to us and kindly let us know where you have used our content.

Thanks!