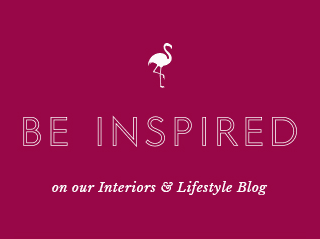 We Love: Original Style Tiles
22 Mar 2019
Surely, we all love tiles – they give such depth and character to your wall, floor, shower cabinet, whatever, and add texture and warmth, but finding the right ones – the ones that make your heart sing is a difficult one. Well not anymore, 'Original Style Tiles' have the most amazing range that will make you want to cover everything in tiles, even the wall behind your cocktail cabinet! Original Style started over 30 years ago as a manufacturer and distributor of tiles for walls and floors and their tiles are sold through a network of independent retailers. Their blog is really inspirational with lots of visual ideas on different ways to use tiles.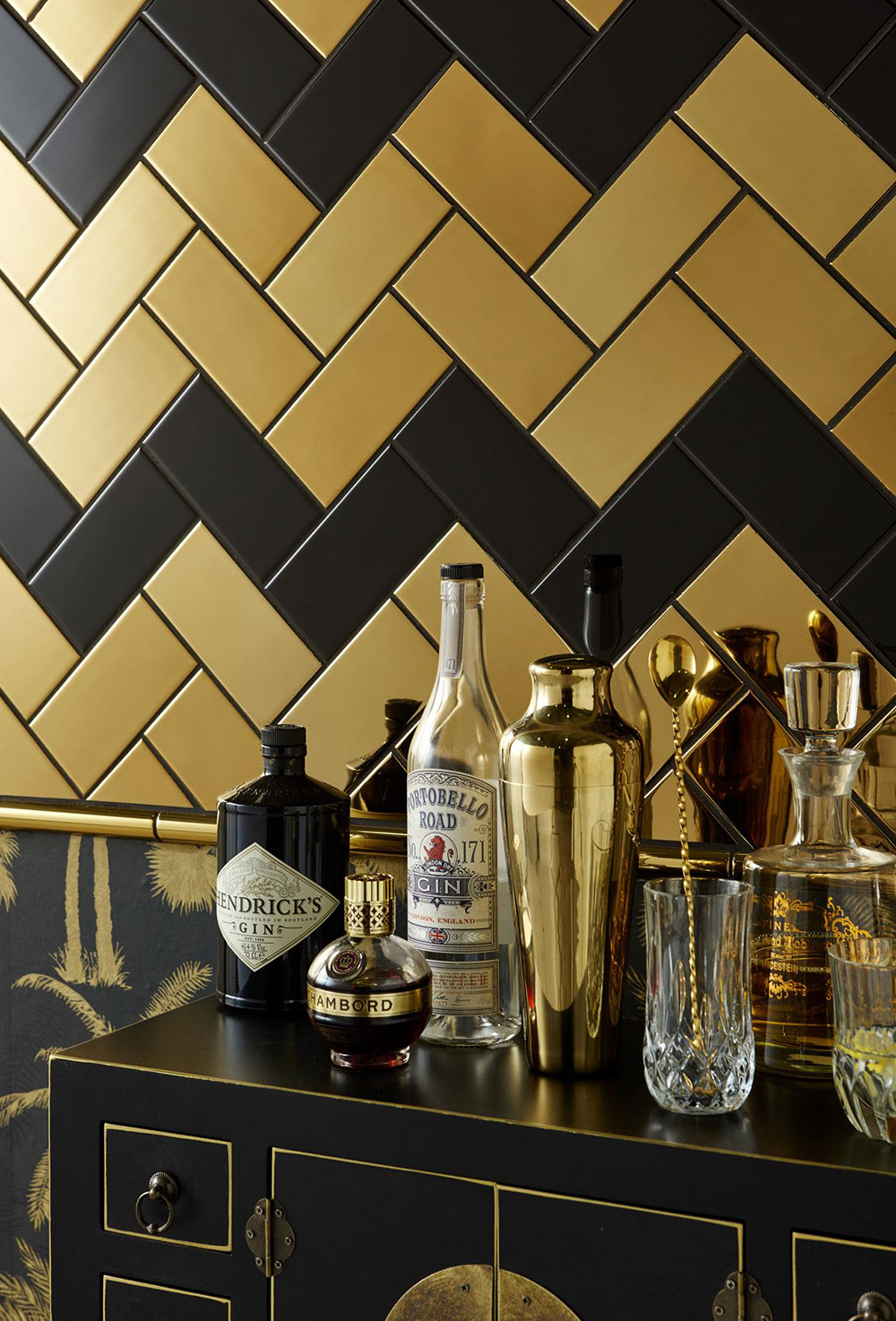 Black half tile £109.95 per m2 | Gold metallic half tile £865 per m2
We'll start with the most amazing, glamorous, opulent tiles imaginable – who would have thought half tiles (or metro tiles as I know them, or subway tiles, as they call them in America) could look so glam? I'm completely blown away by these gold and black metro tiles laid in a herringbone pattern. Such a fab way to lay them and a great idea that's easily translatable to other, more affordable, colour ways.
Gold metallic half tile £865 per m2
Gold metro tiles again but laid straight, with the addition of a gold skirting tile and gold moulding. Oh, so sexy, and so pricey – £865 per m2! Not everybody's thing of course, but what an impact, and so decadent and ritzy, and reflective so they create a really dazzling effect and help to make a room feel larger. But sadly they are out of price bracket for most of us!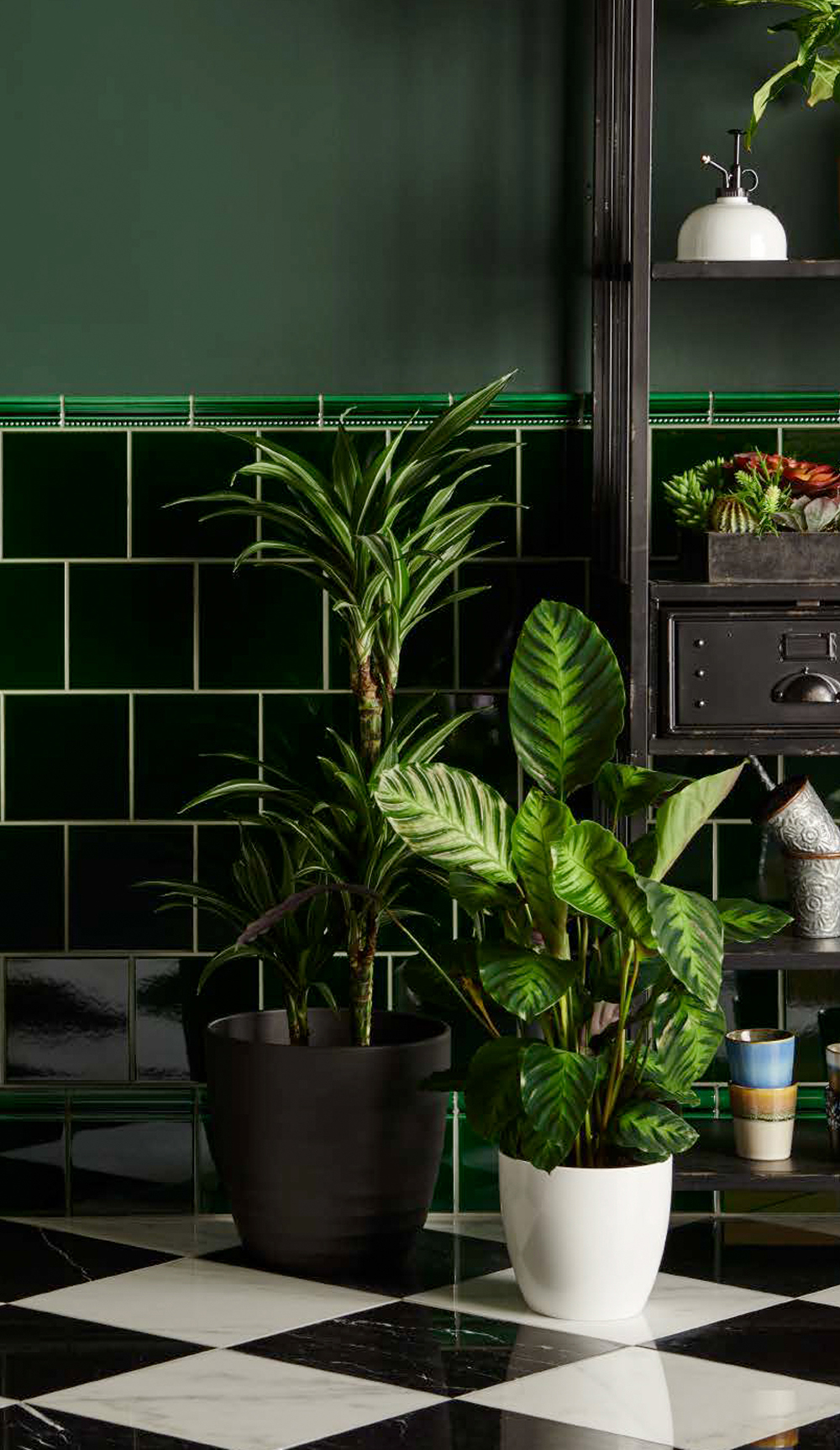 Victorian green field tile £99.95 per m2 | Victorian green hogarth moulding £31.35 per Lm | Victorian green skirting tile £45.87 per Lm
I love these Victorian green tiles from their 'Field Tile' range, although I have to say the styling is so fab that you can't help but fall in love with them. I can just picture a tropical garden room/conservatory with these on the walls and oodles of plants and rattan furniture, and at £99.95 per m2 an absolute snip compared to the glamorous gold divas. I also love the skirting tile which really gives a polished finish. Because of the nature of the copper-based glaze these tiles are not suitable for wet areas though.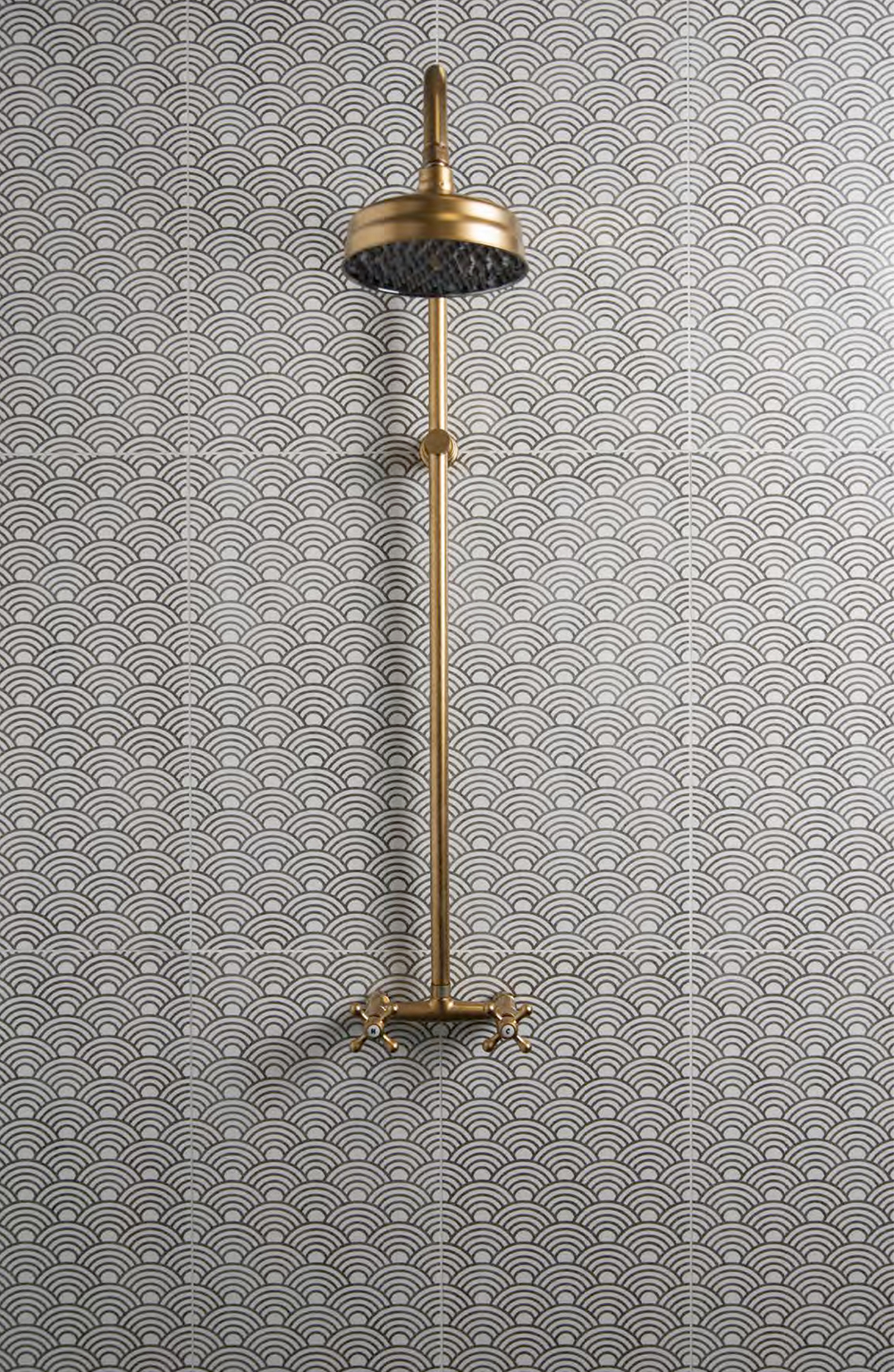 Pettina ceramic tile £79.95 per m2
The Pettina tile comes from the Palazzo collection – inspired by the glistening white marble of grand palatial buildings in Italy. Although the Pettina has a real art deco vibe to it, gloriously patterned yet gloriously simple. The large size of the tiles (300mm x 600mm) gives a very clean simple finish to a room. Again, a more affordable option at £79.95 per m2.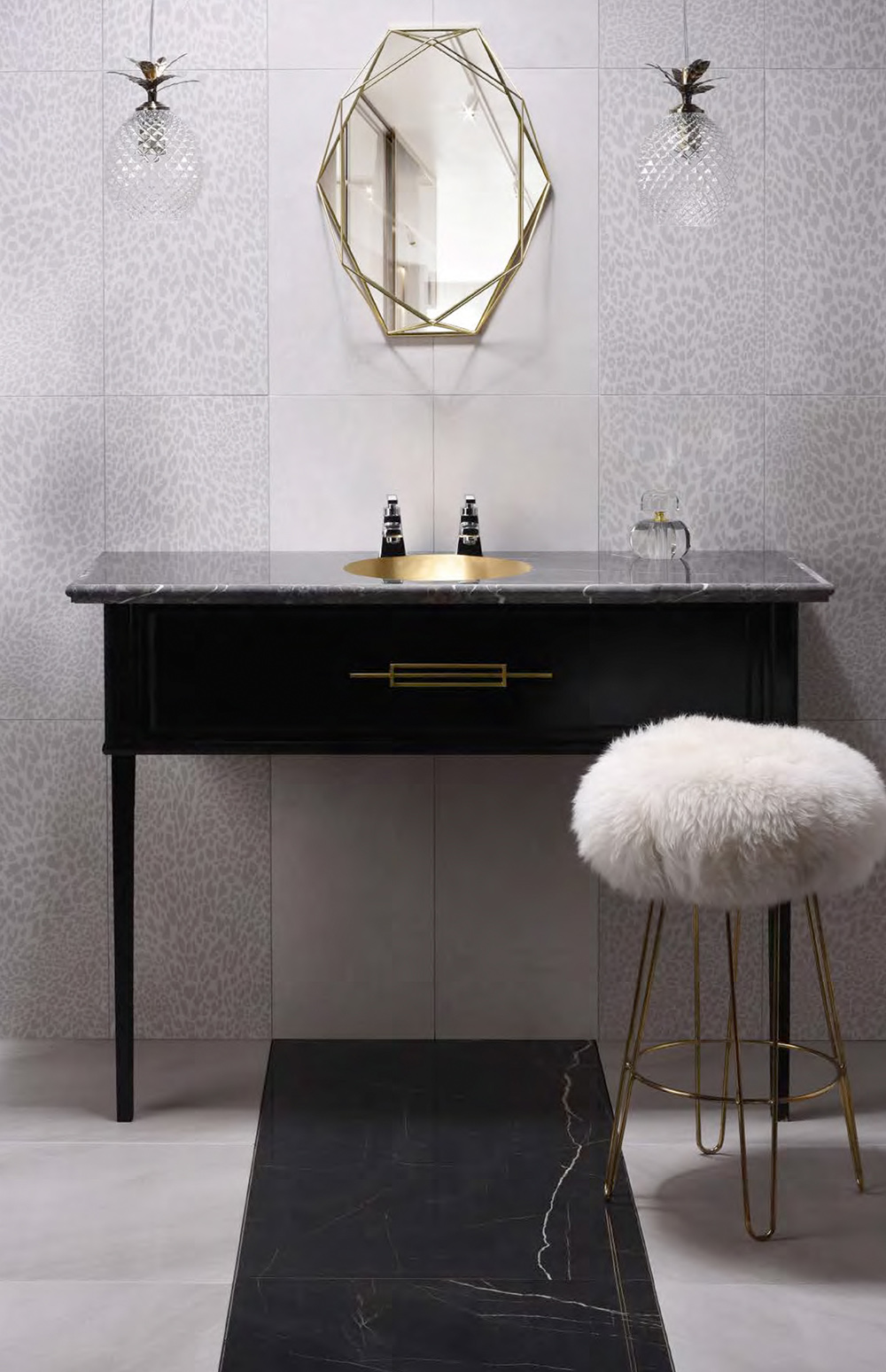 Moremi leopard print tile £79.95 per m2
Leopard print tiles – how fabulous, and so on trend but discreet enough to have longevity. There are 4 designs from the 'Call of the Wild' collection so if you have a fancy for a zebra print tile you know where to get it from. And again, their styling is fabulous, not quite the Audenza aesthetic but I love it just the same. I also like the idea of a centre panel of contrasting tiles to create definition.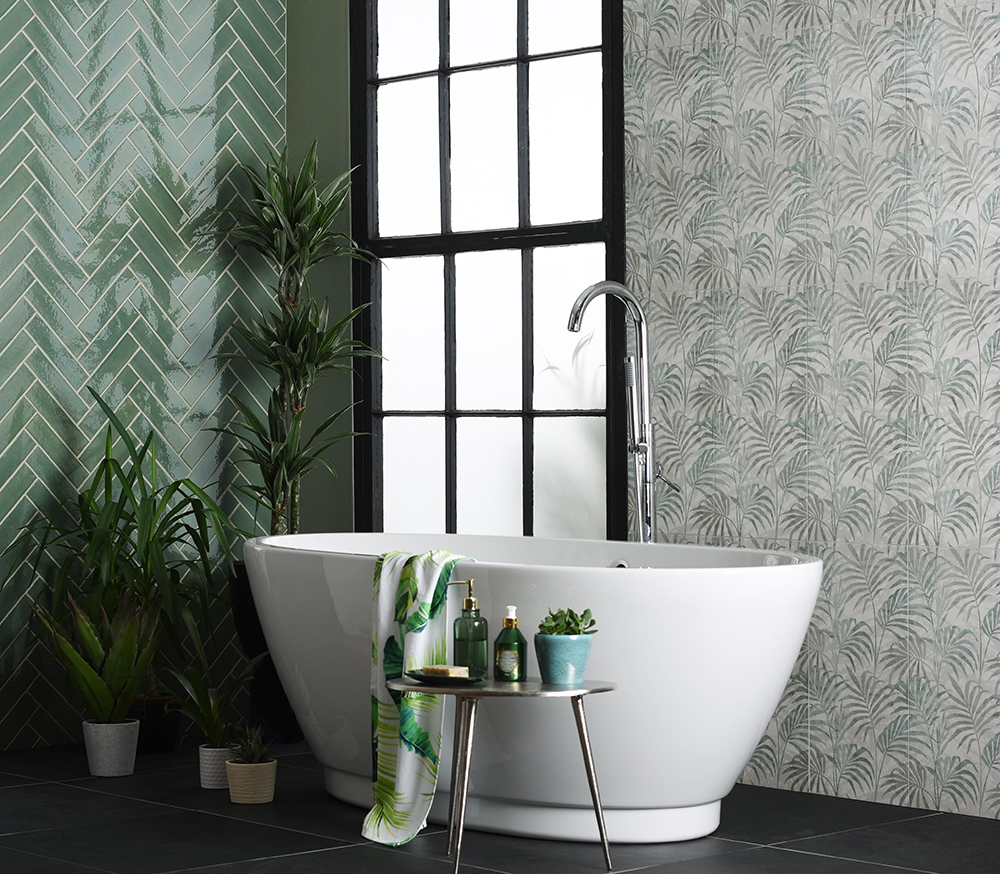 Hothouse tropical ceramic tile £79.95 per m2
These Hothouse tiles are a matt glazed ceramic tile that really set the tropical scene. You can go 2 ways with these tiles, either a light delicate touch with just whispers of green, or full on tropical by accentuating the greenness with the fabulously rich green half tiles complementing them, or painted green walls, of course.
This is just a small selection that we picked to showcase Original Style Tiles but do go on their website for a browse. Their range is truly stunning with a fabulous blog full of inspiring ideas. When I finally get round to redoing my ensuite bathroom I want the gold ones, I wish!
Image credit: Original Style Tiles
Leave a comment
Your comments make us happy!
Blog Etiquette
Please note that all content, including text and images are copyright of Audenza, unless otherwise stated.

If you would like to use content from our site, then we're very flattered to hear that, but please note its origins on your site or blog, provide a link back to us and kindly let us know where you have used our content.

Thanks!