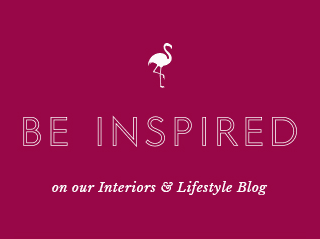 How to Make a Chair Planter
24 Jul 2015
When is a chair not a chair? When it's filled with a dazzling array of colourful plants. B&Q kindly gave us a gift card to try their new range of 100% recyclable easyGrow bedding plants with teabag technology, so I was browsing Pinterest for some creative ideas when I spotted a chair that had been turned into a planter. I love to see objects that have been repurposed and given a new lease of life, so I thought this was a great idea.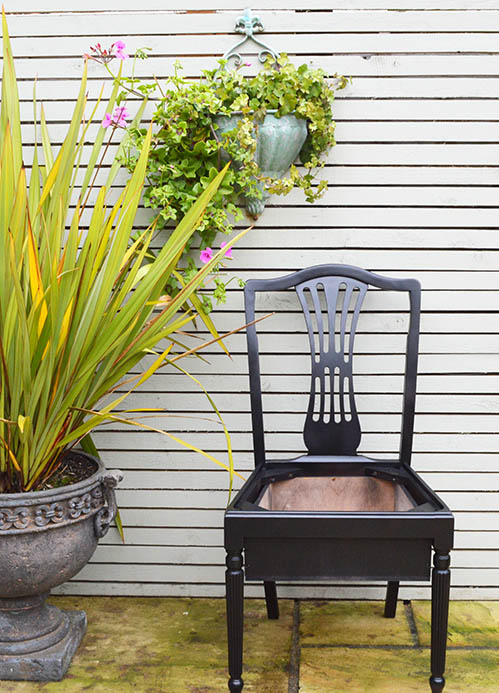 The chair was £5 from a charity shop and I painted it black and then asked a carpenter who was doing some work on my house to take the seat out and fit a wooden box in the base and he drilled some holes in the bottom for drainage.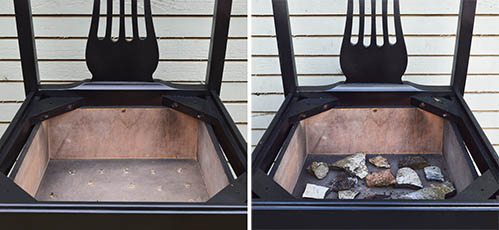 Before filling with compost put a few crocks in the bottom to stop soil clogging the drainage holes.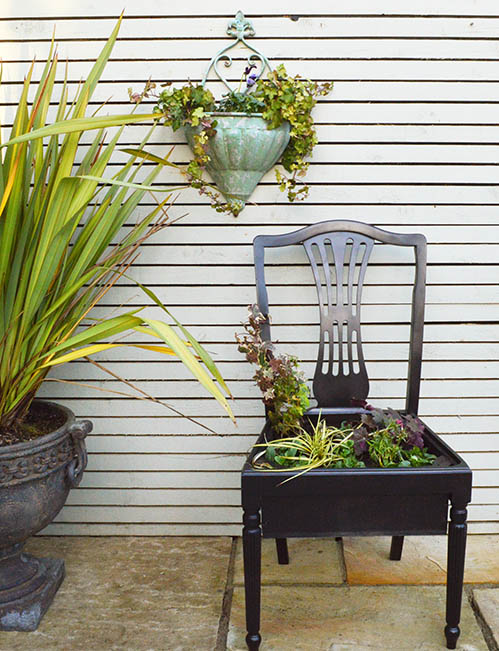 The chair was planted up last autumn with pansies from B & Q's range of tea bag plants which are a great idea as they are very eco-friendly – no polystyrene packaging to clog up landfill. I also added some small ivy, a grass and a heuchera for added interest from the extensive range of evergreens at B & Q. Initially I planted a couple of sweet williams but they were crowding the pansies so I pulled them out and the grass had to go as it was lost in the mass of pansies.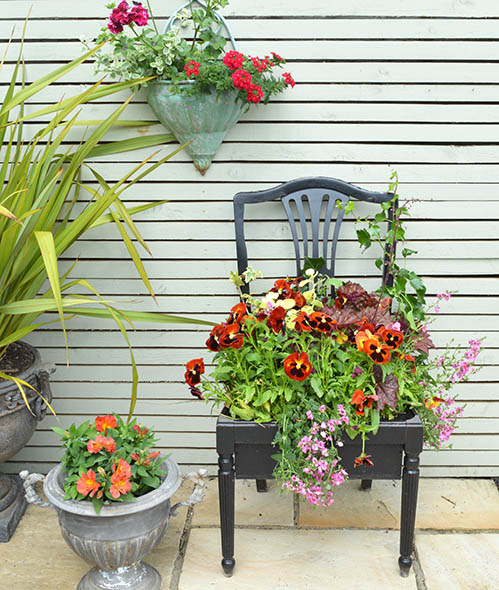 The photo was taken in June when everything had filled out nicely although the ivy will take a while to climb around the back of the chair. I added a few diascia to trail down the base and give a shot of pink. A pretty addition to any garden and a great way of adding colour if you have limited space. It's also very easy to replant when you fancy a change. The pansies could be swapped for summer annuals such as cosmos or pelargoniums but leaving the evergreens so you always have a basic structure of planting to add to whatever the season.
Jacqui x
Photography: Amelia Brooks/ Styling: Amelia and Jacqui Brooks
'How to Make a Chair Planter' written by Jacqui Brooks
This post was sponsored  by B&Q
2 replies to "How to Make a Chair Planter"
Leave a comment
Your comments make us happy!
Blog Etiquette
Please note that all content, including text and images are copyright of Audenza, unless otherwise stated.

If you would like to use content from our site, then we're very flattered to hear that, but please note its origins on your site or blog, provide a link back to us and kindly let us know where you have used our content.

Thanks!