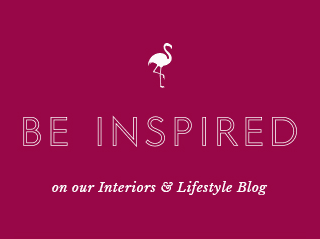 Vote For us + Win a Set of Gold Utensils!
13 Aug 2016
Well folks, it's August.  That doesn't mean I've taken to alerting you of each month passing, what it does mean however, is it's Amara Interior Blog Award time!  We've very kindly been nominated again and this year we've got a beauty of a competition for you, but more on that below.
First, I'd just like bore you for a few minutes to tell you what the awards means to us.  In 2014 lil' old Audenza were nominated for the inaugural IBAs; now a nomination might not seem a lot, since we only had to be nominated once, but to even think that one person out there thought our blog was worthy of a nomination, well, that felt pretty good.  So for the following weeks' we badgered everyone we knew to vote for us and low and behold we made the shortlist.  Wow!
We attended a swanky ceremony, met some lovely people and that was as far as we got that year.  So 2015 rolled around and it was time to do it all over again.  But this time we were up against some seriously big guns… I'm talking multi million pound business, big guns.  But THEN, they called OUR name.  Audenza… Winner!! I let out an audible 'shriek', which I felt horrendously embarrassed about afterwards, but hey, that's what a few glasses of prosecco and one hell of a shock will do to you.  We were all a little bit teary whilst accepting the award on stage, which may seem a little over the top, but it was genuinely emotional for us.  This is not a part time endeavor for us, this is our life.  Our 70-90 hour a week life, so any sort of recognition that people like what we're doing really means a lot to us.
The lovely Natalia from British Style UK nominated us this year and needless to say, we would love to be through to the shortlist again.  If we make the shortlist, it's then up to the judges to decide the winners and whilst I don't think we'd be lucky enough to win twice, it'd be pretty amazing to be in with a chance.  So once again, we are asking YOU, our lovely readers, customers and friends to vote for us.  We're also running a competition as a bit of a thank you for taking the time to vote and we're giving away our ever popular gold kitchen utensils – a FULL SET no less, worth £156!
HOW TO ENTER
1. Like the competition post on Facebook or re-Tweet this on Twitter.
2. Simply vote for us here: http://bit.ly/votemiafleur
3. Share your vote on FB or Twitter (make sure to tag us, so we know you've entered). OR forward the confirmation email to [email protected].
Simples!
P.S. if you have already voted for us and we have seen confirmation, we have already entered you!
BONUS PRIZE! We will also be giving away a surprise extra prize to the person who enters the most!  You can only vote once per email address though – but if you have more than 1 email address, or willing family/ friends with another email, then get voting!
Thank you all so so much in advance.  Do have a good look at the other blogs nominated in the awards, there's so many incredible blogs full of delicious interior inspiration.
Big love
Hollie x
T's & C's
Open to UK entrants only.  Ends 9th September 2016 17:00.  Set includes x1 Gold Serving Spoon, x1 Gold Ladle, x1 Gold Spatula, x1 set of 3 Gold Sieves, x1 Gold Cheese Grater, x1 Gold Whisk.  Please see individual product pages for specific information on each item.  Only one prize per person.  Only one overall winner and one bonus prize winner will be selected.  Overall winner will be picked at random after 09.09.2016, bonus prize will be awarded to the person who enters the most.  No cash alternative offered.  Entrants must provide confirmation of voting to validate their entry.
12 replies to "Vote For us + Win a Set of Gold Utensils!"
Leave a comment
Your comments make us happy!
Blog Etiquette
Please note that all content, including text and images are copyright of Audenza, unless otherwise stated.

If you would like to use content from our site, then we're very flattered to hear that, but please note its origins on your site or blog, provide a link back to us and kindly let us know where you have used our content.

Thanks!