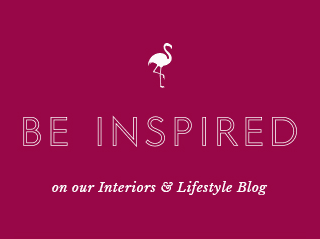 Before and After- A Tropical Garden Room Retreat
10 May 2018
I'm so excited to finally be able to reveal my tropical garden room retreat – nearly finished, at last! This is my garden room (as I call it) and also Isaac (my grandson's) playroom. In its previous life, it was an homage to vintage as a result of a collection of old furniture that didn't fit anywhere else.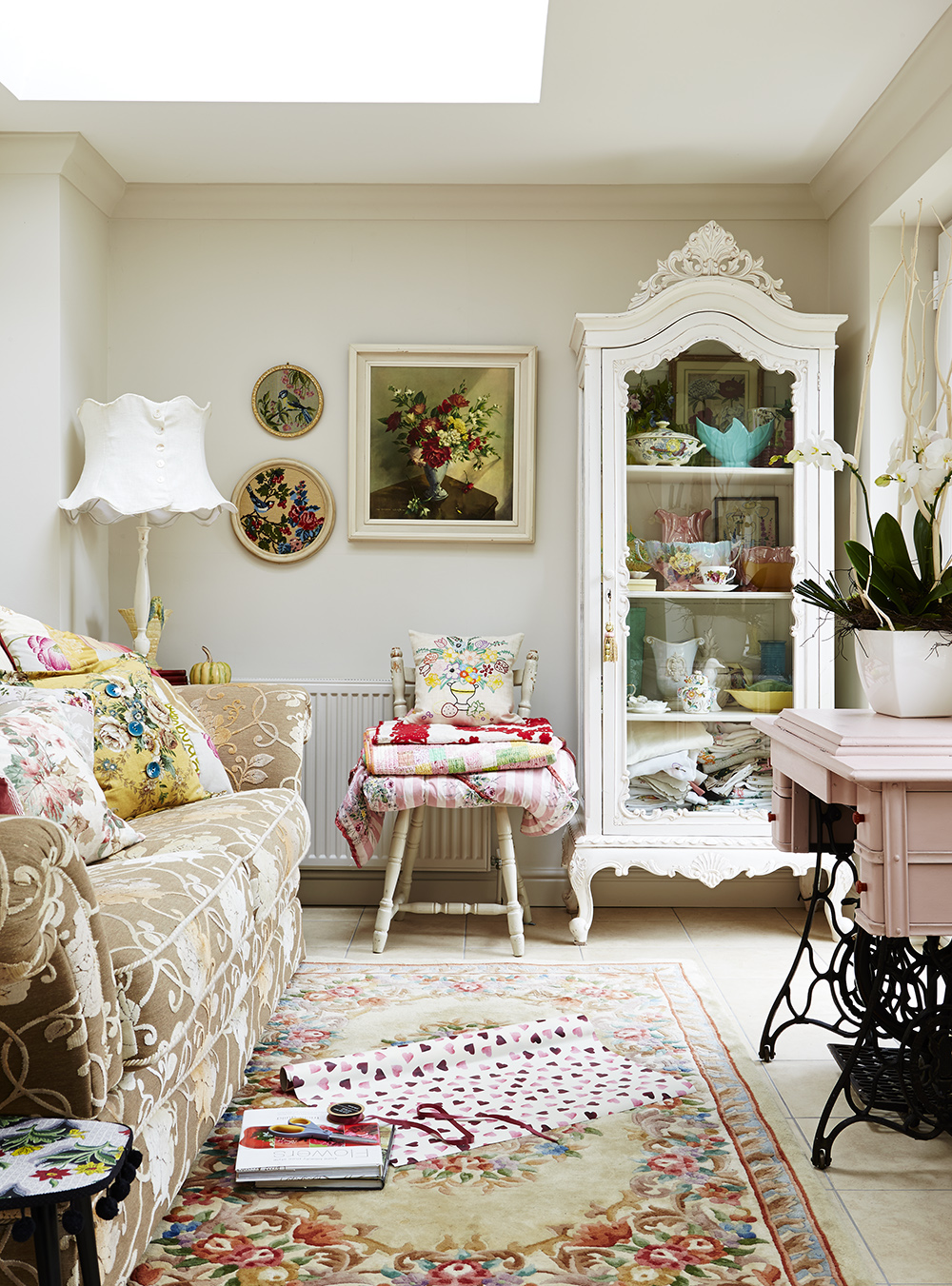 Photo credit: Rachel Whiting for Homes & Antiques magazine
For the garden room's revamp, I knew I wanted a lush, warm, embracing feel, and to bring the outside in, so I had the amazingly comfy sofa reupholstered in a gorgeous dark green velvet as the starting point.  And then I fell seriously in love with this 'Palm Jungle Wallpaper' by Cole & Son – isn't it fabulous?  I haven't put any pictures or wall art up as I love the wallpaper so much I don't want detract from it, and quite like the simplicity.  You know you're a maximalist when you class heavily patterned wallpaper as 'simplicity'.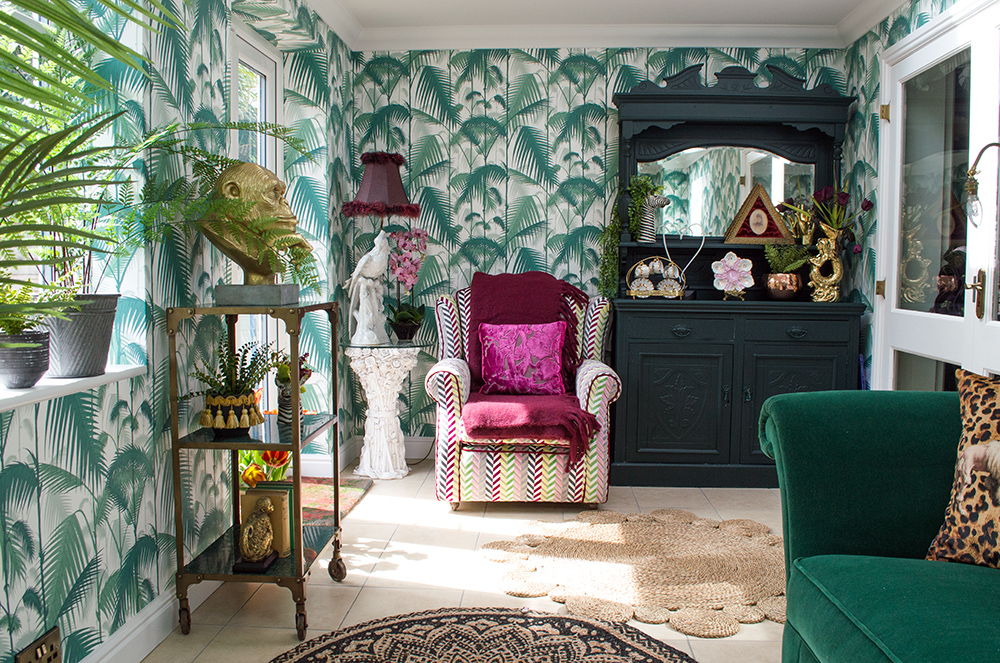 The majority of the furniture is original to the room (apart from the Raspberry Velvet Pouf and the Mongolian Fur Chair), but I repainted the large old dresser and a side table in 'Mallard' by Dulux Heritage.  What do you think to the armchair recovered in a striking patterned velvet by Designers Guild?  I debated about this for a few weeks but thought the room needed a hit of colour and pattern that wasn't tropical inspired to give it an edge.  I always think back to my stay at Ham Yard Hotel in London and how blown away I was by the mix of pattern and colour that Kit Kemp uses in her design work.  She is a real inspiration to me for her bold and unexpected combinations, and playful interiors.  And talking of colour combinations you may wonder on the absence of garish plastic toys from this 'playroom'?  The big dresser holds toys, but the larger pieces i.e. Isaac's table, chairs and cooker have been put in the integral garage to be brought out when he is here as I was finding it difficult to look at them on a daily basis!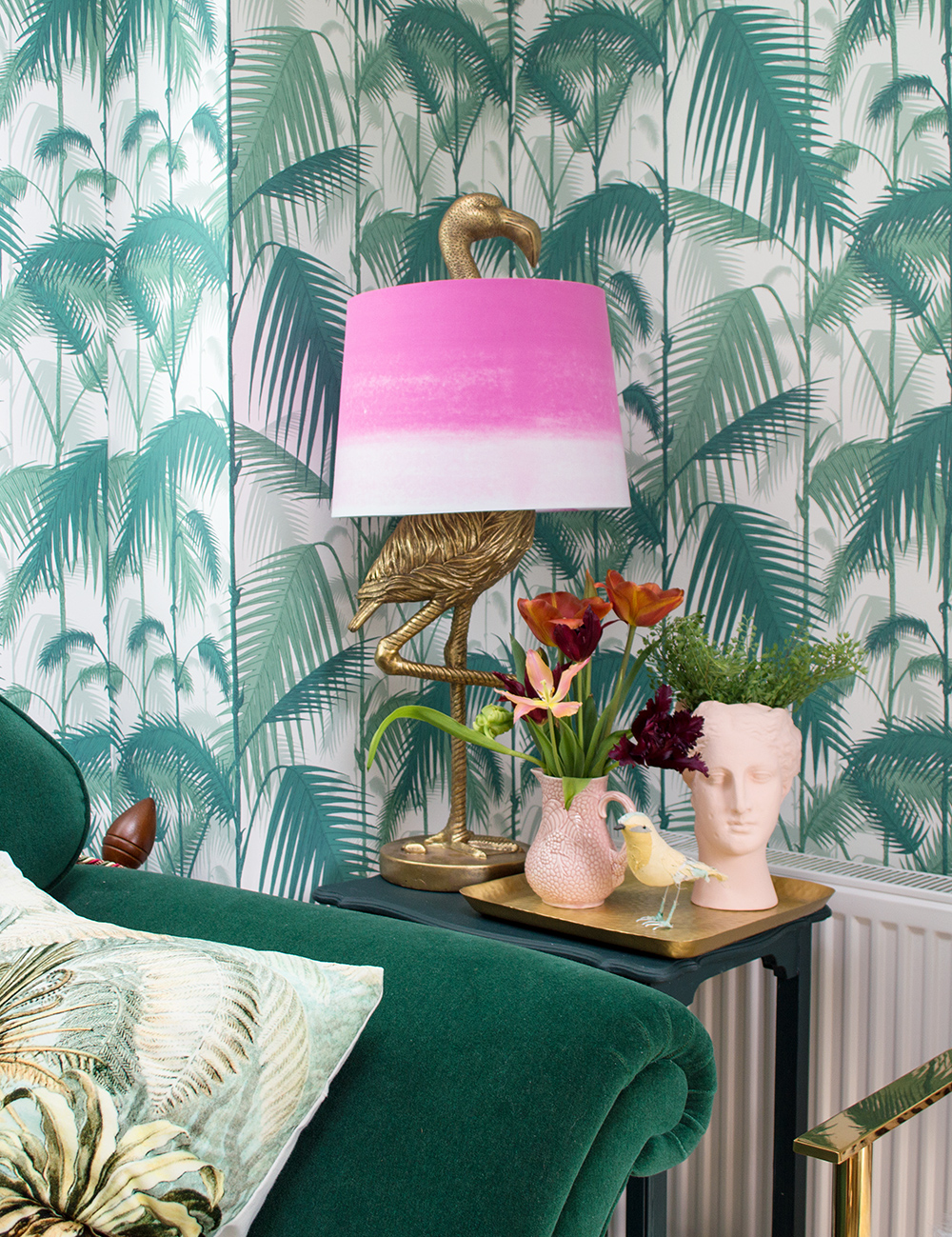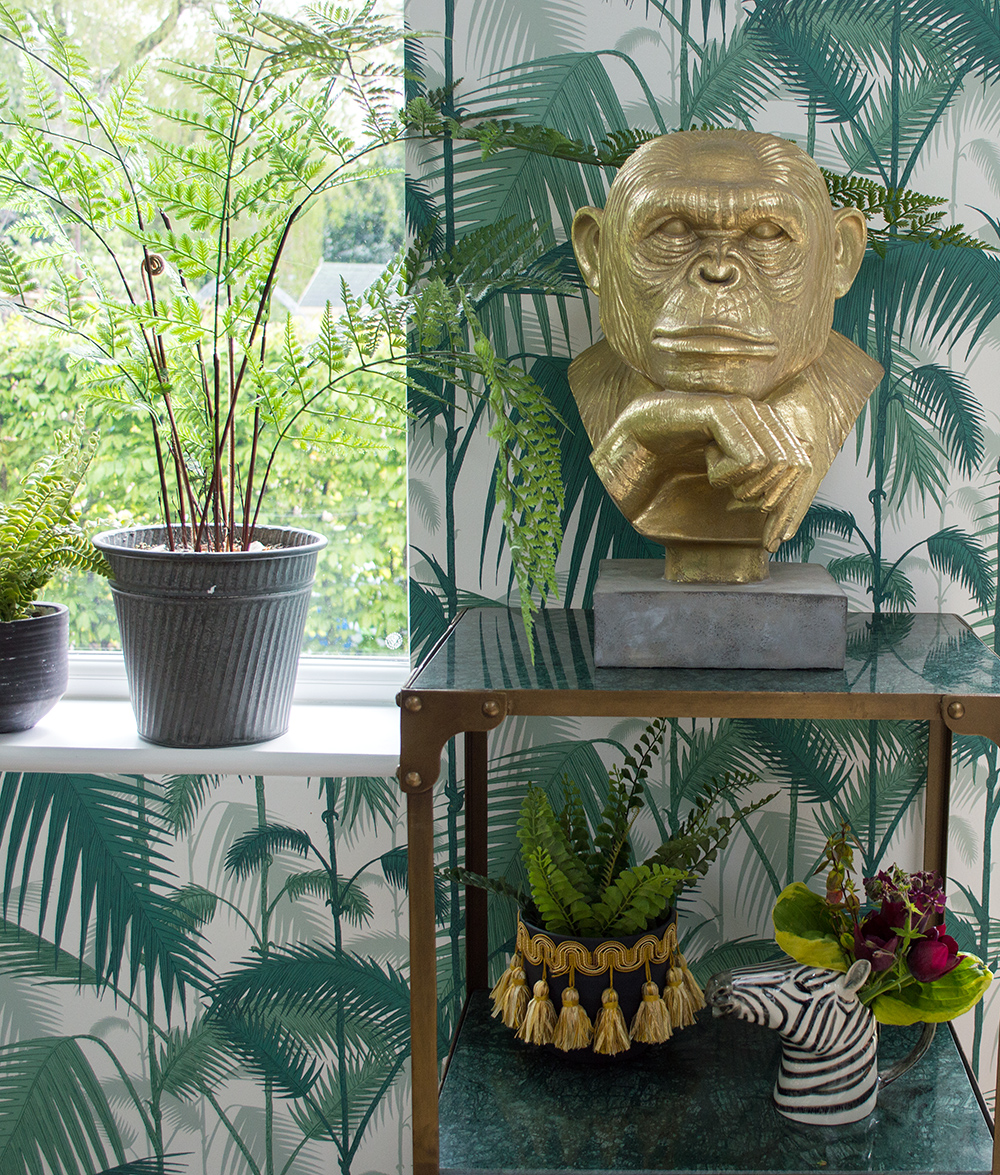 Plants, of course, are essential to the tropical feel but I am a disaster with house plants (despite being a gardener) so apart from the spider plant, which I can't kill, they are all artificial house plants, marvellous aren't they?  And to go with the lush greenery I wanted a bit of an animal theme running through so I braved the wise monkey statue as the focal point.  When the girl's bought the Monkey Statue for Audenza I thought, 'Hhmmm, I'm not sure about him!'. But now I absolutely love him for his glitzy gravitas.  All the other accessories are a mix of old and new, which I believe is the best way to decorate for a truly unique home.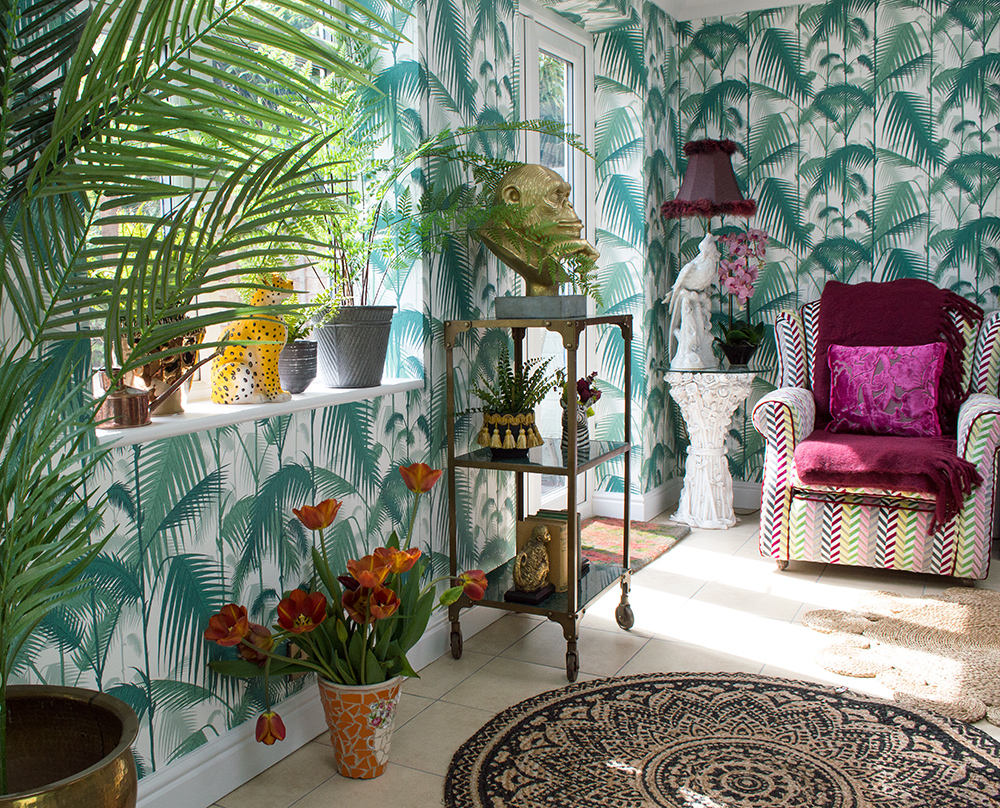 Last but not least, the cushions on the sofa.  I had to have them, they had my name written all over them, and divine is my one word on the subject.  And talking of divine, my home-grown tulips give a boost of colour to my garden room, and help to bring the outside in.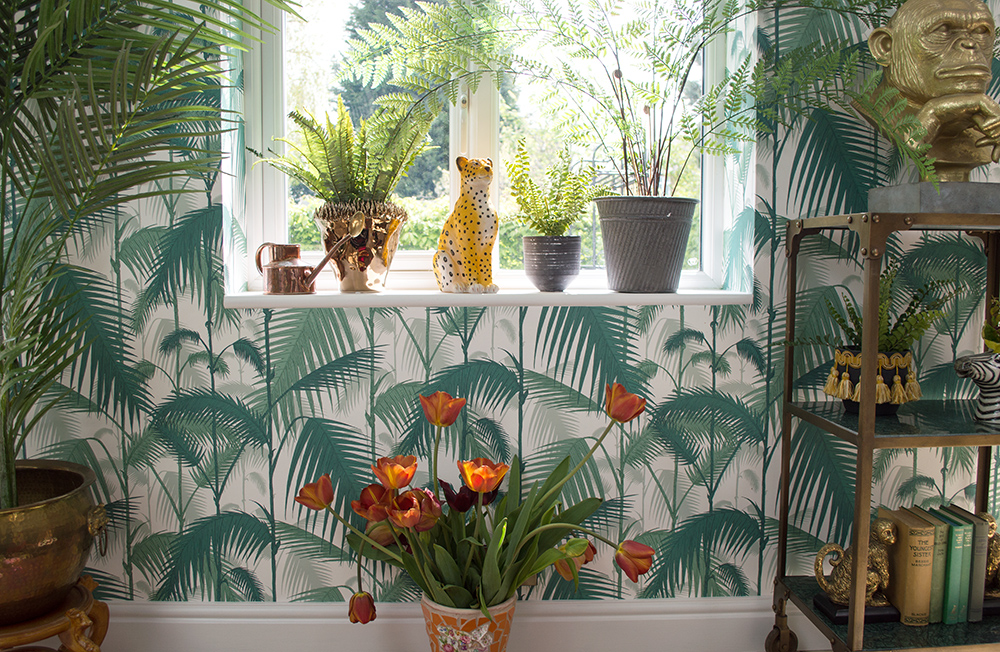 Still awaiting the electric roller blinds in soft white (from John Lewis) and what a debacle that has been!  John Lewis, who pride themselves on their customer service, have been sadly lacking here.  I was told 2 weeks to make the blinds, and 10 weeks later I'm still waiting despite repeated phone calls that were not returned.  They are now ready but I have to wait 2 weeks to have them fitted!  Service?  I think not and will be buying elsewhere in future.  And still pondering the advisability of having a large and fabulous jade green rug from the '2 Lovely Gays' collection for Floor Story.  I absolutely love the rug, but firstly, it's exceedingly expensive, and secondly, the room leads straight onto the garden and is Isaac's playroom as well, so it will take a bit of battering.  But then I'm a big believer in stuff being loved and used, so maybe! Do you think I should go for it?
Get The Look
Flamingo Table Lamp | Dog Leopard Print Cushion | Faux Potted Fern | Mongolian Fur Chair | Leopard Money Box | Raspberry Velvet Pouf | Jute Round Rug | Pelican Velvet Cushion | Monkey Statue | Palm Jungle Wallpaper
I hope you love the room as much as I do?  I'm off to Cornwall next week, Hollie is off to Greece and Amelia is moving house, so there'll be no blog next week.  But we'll be back with a fantastically colourful and glam house tour the following week.
Enjoy the UK sun while it lasts!
Jacqui x
18 replies to "Before and After- A Tropical Garden Room Retreat"
Leave a comment
Your comments make us happy!
Blog Etiquette
Please note that all content, including text and images are copyright of Audenza, unless otherwise stated.

If you would like to use content from our site, then we're very flattered to hear that, but please note its origins on your site or blog, provide a link back to us and kindly let us know where you have used our content.

Thanks!