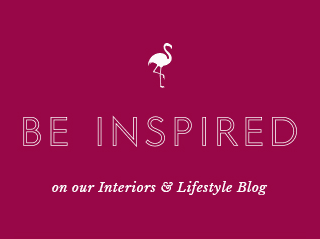 3 New Season Mood Board Ideas for a Super Stylish Home
17 Aug 2018
Want a new look for the new season?  We've put together 3 interior mood board ideas to show how our products can be used in very different schemes for a super stylish home.  Also, a sneaky peek look at some of our new AW18 products!  Some people have a very defined style that encapsulates their whole house, but I'm a bit of a magpie at acquiring goodies and like different looks for different rooms, in order to give a space the vibe I want.  My bedroom is palest pink and gold, which I like for its sense of calm and femininity, my sitting room is dark and moody with lots of splashes of colour and, of course, gold, the garden room (opening onto the garden, obvs), is a green oasis filled with plants and exotic animal touches for a jungle feel.  So, whatever your taste try experimenting with different styles for different rooms.
The Daring Explorer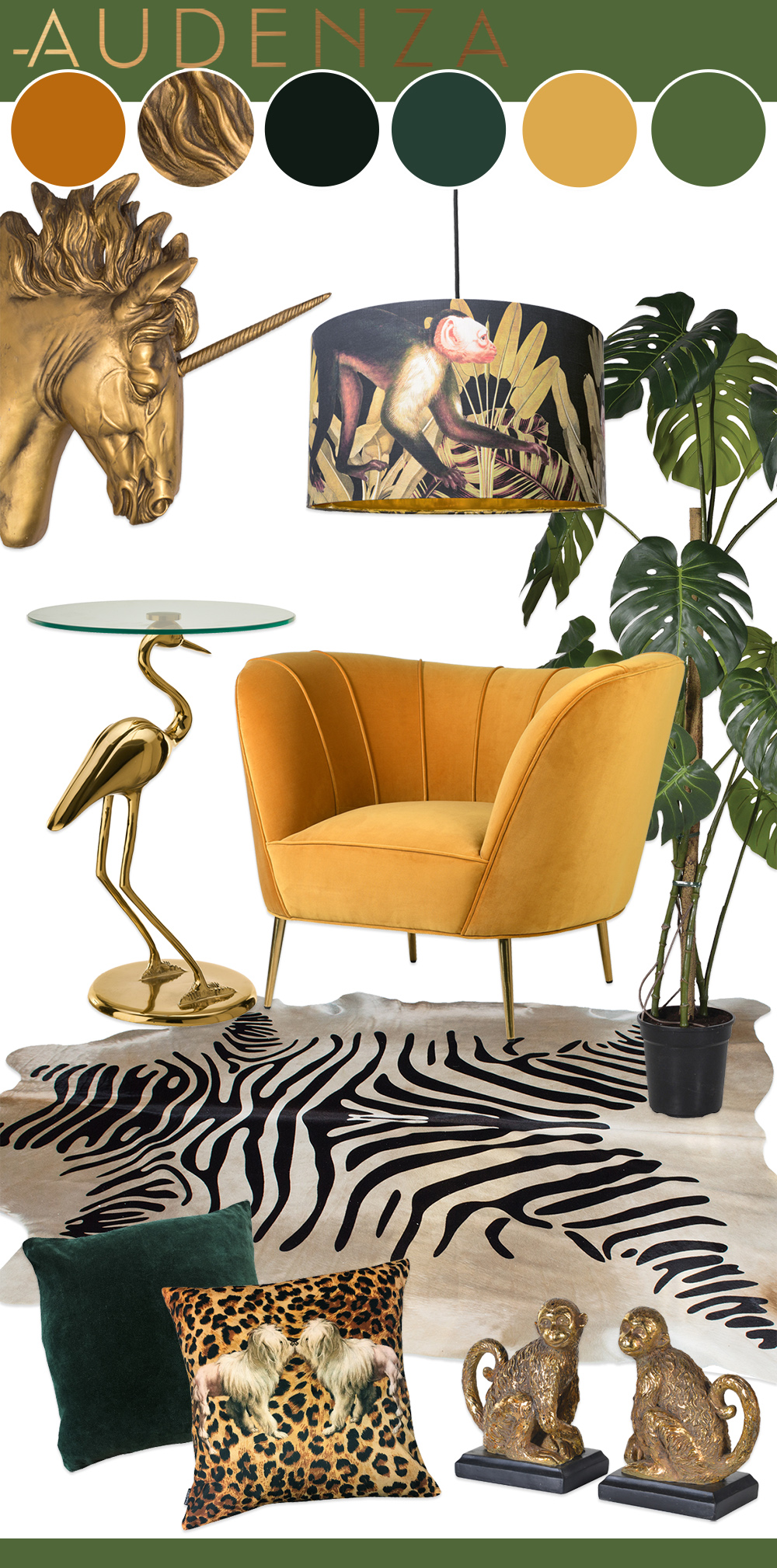 Unicorn Head Wall Decoration | Monkey Pendant Light | Faux Monstera Tree | Crane Side Table | The Curvarella Velvet Chair | Zebra Print Cowhide Rug |Green Velvet Cushion | Dog Leopard Print Cushion | Monkey Bookends
The daring explorer is a fun way to add an exotic element to your interior space.  Large and lush tropical plants set the scene for a decidedly avant-garde look.  Daringly dark green lends an intimacy to this scene, but the addition of gold creates a lightness of touch that uplifts and bedazzles.  With animal imagery on the furnishings such as lamp shades and cushions you get a feel for the jungle, and make sure to add in some animal print for a really bold and on-trend safari style update, such as a zebra cowhide rug for the ultimate animal vibe.  For a contrast in colour, mustard velvet works well to a colour scheme like this and adds some luxury texture, along with velvet cushions.
Fearless Opulence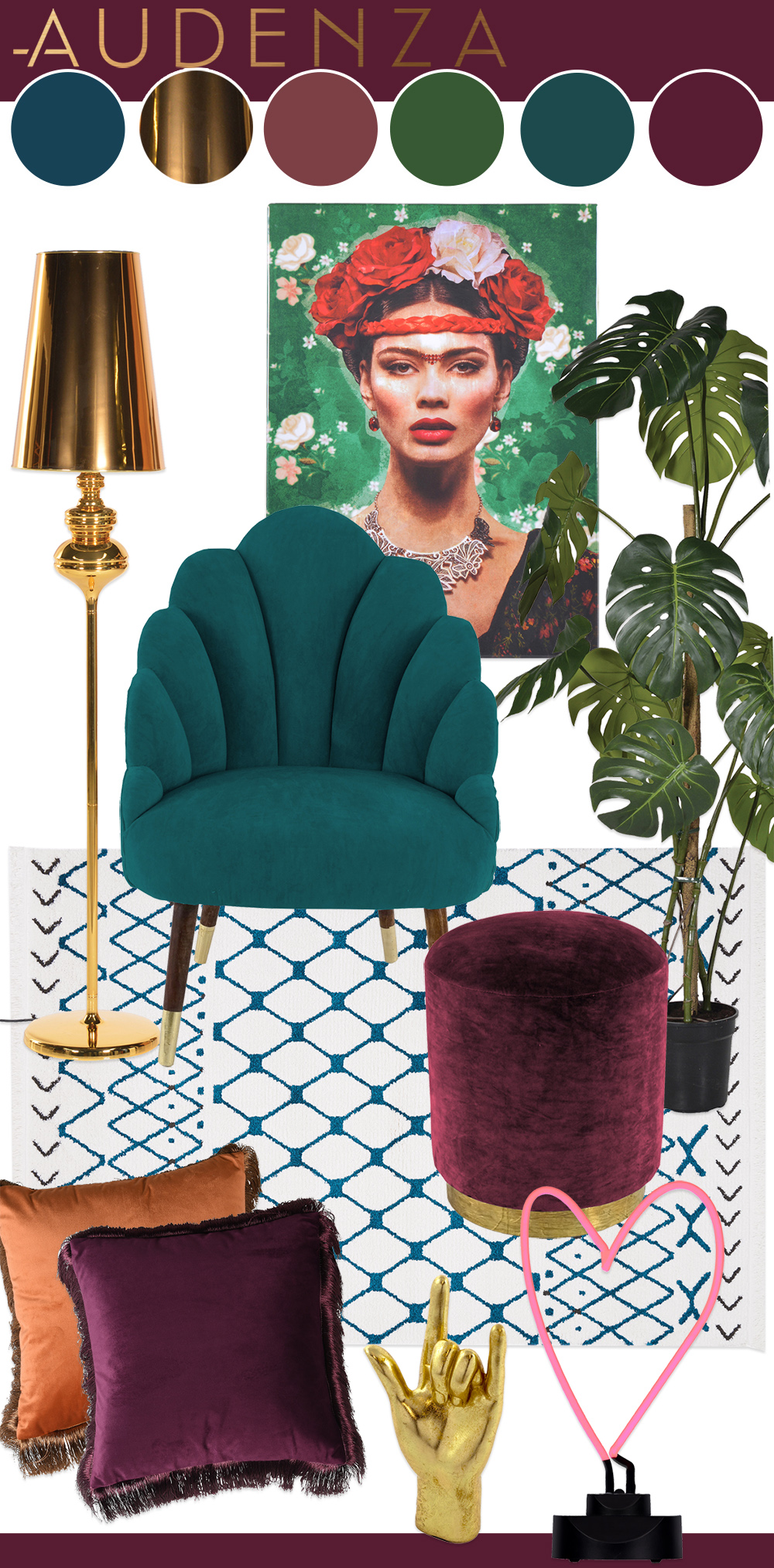 Glam Gold Floor Lamp | Frida Kahlo Print| Sienna Velvet Shell Chair | Faux Monstera Tree | Asha Patterned Shag Rug | Emilia Velvet Stool |  Freya Cushion Cover With Fringing |Gold 'Rock On!' Hand |Pink Neon Heart Light
Fearless opulence for the fabulous and fearless amongst you.  Dare you?  With the trend for rich velvets and exciting colourways this is an easy one to pull off.  With plum and teal and forest green as the main components of the colour scheme you only need throw in some gold for a truly lush décor.  All of these jewel tones work so beautifully together, so don't be afraid to use the colour palette to it's fullest here to really make the room sing. Again, a strong Hollywood Deco vibe to this interior scheme with the richness of colours, but adding in plenty of unusual quirky accessories brings it bang up to date.  Such as the 'rock on' hand and pink neon heart light bring an uber cool and contemporary vibe to this scheme.
Iconic Elegance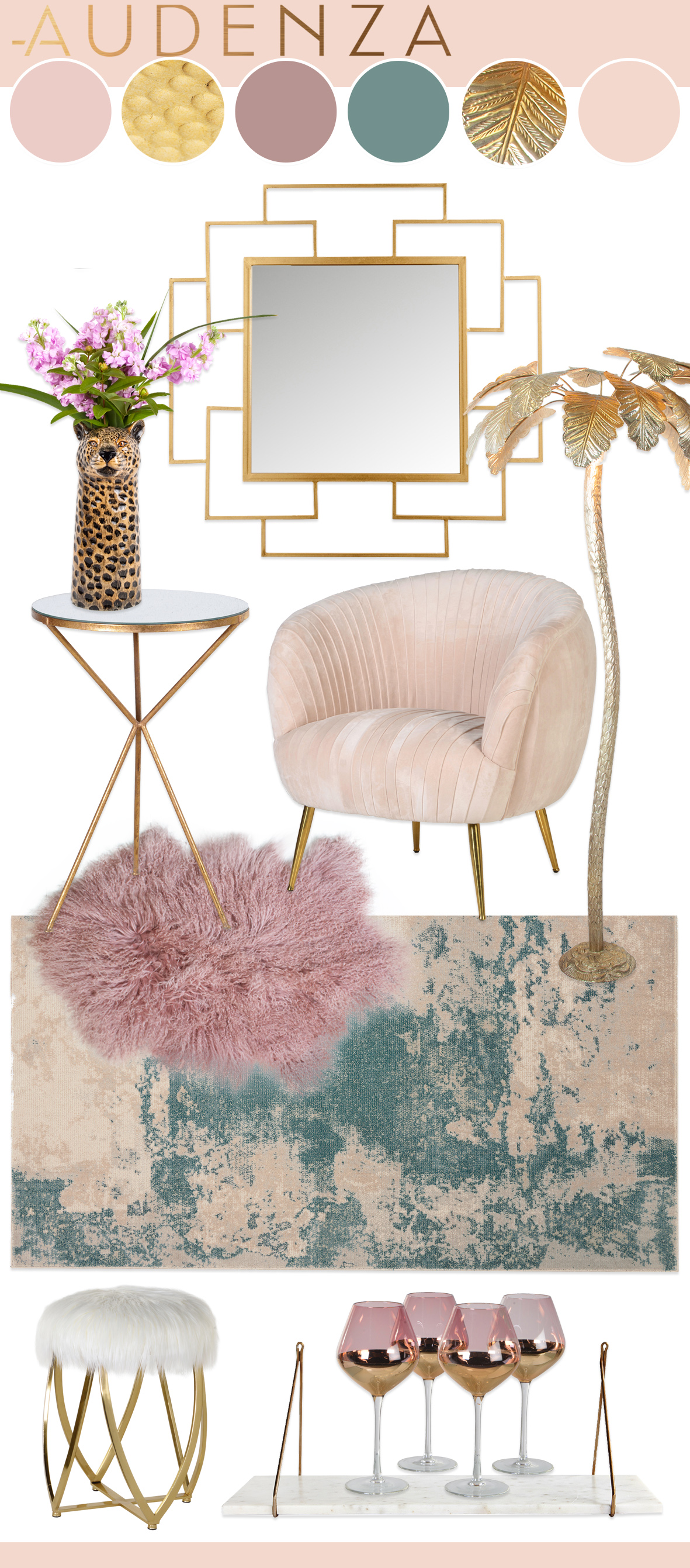 Leopard Vase | Gold Tripod Side Table| Gold Deco Square Mirror | Marilyn Velvet Armchair | Palm Tree Floor Lamp | Tibetan Sheepskin Rug | Lalita Textured Rug | Faux Fur Gold Stool |Berry Tinted Wine Glasses | White Marble Shelf
Pink and gold décor is deliciously feminine and elegant.  In other worlds it can be shocking or dreary or sickly, but in the Audenza world it is a gloriously glamorous and feminine haven that exudes elegance.  Palest pink needs oomph adding to it to lift it up from the ordinary, and what better way than lashings of gold.  Seductive and sensuous gold, of course!  The tall sinuous palm tree floor lamp creates drama, and a touch of the exotic, whilst retaining a calmness.  For colour contrast, teal is the perfect partner that sharpens up the scheme, and it's important to layer up the textures for a feminine space that speaks of softness and warmth.  All in all, there is a definite Hollywood vibe here, so play up the luxury for an elegant and feminine interior that is never dull (or sickly sweet).
Whether you're looking for a complete revamp or just a tweak here and there we have plenty to tempt you with.  Just throwing down a rug, scattering a few new cushions and changing the wall art can make a room look so different.  But if you're looking for a complete change, we dare you to push your own boundaries a little and step outside your comfort zone. That's where the magic happens! We hope we've inspired you to try something a little different – which of our 3 interior mood board ideas tempt you?
Jacqui x
Never miss a post: follow us on Bloglovin'!
22 replies to "3 New Season Mood Board Ideas for a Super Stylish Home"
Leave a comment
Your comments make us happy!
Blog Etiquette
Please note that all content, including text and images are copyright of Audenza, unless otherwise stated.

If you would like to use content from our site, then we're very flattered to hear that, but please note its origins on your site or blog, provide a link back to us and kindly let us know where you have used our content.

Thanks!