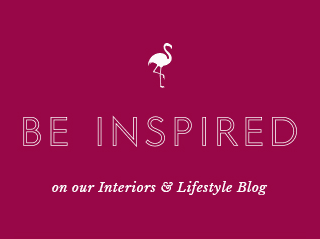 How to Style your Sofa
7 Oct 2021
Your sofa creates the biggest impact in a room so we thought we would give you a few tips, with some dazzling images, on how to style your sofa.  Cushions are the spice of life and I can't get enough of them, there is always one more I must have.  To the extent that I stash a few away and then have a change round now and then, which gives a new look to the room.  And, of course, you always need a throw or two about for cosy snuggling.  It has to be the easiest way to refresh your décor without too much outlay.
So how do you like your sofa?  Bright, colourful, with bold splashes of pattern, or tonal, elegant and serene?  We've got a few ideas here for you to see how it's done, whatever your style.
Maximalist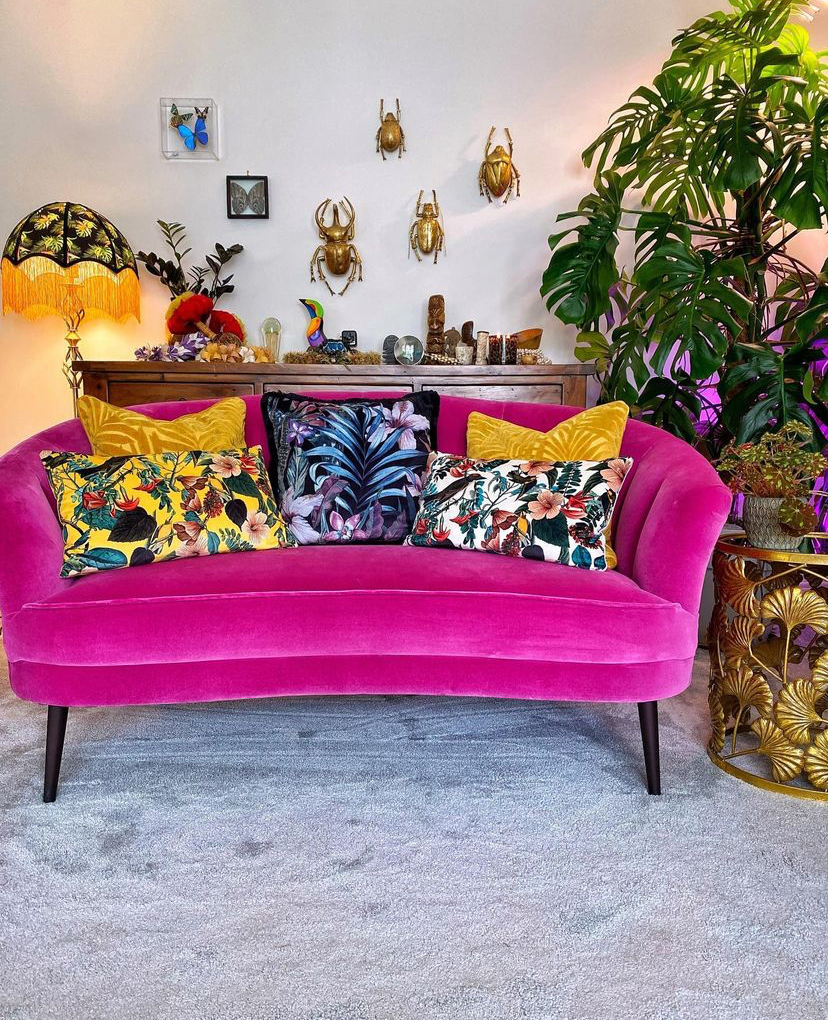 Image credit @the_dovecote_nest | Featuring our Ginkgo leaf Side Table & Gold Beetle Wall Decor
This hot pink velvet sofa is a maximalists delight.  Big bold patterns and plenty of vibrant colours going on there.  The two front cushions match, just in different colourways and the back two cushions match in a unifying mustard colour that picks up on the colours in the room scheme and the other cushions. So, maximalist yes, but in a considered way.
Clash with Panache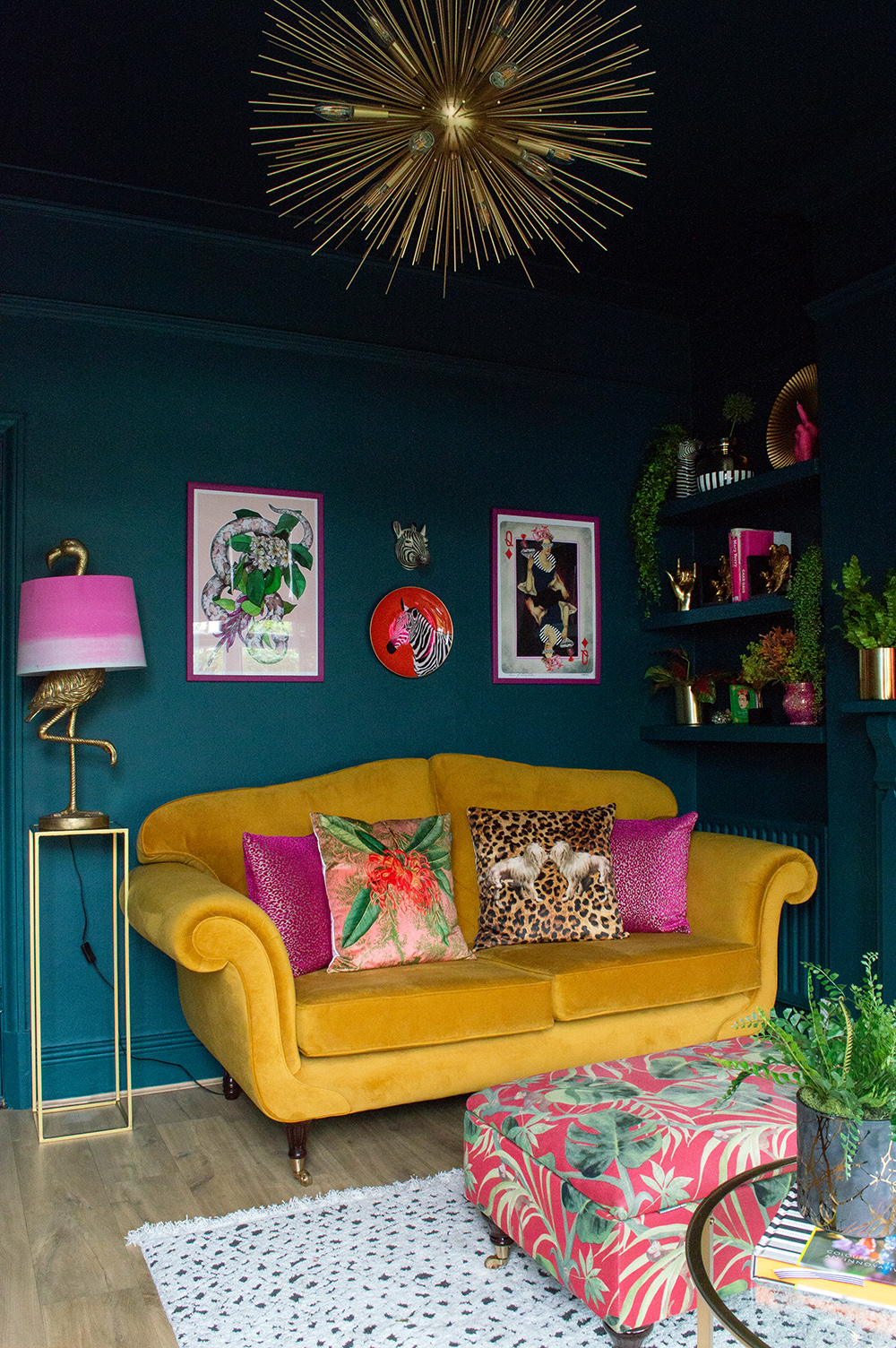 Image credit Audenza| Featuring our Flamingo Table Lamp, Zebra Vase, Sunburst Pendant
Amelia's sofa is what we like to call 'clash with panache' in that it has two clashing patterned cushions at the front that don't tie in with or each other, or the rest of the room.  To calm this down and create some sense of order the two back cushions in hot pink tie it all together as they pick up on the colours in the room.
Tonal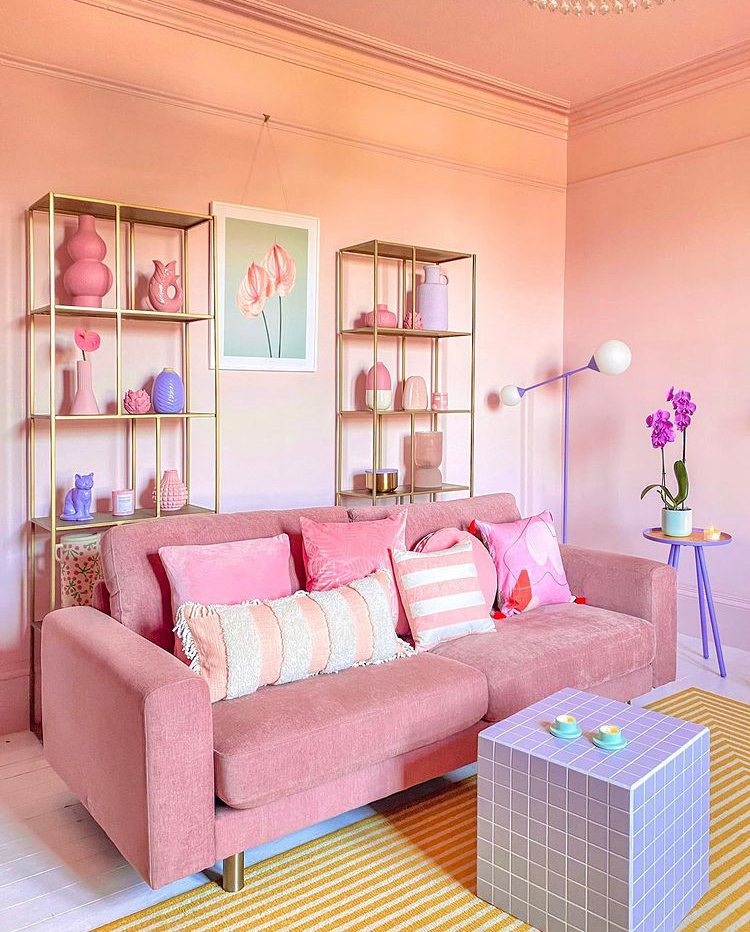 Image credit @paintthetownpastel
If you prefer a calming ordered scheme tonal is the way forward.  Just make sure you mix lots of textures for interest.  Bright pink with pops of lilac give this room a fun invigorating look.  The cushions are in all the shades of pink possible, and all different shapes and sizes, but it works so well by keeping to a common theme and toning in with the sofa.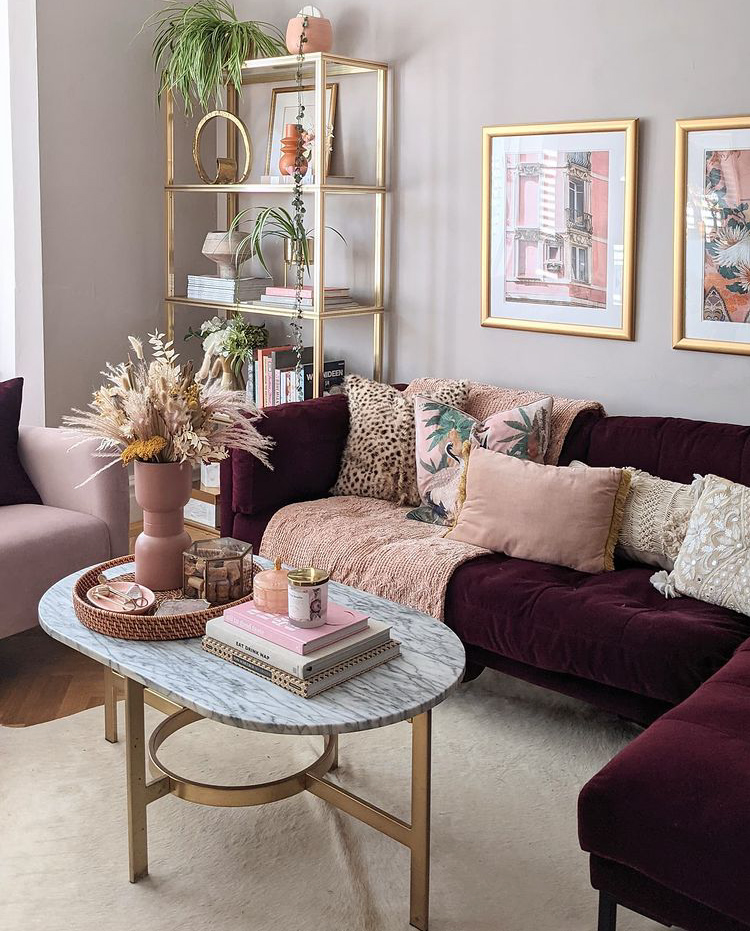 Image credit Swoon Worthy | Featuring our Leopard Print Goat Fur Cushion Cover
By layering a muted pink throw on this deep burgundy sofa it grounds the muted pink and neutral coloured cushions for a calming serene style.  The whole room is in tonal colours apart from the sofa for a very relaxed feel.
Ordered Simplicity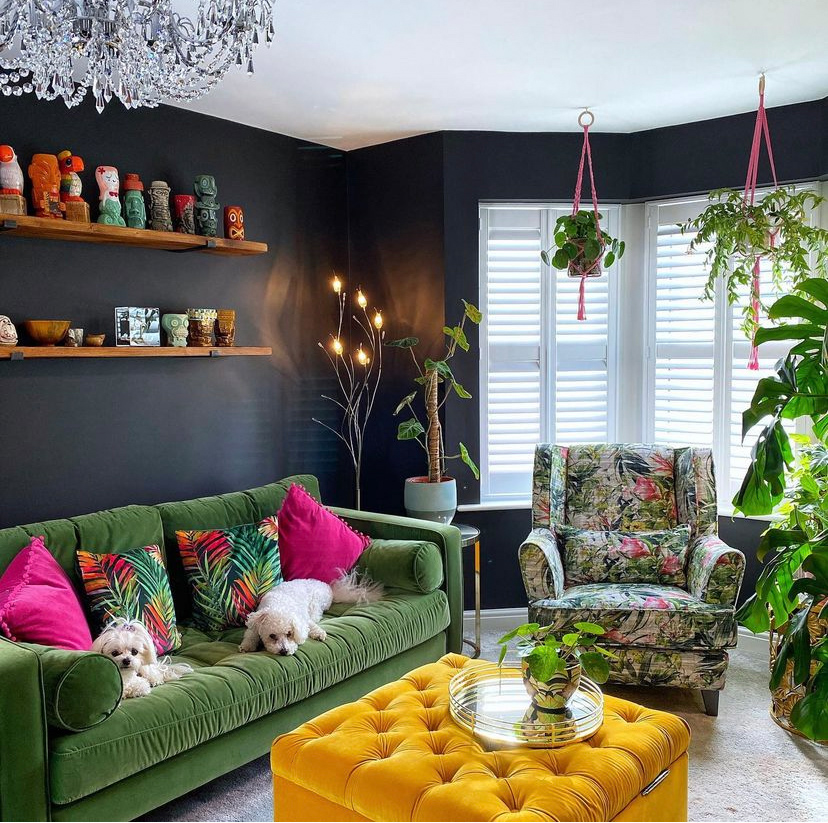 Image credit @the_dovecote_nest | Featuring our Ginkgo leaf Side Table
Ordered simplicity is the art of keeping it simple – something, I personally, am not capable of!  But this beautiful colourful room achieves it.  Two sets of matching cushions, two to tone in with the sofa and two for a colour clash – perfect.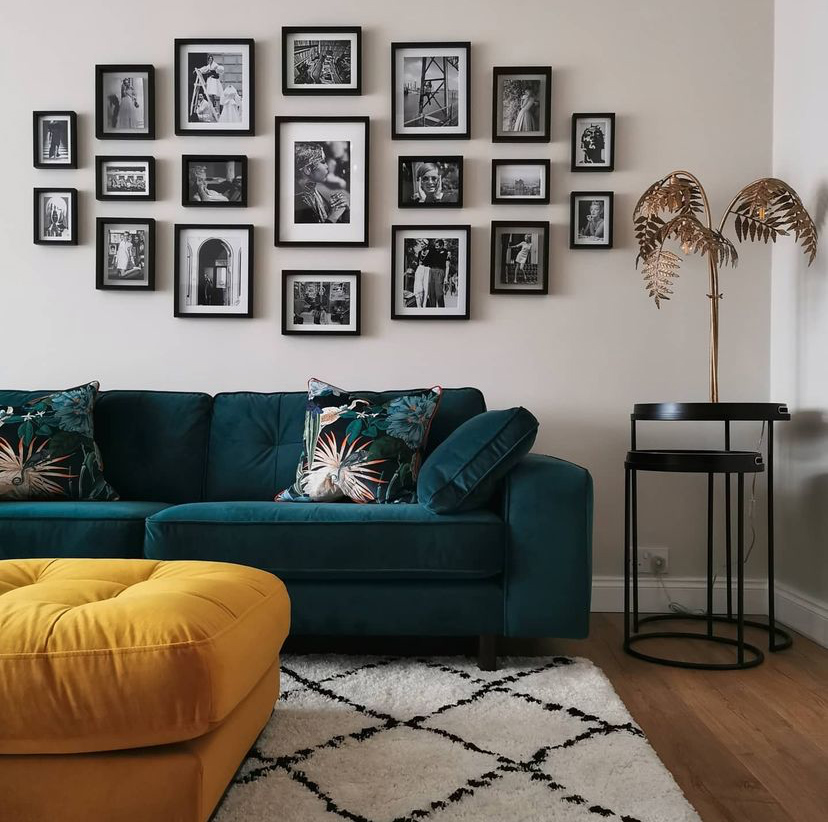 Image credit @home_onthecorner | Featuring our Antique Bronze Palm Leaf Table Lamp
Another set of four cushions, two that match the sofa and two patterned that tone in.  Perfect simplicity with the black and white gallery wall behind for drama.  So, for striking simplicity the motto is two matching cushions either end.
Layered Cosiness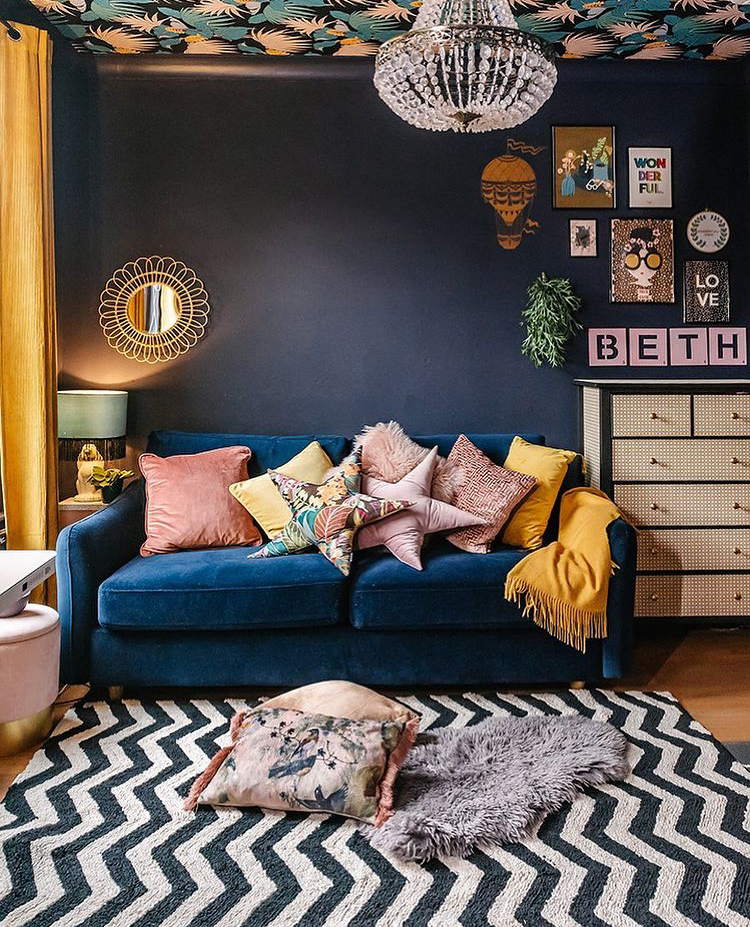 Image credit @layered.home
Don't you just want to sink yourself into this amazingly cosy looking sofa?  Layers of textured cushions in shades of pink and mustard that contrast with the teal sofa.  The addition of the mustard throw really sets the scene for layered cosiness that invites you in.  You can just imagine sinking into the cushions and wrapping the throw around you.  And two fabulous star shaped cushions for a hit of quirkiness.
Asymmetric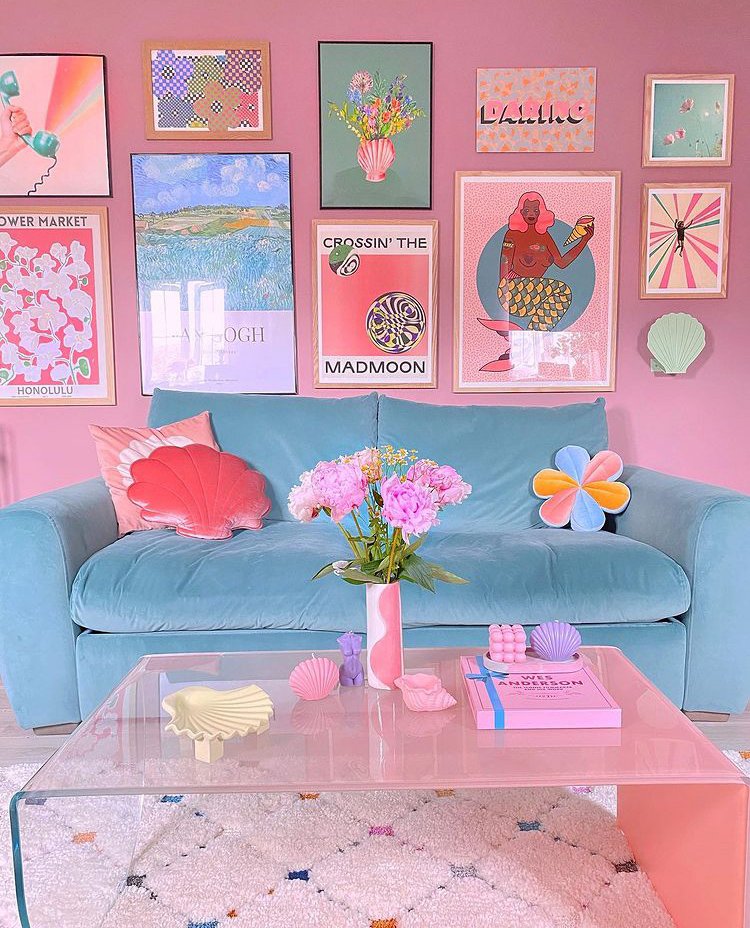 Image credit @kate_rose_morgan
And last, but certainly not least, this eye popping candy coloured room with its gorgeous blue velvet sofa.  Just three cushions – that's all it takes to make this fabulous display.  Three quirky cushions mind!  With the colours picking up those of the gallery wall behind.  The asymmetrical layout really works, and mirrors the table display with its random layout.  Best styled in odd numbers for that slightly unbalanced feel that makes it work.
I've just ordered a new sofa for my front room – pink velvet – so lush.  Not coming until the end of January mind so I think there is plenty of time for the cushion search.  I really love the asymmetrical sofa but I know three cushions will not do it for me so I think it will be more along the lines of layered cosiness.  Plenty of ideas here to wet the appetite anyway.  So have a browse of our range of cushions, and happy sofa styling!
One reply to "How to Style your Sofa"
Leave a comment
Your comments make us happy!
Blog Etiquette
Please note that all content, including text and images are copyright of Audenza, unless otherwise stated.

If you would like to use content from our site, then we're very flattered to hear that, but please note its origins on your site or blog, provide a link back to us and kindly let us know where you have used our content.

Thanks!