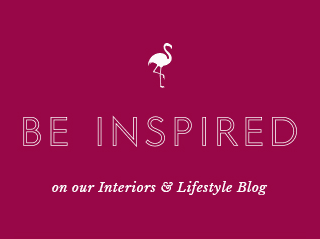 Easy Home Updates- How to Cover a Lever Arch File in Fabric
15 Nov 2013
We're on a mission to banish ugly, functional objects.  Starting with lever arch files- who'd have thought a lever arch file could be decorative?! Well, we're going to show you how to cover one in fabric, it's so cheap and easy to do and there is nothing more boring on your shelves than rows of grey cardboard.  Though we can't promise a spruce up on the outside will make the paperwork inside any more appealing to deal with!
Here's how to do it:
Materials
Lever arch file
Fabric
PVA glue
Small paintbrush
Rotary cutter/mat or scissors
Pins
Ruler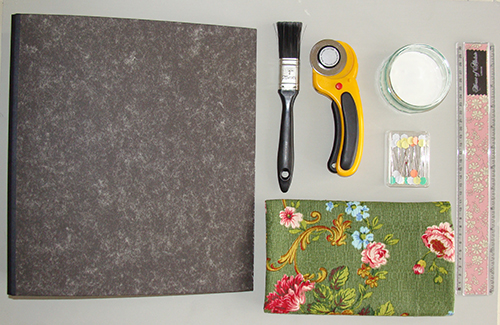 When choosing your fabric consider how the pattern will be viewed by laying the fabric over the file and decide how you want the design to sit on the front and side of the file.
If using a small repeat design simply measure from top to bottom (the height) of file and add 10cm for turnings ( 5cm for each overlap) and then measure across the front, spine and back of the file (measure as one length) and again add 10cm for turnings.
For a fabric where you want the design to be strategically placed (as I have done) use pins to mark the edges of the file at the front and then add 10cm to the top to bottom measurement and 10cm for the lengthwise measurement.  If you have a rotary cutter and mat this is the easiest way of cutting the fabric, if not, mark out the size with pins and cut to size with scissors.
Using PVA glue cover the front of the file in a thin even layer of glue.  Carefully place your fabric over the file making sure it is straight and you have even edges for turning, but don't turn over the edges yet. The fabric can be repositioned easily at this stage
Smooth the fabric over the glue starting from the middle to get rid of air bubbles.  Then glue the spine of the file and smooth the fabric and then, finally, repeat the process on the back.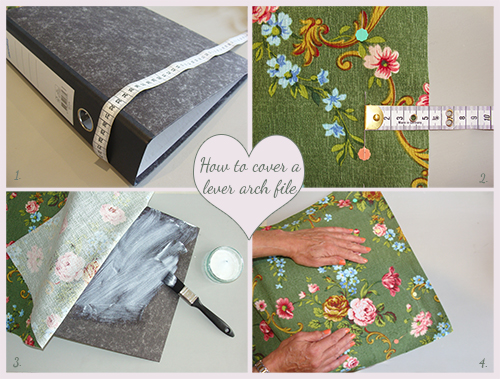 5.  Now cut the fabric at a 45° angle to each of the four spine folds to give you a neater finish inside.  Glue the spine flap down, top and bottom.
6.  Next make 45° angle cuts to each corner of the file.
7.  Glue the flaps down inside.
8.  Once securely glued put a small dab of glue on each cut corner to stop the fabric from fraying.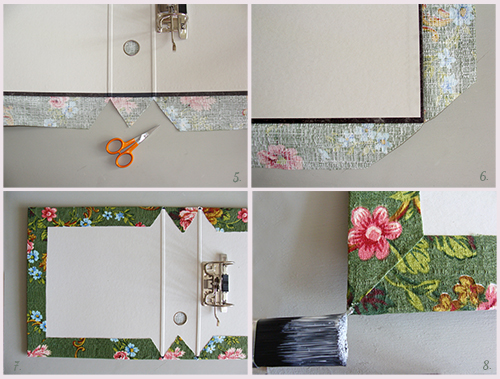 Voila – a beautiful file that is customized to suit your décor.  Mix up the fabrics to give an eclectic feel or make them all the same to give a cleaner look.  We fell in love with a tea towel from our previous home accessories collection and couldn't resist using it to cover a file.  Luckily it was the perfect size and so was very simple to do.  Have a go and see how it can change the look of a utilitarian object.
For a more modern look, check out my post, How to Cover a Lever Arch File in Marble.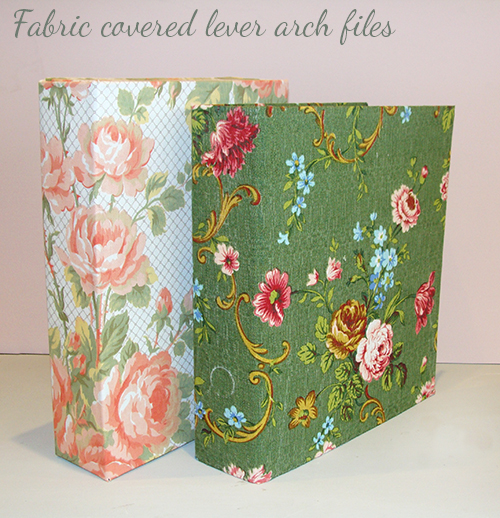 Have  a lovely weekend all.
Jacqui x
Easy Home Updates- How to Cover a Lever Arch File in Fabric by Jacqui Brooks
7 replies to "Easy Home Updates- How to Cover a Lever Arch File in Fabric"
Leave a comment
Your comments make us happy!
Blog Etiquette
Please note that all content, including text and images are copyright of Audenza, unless otherwise stated.

If you would like to use content from our site, then we're very flattered to hear that, but please note its origins on your site or blog, provide a link back to us and kindly let us know where you have used our content.

Thanks!