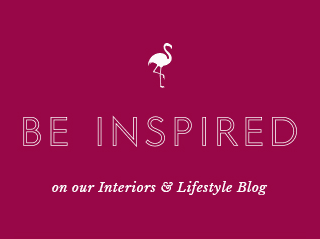 How to Style 1 Bouquet 3 Ways
13 Nov 2015
The last bunch of dahlias for this year – aah so sad! My youngest boy and 2 of his workers did a day of clearing and cutting down in the garden for me this week as I have been very neglectful and got really behind with the garden so I had to call in the heavies as there was no way I was going to catch up! So what better way to celebrate wonderful dahlias than a quick photoshoot on how to style 1 bouquet 3 ways?
The three vases are all very different in shape the only common denominator being that they are all blue, and divine – of course!
This tall sapphire glass vase is perfect for the long stemmed dahlias and I wanted it to look like an exploding firework seeing as they are popping off all over the place and the colours in the dahlias are certainly bright enough – no subtlety here, so go for it! I used trailing ivy and grasses to give the spiky effect to the arrangement.
This beautiful two handled jug is really tricky for flower arranging unless you know how. Because of the wide mouth the flowers and foliage flop all over the place and look sad and droopy. The florists trick to get perky blooms is to use a flower frog. Take a look at this blog for more info on flower frogs. I cut the stems shorter and added dianthus 'Green Trick' and some Mexican orange blossom to give a fatter, fuller display.
Last, but not least, a lovely vintage ginger jar my granny gave me. I wanted the dahlia blooms to make a big rounded pincushion of colour to sit atop the jar so dispensed with most of the foliage. There is just a few sprays of pittosporum 'Tom Thumb' to add a warm autumnal richness to the display. I didn't need to use a flower frog with this arrangement as the narrower opening holds the blooms snug.
So there we have it, 1 bouquet styled 3 different ways. Which is your favourite? If I absolutely had to pick a favourite I think it'd be no. 3 for me… a heady combo of nostalgia and blooms.
Jacqui x
Why not take a look at our selection of vases.
Never miss a post: follow us on Bloglovin'!
Photography: Amelia Brooks/ Styling: Jacqui & Amelia Brooks
Leave a comment
Your comments make us happy!
Blog Etiquette
Please note that all content, including text and images are copyright of Audenza, unless otherwise stated.

If you would like to use content from our site, then we're very flattered to hear that, but please note its origins on your site or blog, provide a link back to us and kindly let us know where you have used our content.

Thanks!