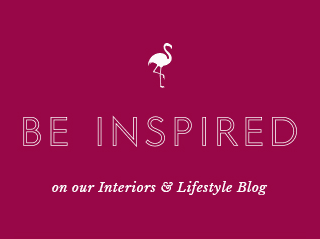 Fabulous & Fearless Women: Sylvia Mac, Love Disfigure
14 Sep 2018
It was at the age of 48 that our next Fabulous and Fearless women, Sylvia Mac made a courageous turning point in her life…
At the age of four Sylvia suffered a traumatic experience after falling into a bath of boiling water. Having spent years hiding her burns and tired of suffering with mental health, that was also affecting those around her, Sylvia admirably bared her scares for the first time in her life, and so, Love Disfigure was born. Through passion and dedication, the campaign has helped raise awareness and support of others living with disfigurement. Since its humble beginnings back in 2016, Sylvia has met other beautiful survivors, spoken about Love Disfigure on the radio and challenged the fashion industry through swimwear photoshoots.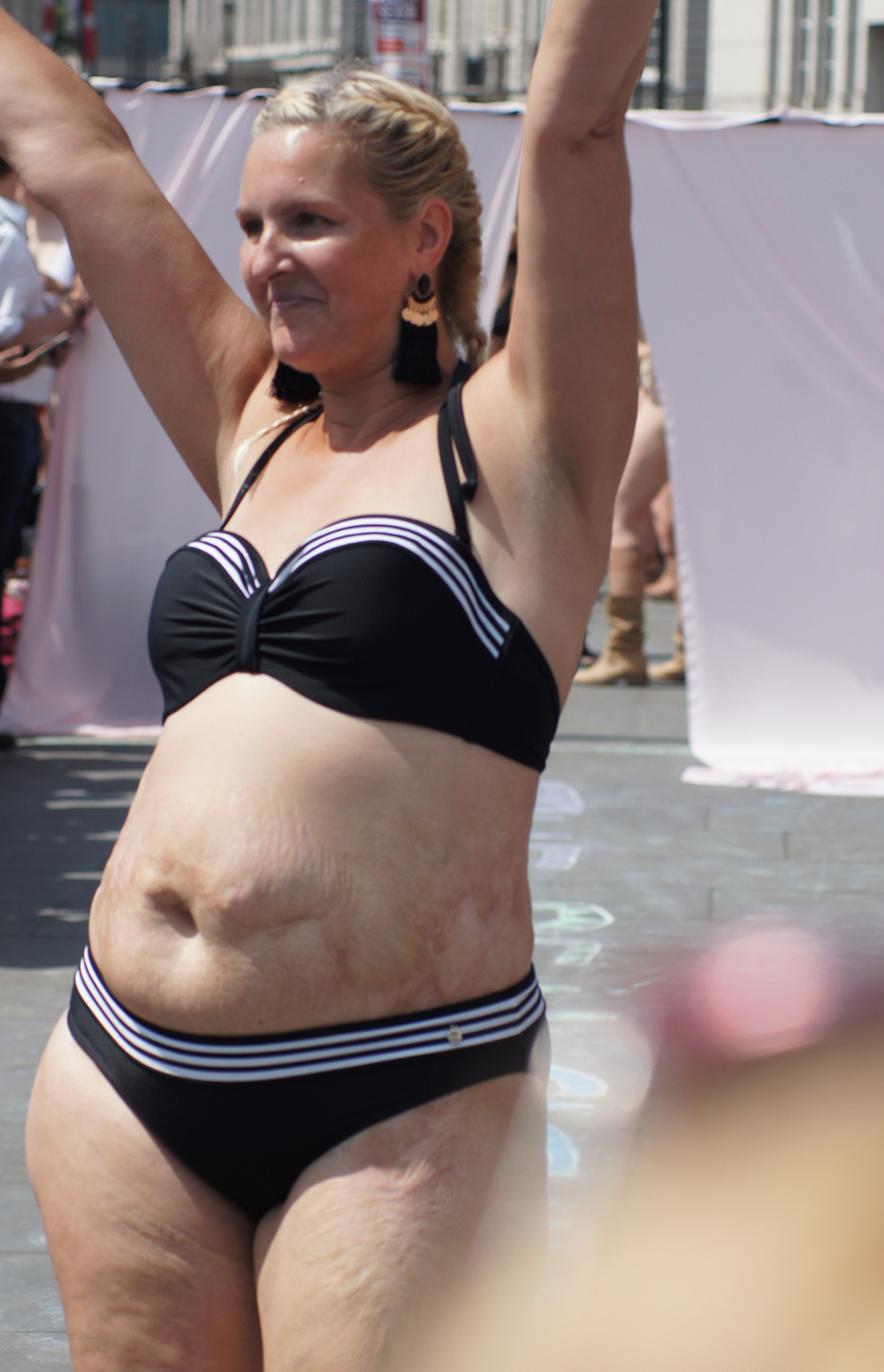 Sylvia Mac
It must have been incredibly difficult to overcome such a traumatic experience at a young age, how have you learnt to deal with your scars over the years and what has this taught you as a person?
Over the years I've struggled to accept my own body image, which caused me to lack confidence and have low self-esteem.  I tried not to look at myself in a mirror so that I could forget about my scars but knowing it was there made me feel worthless. I realised in my teens that I was unable to look at myself in the mirror when people were around because if my body was not beautiful neither was my face.  I've now realised that all the body hating and putting everyone above me has taught me to look at everyone with beauty.  I feel privileged to see real beauty and uniqueness in everyone I meet and I make sure they know it.
Baring your scars to the world is such an admirable and fearless thing to do. How did it feel to embrace them and show them off for the first time?
The day I revealed my scars was quite difficult for me.  I released a video on facebook with the help of my cousin and his friend Sally Bee who interviewed me before I revealed my scars.  It was very emotional for me but once it was over I felt like a weight lifted off my shoulders. I look back on the video and notice how much I've changed.
Love Disfigure is a fabulous campaign. How does it feel to have inspired so many others?
Love Disfigure was a life saver for me, but also for so many others.  I never realised how amazing life would be by helping others.  Every day I receive messages of thanks and its great to know there are so many people changing their life with the work I do. I hear from people all around the world, all ages and all unique.
Tell us a little about some of the incredible people that you work with
I've met some really incredible people along my journey. Kizzy for example is a burn survivor who at her lowest point set herself on fire.  I met Kizzy at a Katie Piper event a year ago and I noticed she had her head hung low lacking confidence.  I invited Kizzy to take part in my swimwear photoshoot campaign wearing a bikini.  She has gone on to walk in a catwalk show in Trafalgar square and doing amazingly.  Her family send me lovely messages now that she is more positive about her life and dating too.  I help people with mental health problems as well as skin conditions, health conditions and scars encouraging them to accept their body by sharing campaigns, projects and photos. I even receive messages from men who have also turned their life around from Love Disfigure and the work I do.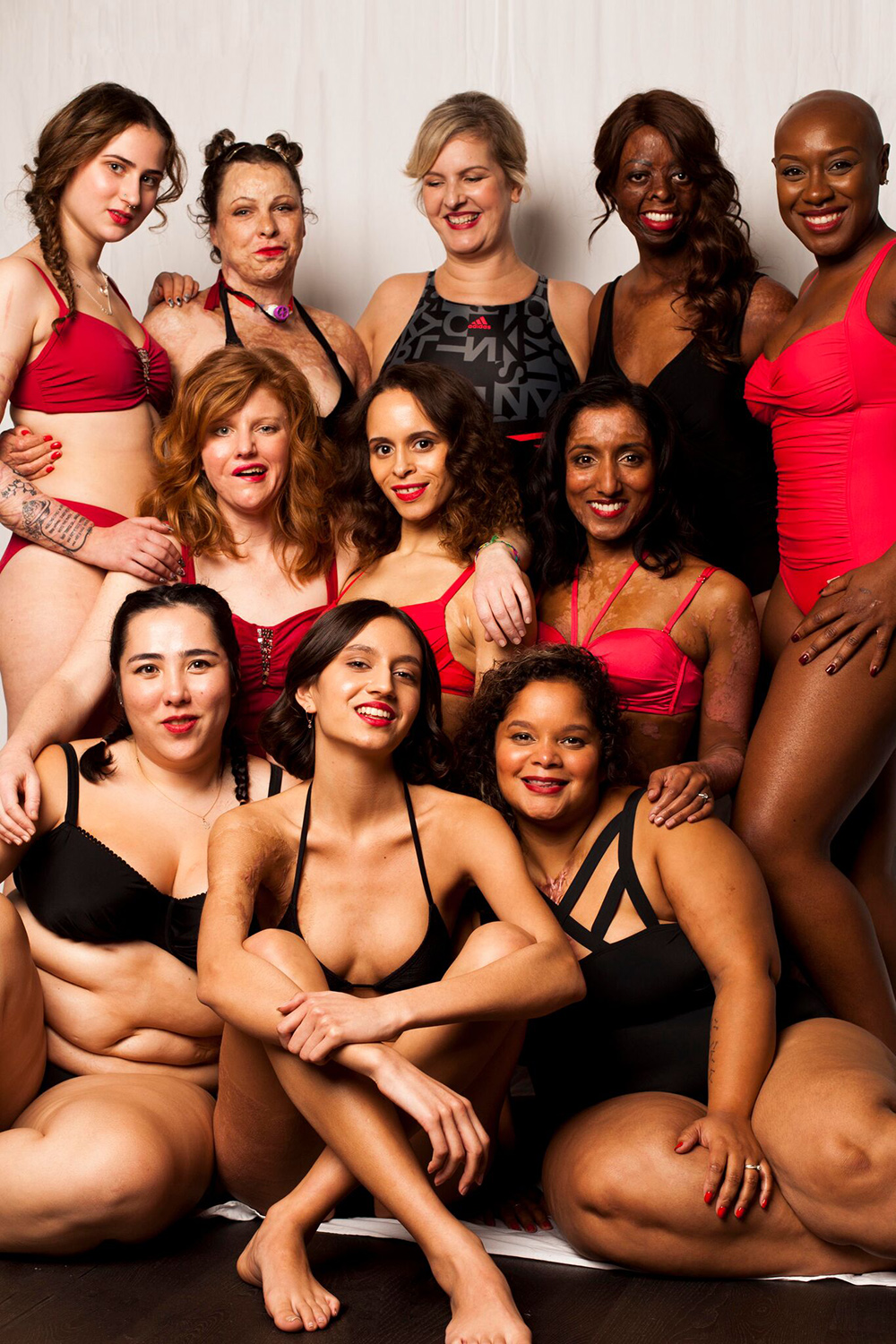 Image credit: Sophie Mayanne
Since starting Love Disfigure you've also set-up a fortnightly swimming club for those with disfigurements and created a pathway for burn survivors in a local hospital, tell us a little bit more about this amazing work.
When I started my work with love disfigure, I always wanted to encourage burn survivors to come along and swim with me.  I realised as a competitive swimmer many years ago, although I was bullied and had people staring at me, I loved being in the water.  I knew this was a great therapy and also a great way to stay fit.   I decided to approach the burns unit at the Chelsea and Westminster hospital and see if I could open a pathway for burn patients.  I began the swim sessions and invited everyone with differences and disfigurement.
What do you think makes a woman fabulous and fearless?
I think a woman can be fabulous and fearless when they put themselves out there to lead the way for others.  I never wanted this journey to be about me but to allow others to share their stories and go on to become wonderful people in life.  I love campaigning and challenging change for industries to become more diverse and inclusive of people with disfigurement and differences.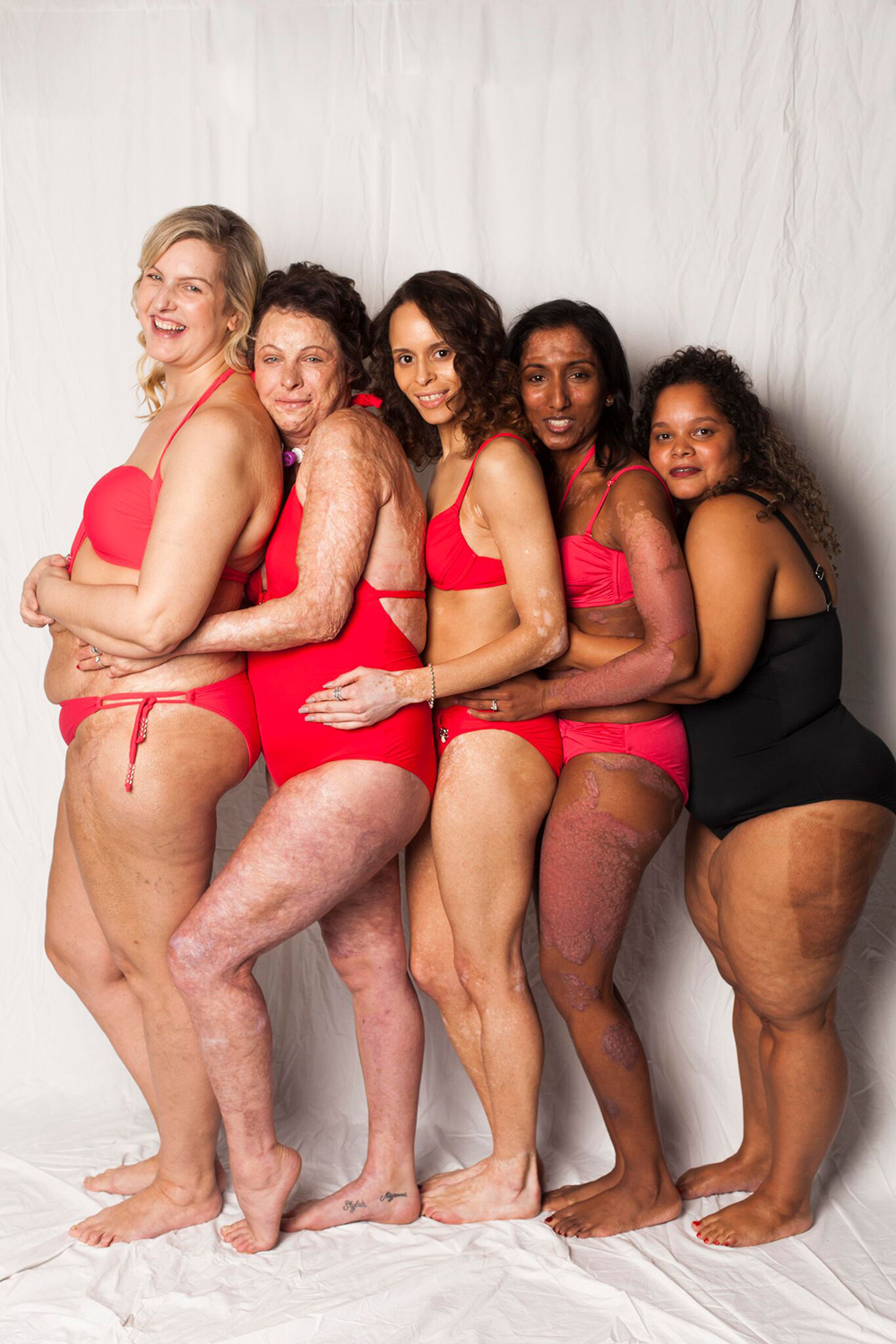 Image credit: Sophie Mayanne
What is the most rewarding thing about what you do?
The most rewarding thing for me is when I receive messages from parents and young people because I know how difficult life was for me and my parents.  If I can create positive changes then I can only get stronger with time.
From your experience, do you feel that barriers are finally beginning to be broken in the fashion industry?
The fashion industry is definitely changing since my campaign launched in March 2018.  There's been several brands with campaigns including people with scars, skin conditions and health conditions which is absolutely amazing to see.  I feel that we certainly had something to do with that and it just makes me want to keep going.
What message would you give to those struggling with a disfigurement and low self-confidence?
Anyone out there who is struggling with their appearance, I would say don't be afraid to approach someone else online that has a similar condition but in a really good place because that will only lift you up.  There are some really great role models out there and amazing FB groups where everyone is positive and supportive like Love Disfigure.  If they find they are still struggling there are wonderful charities and organisations that can point them in the right direction giving them the help they need including support groups.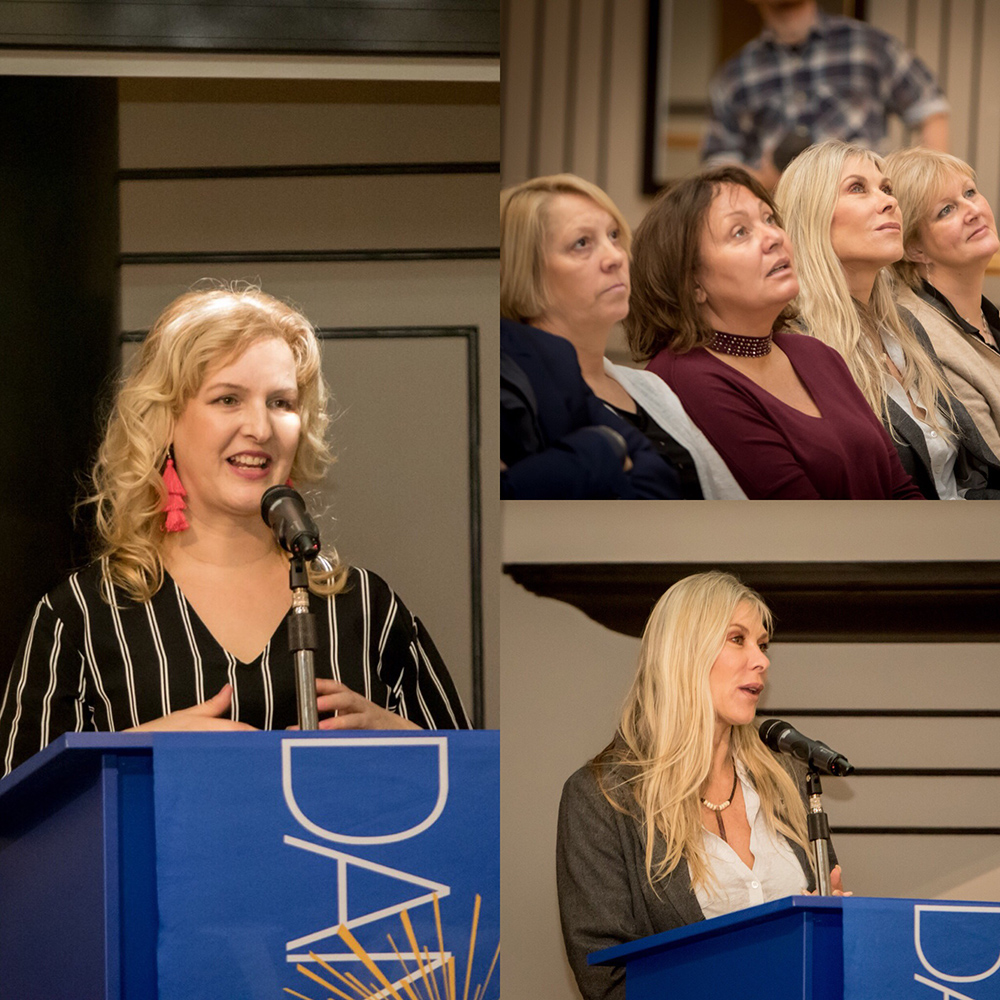 Image Credit: Mandy Meadows
What are your hopes for the future of Love Disfigure?
I plan to keep up with my campaigning but also get more involved in public speaking.  I will be taking part in an amazing panel discussion at the Mall Galleries regarding the 'Body Beautiful' with Royal Society of Portrait Painters. I have also been approached by a Producer to create my story in a film where I will also have an acting role.
What an incredibly fearless journey Sylvia has been on, wouldn't you agree? We wish her all the best with Love Disfigure and other future endeavours!
For more information on Sylvia's fabulous work, visit Love Disfigure 
Leave a comment
Your comments make us happy!
Blog Etiquette
Please note that all content, including text and images are copyright of Audenza, unless otherwise stated.

If you would like to use content from our site, then we're very flattered to hear that, but please note its origins on your site or blog, provide a link back to us and kindly let us know where you have used our content.

Thanks!