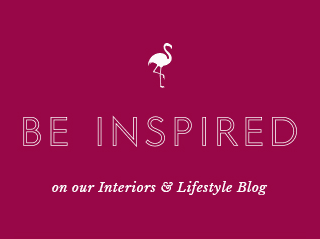 The Modern Garden: No Green Fingers Required
6 Jul 2018
What a glorious summer we are having – and long may it continue!  We all want to be able to sit outside and enjoy the warmth and sunshine in our outdoor space, be it a balcony, courtyard or full on acres, so here's how to jazz up your seating area and make the most of it.  No green fingers required!  For easy maintenance gardens, accessories are key and it's so easy with an abundance of outdoor goodies to be had, you just need to decide which way you want to go – the same as with your interior décor – dark and moody or vibrant and colourful or maybe rustic and bucolic?  We picked a few of our favourite Instagram gardens to give you some ideas to get you started.  Better be quick though, surely this sunshine is too good to be true?!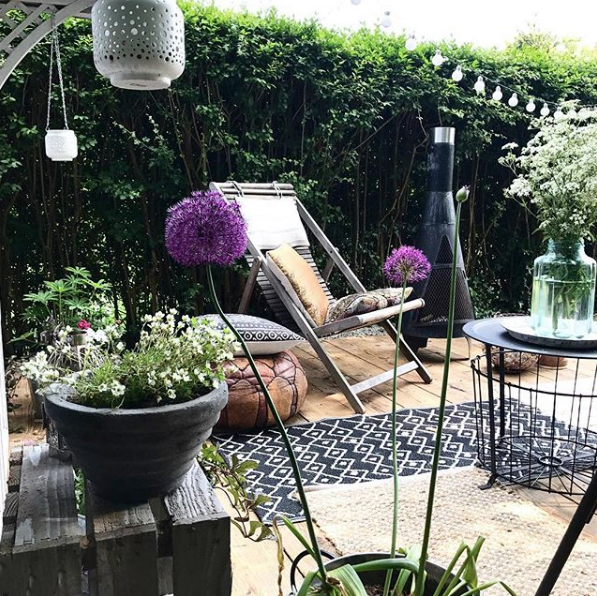 Photo: @Theresagromski
This snapshot of a patio couldn't be simpler to achieve. Helped of course by the backdrop of hedging to soften it all. Throw a few outdoor rugs down, add a table and deckchair, a few potted plants with a vase of flowers and string a few solar lights up… et voila! In a palette of black and grey, it's a beautiful space you want to inhabit, with a few potted plants for seasonal colour. And even the least green fingered amongst you can manage a few pots of summer colour as you only need to water, and add the occasional dash of tomato feed.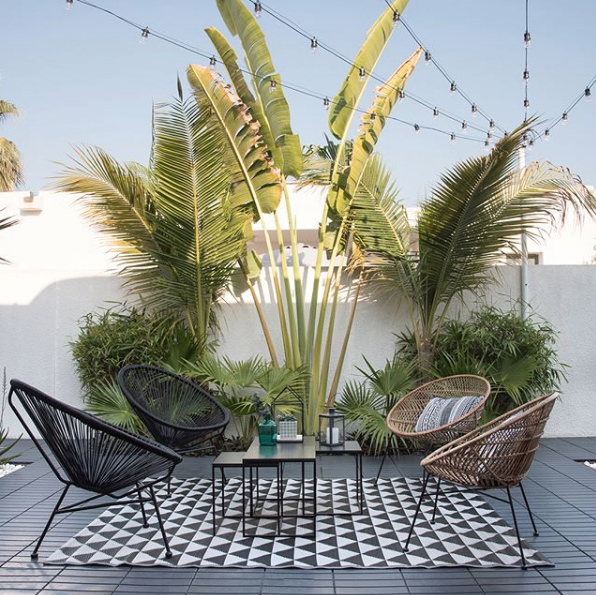 Photo: @Stellaandthestars
Another seriously effective seating area.  Okay, so this is a balcony in Dubai, but you can still recreate an effect like this in good old blighty.  In a restrained colour palette again, with a backdrop of greenery for an enclosed secret space feeling which looks oh so chic.  Evergreens would give year round coverage; I like the idea of lollipop bay trees, underplanted with pittosporum golf ball and other similar small shrubs.  Simple to maintain, but very stylish.  The decking is by Ikea and by all accounts, very hardwearing and easy to self-install. It was actually laid over the top of the existing brick patio. You can read all about this particular project here: Stella + the Stars Garden Reveal.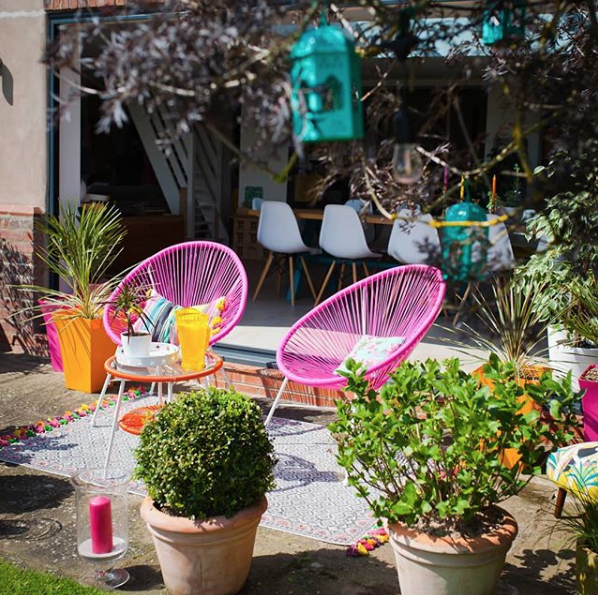 Photo: @Oxfordone
Colour, glorious colour! And it's all in the accessories here. Vibrant pink chairs, orange and pink pots, and a fabulous rug with colourful pompons lifts the whole setting into a fab smorgasbord of sweetie colours. It doesn't need anything else. Gone are the days when all you could buy was brown wooden furniture – the choice is endless now so no excuse for you colour lovers not to be brave and go for it.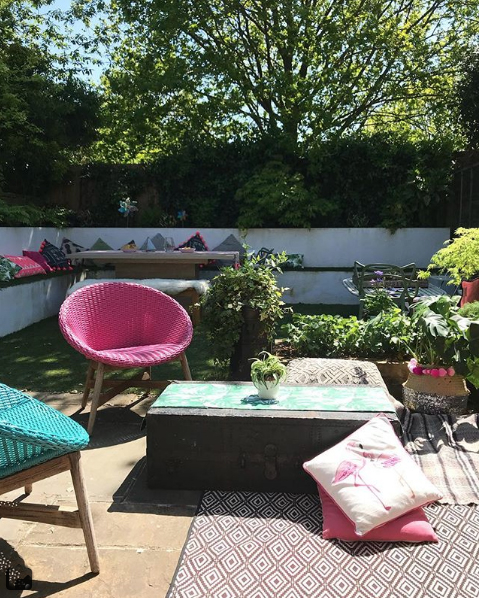 Photo: @naptimestyle
Another one for you colour lovers and, again, the colour comes from the furniture and textiles which gives a continental feel to the space against a calm backdrop of green.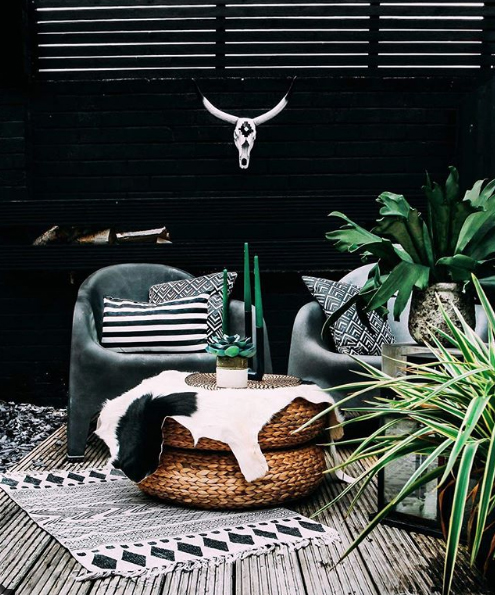 Photo: @Patirobins
Black looks fabulous in the garden for fencing and sheds etc.  I've just painted my summer house black and can't think why I waited this long to do it, although it took a bit of courage, as I thought if I don't like it it's going to take a lot of covering to get rid, but I'm absolutely in love with it – it gives a real sense of the dramatic.  And this is one dramatic seating area!  The black fence creates a stunning backdrop to simple chairs and an array of tables with potted greenery and candles.  A very simple idea which is very effective in its simplicity.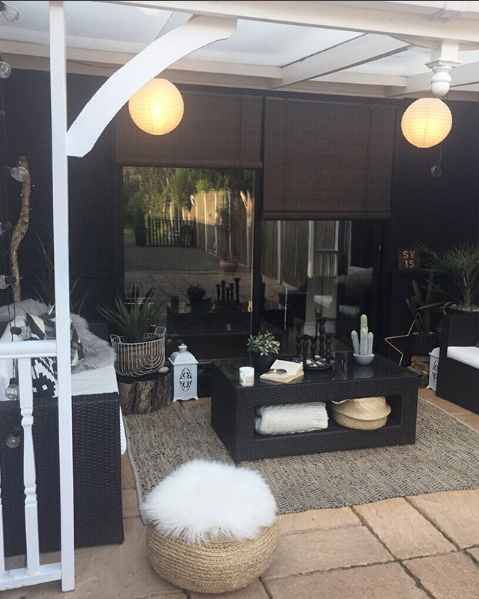 Photo: @Artynads
I had to include this one purely for being a feast for the eyes.  Not what most of us could achieve with it being a large covered space but it's so fabulous I thought I would let you drool over it too!
That was just a small selection of outdoor spaces that are simple to achieve (well, bar the last one, obvs), without needing to be a green fingered goddess, so decide what you like and go for it.  There is so much choice in outdoor accessories now that you will be spoilt for choice.  And if you want a few pots for colour, be it green, or vibrant, there is always something that's easy for non-gardeners.  Box topiary are easy to care for and just need a clip twice a year, or pots of cosmos and pelargoniums for some summer colour.  Throw down a rug, grab a couple of chairs, pull up a table, hang a string of lights, crack open a bottle, and enjoy!
Jacqui x
2 replies to "The Modern Garden: No Green Fingers Required"
Leave a comment
Your comments make us happy!
Blog Etiquette
Please note that all content, including text and images are copyright of Audenza, unless otherwise stated.

If you would like to use content from our site, then we're very flattered to hear that, but please note its origins on your site or blog, provide a link back to us and kindly let us know where you have used our content.

Thanks!