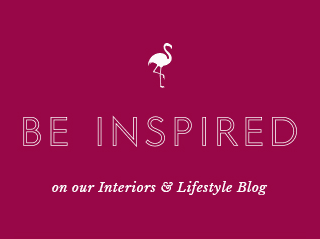 Painting with Gold & Upcycling Old Objects
24 Jan 2014
Upcycling old objects is a great way to revitalise furniture and home accessories that are tired and in need of a face lift.  It's also a quick and cheap way to change your decor.   Anything can be painted and charity shops and auctions are great places to source cheap accessories that can be transformed with a little time and imagination.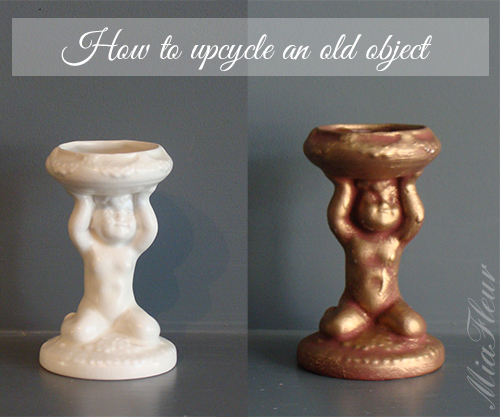 This cute little cherub vase is perfect for upcycling and I wanted to give him a moody gold look for my mantelpiece either as a vase or for tea lights.  'Rub'n Buff' wax metallic finish is perfect for this and is very quick and easy to use.  It comes in a good range of colours, with several golds to choose from, I used Antique Gold.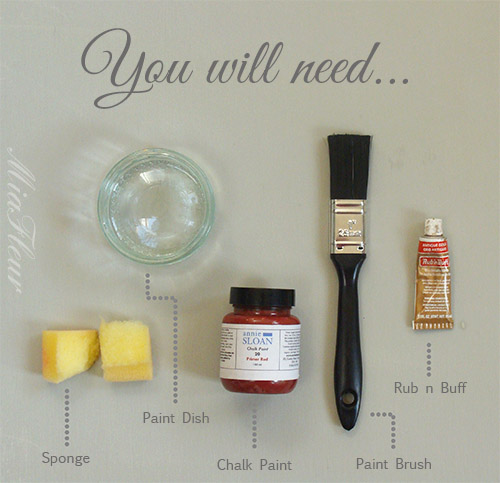 For the base coat I used Annie Sloane paint in primer red which is a lovely earthy red and goes wonderfully with gold.  Leave to dry for about half an hour, touching up any bits you may have missed.
Apply Rub'n Buff with either a small piece of sponge, cloth or your fingers – I do prefer to use my fingers but it is a messy business.  Squirt a tiny blob onto a piece of card and work from that so you don't apply too much at a time.  One small tube goes a very long way.  Work very quickly and just wipe the gold over the raised surfaces of your object so that you get that distressed finish.  As with all distressed paint finishes try not to distribute the gold too evenly.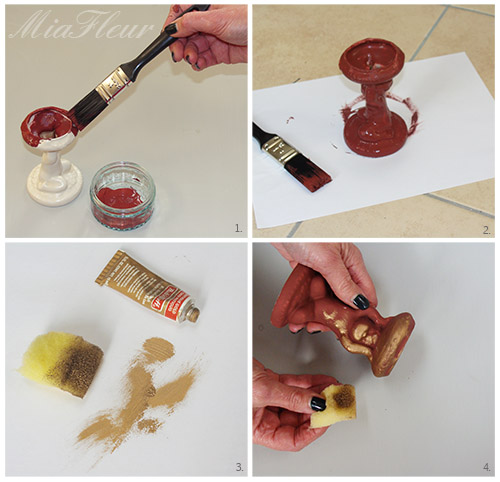 Leave to dry for a couple of hours then buff with a soft cloth for a lustrous finish and you have a completely new piece for only a few minutes work.  Try it the other way round with a coat of gold first then primer red and it looks like the gold has worn off the surface over time.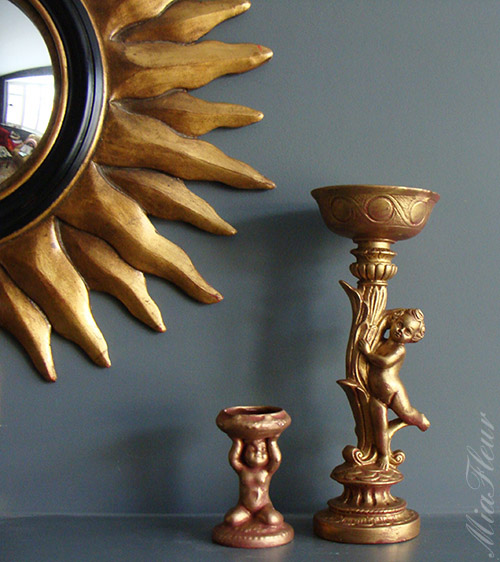 The taller cherub candlestick was a victim of my over enthusiastic dusting so I glued him back together and painted him using the same process but applying more gold, which gives him a more opulent look. Painting with gold in this way means you can add as much or as little as you like, depending what look you are trying to achieve.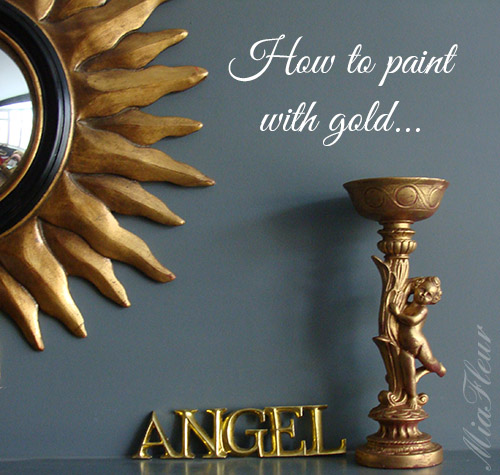 So what do you think? Have you got any tired, old objects that you think could do with a spruce up?
Jacqui x
Painting with Gold & Upcycling Old Objects- by Jacqui Brooks
One reply to "Painting with Gold & Upcycling Old Objects"
Leave a comment
Your comments make us happy!
Blog Etiquette
Please note that all content, including text and images are copyright of Audenza, unless otherwise stated.

If you would like to use content from our site, then we're very flattered to hear that, but please note its origins on your site or blog, provide a link back to us and kindly let us know where you have used our content.

Thanks!