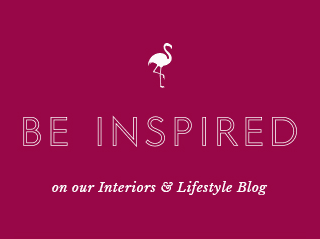 We Love: Surface View- Interior Decoration
30 Sep 2013
We visited the 100% Design show in London last Saturday and had a great time looking round the stands.  One in particular, Surface View, has got me thinking and planning.  They have a large collection of images (or you can even use your own images) sourced from museums, artists, and photographers that can be applied to many different surfaces.  I know this has been around for a while but to see the large images on the stand, and the different surfaces they can be applied to, really got me thinking about several stubborn areas of my own home.  By stubborn I mean I can't make up my mind what to do about them, therefore nothing happens, and every time a certain friend comes round she says 'Oh, you haven't done that yet, what are you going to do'?  And I change the subject quickly because until inspiration has struck nothing is going to happen!
So inspiration struck on Saturday night after perusing Surface View's website.   What a simply stunning collection of images and so many different applications, I was simply blown away by them, from canvas wall art to murals to lampshades to windows – so many possibilities.   I love the tiled bathroom above, but sadly I've just re done my bathroom, so I'm too late for that one.  However, I now have a clearer idea of what I want to do with my front door and the blinds for my garden room.
The front door and windows either side have been a puzzle for quite a while as I thought I wanted etched glass but didn't know what design or how I wanted it to look.  Well now I do!  I am going to go for one of the lace images from Surface View – perfect for a textile lover.  Which one though?  I'm thinking probably the 'Irish Flounce', which is a detail of Irish needle lace, circa 1886, from the V & A collection.   The front door and windows are being painted as I speak so hopefully when that's finished I will have a clearer vision in my head of how it will look and can make my decision.  The sample pieces I ordered have just arrived (very speedily, I might add) so I can decide whether to go for a clear or frosted image.  The image below shows how this looks, with a view of Amsterdam as the image.
I know that for the garden room window blinds I want something quite stunning but at the same time there is a lot going on in that room so it needs to be subtle but stunning – tall order eh?  I will keep flicking through the images and squinting at the garden room windows and eventually something will stand out and grab me.   I have a feeling it might be lace again as I want something quite light and unobtrusive, but beautiful in its own right.  It's really just to filter the sunlight to protect the furnishings rather than any need for privacy.  I am quite taken by the map blind below, though they wouldn't actually go in my house, but a lovely idea don't you think?
And I also fell in love with the canvases.  Could just see 'Fruit and Flowers in a Terracotta Vase' from The National gallery collection as a large canvas on my sitting room wall – or maybe 'A Basket of Roses', from the same collection.  Goodness me, how stunning would that be?  Lots of food for thought so take a look for yourself and be inspired. Surface View also launched some new collections last week, which  includes The British Library, Trunk Archive, P & O Heritage Collection, The Royal Opera House and Texprint.  So do head over to their website to have a look.
Audenza x
By Jacqui Brooks
4 replies to "We Love: Surface View- Interior Decoration"
Leave a comment
Your comments make us happy!
Blog Etiquette
Please note that all content, including text and images are copyright of Audenza, unless otherwise stated.

If you would like to use content from our site, then we're very flattered to hear that, but please note its origins on your site or blog, provide a link back to us and kindly let us know where you have used our content.

Thanks!