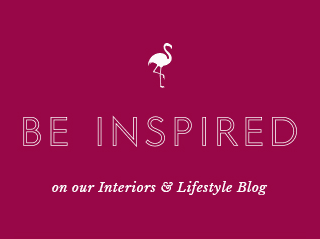 'Into the Wild': How to Style Animal Interiors
19 Oct 2016
'Into the Wild' is a trend we can all take bits from to give our homes a touch of exuberant nature. Animals in our interiors, whether they be our own home grown variety such as badgers or the more exotic zebra's, are all the rage this season for bringing quirkiness to your décor and a smile to your face. It can be as simple as adding a jug or two to fill with flowers and foliage, or rampant animal mania with some of the latest wallpapers which are extremely exotic and dashing. We all want our homes to be different, and a little bit of the curious and unexpected is the way to achieve this.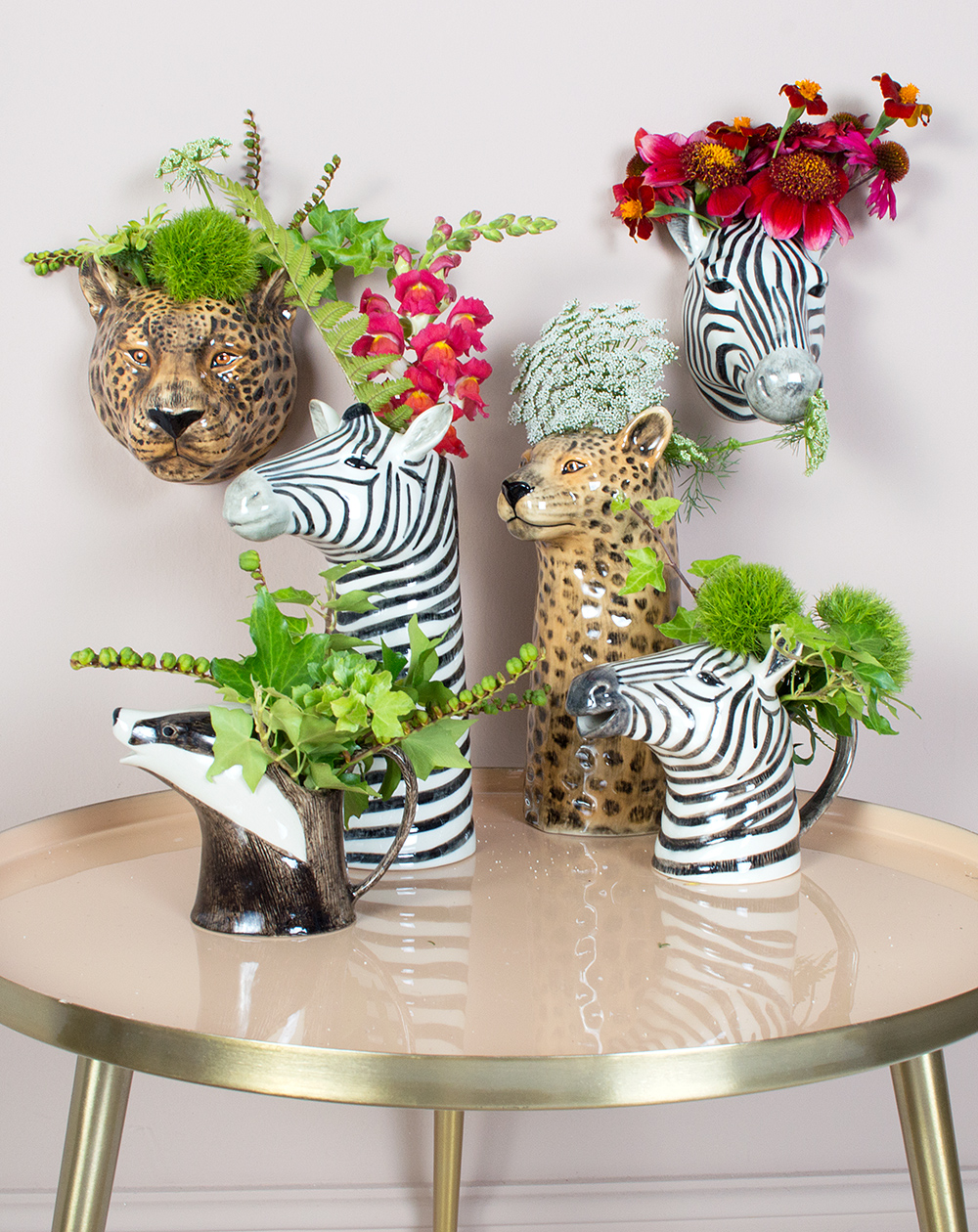 Image credit: Audenza
For those of you who want to just add a touch of pattern and glam to your décor these zebra vases are perfect. Understated, but a great way to include animals to your décor without redoing the whole look. Whether you are a pastel lover or prefer the dark side these zebras work. Even empty they make a quirky addition to an eclectic home but fill with colourful flowers and they are dazzling.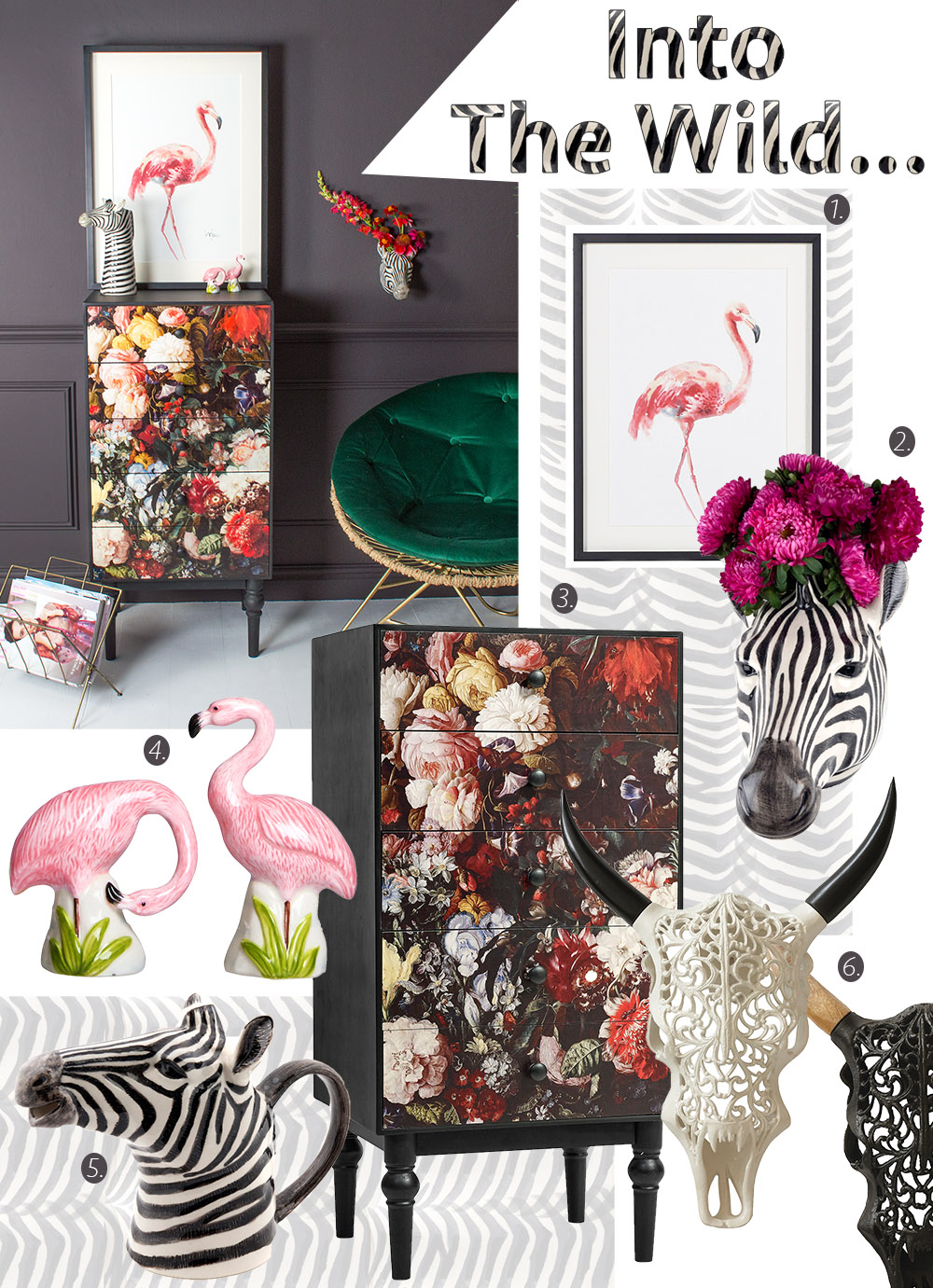 1. Framed Flamingo Print / 2. Zebra Vase / 3. Floral Romance Four Drawer Cabinet / 4. Flamingo Salt & Pepper Shakers / 5. Zebra Jug / 6. Faux Wall Mounted Skull
Into the wild comes into its own with our new 'Floral Romance' furniture. The combination of dark floral and exotic animal prints is a veritable extravaganza of pattern and colour that gives an imaginative and surreal twist to interior décor that brims with whimsy and playfulness. Add as little or as much as you like depending on how joyful you want to be.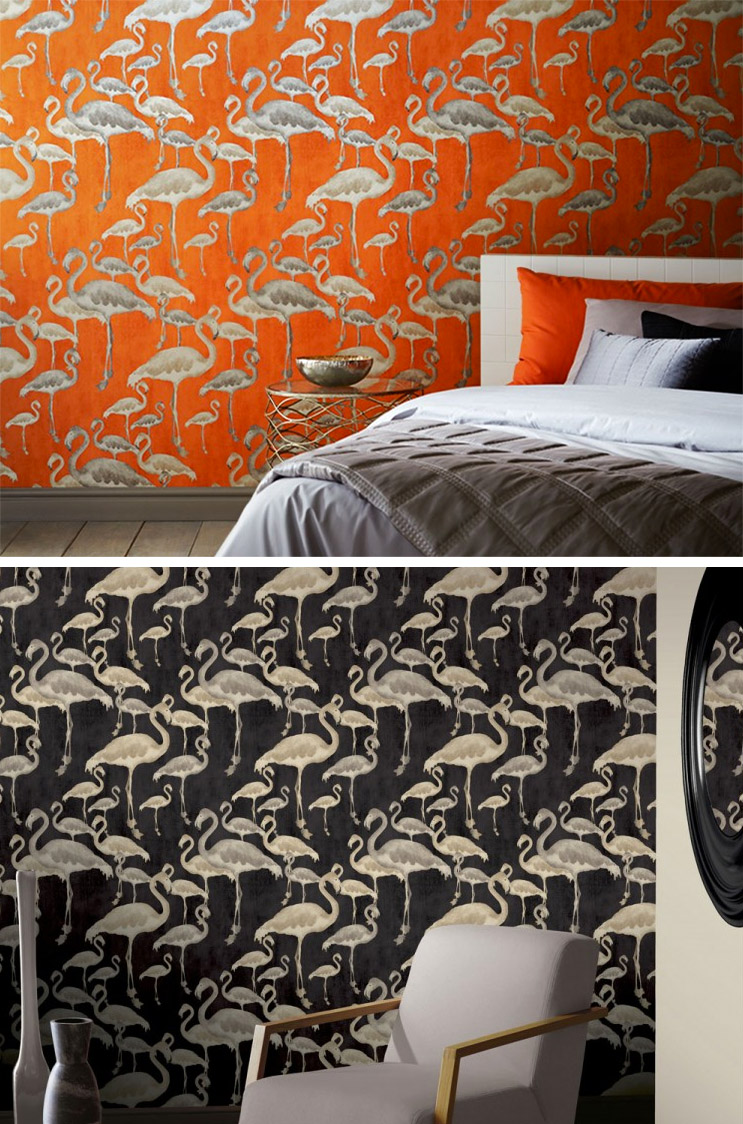 Image credit: A Shade Wilder
This wallpaper is from a A Shade Wilder and is not for the faint hearted but what a statement it makes. The black is called 'Flamingo Beach After Dark' and the orange is called 'Flamingo Beach Calypso' – even the names are exotic! Fabulous aren't they but definitely only for the brazen.
Tips for styling animal interiors:
–    Take inspiration from the patterns/markings of animals – and remember, it doesn't have to be literal.
–    Don't be afraid to mix different patterns, like the floral cabinet above with zebra stripes. Mixing different patterns is key to an eclectic look; it helps to lift any scheme and give it some oomph!
–    Leopard print is quite a hard one to get right, so if you're not sure, go for non-traditional colourways, which takes the look from potentially tacky to totally trendy.
–    Florals are a great contrast against animal interiors; for up to date florals, try using oversized or impressionistic prints in dark colourways, rather than traditional patterns.
–    As we mentioned in our 'Nailing the Tropical Rainforest Vibe' post, monkeys are having a real moment in interiors – they're the new pineapple! Shop monkey décor.
–    As with any décor scheme, bringing in elements of texture will be key to make the look work. For this, think feathers, fur, wool and of course, velvet (always velvet!).
Us ladies at Audenza love the eclectic look, so 'into the wild' is the perfect combination of wild pattern and colour that we love. What do you think? Are you ready to join the wild side?
Jacqui x
Leave a comment
Your comments make us happy!
Blog Etiquette
Please note that all content, including text and images are copyright of Audenza, unless otherwise stated.

If you would like to use content from our site, then we're very flattered to hear that, but please note its origins on your site or blog, provide a link back to us and kindly let us know where you have used our content.

Thanks!