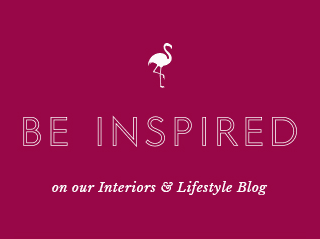 7 Tips for Styling your Statement Mirror to Maximum Effect
24 Apr 2020
A visitor to my house once remarked "you must really like looking at yourself because there are mirrors everywhere".  He had totally missed the point!  Mirrors are the most amazing decorative tool ever, and have the ability to transform a room into something special.  I very rarely look in the mirrors that abound in my home, in fact I make a point of avoiding looking in them, where possible.  Better to remain oblivious, I think, of the ravages of time. Moving swiftly back to the point, here's our 7 tips for styling your statement mirror!
1. Over size mirrors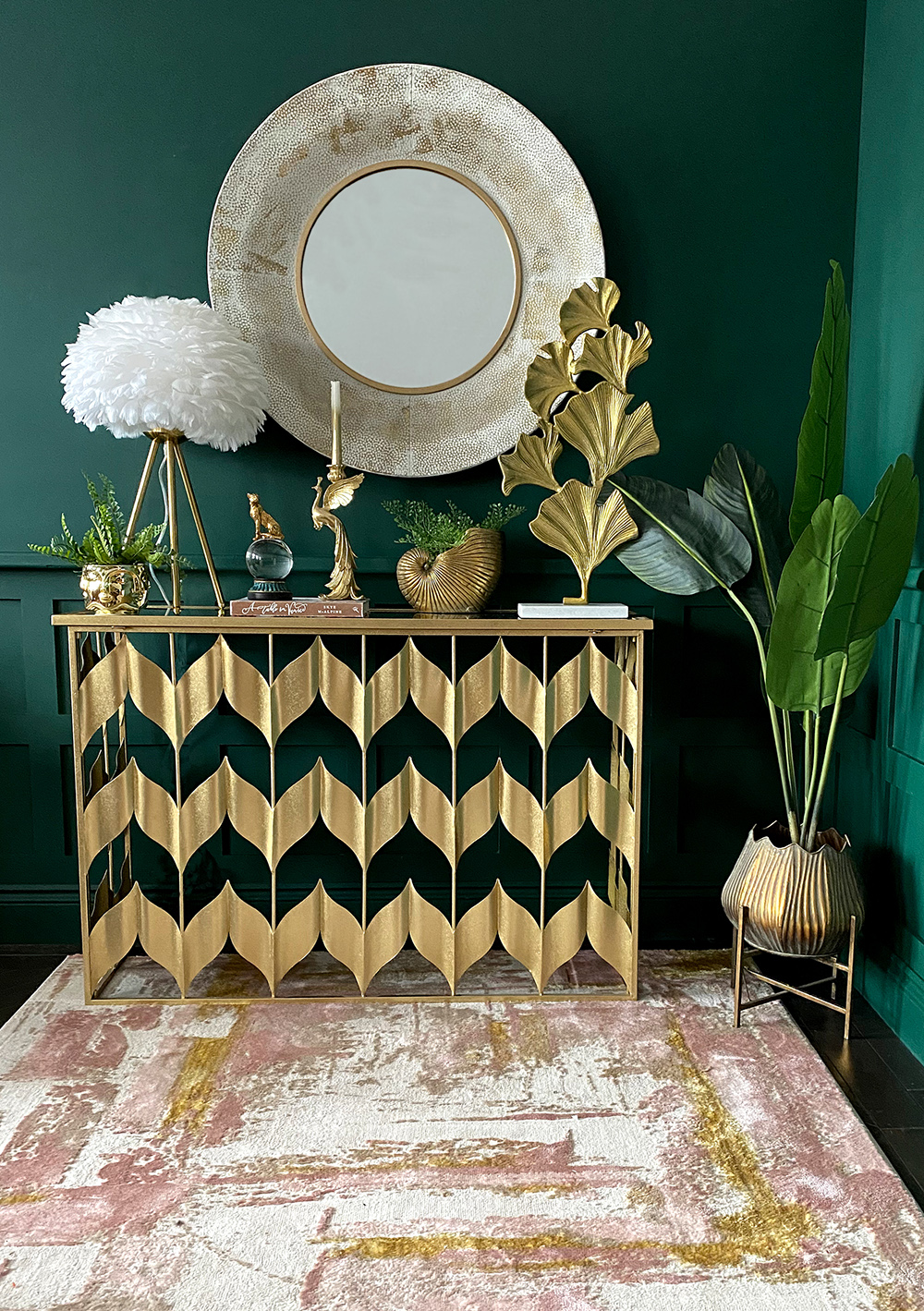 Dappled White & Gold Wall Mirror | Aziza Console Table | Gold Shell Planter | Astra Pink Metallic Rug
A fireplace or mantelpiece usually dictates the focal point of a room, and they look fabulous with a statement mirror above, but in rooms without these, an over-sized statement mirror works beautifully to centre the room around, and create a showstopping display.  Large statement mirrors also work well in creating a focal point at the end of a hallway to increase the sense of space and depth.  Don't be nervous about large mirrors – the more they fill the space the better.
2. Gallery walls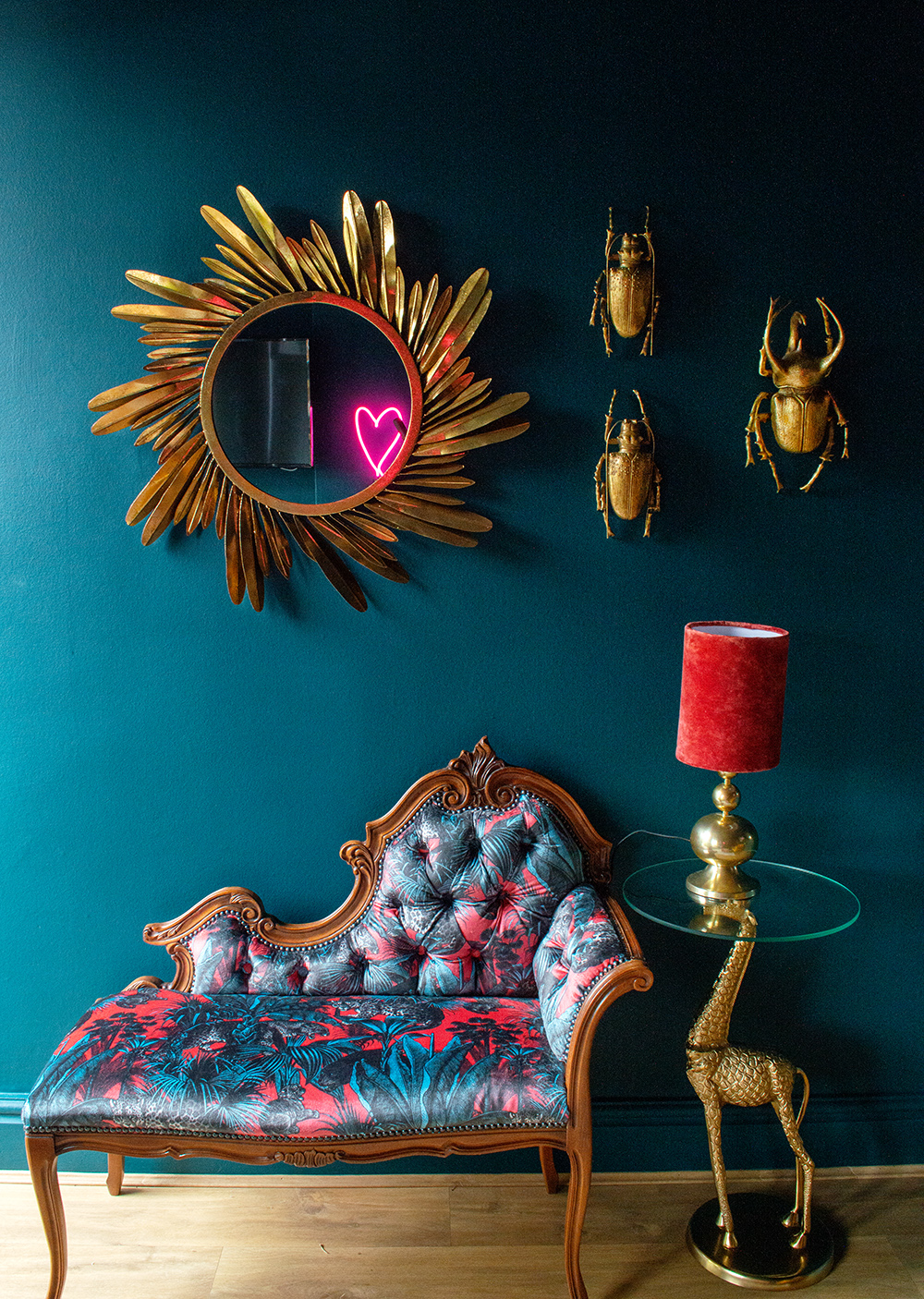 Feather Mirror | Gold Beetles | Pearl Table Lamp | Giraffe Table
Gallery walls are hugely popular, but why not create your own take on this trend, by styling a mirror, with other unusual wall decor pieces, such as our Wall Beetles featured here. It doesn't have to be a small mirror, large mirrors work just as well as part of a gallery wall if you the space. This creates maximum visual interest and really adds an eclectic touch to a scheme.
3. Reflection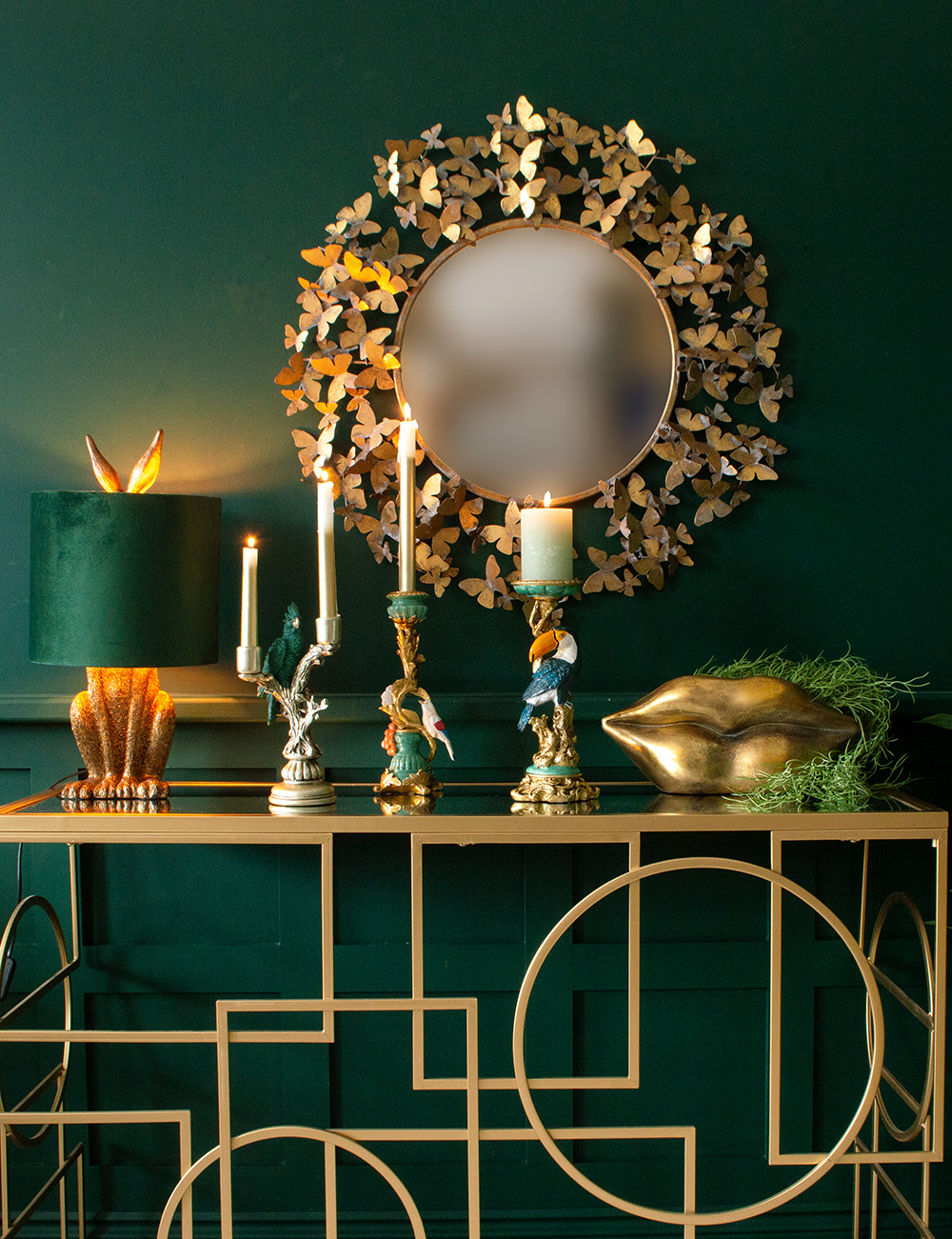 Handmade Butterfly Mirror | Gold Rabbit Table Lamp | Gold Lips Planter | Gold Links Console Table 
What will be reflected in your mirror?  To maximise the light in a room, position your mirror where it will catch the most daylight, such as opposite a window.  Enhance an object in a room, such as a beautiful chair or a piece of wall art by seeing it reflected in the mirror.  When placed above a console table the mirror will reflect the objects on the table and increase their sense of abundance.
4. Style
Square Sunburst Mirror | Blush Velvet Armchair | Fabulous Golden Drinks Trolley
Mirrors enhance the style of a room so choose one accordingly whether its Art deco, Hollywood glamour, contemporary – whatever your vibe pick a statement mirror to suit.  The square sunburst mirror is Hollywood glamour at its best.
5. Mirrored gallery wall
A gallery wall doesn't have to be wall art.  A whole wall of mirrors can be a thing of great beauty.  I first saw one in the dining room of a hotel in Sorrento about 15 years ago and was blown away by it.  They were all ornate gold framed mirrors of varying sizes.  The whole room seemed to shimmer with light and reflection.  I've never forgotten that dining room and would love to recreate it for myself on a smaller scale.
6. Small mirrors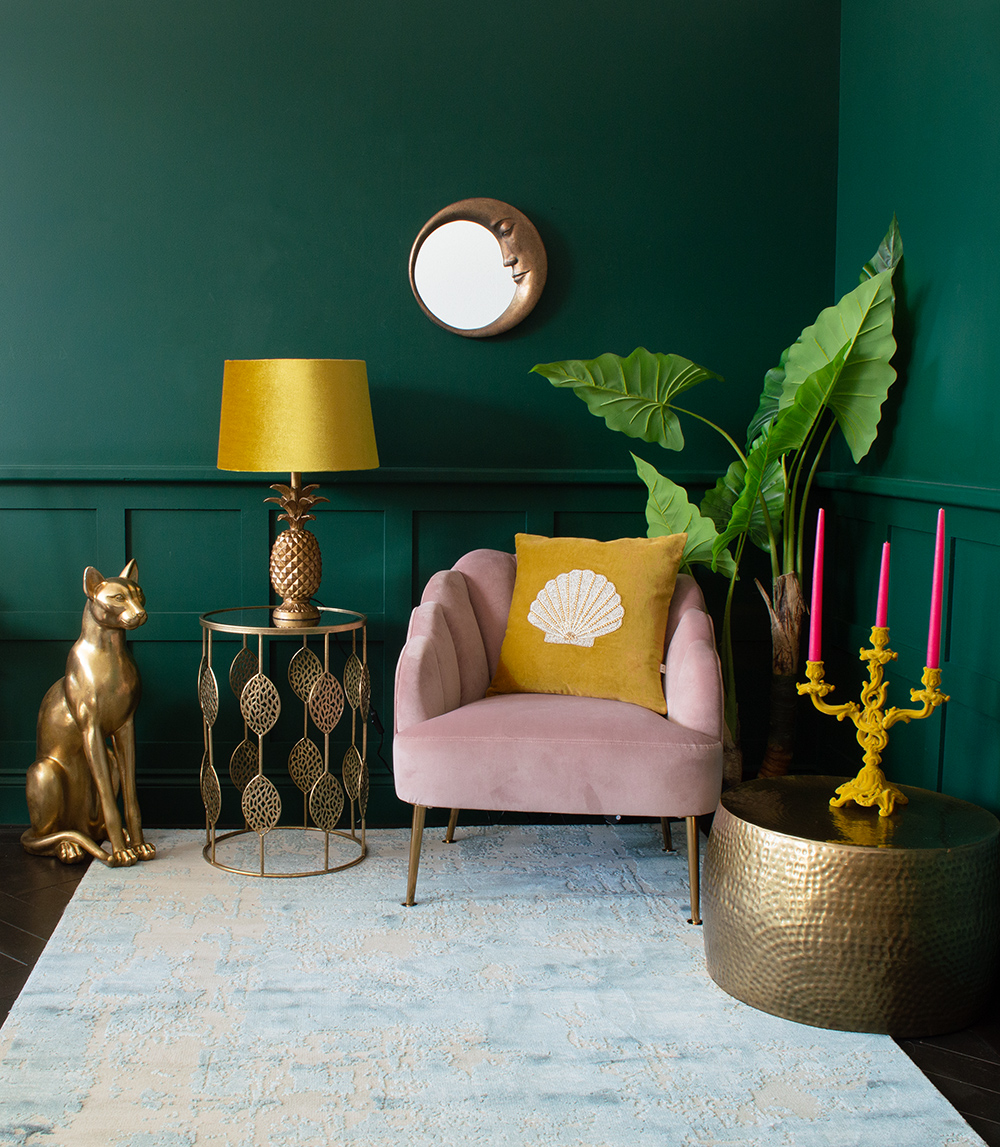 Lunar Mirror | Sphinx Cat | Pineapple Table Lamp | Ariana Nest of Tables | Oyster Velvet Chair
Small mirrors still have a part to play in a room scheme.  Use a small mirror behind a small vignette to create reflection and brighten up the scene.  And, of course we all have that small space that could do with a bit of lightening up, and a mirror does that as well as bringing texture and colour.  And mirrors are not just for grown-ups, we think the antiqued lunar mirror would look fab in a children's room.  
7. Set the scene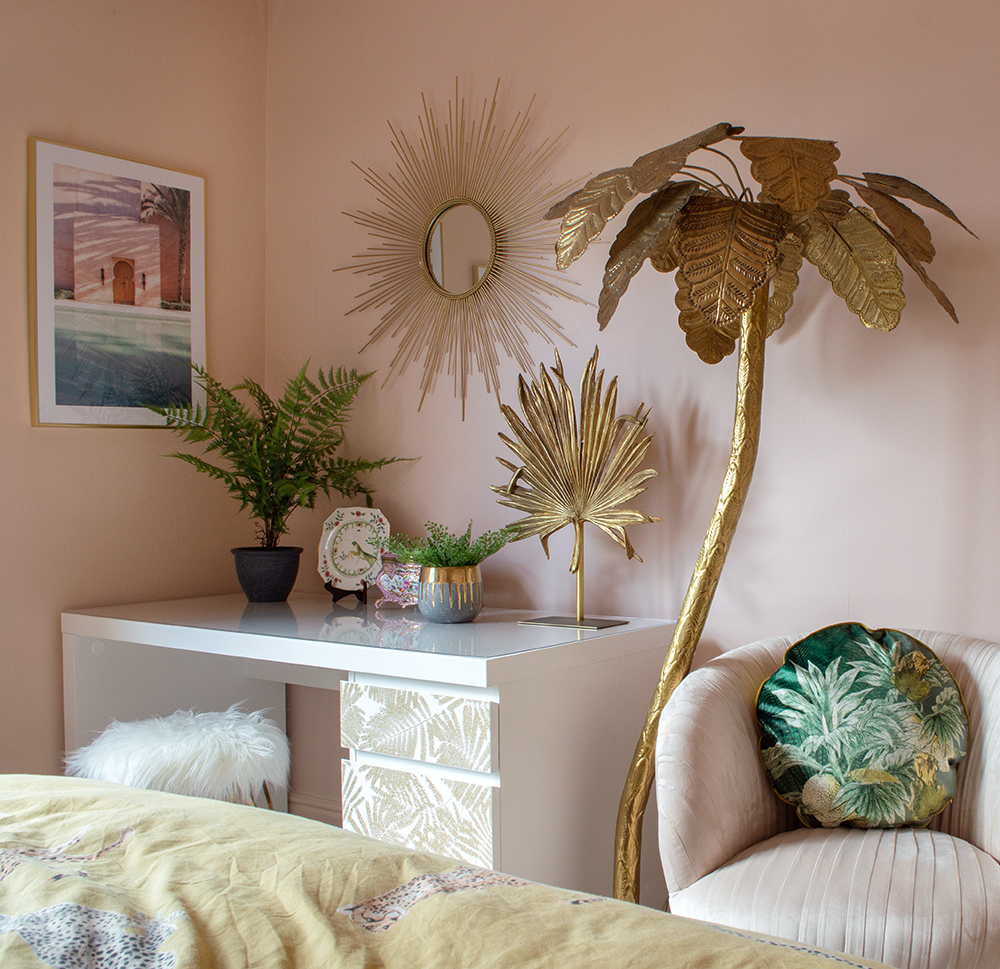 Gold Sunburst Mirror | Lush Green Round Cushion | Blush Velvet Armchair | Palm Leaf Ornament
Set the scene for an oasis of peace and serenity.  A gold sunburst mirror is like the sun rising over a vignette of faux greenery and a golden palm tree, with gold palm fronds wallpaper on the drawers and a green velvet tropical cushion.  This is Amelia's dressing table in her bedroom and, as you can see this is the beauty of mirrors – you can add drama and passion to a room without adding more in the way of pattern.  
Mirrors always increase the sense of space and light in a room, and add a sparkle to your décor.  I love mirrors and I can't get enough of them.  They bring so much more to a room than mere reflection of light.  What else could you use that has texture, pattern and colour that doesn't fight with a heavily patterned paper?  A statement mirror can only enhance your décor and bring light into your life.
One reply to "7 Tips for Styling your Statement Mirror to Maximum Effect"
Leave a comment
Your comments make us happy!
Blog Etiquette
Please note that all content, including text and images are copyright of Audenza, unless otherwise stated.

If you would like to use content from our site, then we're very flattered to hear that, but please note its origins on your site or blog, provide a link back to us and kindly let us know where you have used our content.

Thanks!