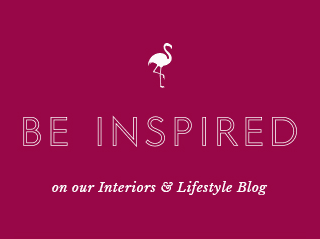 1 Pink Velvet Armchair, 3 Completely Different Looks
11 Jun 2018
You know how it is, you see a beautiful item of furniture and fall in love with it, but will it fit with your decor? Always a tricky one this, and it's often hard to imagine how a product will fit with your scheme if you see it photographed in an entirely different setting to your own. Or maybe you are doing a complete revamp in a room and don't know which way to go with a look? We love this fab blush pink velvet armchair, so we thought, let's see how it looks styled 3 different ways to give you an idea of possibilities.  So many choices, so many looks, how is a girl to decide!
Ice Cream Sundae (with gold sprinkles!)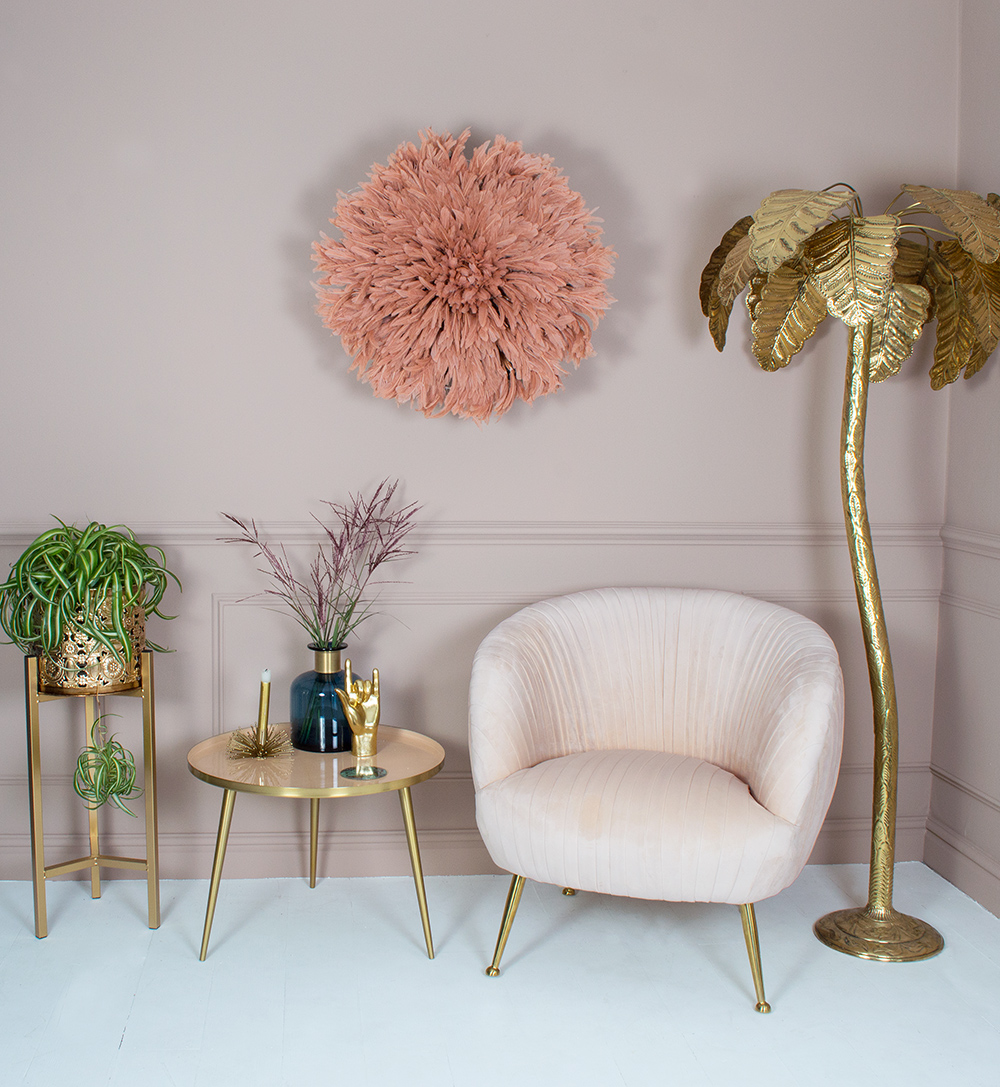 Palm Tree Floor Lamp| Feather Juju Hat Wall Décor| Pastel Lustre Occasional Table
Now this is the ultimate feminine look! We called this the Ice Cream Sundae, with all of its deliciously soft colour shades. They create a soft, feminine atmosphere, but of course, no modern sundae would be complete without sprinkles of gold, something we can never resist at Audenza for the sheer glamour – whether in small doses or large dollops!  The soft pinks and blushes are all warm colours that give the room a sense of calm and peace, but the addition of plenty of gold lends a really contemporary feel.  The velvet armchair perfectly complements this feminine scheme for a really restful space.
Tropical Paradise Hideaway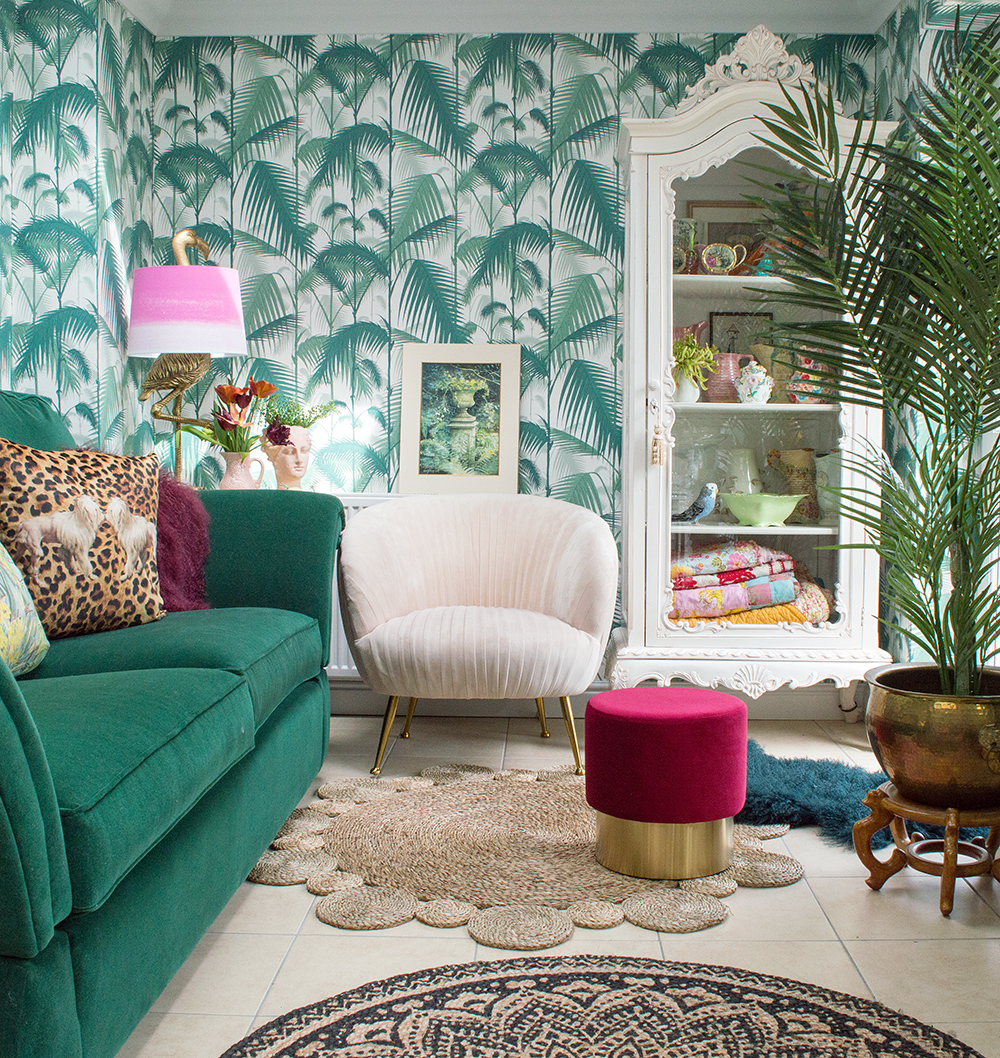 Raspberry Velvet Pouf with Brass Base | Jute Round Rug | Dog Leopard Print Cushion
This is my very own tropical paradise hideaway or, as it's commonly known 'The Garden Room', as it has 2 sets of doors leading to the garden.  In a previous blog (tropical garden room before and after) you can see the complete revamp of this room, with the Mongolian Fur chair taking the place of the Marilyn Velvet chair.  This is because I'm still undecided, as I like both chairs so much and at the moment the velvet chair resides in the spare bedroom (currently undergoing transformation).  Decisions, decisions!  I digress, so moving on.  This room has a warm, tropical vibe with the fabulous Cole & Son palm wallpaper, green velvet sofa and lots of plants and flowers against which the soft pink velvet chair is a calming respite from the strong greens.
Midnight Glamour

Gold Sunburst Wall Art | Taj Marble and Brass Coffee Table | Printed Silk Cushion | Palm Tree Floor Lamp
The blush velvet curvaceous chair, whilst being feminine in its shape and colour, works beautifully styled in a more dramatic, eclectic space.  With the dark walls and zebra cowhide rug, this space has an edgy feel, with lashings of gold for a hit of glamour.  The blush pink lightens the space with a touch of the unexpected, which heightens the eclectic feel.
I love these 3 different room styles, from soft pinks, to tropical, to dark, and I personally think the blush pink velvet armchair looks great in every setting, which just goes to show it doesn't need to be confined to a purely feminine look.  So tell me, are you a fan of pink and do you think the blush pink velvet armchair works in these 3 different ways?
Jacqui x
Never miss a post: follow us on Bloglovin'!
Photography: Amelia Brooks/ Styling: Jacqui & Amelia Brooks
Leave a comment
Your comments make us happy!
Blog Etiquette
Please note that all content, including text and images are copyright of Audenza, unless otherwise stated.

If you would like to use content from our site, then we're very flattered to hear that, but please note its origins on your site or blog, provide a link back to us and kindly let us know where you have used our content.

Thanks!