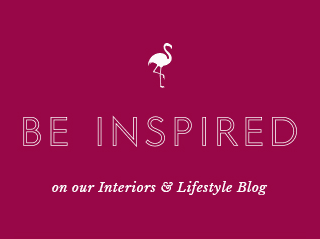 How to Nail the Hollywood Glam Look in your Home
16 Feb 2018
How do you sum up Hollywood Glam Décor?  With jewel colours, textures, reflective surfaces and mirrors, luxe fabrics, curvaceous furniture, contrasting colours and above all a touch of the exotic – with a dash of drama.  It all sounds a bit much doesn't it, but true Hollywood glamour achieves its look by paring everything down – too much and it becomes eclectic.  And why does it work?  It works because of the simplicity of the pieces juxtaposed with the richness of the colours, textures and fabrics.  It exudes elegance, charisma and opulence to brighten up our everyday lives and cocoon us in a rich avant-garde bubble.  Now, don't we all want some of that in todays troubled world?
To achieve the Hollywood Glam look in your home without veering into the pastiche, which brings on nervous laughter in your visitors (or partner), there are a few key points to remember which I will get to, but the main thing to remember is it's your home, your style, so stop worrying about what anyone else thinks.  That's certainly our motto at Audenza as we three have varying styles and tastes! Here's the key things you need to get to the essence of the style…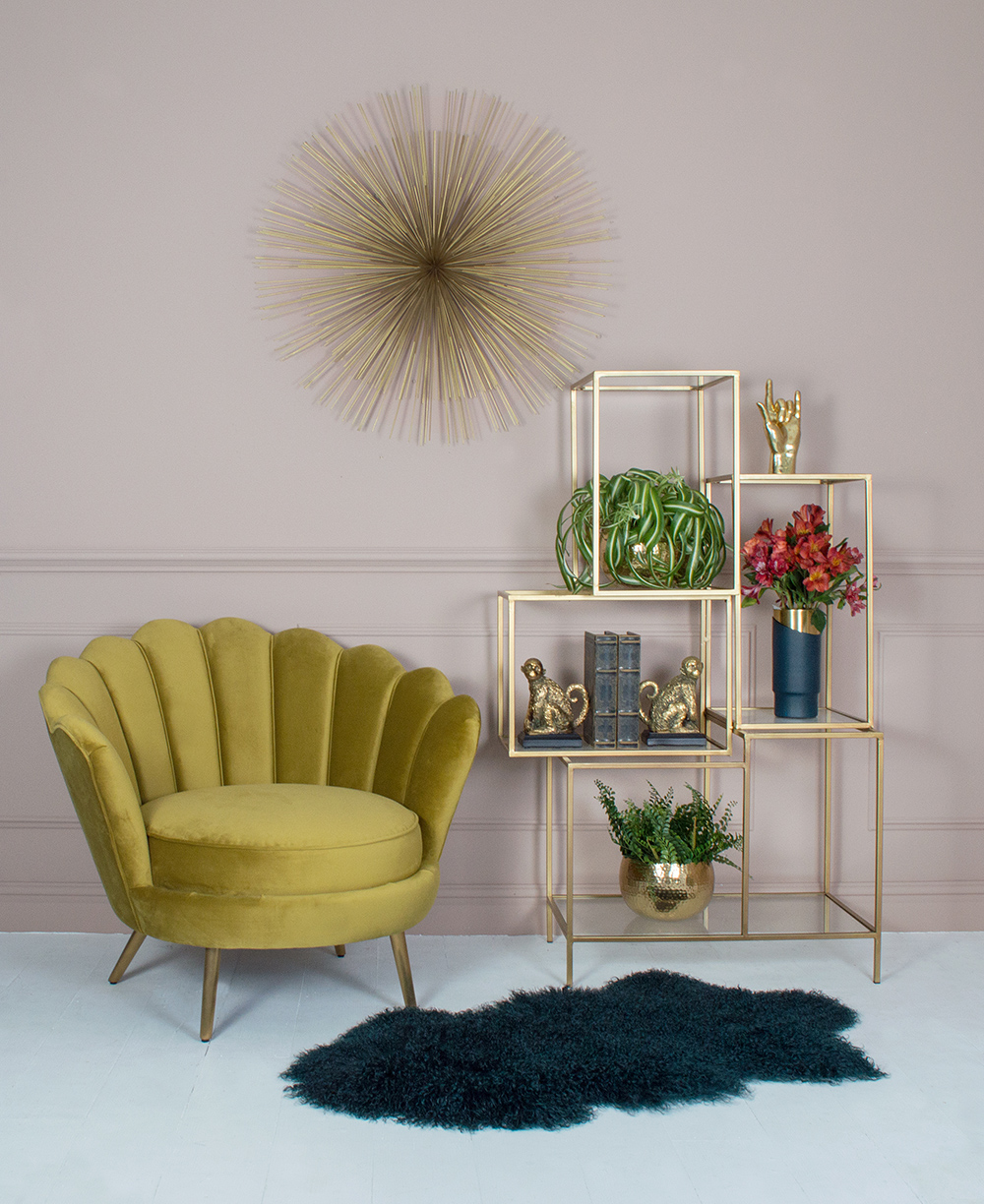 Gatsby Velvet Armchair | Gold Sunburst Wall Art | Milano Open Shelving Unit | Luxury Tibetan sheepskin Rug
Gold– Hollywood was the 'Golden Age' so glam it up with gold or brass, shiny or matt, for a rich extravagance.
Texture– Feathers, fur, velvet and silk juxtaposed with shiny hard surfaces gives a sharper contrast that makes each piece sing with vibrancy.
Jewel Colours– Ah the wonders of jewel colours.  Always a favourite of mine whatever the style.  Richness, opulence, warmth, glamour – it invokes them all.  Gold, red, emerald green, luscious pink, lapis lazuli – not altogether of course, pick a couple and use as accents in furniture, cushions and accessories, but not too much pattern so you keep the focus clear.
Curvy Shapes- Curvaceous furniture is sexy, which is the essence of Hollywood glamour.  Think low slung shell backed chairs, round velvet stools and circular tables.
Luxe Materials- Everything needs to be luxe.  It doesn't have to be luxe price, just look like it is.  Paint old furniture with a shiny lacquered black finish and add gold hardware, no room here for shabby chic furniture.  Add velvet, silk and fur cushions for an extravagant look.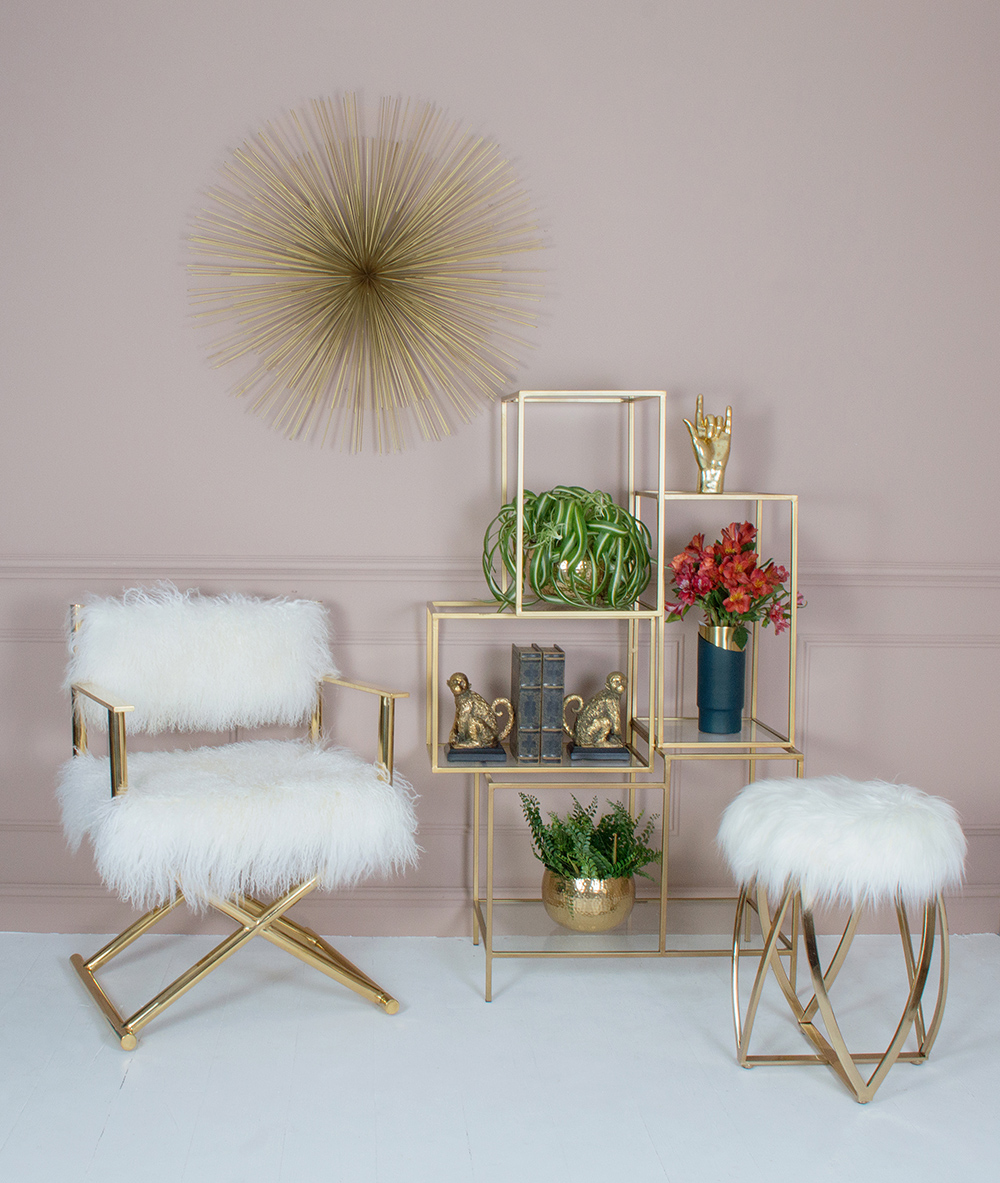 Mongolian Fur Chair | Gold Sunburst Wall Art | Milano Open Shelving Unit | Faux Fur Gold Stool
Reflections- Mirrors and mirrored surfaces are plentiful and make a striking contrast with plush fabrics.  Sunbursts mirrors evoke the era and make a glamorous statement.  Add some seriously ornate statement lighting for maximum reflection and to create wow factor.
Simplicity- Well you have to keep this lot simple or it would turn into a bordello themed décor!  Clear, uncluttered, but with lots of visual impact from each piece.  Don't forget to add a touch of the exotic in your accessories to add character, charisma and a bit of swagger.
And last, but certainly not least…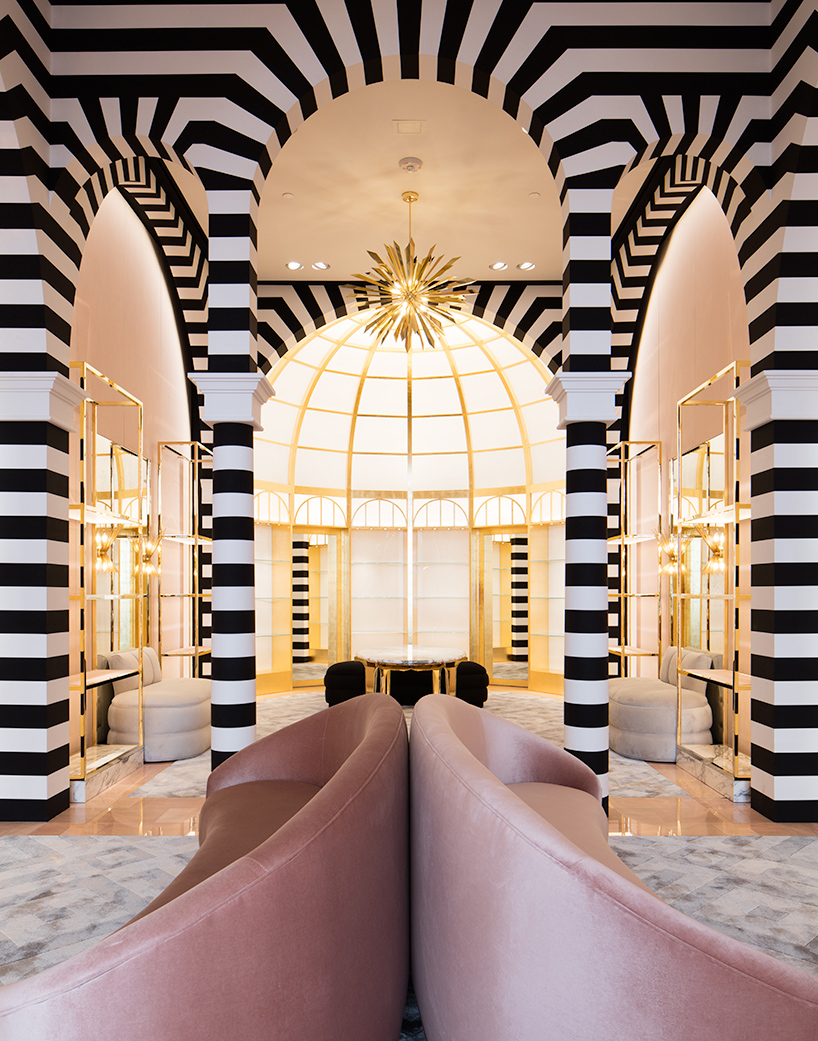 NYC flagship store for Aquazzura, designed by Ryan Korban
Monochrome- Hollie loves monochrome and, although I can appreciate it and am wowed by monochrome interiors, they are too pared back for me.  They have to be paired back as you would get seriously dizzy from too much of this.  Keep to a few pieces of seriously elegant furniture, add a few touches of colour to lift it and accessorize with boldness.
For Hollywood Glam above all think quality not quantity. Let the pieces shine in their own right and create impact.  Each piece should be a star in itself and a wonder to behold.  Well that's pushing it a bit far but you get the gist.
Jacqui x
Never miss a post: follow us on Bloglovin'!
(Images 1-3) Photography: Amelia Brooks/ Styling: Jacqui & Amelia Brooks
Leave a comment
Your comments make us happy!
Blog Etiquette
Please note that all content, including text and images are copyright of Audenza, unless otherwise stated.

If you would like to use content from our site, then we're very flattered to hear that, but please note its origins on your site or blog, provide a link back to us and kindly let us know where you have used our content.

Thanks!