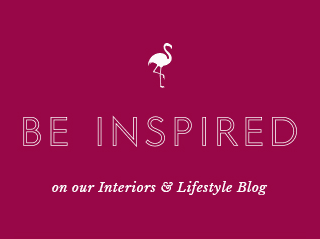 House Tour: An Interior Enthusiast's Stunning Moody Home, with Just the Right Touch of Gothic Glam
26 Nov 2021
Glen's home epitomises finding your own interior style and truly embracing it! Dark, moody colour palettes are combined with glittering golds, patterned wallpaper, and splashes of neon pink, to create this absolute stunner of a home. But it was no mean feat, as he and his fiancé completed a full renovation on their Midlands house. They took it right back to the bare bones, before completely transforming it. Intrigued to see the end result? Why not take a look…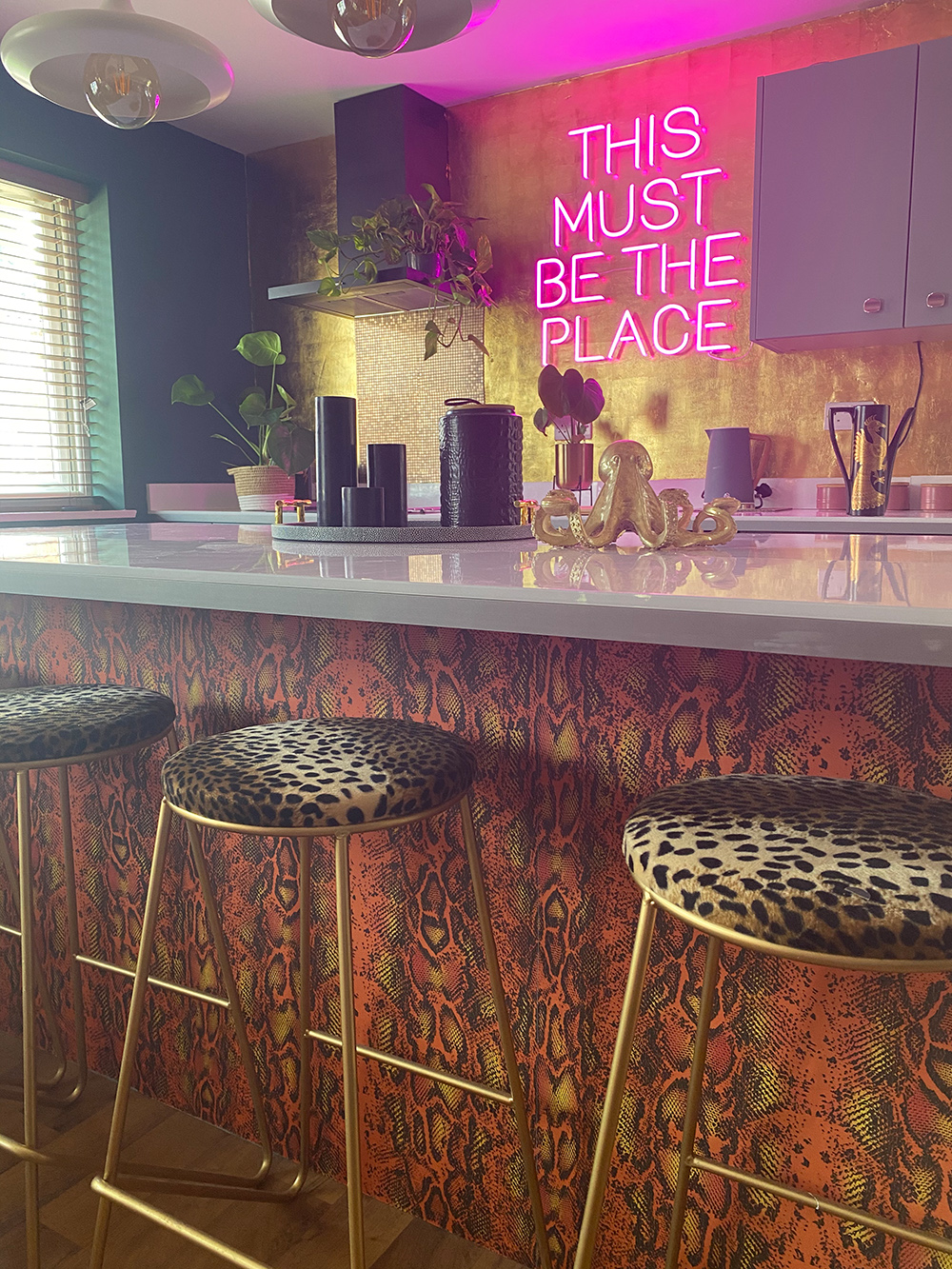 Tell us a little bit about yourself
I'm Glen, A Thirty something hairdresser & interior enthusiast. I live with my fiancé and Frenchie baby in the Midlands UK.
How would you sum up your style?
I would say my interior style is moody with a bit of a glam eclectic edge, I'm a huge lover of a pattern clash and love to use lots of different textures in our home.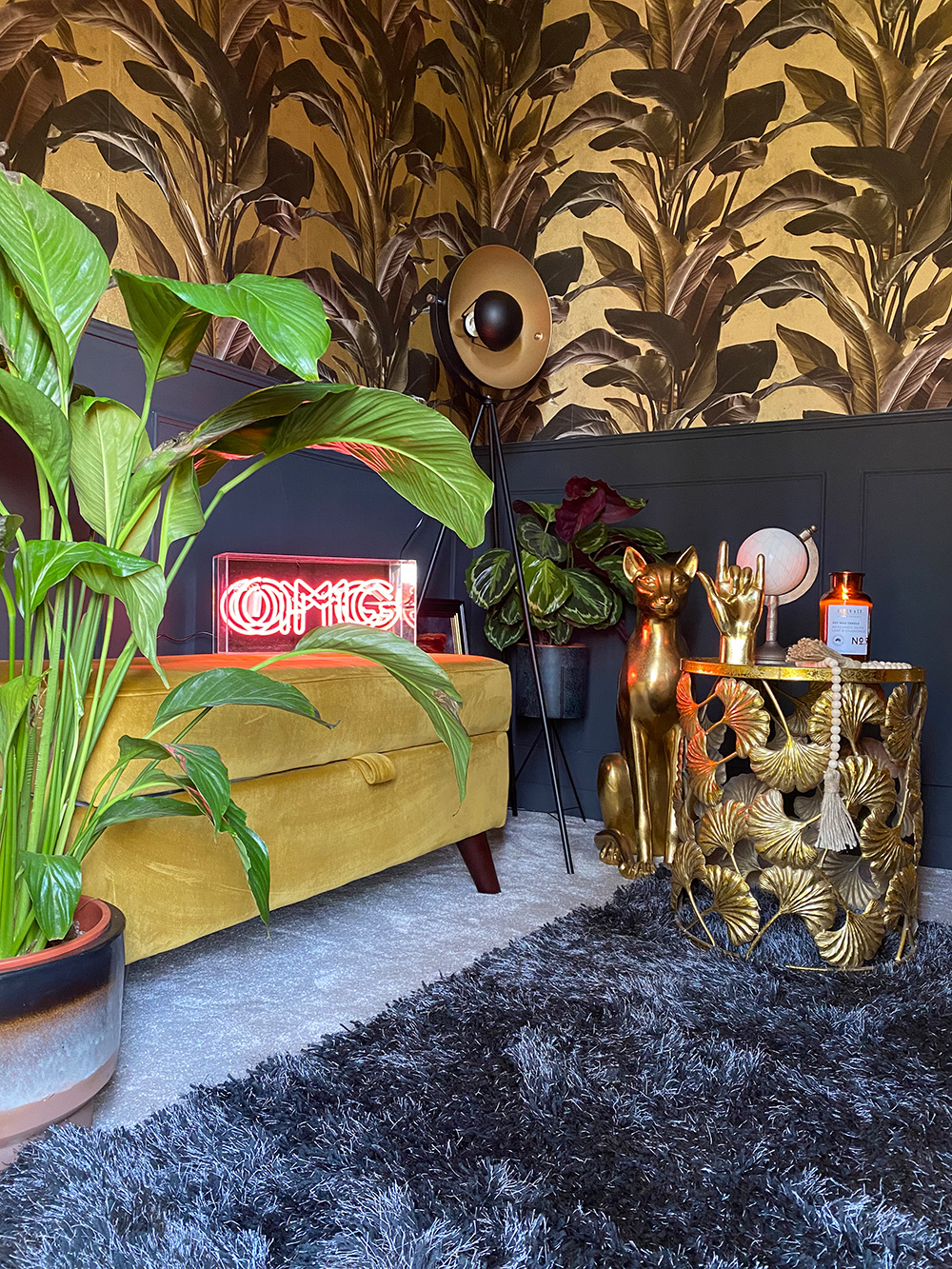 What sort of condition did you buy the house in? 
Whilst we haven't done any major structural work we did  strip the house right back, we saw the bare bones. We bought our house in May 2020 & worked on it for around 4 months. The house was structurally sound but the inside needed a full renovation. We ripped out the old kitchen, bathroom, electrics & stripped all the walls of artex. We practically took it back to an empty shell so we could really put our stamp on it. We did a lot of the prep work ourselves to cut some costs and had tradespeople in to do the big jobs such as plumbing, electrics and plastering. We thoroughly enjoyed the whole process of renovating and would recommend it to anyone that likes to get their hands dirty.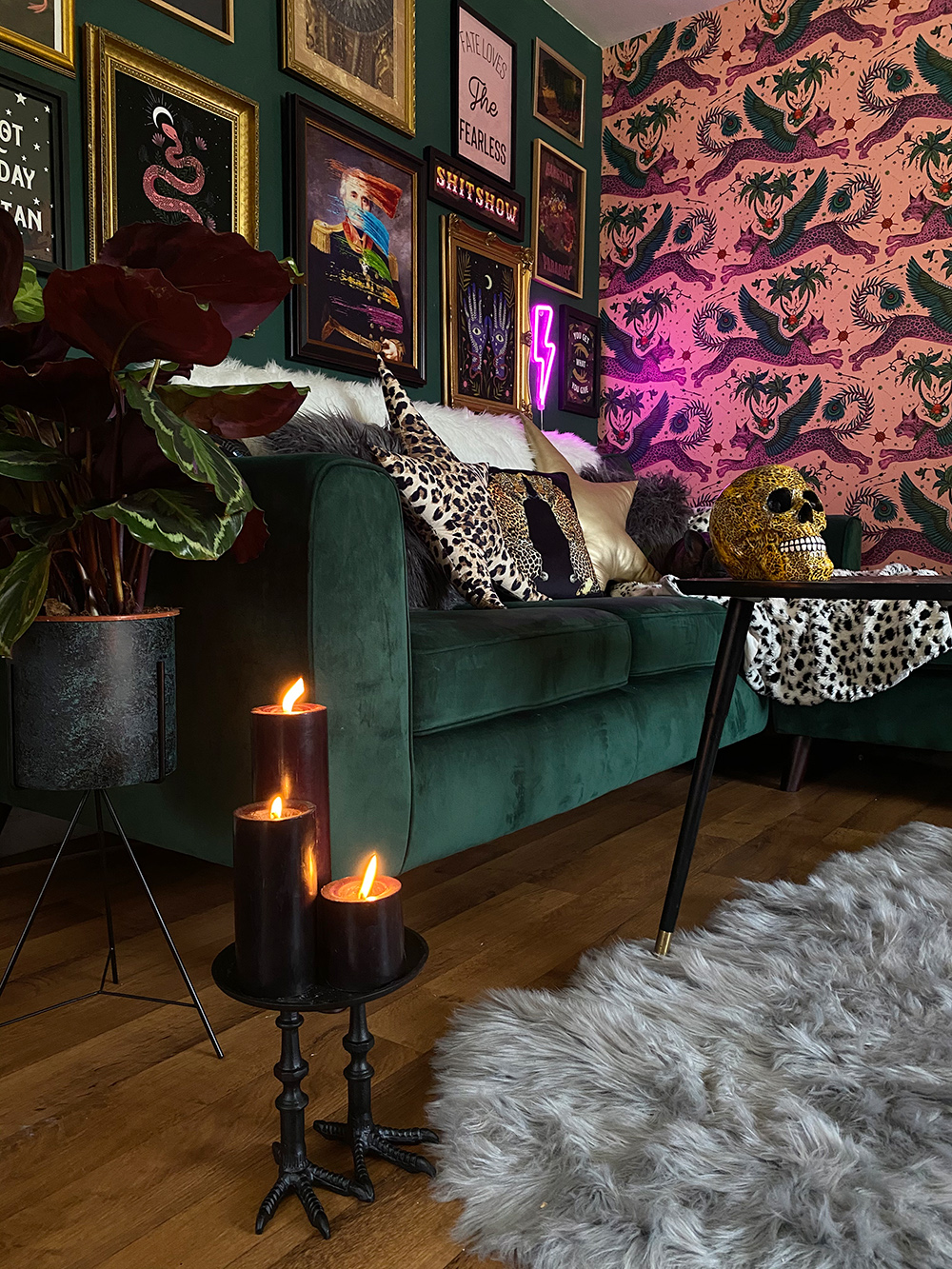 Decorating is very much a learning curve – can you tell us about a decorating mistake that you've made over the years which others could learn from?
Whilst I think it's good to grab the bull by the horns when decorating, preparation is key. When we started thinking about decor and interiors I got very overwhelmed with all the different styles. initially we tried out different styles in every room such as Scandi, bright & colourful & sugary pastels but I soon learnt that most of them weren't for me. I have since found the style that suits me but I've definitely gone around the houses to get there. So when thinking about decor be careful not to get bogged down with all the different styles out there, yes do your research but try creating a physical mood board with paint samples, wallpaper samples, tile samples & different colour/texture samples etc there's nothing like seeing something in the flesh. But most importantly be true to you, I've figured that my interior style reflects my personal style and tastes. So you, yourself & your loves would be a good place to start. Don't make my mistake and end up painting most of the house 4 times in 1 year.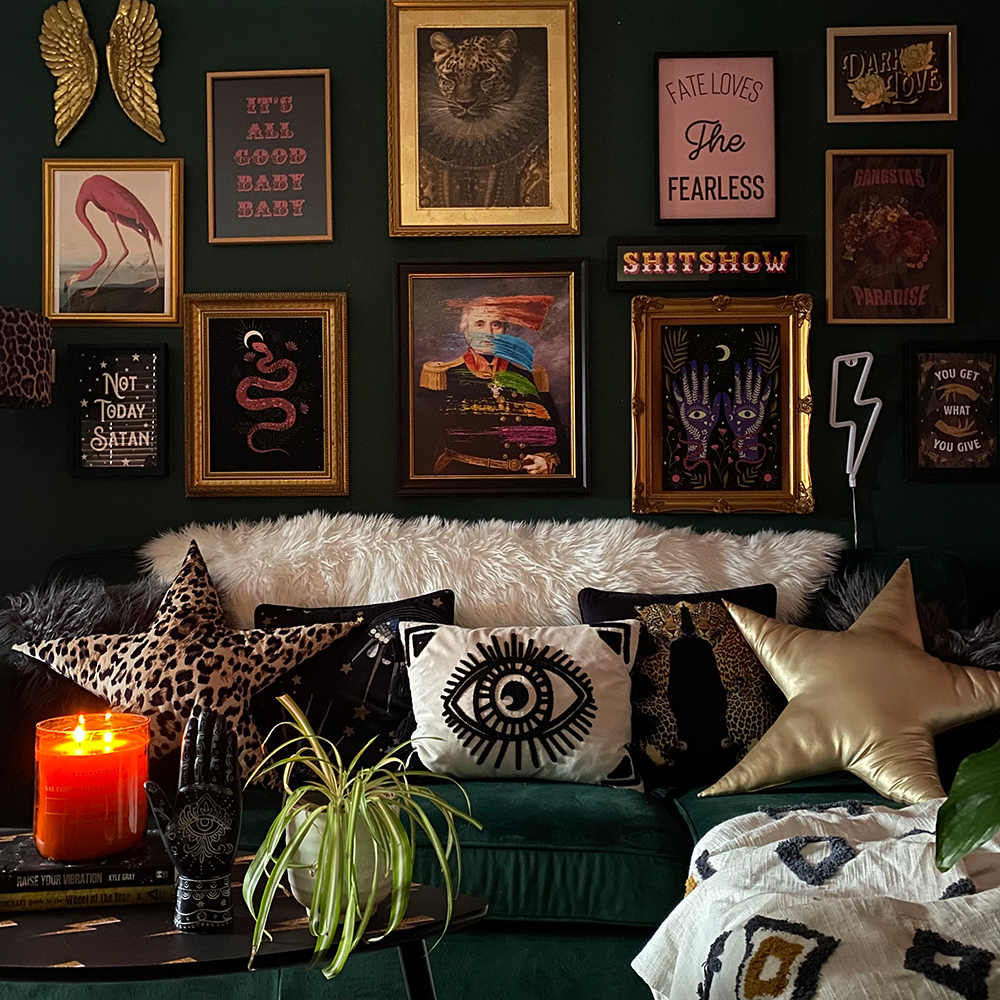 You totally nail gallery walls – what are your top tips for creating these?
To be honest, I don't think there's a right or wrong way to put a gallery wall together. It really depends on the vibe you want. For instance in our lounge our gallery wall changes a lot but I normally like to go for a maximal/busy vibe so I tend to start with the print I want as the focal point in the centre of the wall and then work outwards with no strategic placement but with equal spacing between each frame. I love to add in other types of wall hangings into our gallery walls and the odd neon light can really make an impact too.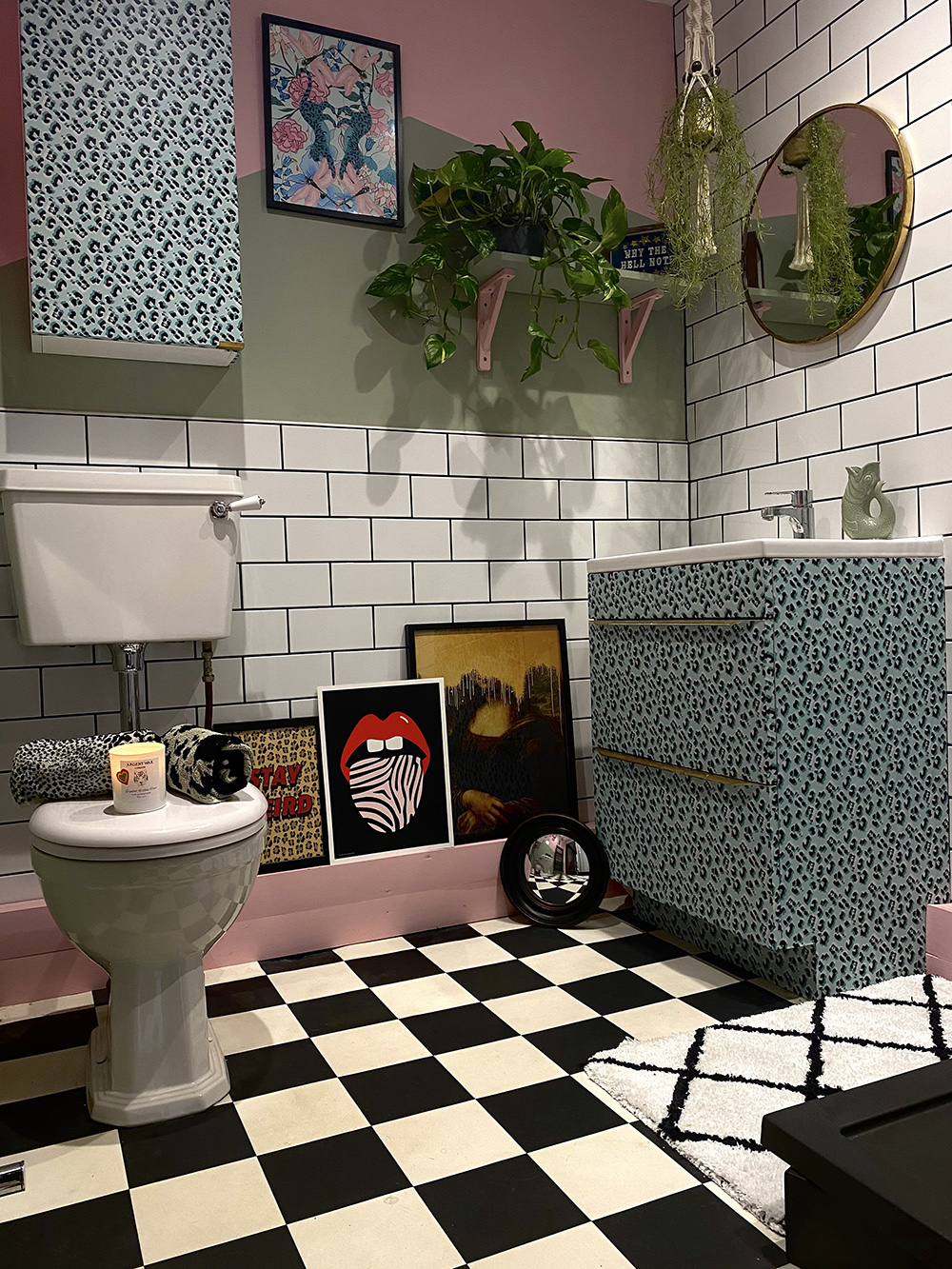 We love the way you've used totally different patterns within one room scheme! Do you think care needs to be taken when clashing patterns, or did you just pick them and go for it?
Why thank you! As you can tell from my grid I do love a pattern clash! I've always been a bit obsessed with a pattern clash which started with clothing and now interiors.  I think when it comes to pattern clashing it's personal preference on how far you go with it as everyone's tastes are different. If you're new to pattern clashing try starting off by clashing soft furnishing such as cushions and throws. Don't be afraid to push the boundaries with pattern after all clashing is to appear discordant and it can create a really striking look.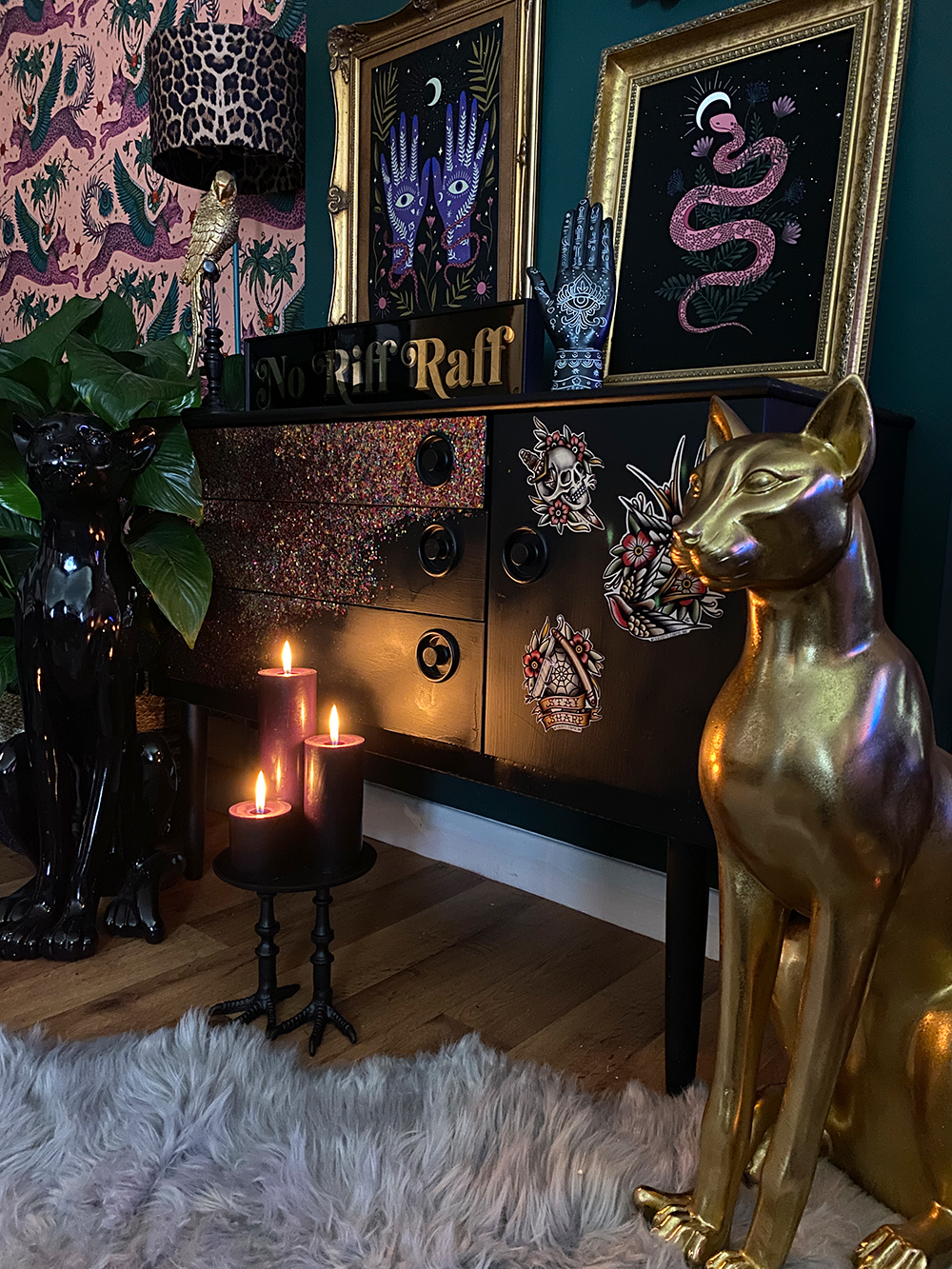 What's your best piece of advice for making dark interiors work?
Well first of all I would say do not be afraid of going to the dark side. There's a myth that dark interiors close in a space but in reality dark walls can disguise the fact a room is small. Since working with dark colours I have found it's created so much depth to every space I've used it in. Dark walls work really well with any style and are great for reflecting metallic accents or pops of boldly coloured accessories & also gives a space a really sublime feel.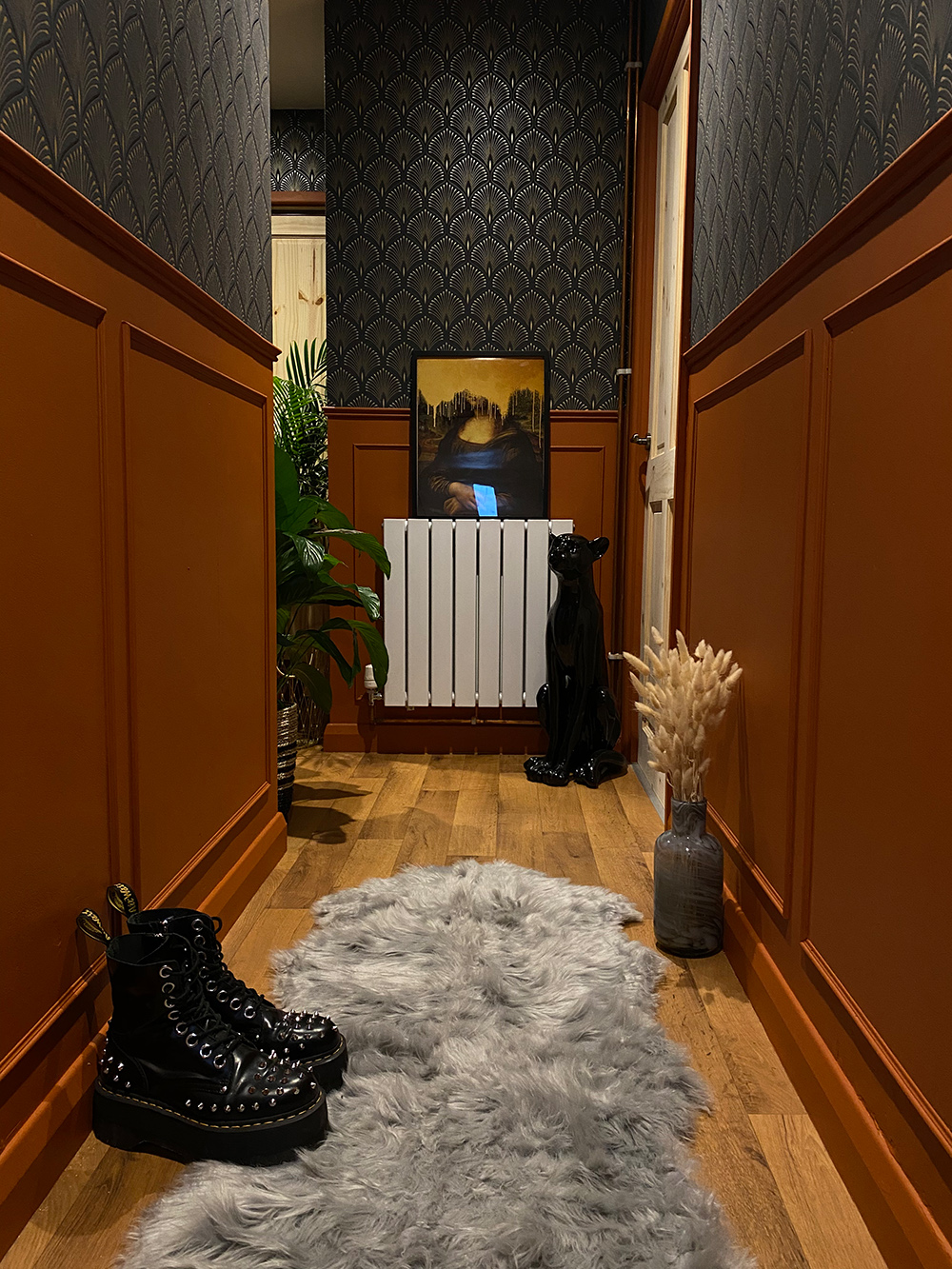 It's interesting as when you look at Glen's maximalist style, it would be easy to think that he always had a bold confidence to his interior styling. Therefore, we really appreciate that he spoke about initially feeling pressured to follow the latest trend, but then flourished when he decided to simply choose what he liked instead. A big thank you to Glen for sharing his interior journey and giving some words of wisdom for anyone apprehensive about going to the dark side of interiors!
If you'd like to see more of his home, you can find Glen on Instagram (@inside.number.twelve), TikTok and Facebook.
You might even spot Rita (his gorgeous Frenchie) in some of his pics too!
Never miss a post: follow us on Bloglovin'!
Image credits: @inside.number.twelve
One reply to "House Tour: An Interior Enthusiast's Stunning Moody Home, with Just the Right Touch of Gothic Glam"
Leave a comment
Your comments make us happy!
Blog Etiquette
Please note that all content, including text and images are copyright of Audenza, unless otherwise stated.

If you would like to use content from our site, then we're very flattered to hear that, but please note its origins on your site or blog, provide a link back to us and kindly let us know where you have used our content.

Thanks!