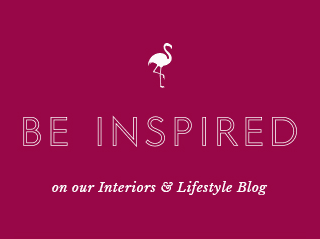 House Tour: Glam & Moody Family Home
19 Jan 2018
We do love a house tour at Audenza, well we all like a nosey around other people's homes, don't we?  Not only for ideas and inspiration but sometimes just to see how the other half lives!  For those of you looking to move over to the dark side this family home is a winner – glamorous, exciting and so sexy.   And even if you are not a fan of dark and moody there is always ideas to pick up from the styling and design, such as that amazing gold fireplace.  I am so in love with that gold fireplace!
The homeowner is Rachel Edmonds @raspberry_flavoured_windows, Hollie has known her through the online interiors world for a couple of years now.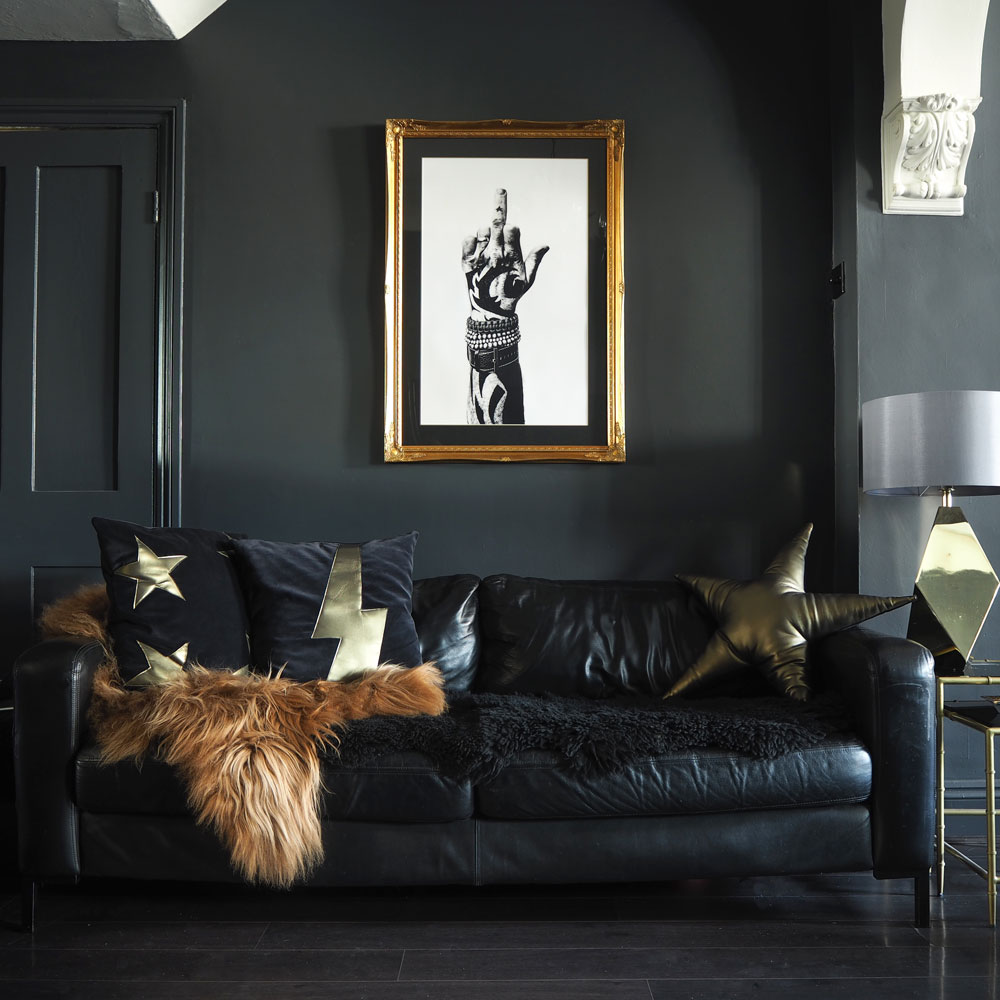 Sitting room
We asked Rachel a few questions about her lifestyle and she mentions designing for her autistic sons, which is a very interesting concept.  You can see from the photos it's a very tactile home, one we could all take comfort from, so it's something I would be interested to learn more about but that's a whole different blog post.
J: Firstly, can you tell me a little bit about yourself?
R: Hi, I'm Rachel. I'm an interior design obsessed, horse enthusiast with a penchant for a bit of glamour. I love taking classic design and mixing it up with the unexpected. Think Vivian Westwood meets Margo Leadbetter with a bit of Audrey Hepburn thrown in for good luck, I certainly never take myself too seriously.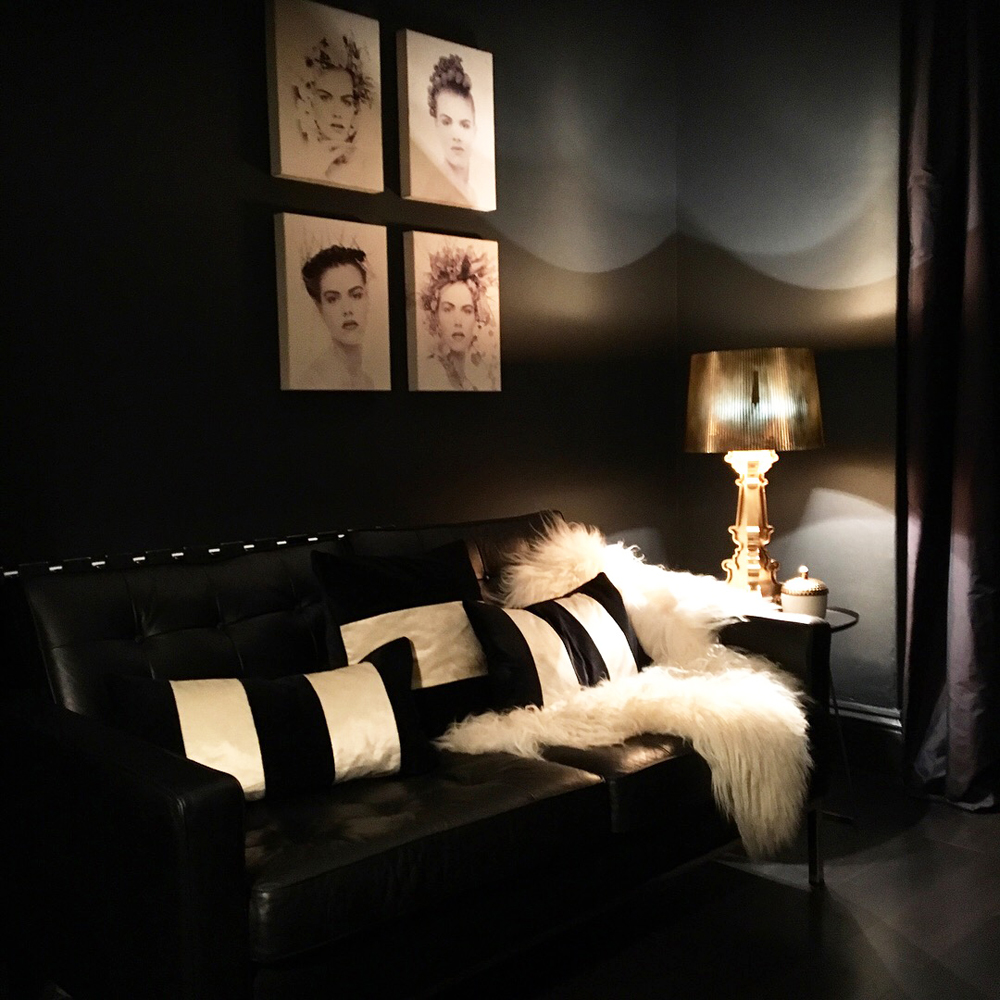 Sitting room
J: How long have you lived in this house and who lives there with you?
R: I moved into the house just over 20 years ago along with my husband, Tony and our eldest son Max who was 6 months old at the time. He's since been joined by 2 younger brothers, Xander and JJ. So that makes 5 of us along with our much loved and rather grumpy, elderly Rottweiler named Buster who we rescued around 8 years ago.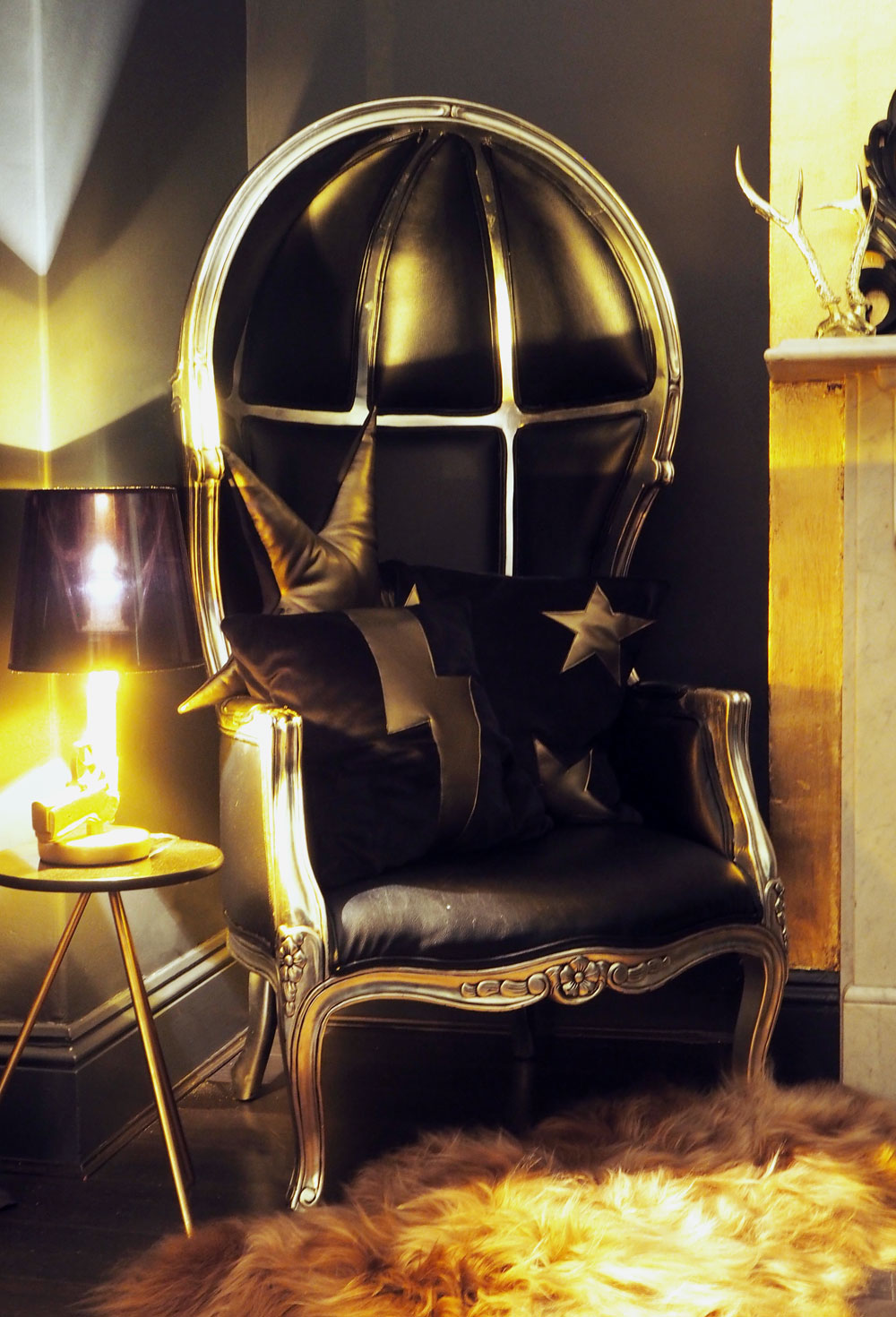 Sitting room
J: What sort of condition did you buy the house in and what sort of work have you done to it? 
R: In the 80 years before we moved in only 1 other family had lived there and goodness there was an awful lot to do. We reroofed, rewired, replastered, basically if it had 're' in front of it, we did it. Most of the work was done by us apart from the electrics and the roof as we didn't have a very large budget. We'd already renovated 2 houses prior to moving here but there was still an awful lot to learn. Whilst the house needed a lot of work, I knew from the moment I set foot over the threshold, before I'd even seen any rooms that this was the house for us, it has such a wonderful feel. And, the beauty of staying in the same family for so many years meant all the original features were still intact.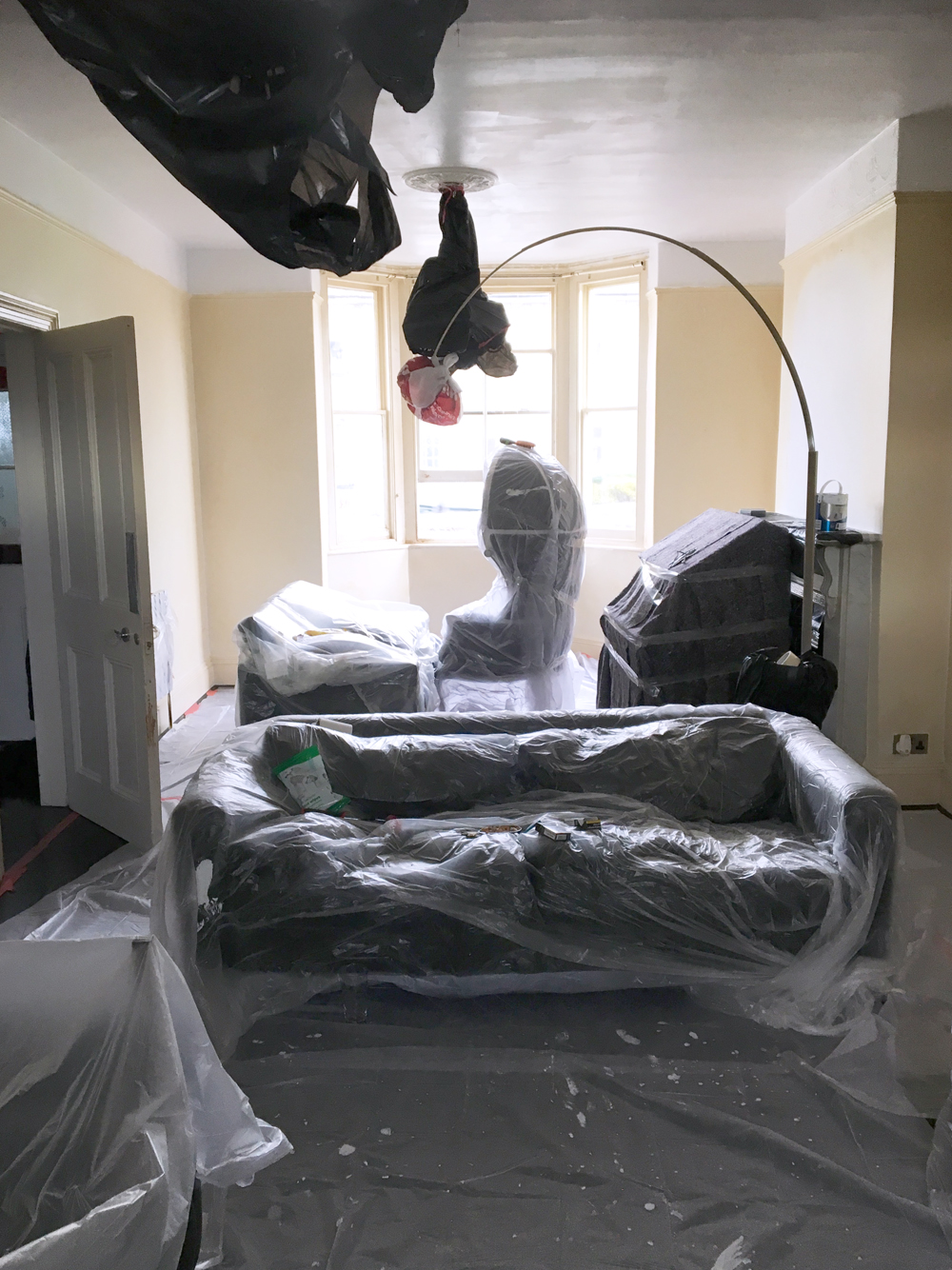 Before: Sitting Room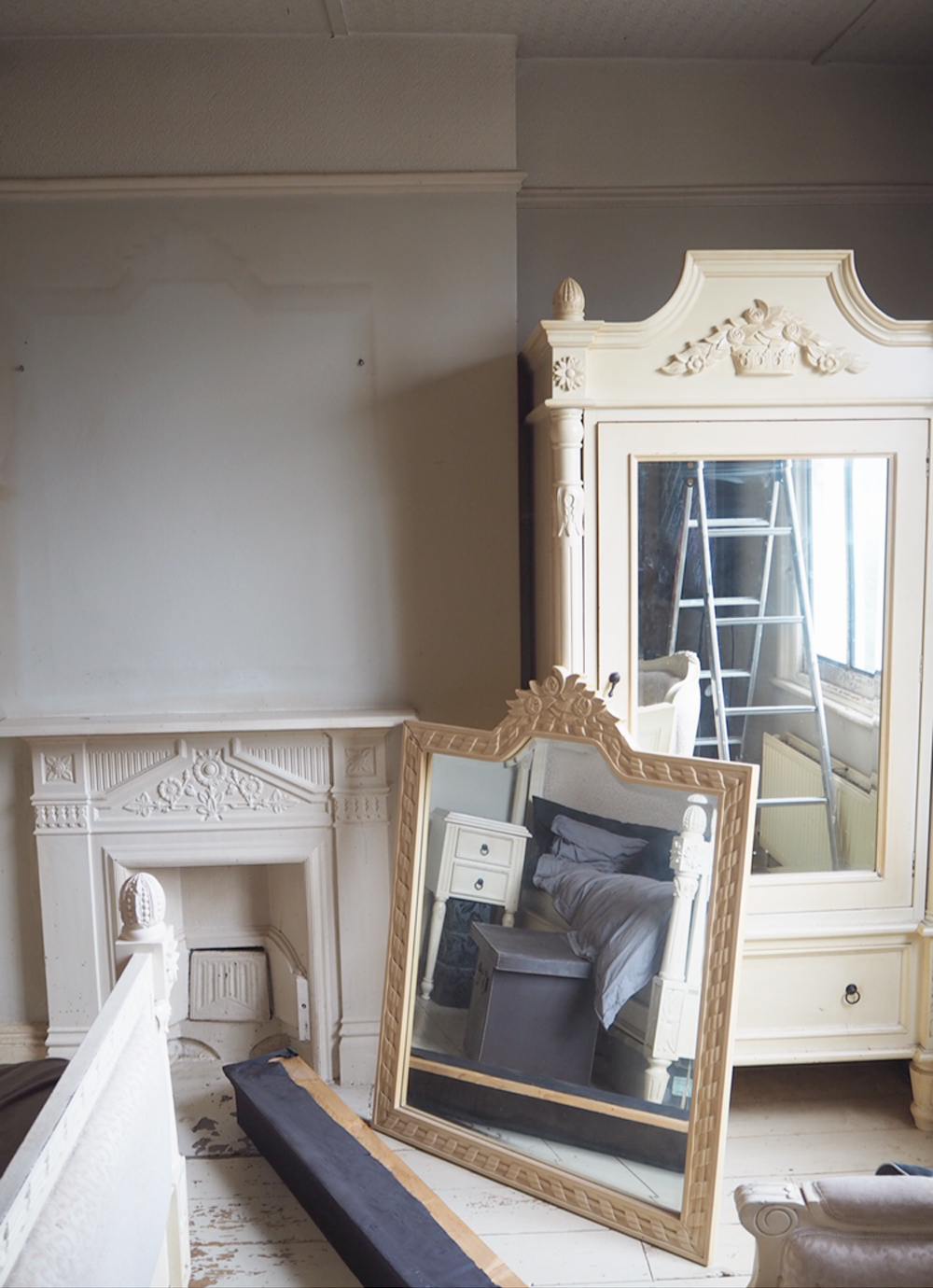 Before: Bedroom
J: When did you move over to the dark side and what was your previous style?
R: Having lived in the house for so many years my style has evolved and grown over that time. It has had dark rooms previously; I've always loved the dark side. When my boys were small I worked as an interior designer so I could fit work in around them and the house was always constantly changing, I used it to try out ideas, some of which I pulled off and some not so much! Around 5 years ago my husband decided that he was a minimalist and so we changed to light walls and pared back the interiors but I never felt comfortable with it, I could never just chill. After pointing out that he was the least minimalist person I have ever met over several glasses of wine one evening I took my paint brush to the bedroom walls and welcomed the dark side back into our home again.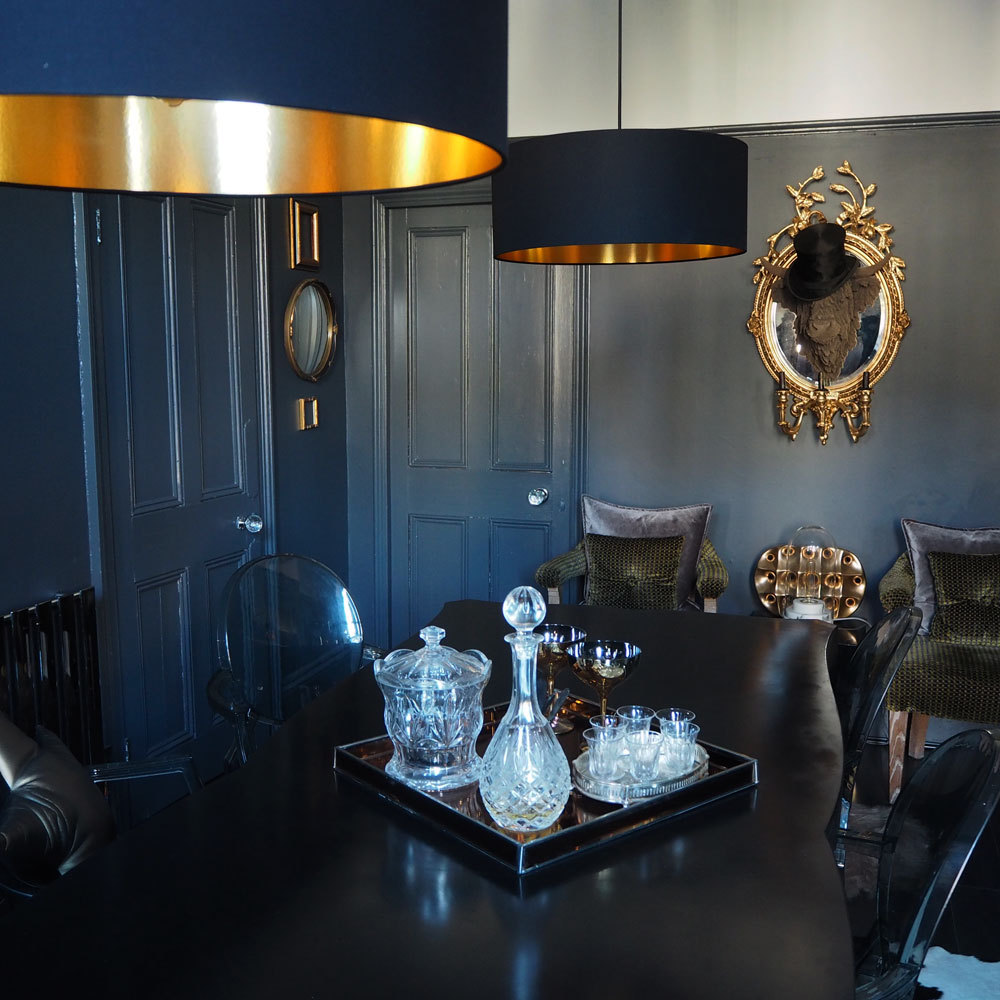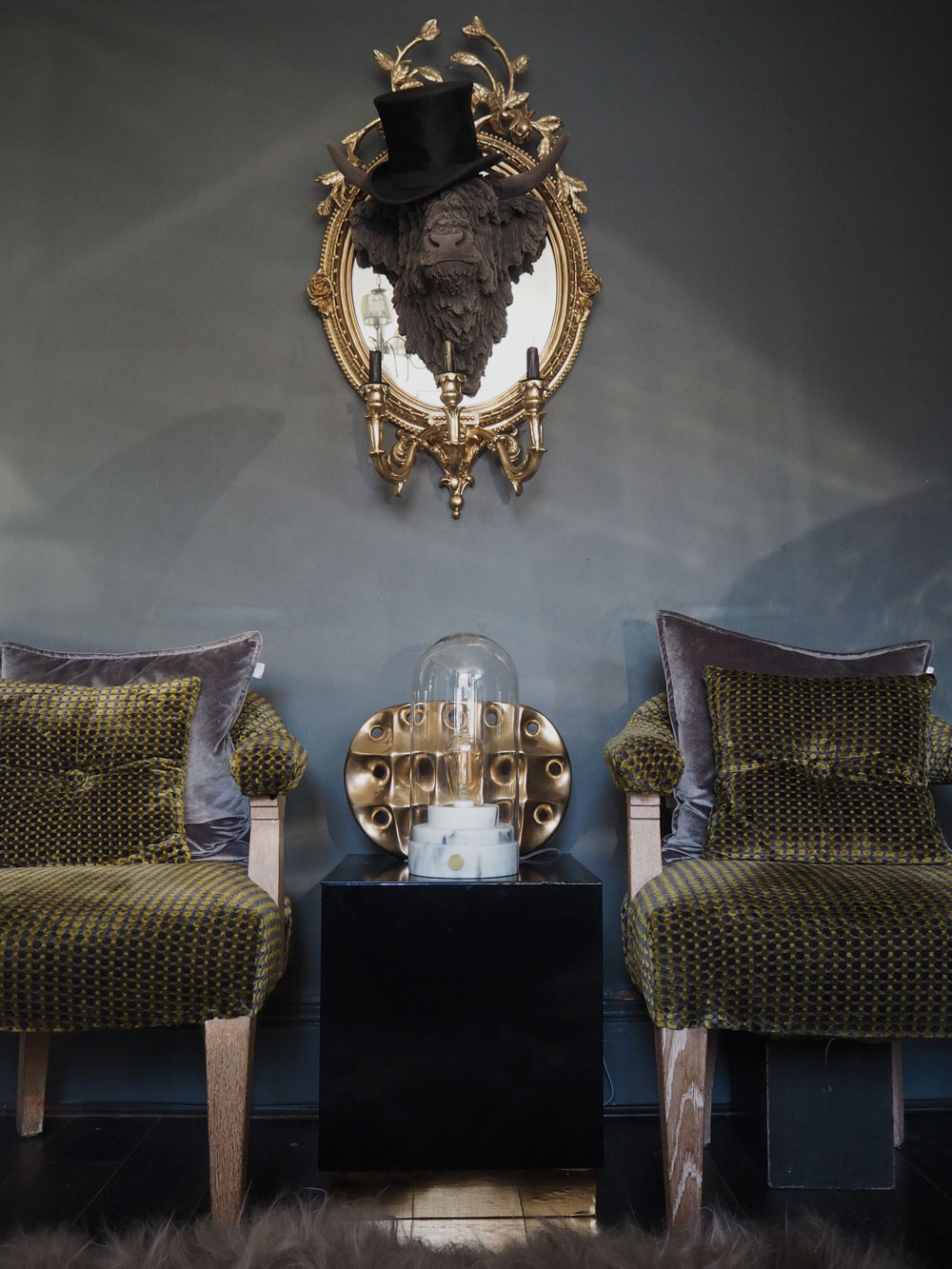 Dining room
J: How would you describe your style in 3 words?

R: Glam and dark with a dash of the unexpected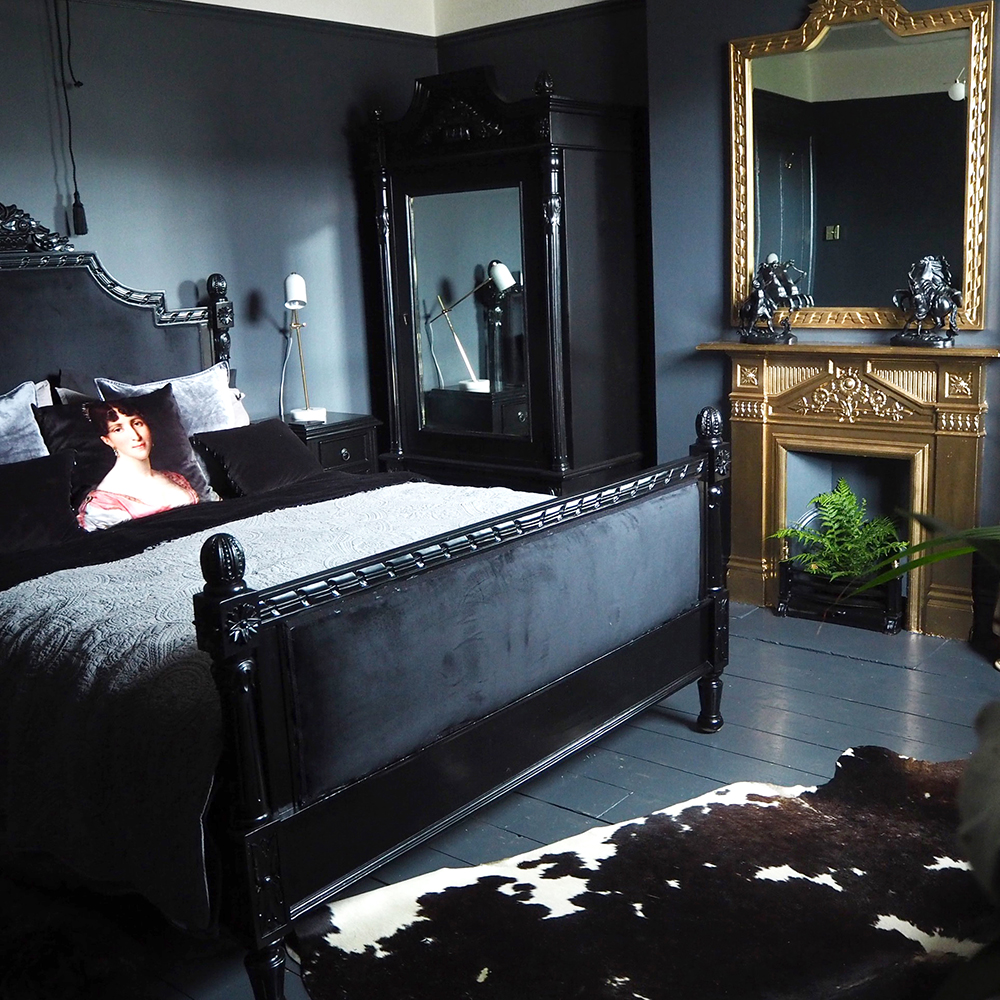 Bedroom
J: Pulling off such a dramatic, moody look can be tricky, but you've got it spot on! What's your best piece of advice for making dark interiors work?
R: Don't be afraid to be bold and let the colour do the talking. I accessorise with statement pieces to create multiple focal points in one room. And I always add a sprinkling of gold to give the overall design a lift.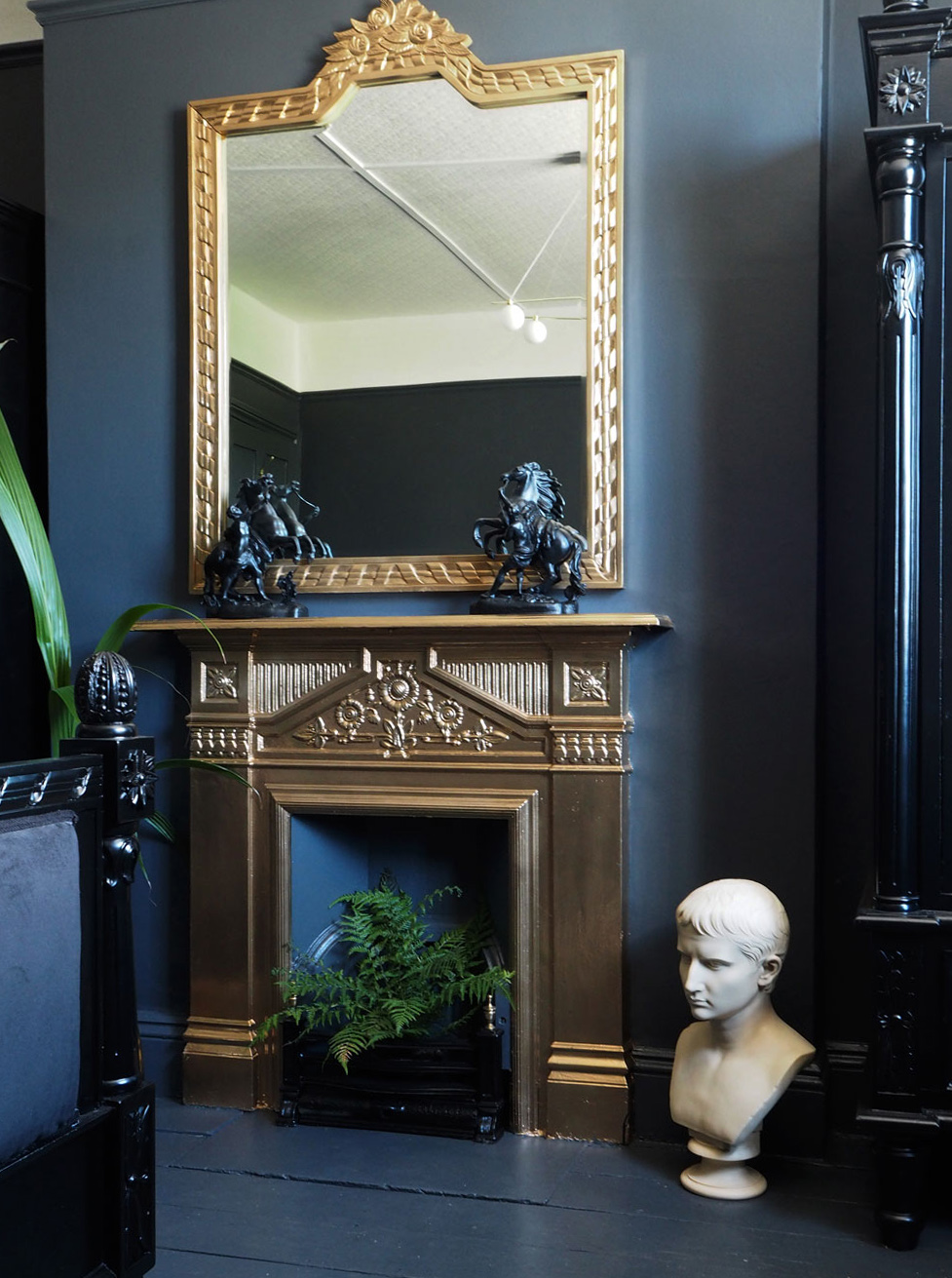 Bedroom. I can feel a gold fireplace coming on in my revamp!
J: You have such a unique style – where do you get most of your inspiration from?
R: I draw inspiration from the world around me, an item of clothing, nature, a statement piece that naturally leads to a design forming around it. Mostly though I design our home for my boys, 2 of them are autistic and each room is designed to meet their sensory needs and reduce anxiety levels.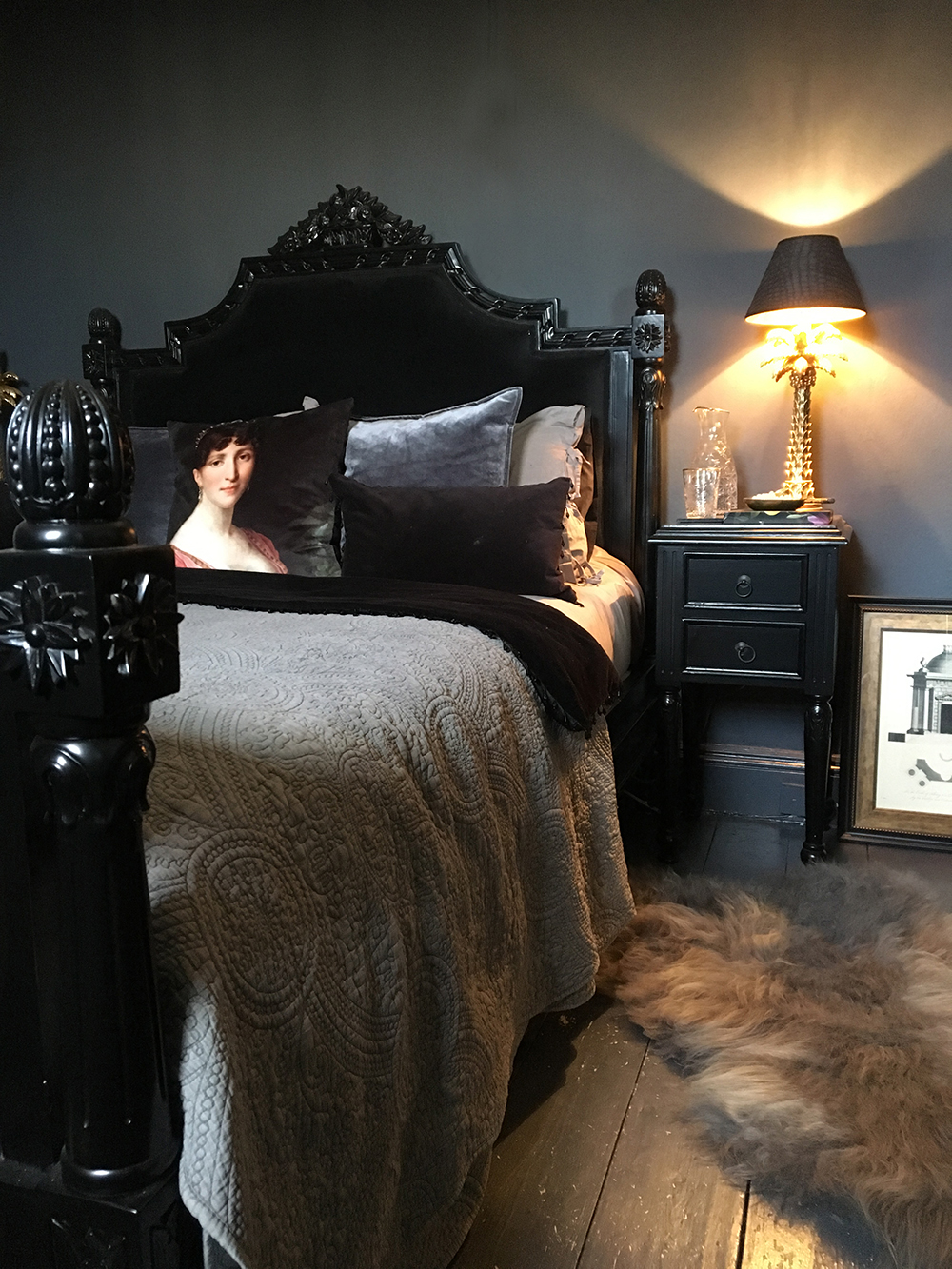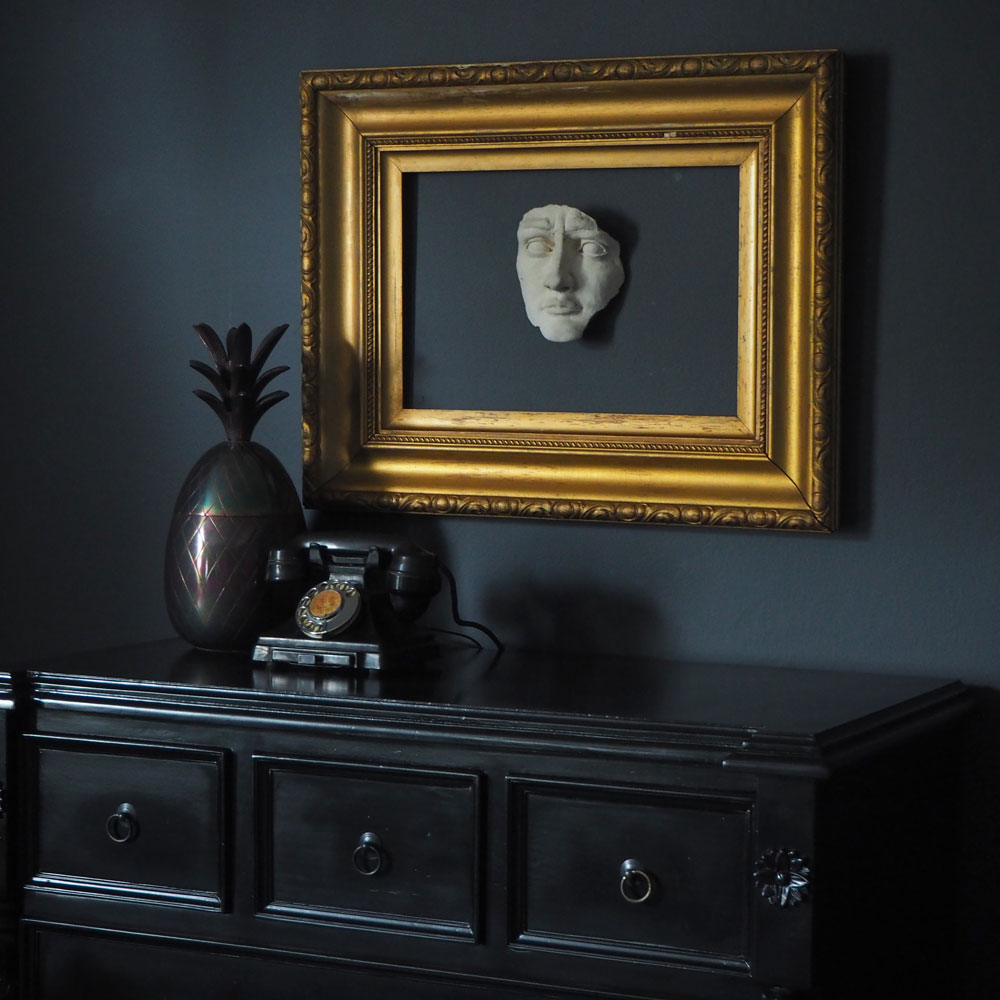 Bedroom. The heavy gold frame around the mask makes for a striking piece of wall art that we can all take inspiration from.
I hope you enjoyed that little peek into Rachel's gorgeous home and that it's given you some ideas.  I know I keep going on about it but that gold fireplace is now on my wish list.  I'll let you know if it makes it through to the final edit!
House tours are essential viewing for me at the moment as I'm currently on the second wave of decorating in my home, the first when I moved into my white box 6 years ago, and now I'm re-doing some of the rooms that I'm either bored with, or they were done in a hurry to get the house finished and they never really worked for me.  I do love dark interiors although more as a visual feast in other people's homes but Rachel's bedroom is just so glamorous it sort of sways me.  There is something so striking and grown up about black painted furniture that really appeals.  What do you think?
You can follow Rachel on Instagram @raspberry_flavoured_windows  and get a daily dose of moody inspo.
Which is your favourite room?  Any ideas you've taken from this?
We're off to Maison et Objet in Paris for a few days, which is one of the biggest interior trade shows in Europe.  Can't wait to see what products we can hunt out for you guys!
Jacqui x
 Never miss a post: follow us on Bloglovin'!
Image Credits: Rachel Edmonds
Leave a comment
Your comments make us happy!
Blog Etiquette
Please note that all content, including text and images are copyright of Audenza, unless otherwise stated.

If you would like to use content from our site, then we're very flattered to hear that, but please note its origins on your site or blog, provide a link back to us and kindly let us know where you have used our content.

Thanks!