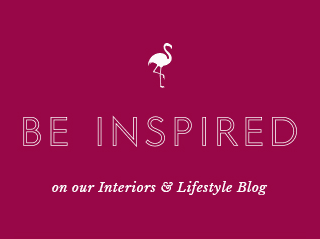 House Tour: A Masterclass in Moody Interior Design
22 Apr 2017
We have a very special treat for you today, a masterclass in moody interior design, in the form of a house tour and interview with one of our favourite Instagrammers, Pati Robins.  We've been following Pati on Insta for some time now, and her design and styling ability never fails to amaze us.  Clearly it's not just us wowed by her moody and eclectic home though, she has an ever growing following count and craaazy amounts of likes on her posts.  So we wanted to bring her home to you, and share a full house tour, as well as hear more about the lady behind this stunning abode.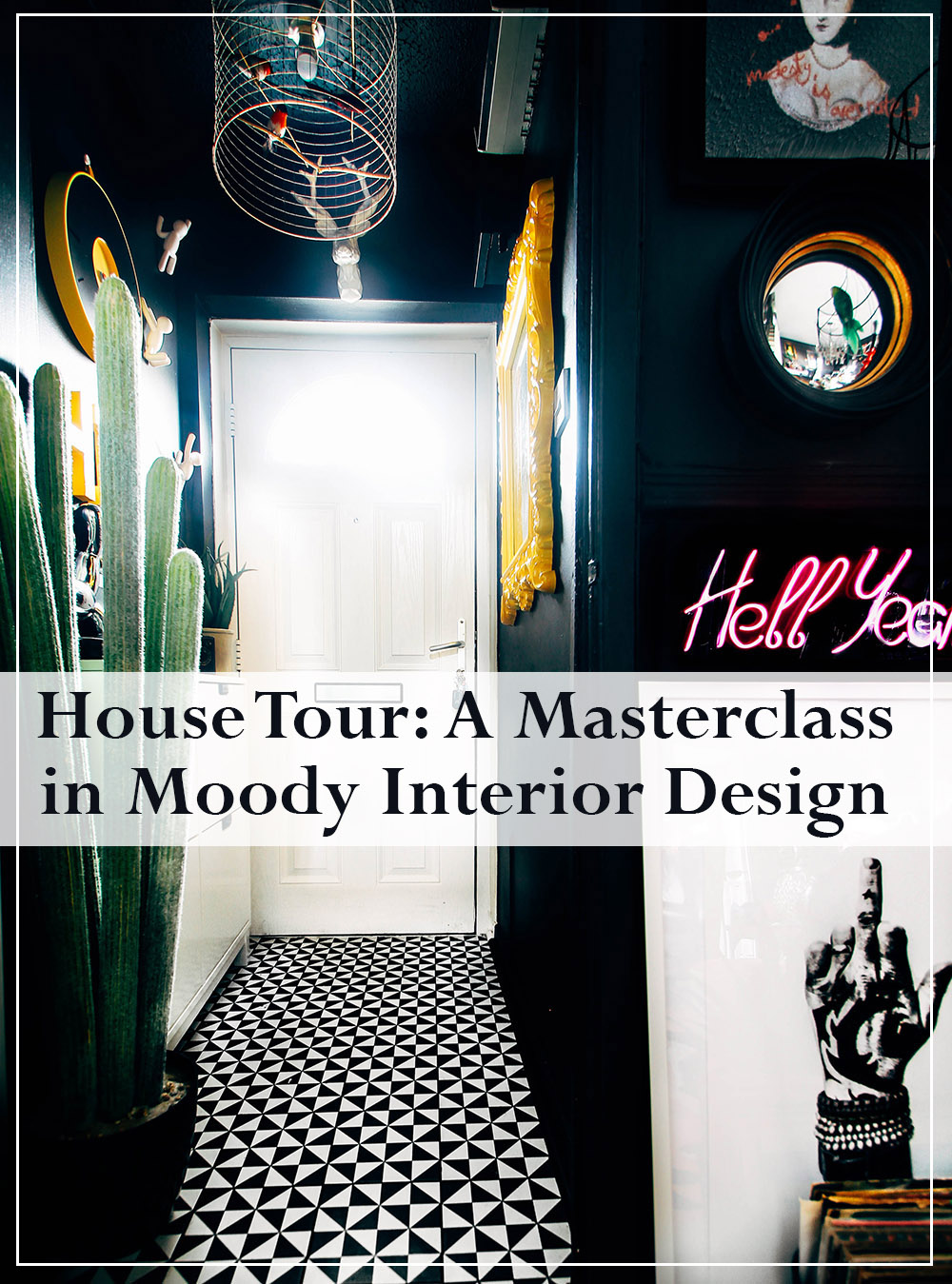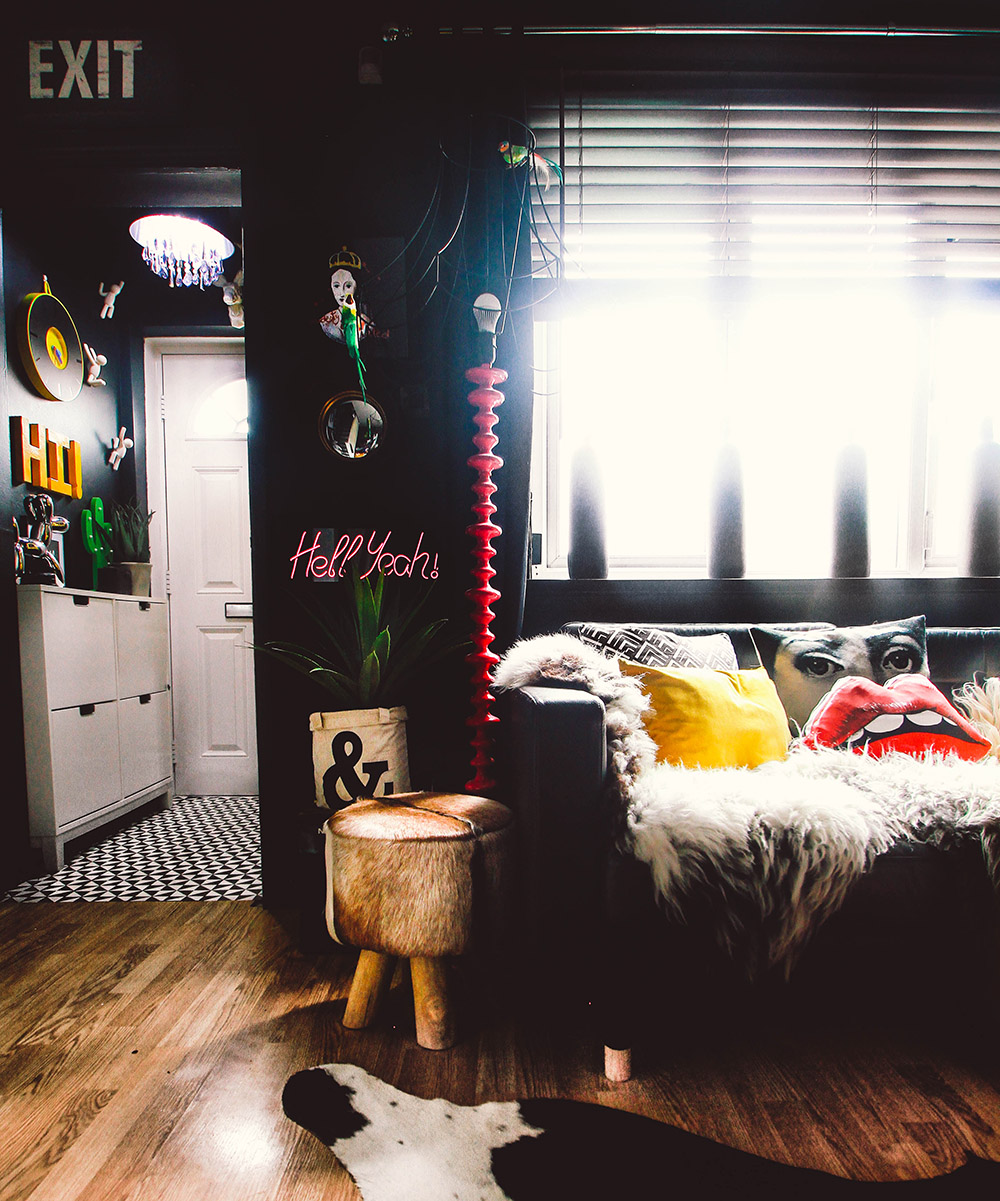 Entrance & Living Room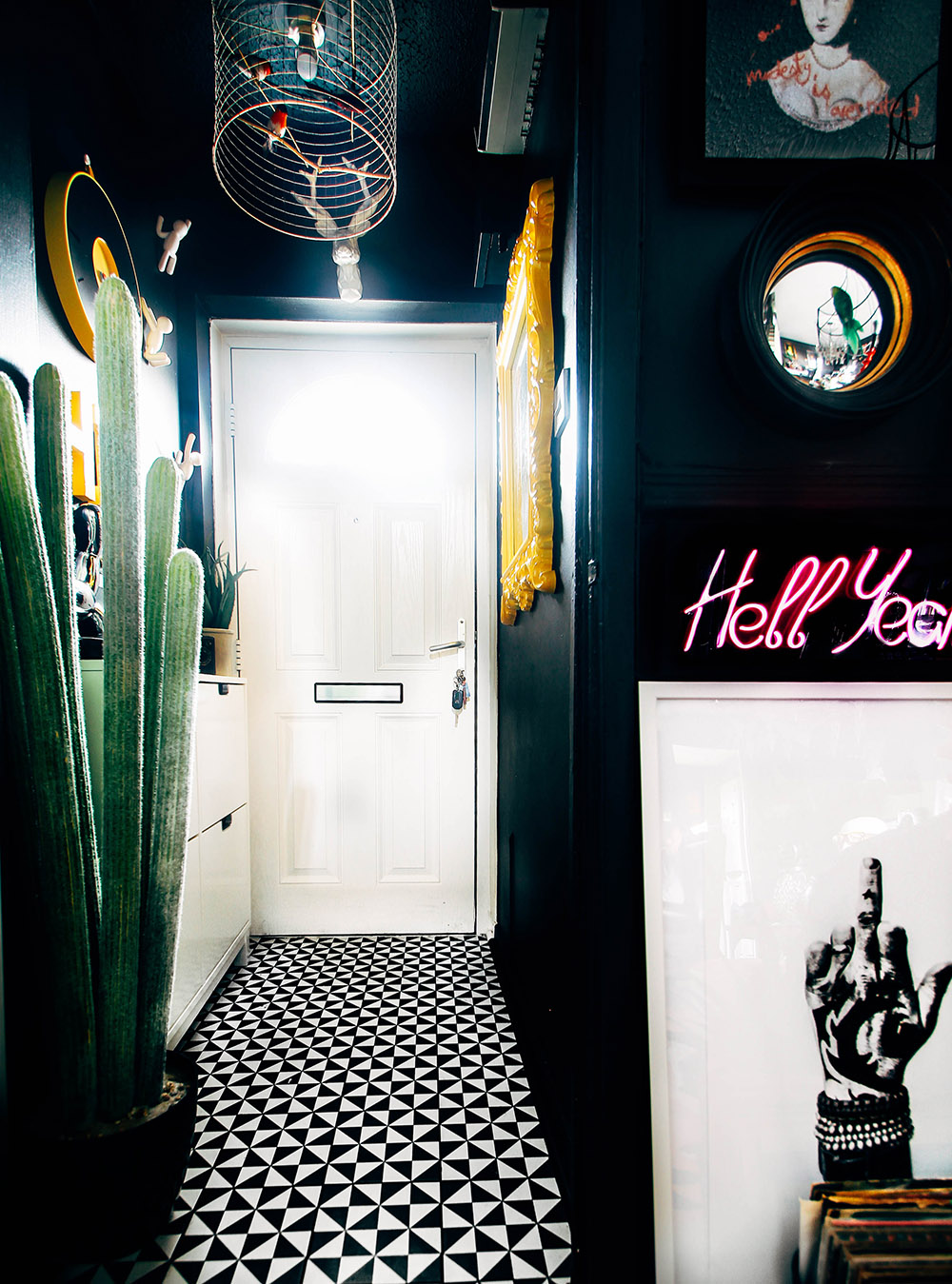 Entrance
HB: Firstly, can you tell us a little bit about yourself?
PR: Hi my name is Pati – always impatient, slightly crazy, always on the go, owned by 2 dogs, mum, wife and a carer to an army veteran husband. I was born in Poland – I met my husband while on holiday here, so in 2006 I moved to the UK and I love it here – the views the greenery and the people – you guys are awesome x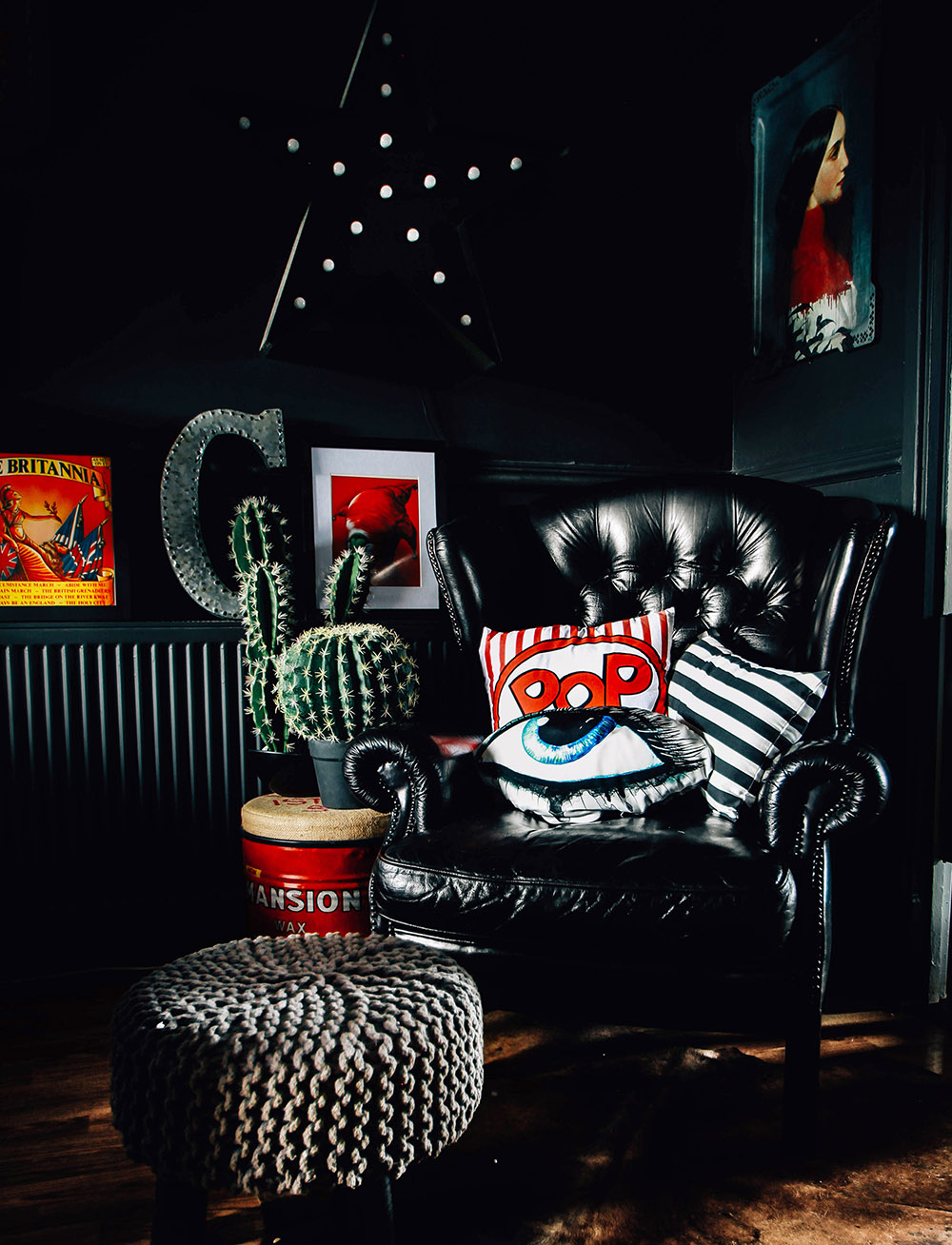 Living Room Reading Nook.  HB: A major bug bear of ours is a beautifully painted room, and then the radiator left white.  Here Pati has painted the radiator the same shade as the walls – now doesn't that do a nice job of hiding a functional, ugly object?
HB: How long have you lived in this house and who lives there with you?
PR: Moved in in 2006. I live with my hubby, daughter and 2 dogs, ohh and not to forget the fish 😉 Home is 78 square meters.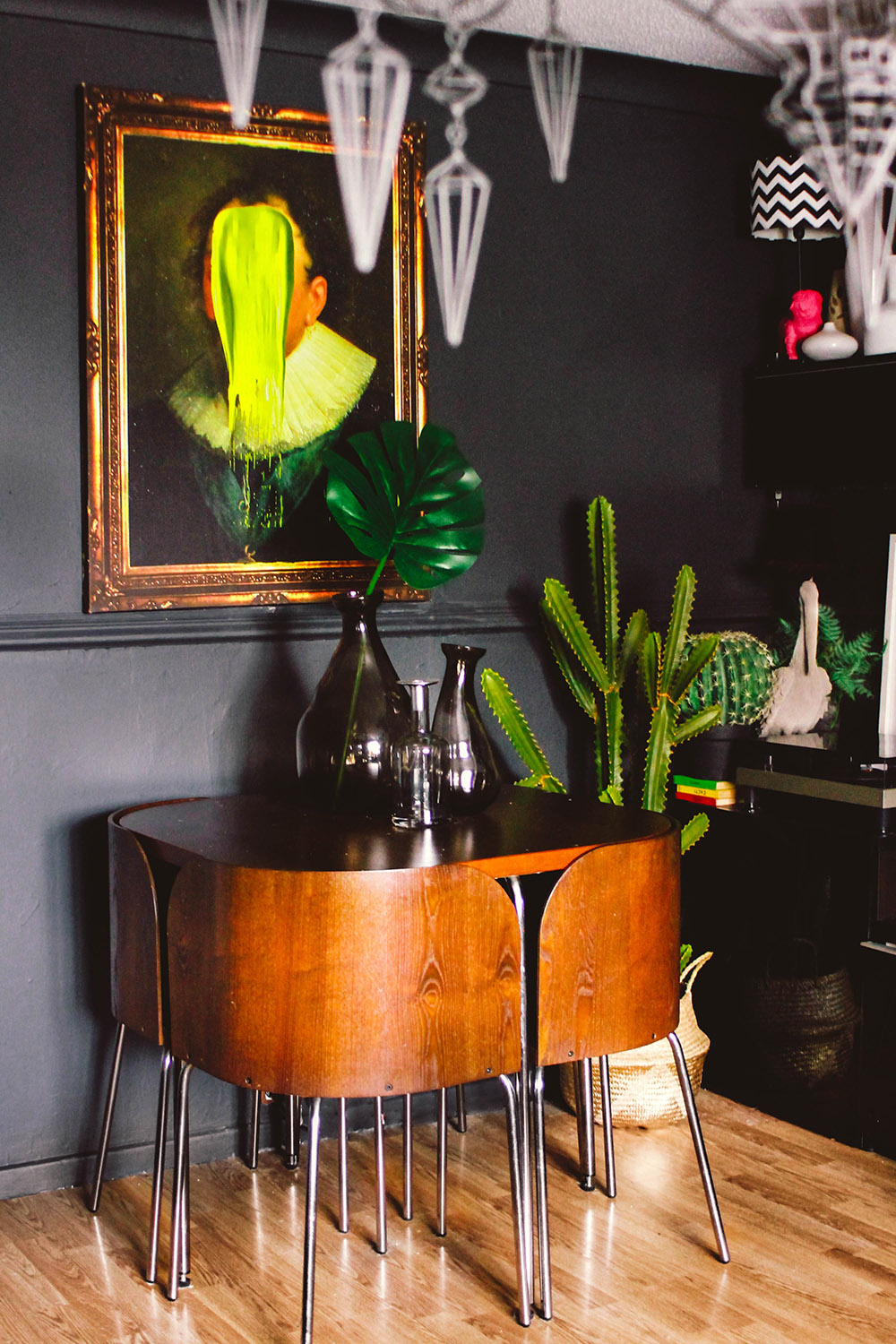 Living Room Table
HB: What sort of condition did you buy the house in and what sort of work have you done on it? I imagine you have had to make quite a few changes to adapt it for your husband?
PR: I do not own my home, but when we moved in all the walls were painted in magnolia, complete with nicotine stain patches, not a good look! A lot of blood sweat and tears has gone into this home, since my budget has been very limited for the past 11 years. I have been working on making this house a perfect home for us, on a small budget – making, up cycling and finding cheap or free things takes a lot of time and patience , but the feeling you get when you made something or find an absolute bargain is priceless x
With regards to disability adaptations, one thing is for sure- they are so darn ugly! With simple tricks, like covering our bed with mountains of cushions to hide a bed lift, or swapping an extra long shower curtain with a standard size curtain but with added extra trim, to provide some interest (because XL shower curtains only come in white and….white). I am yet to re cover a stair lift seat 😉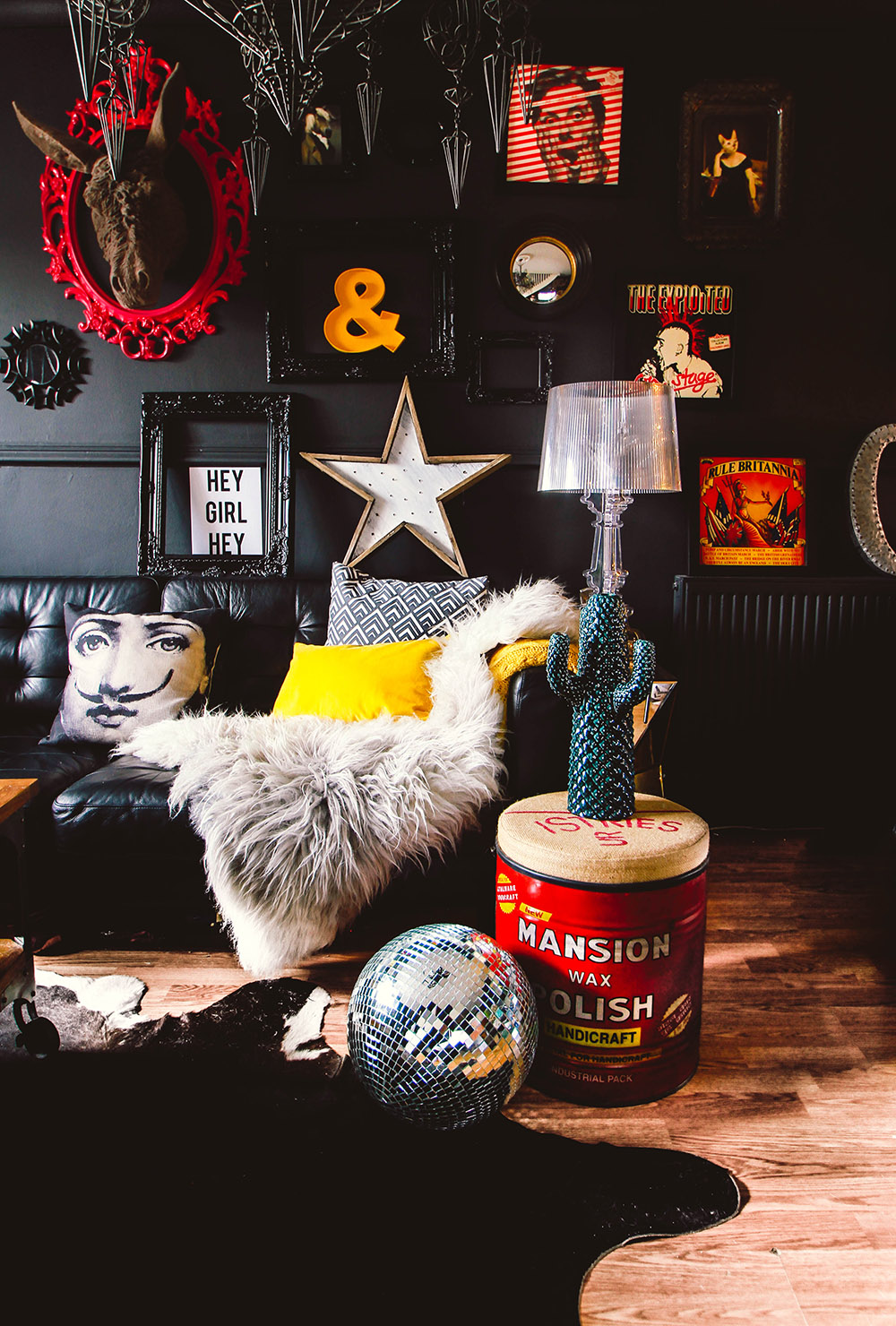 Living Room. HB: Pati uses empty picture frames to great effect by framing other objects on the wall, and has styled our cactus vase beautifully.
HB: What's your favourite room in the house? 
PR: Living /dining room, as we spend most of our time in it.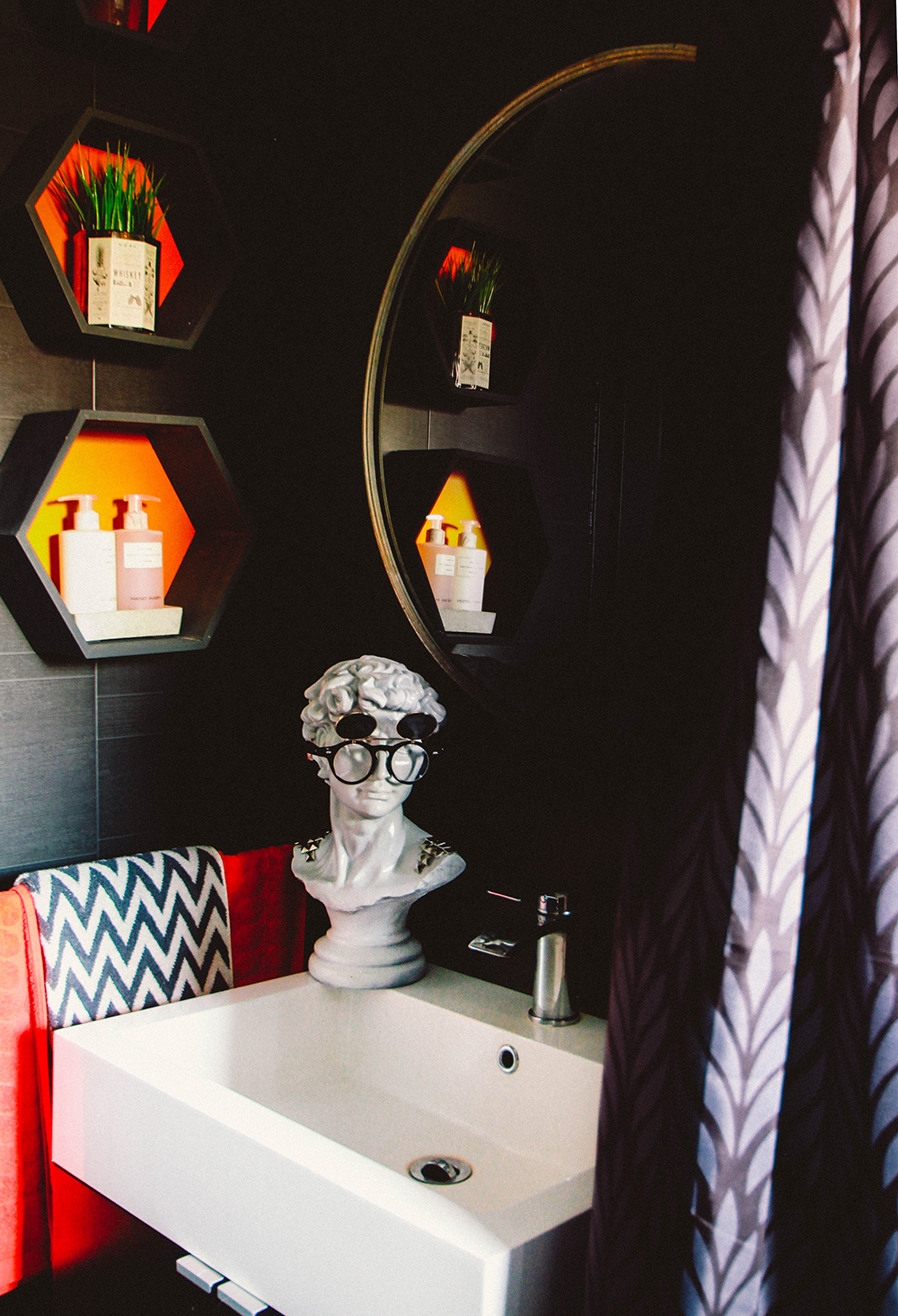 Bathroom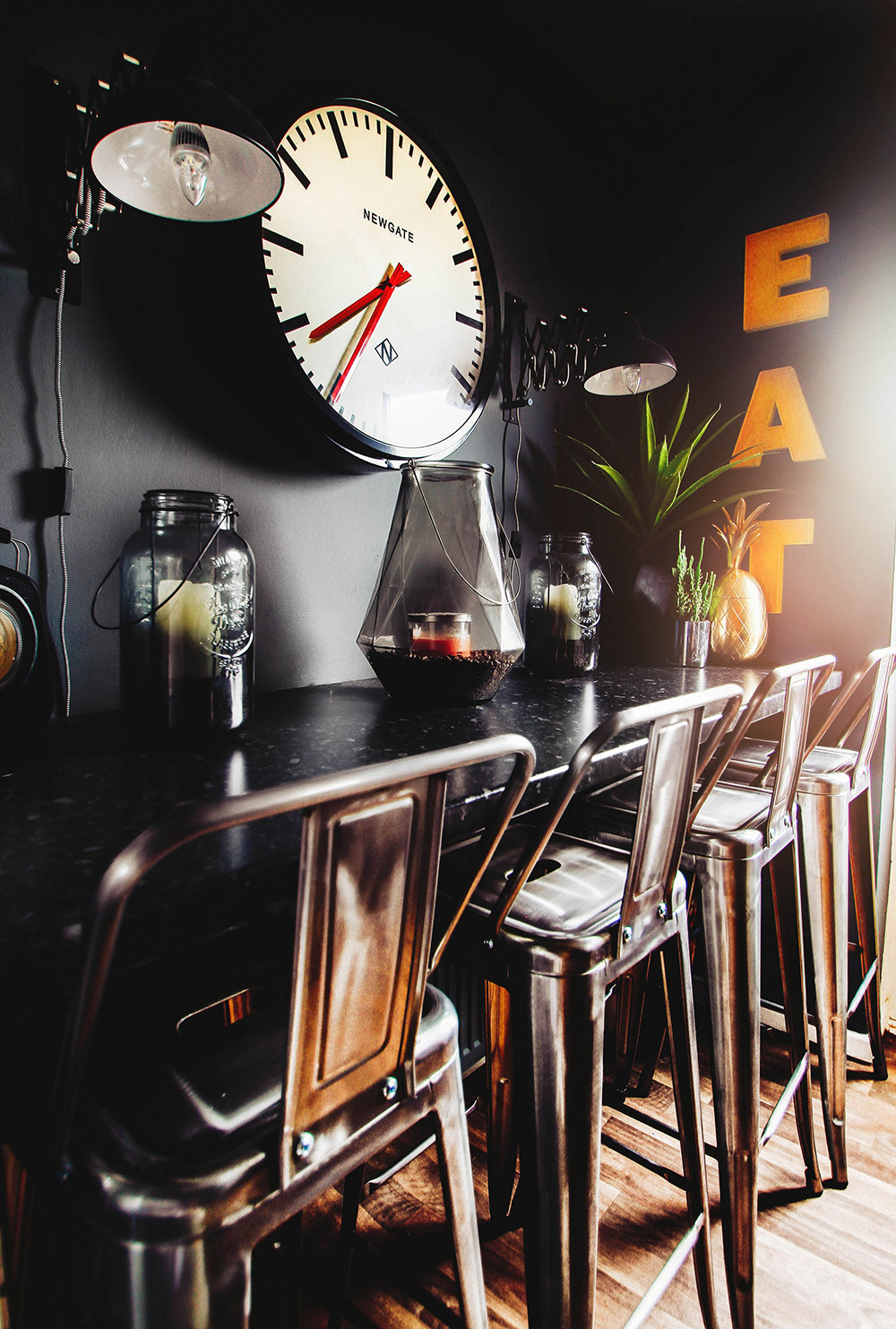 Kitchen Bar
HB: How would you describe your style in 3 words?
PR: Dark, eclectic and whacky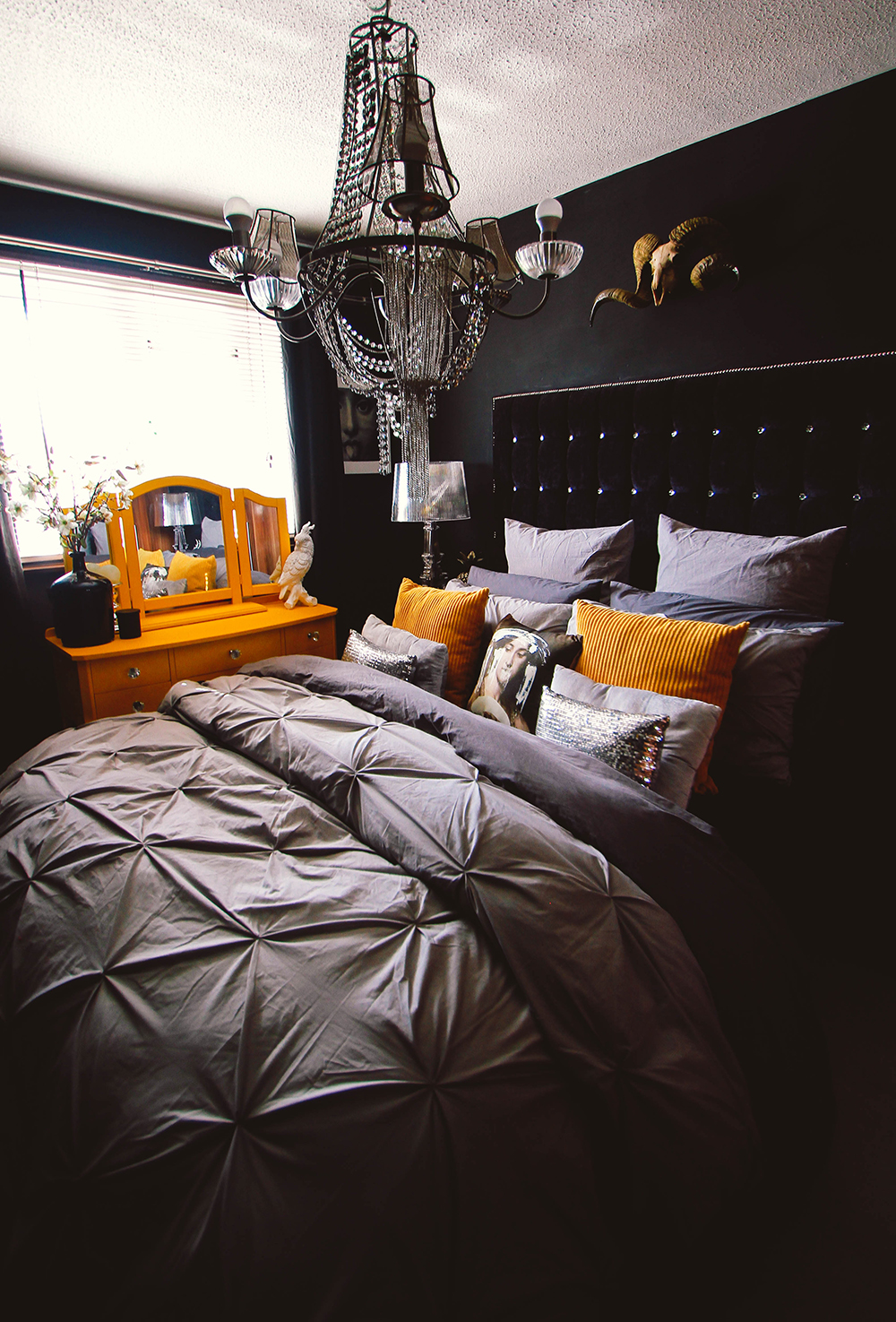 Main Bedroom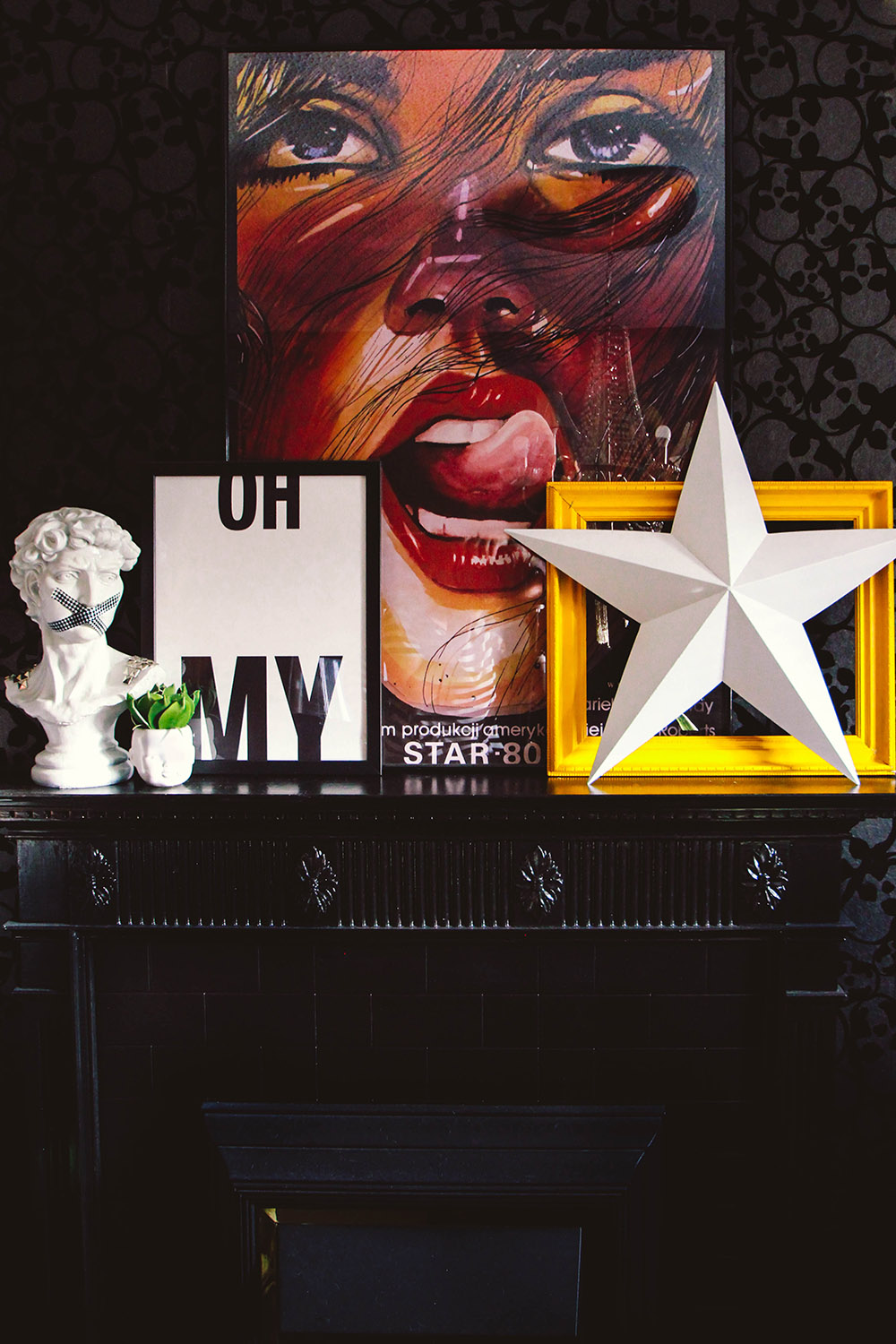 Main Bedroom Fireplace. HB: It's all in the detail – here Pati uses washi tape over the top of the statue.  This is an ingenious and super cheap way to add interest and make an ornament your own.
HB: Pulling off such an eclectic look can be tricky, but you manage to nail it! What's your best piece of advice for styling/curating an eclectic home?
PR: I use my dark walls as a backdrop for the things I have on the walls – my favourite things are the brightly coloured pieces, they make me smile. As an amateur I say go for it – pick your favourite things and just throw it into the room, you might be surprised when all those random things work. Don't follow trends or what everyone else does- it's as boring as magnolia walls. If you have an item you cherish, decorate around it, or place it in your room – let the "unexpected " piece stand out . And if you smile when you come home you know you've done a great job! At the end of the day homes should reflect our personalities, and most importantly make us feel relaxed.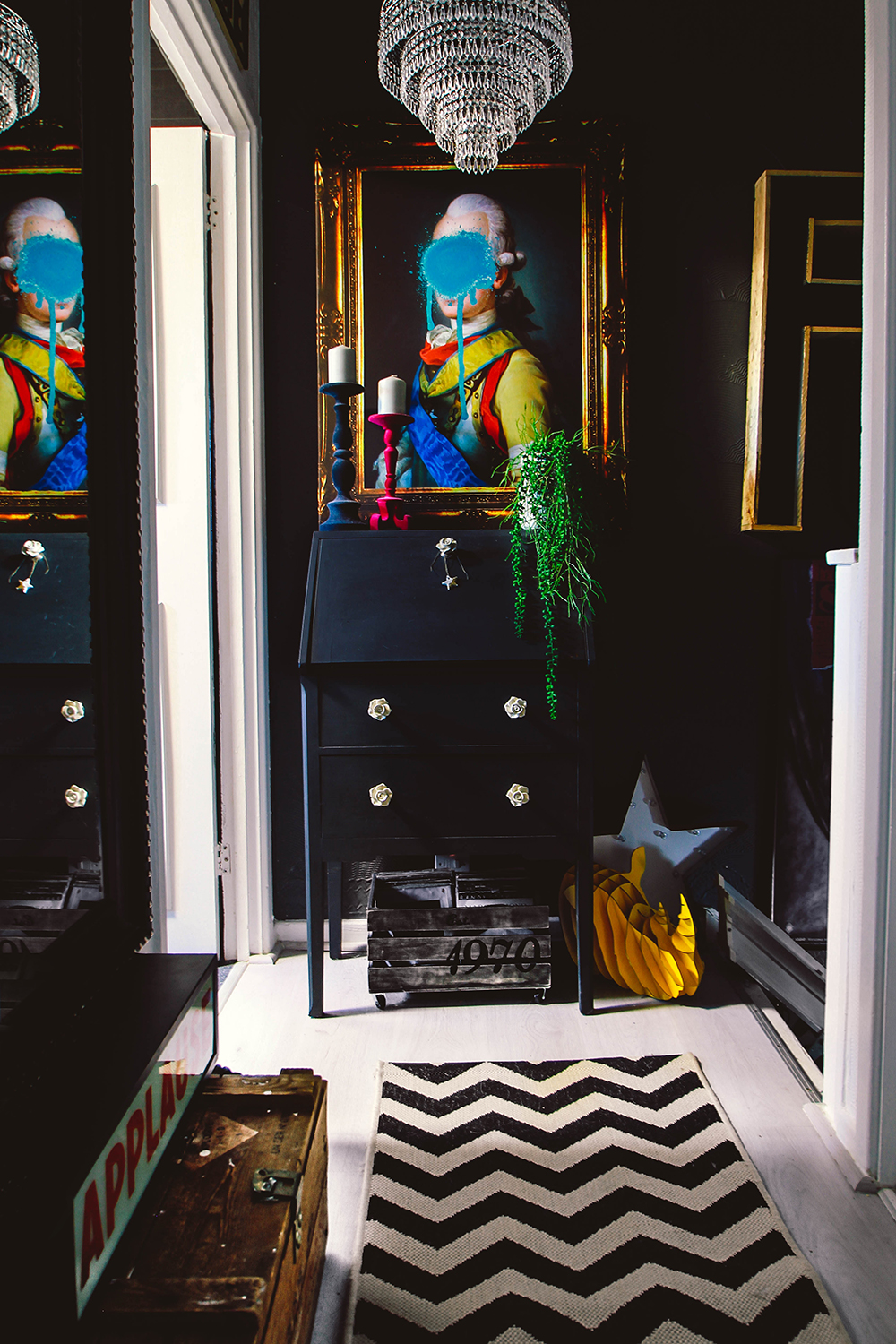 Landing Hallway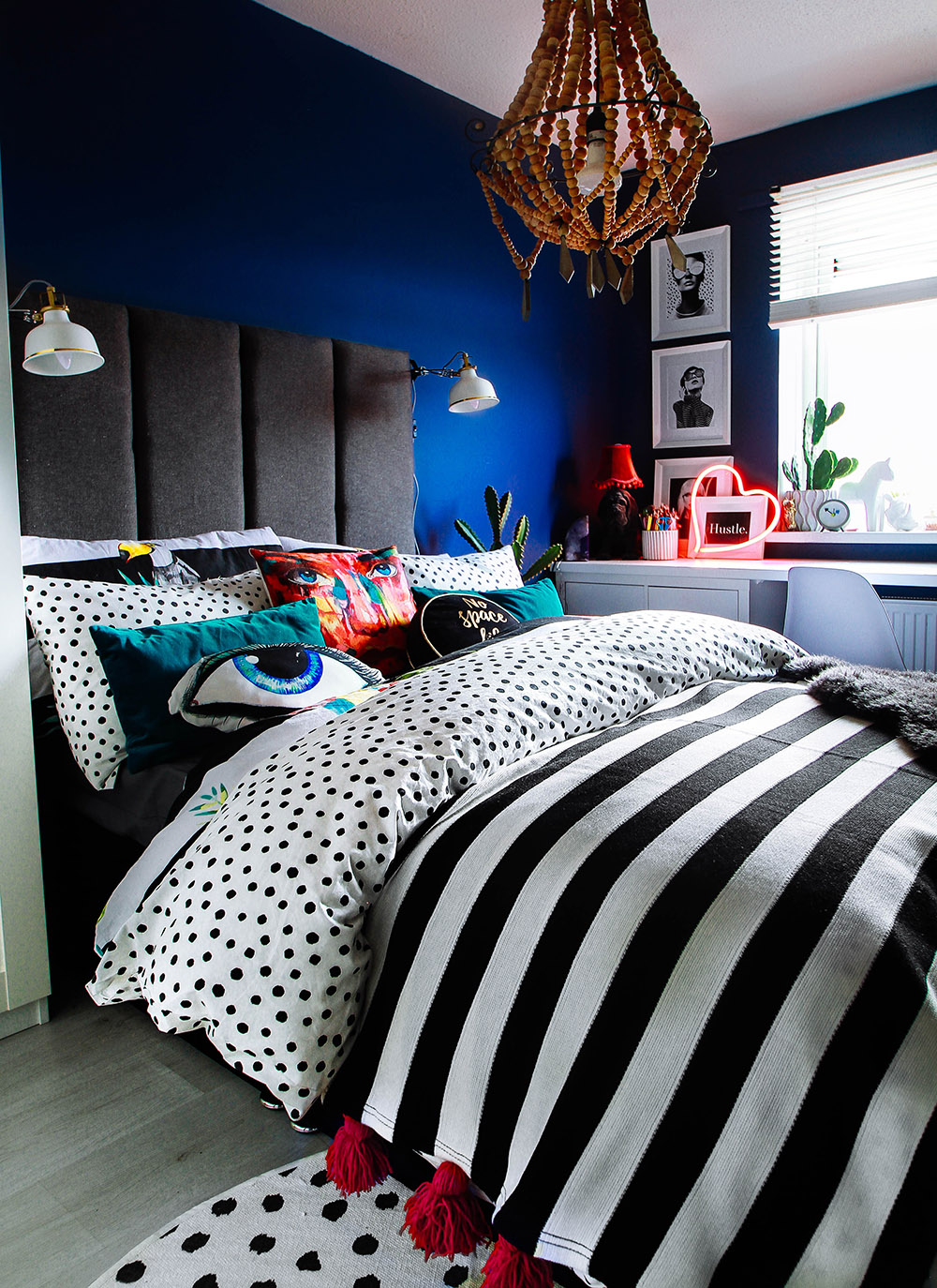 Daughter's Bedroom
HB: Can you tell us a little bit about your photography work?
PR: I take photos as a form of a therapy to keep me sane 😉 I love gritty portraits and love working with military charities by providing them with photos, while at the same time spreading PTSD (post traumatic stress disorder) awareness. Not all wounds are visible and when a person, be it veteran or a civilian, is affected by PTSD, his close family are also going through a very hard time – often spouses are forgotten and expected to " stay strong", but how can you be strong while your whole world is turned upside down and the person you love and care about crumbles apart?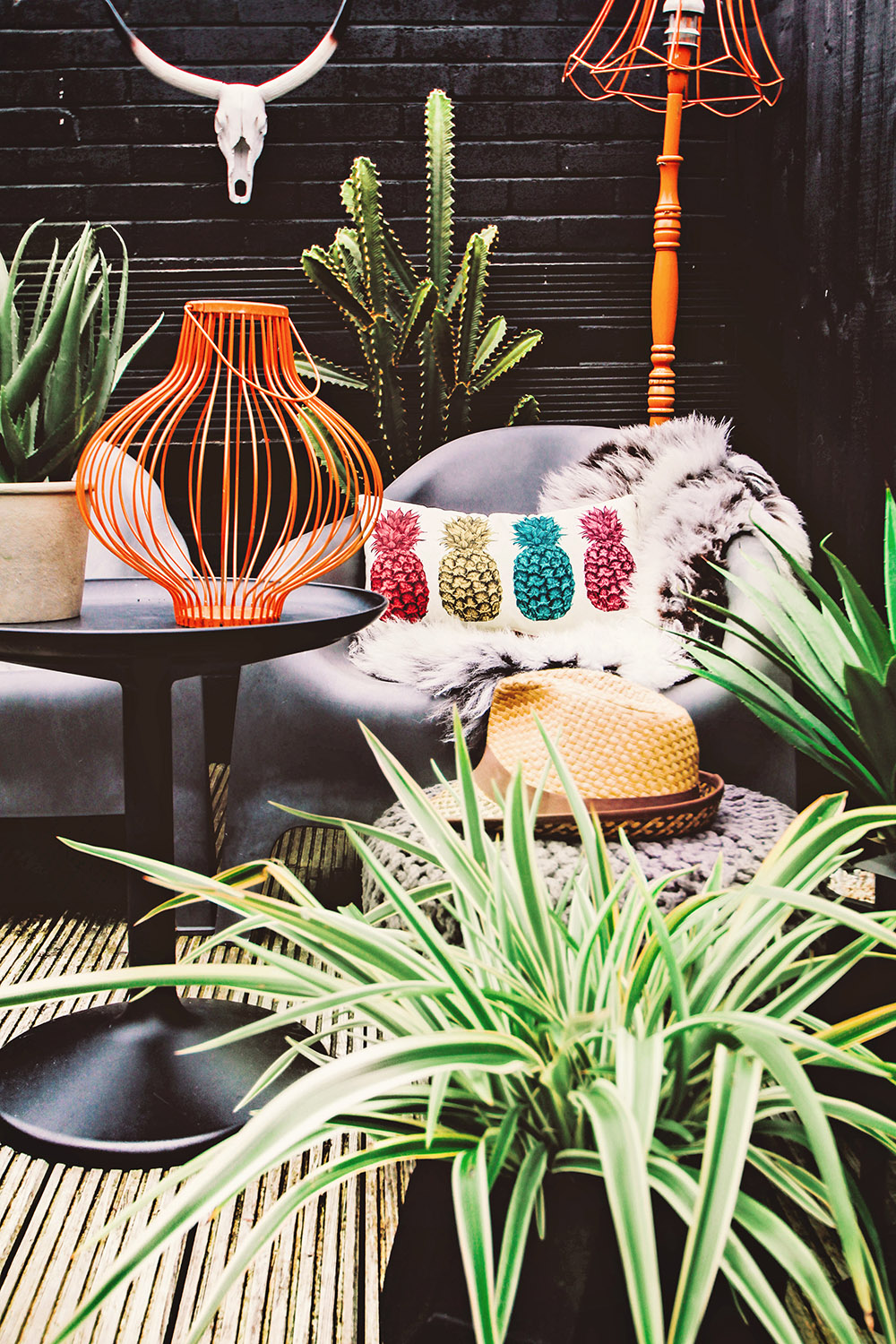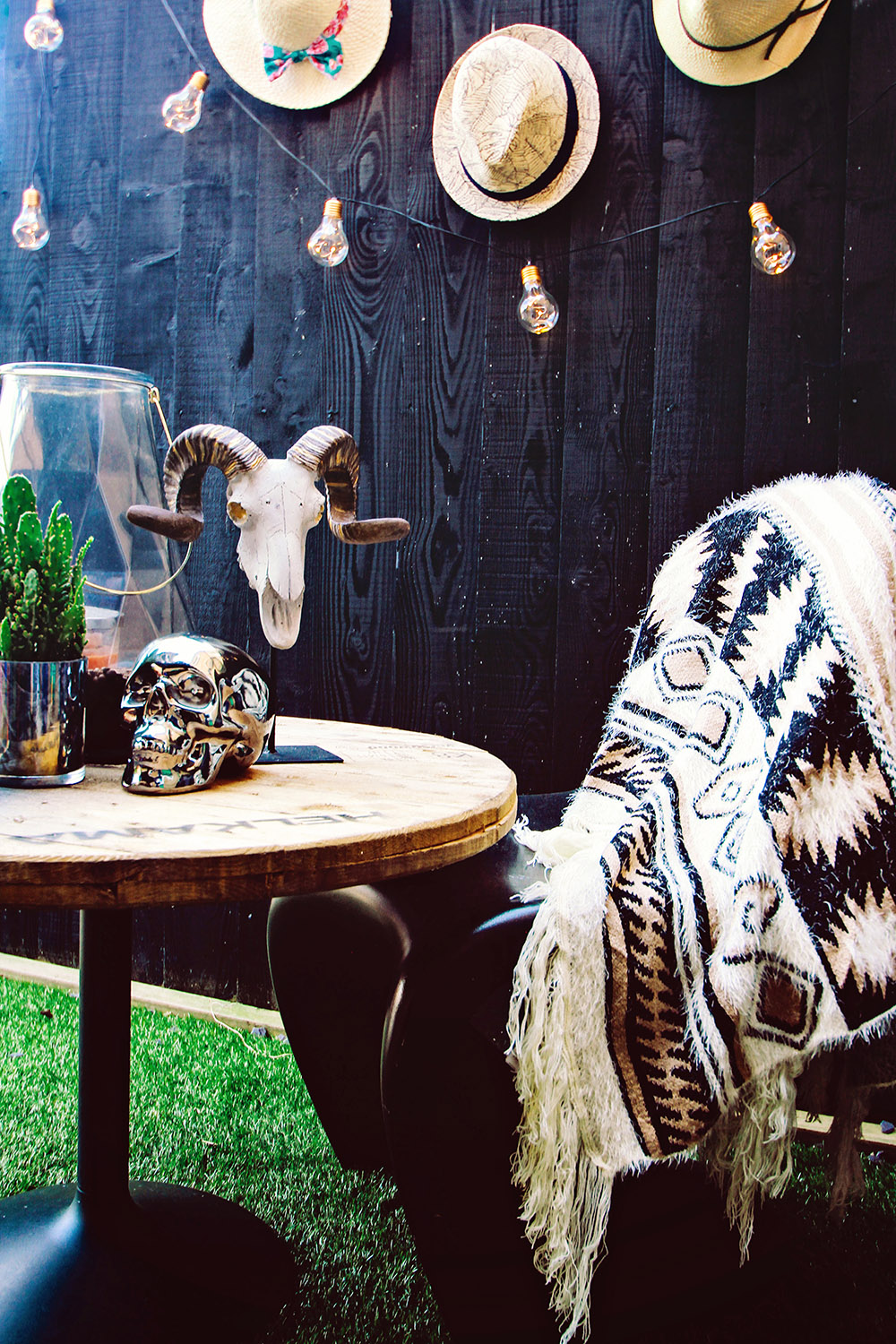 Garden
HB: It's been absolute pleasure to share your home, Pati and to help you spread PTSD awareness.  So thank you very much for sharing your home and story with us.  You can find out more about Pati's photography via her website: Pati Robins, and don't forget to follow her on Instagram: @Patirobins, you will not regret it!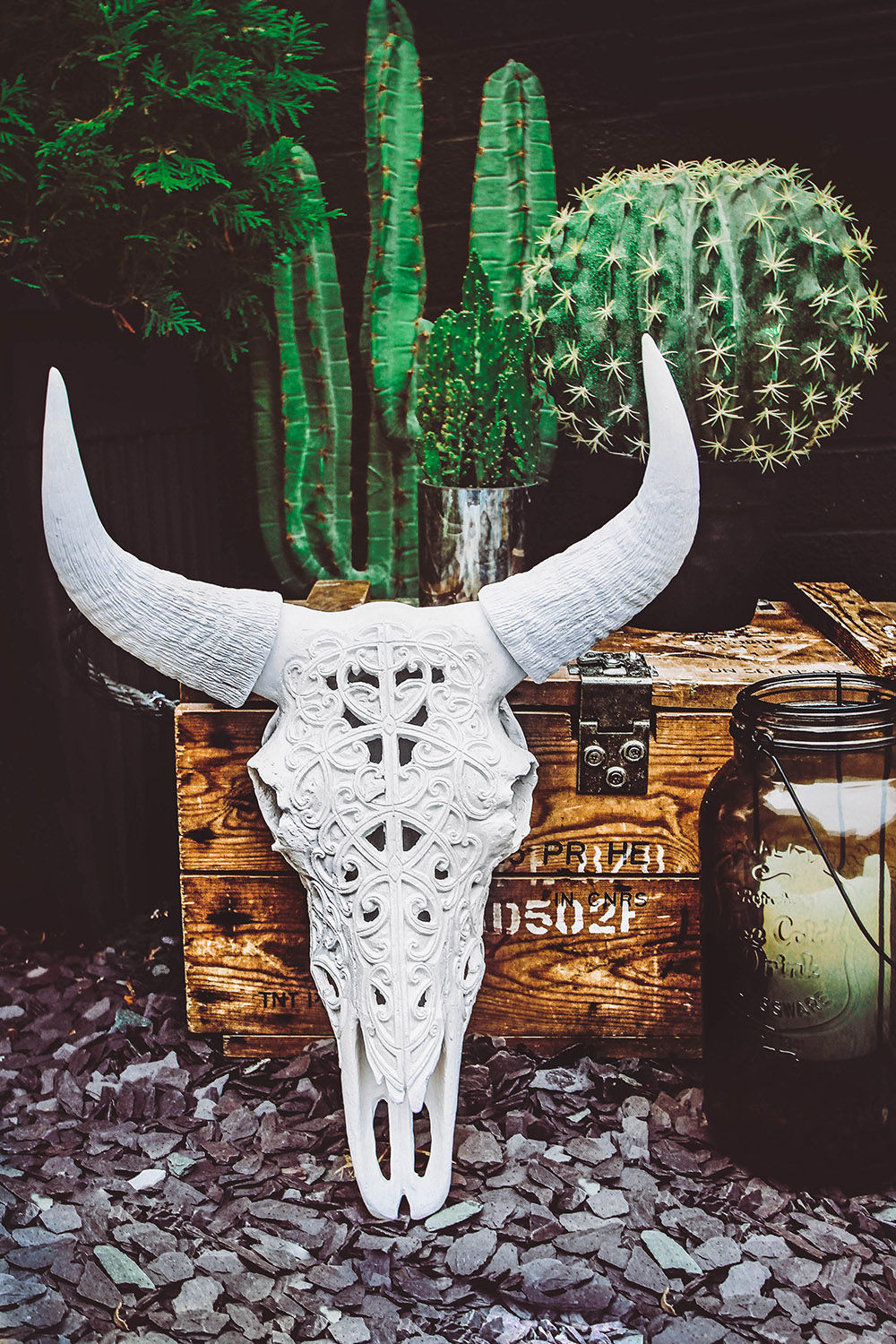 Get the Look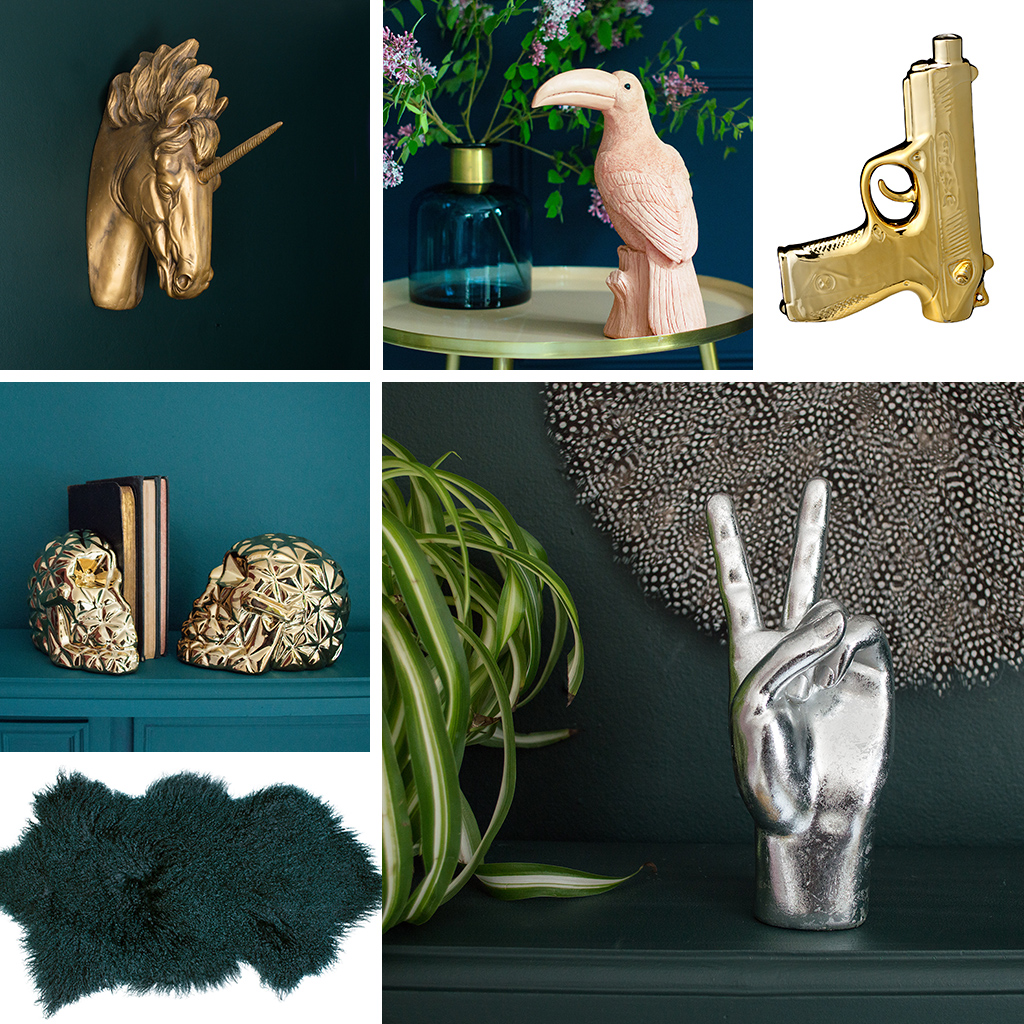 Unicorn Head Wall Decoration | Toucan Money Box | Flowers Not War Vase | Gold Skull Bookends | Silver 'Peace' Hand | Tibetan Sheepskin Rug
So that's a wrap, folks.  What do you think?  The trick when you're looking at inspiring homes like this is to really analyse each picture to see what ideas you can take inspiration from.  Such as the way Pati uses blank frames on the wall, and how she layers a mantelpiece with at least 2 or even 3 different items to really create depth of interest.  Once you start analysing why it works, you can start to recreate things in your own home.  So, tell me… will you be 'stealing' any of these ideas for your own home?
Hollie x
Never miss a post: follow us on Bloglovin'!
Image Credit: Pati Robins
6 replies to "House Tour: A Masterclass in Moody Interior Design"
Leave a comment
Your comments make us happy!
Blog Etiquette
Please note that all content, including text and images are copyright of Audenza, unless otherwise stated.

If you would like to use content from our site, then we're very flattered to hear that, but please note its origins on your site or blog, provide a link back to us and kindly let us know where you have used our content.

Thanks!