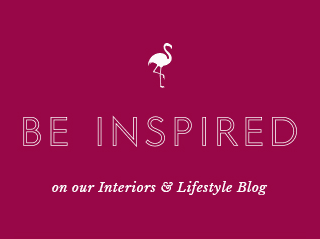 Before and After Living Room Reveal- The Peach Palace
9 Sep 2017
What a delight we have for you today with a stunning before and after living room reveal of the 'Peach Palace'. The 80's was definitely the era of peach (although this house perhaps takes it a bit far), and swags and tails were the in thing. I should know, I even made a few myself! To cut a long story short, Katie (Mrs Peach) has devoted a blog, Come Down To The Woods about her trials with eradicating the colour to create a vibrant, eclectic home for her family.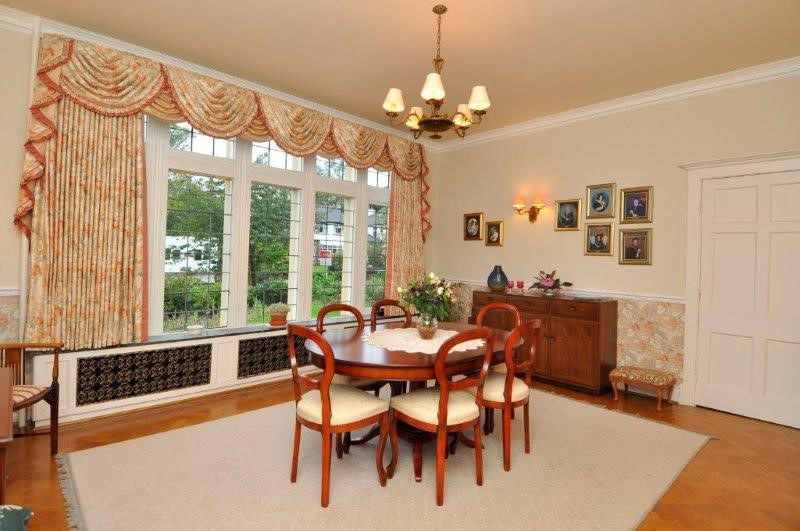 This is the dining room (and now living room) before Katie began work on the house.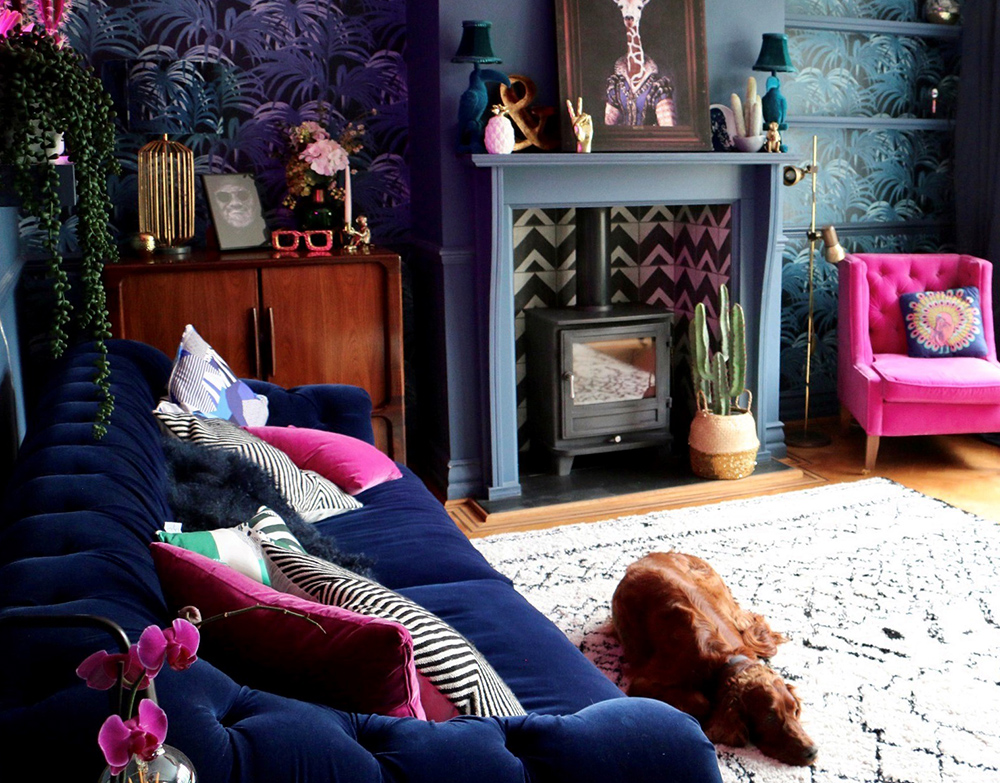 Katie was a self-confessed neutral décor woman at heart, so this is her first foray into the wonderful world of colour and eclecticism, and her blog shines through with her new-found love of colour and pattern. The first room to get the treatment is their glorious family living room, so we wanted to share it with you and hear a little more from Katie about designing the room.
J: Firstly, can you tell us a little bit about yourself?
K: Hi I'm Katie, I live here in the Peach Palace with Chris (Mr Peach) and our four kids, twins Maxwell and Felix (7), Toby (3) and Dottie (1). We have lived here since April 2016 but moved out for six months whilst we completely renovated and extended. The lounge was the first room that we tackled as I couldn't bear looking at the swags and tails any longer. Both Chris and I are dentists and in between working, mumming and renovating I've been on a one-woman mission to delete the peach.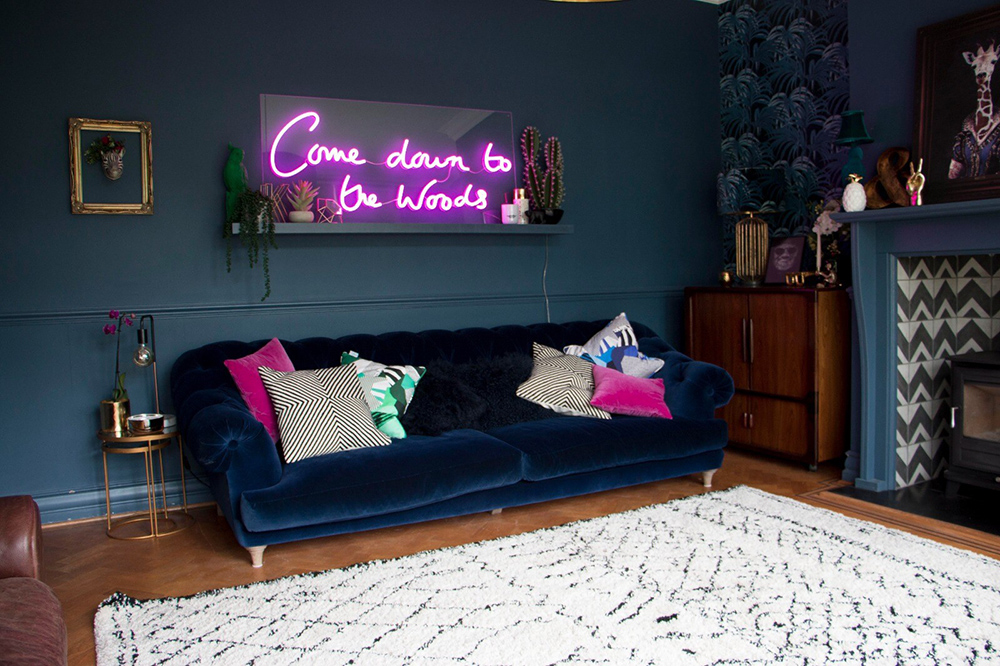 J: What is your favourite piece in the room?
K: Its not quite a 'piece' but my favourite touch is the Bert and May tiles behind the fireplace. They took some guts to go for but I'm insanely glad that I did. If I'm allowed to pick 2 favourites then my second is the bag&bones pink neon sign. I spent hours practicing my handwriting which I always thought was pretty neat. Turns out years of computers and texting has made me a very sloppy writer.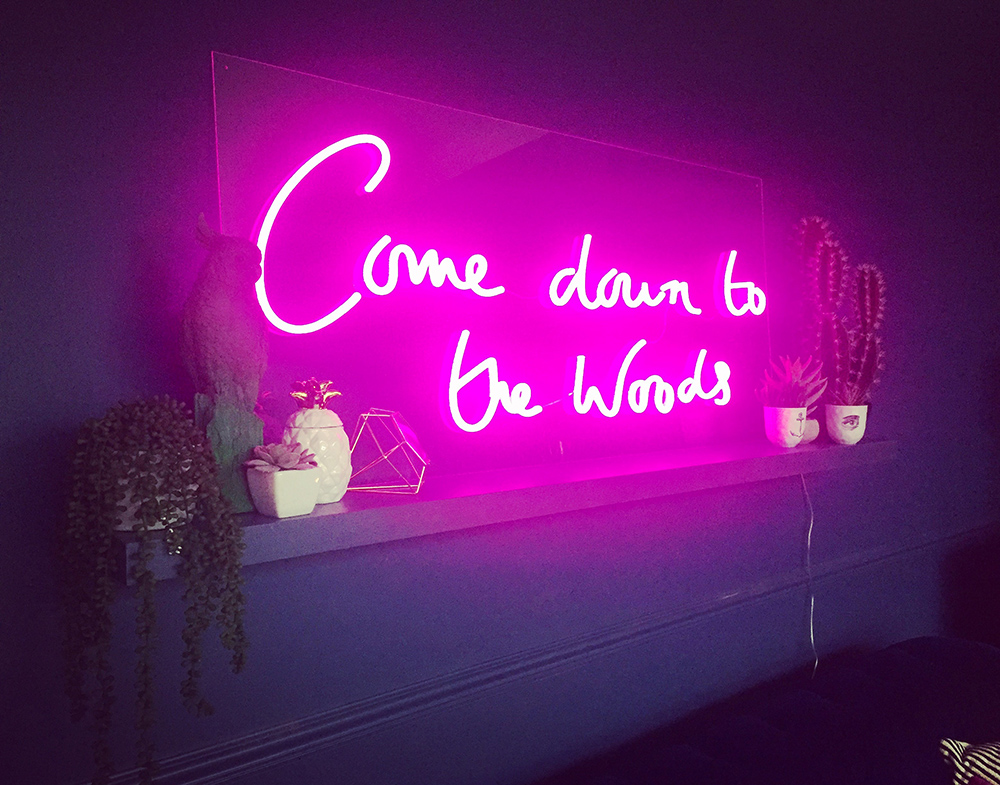 J: The room now looks unrecognisable, what was the most challenging part about the whole process? 
What was the best?
K: The most challenging part of the process was installing the fireplace. The house has more than its fair share of fires but annoyingly there wasn't one in this room. After an eye watering quote to replace the windows we decided it would be cheaper to install a fire. A chimney breast was built and an external flue was placed for the wood burning stove. This meant that the parquet floor had to be altered and the coving adjusted. Cue more eye water! Best part for me is that Loaf velvet sofa. There is nothing better than curling up on that.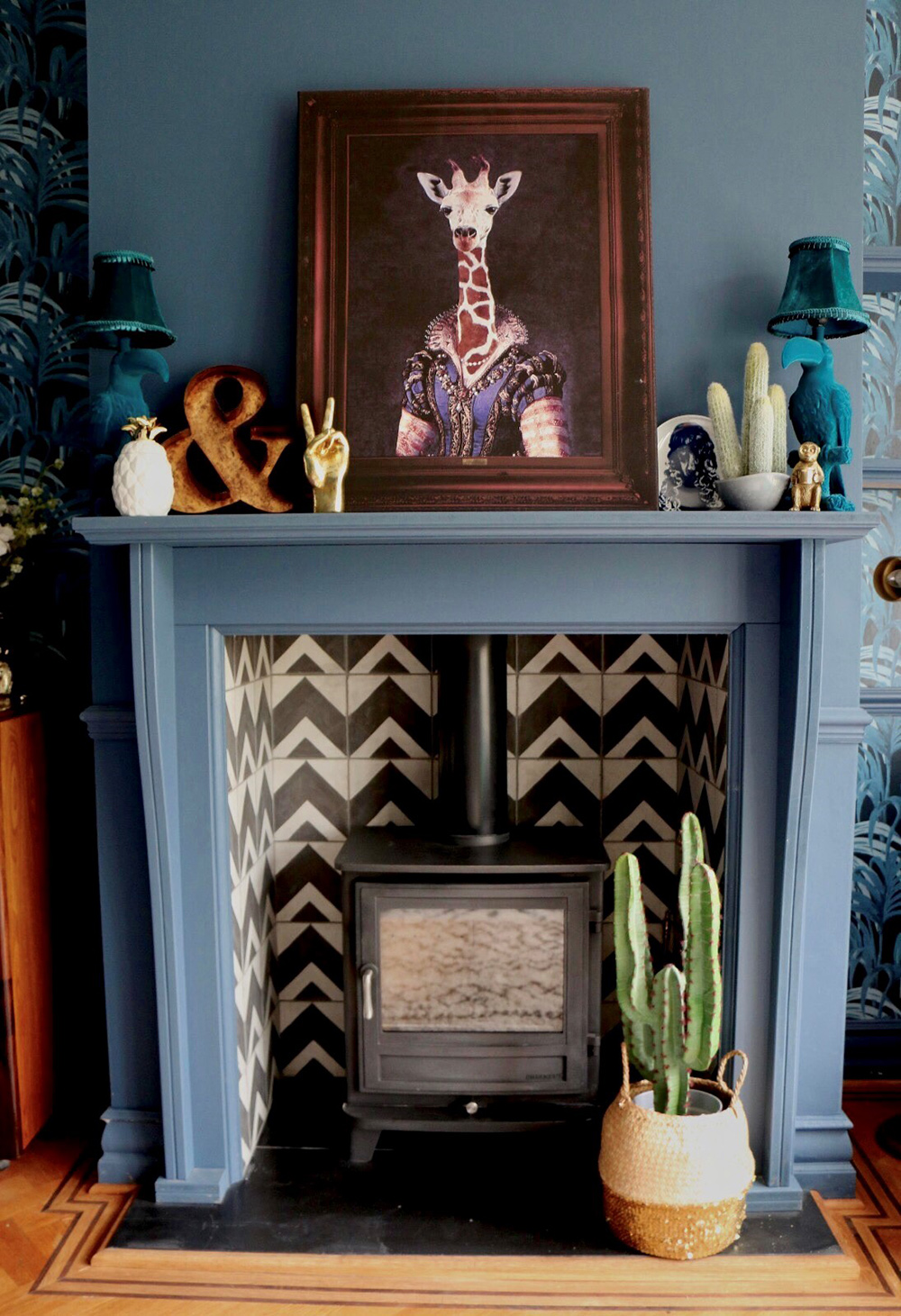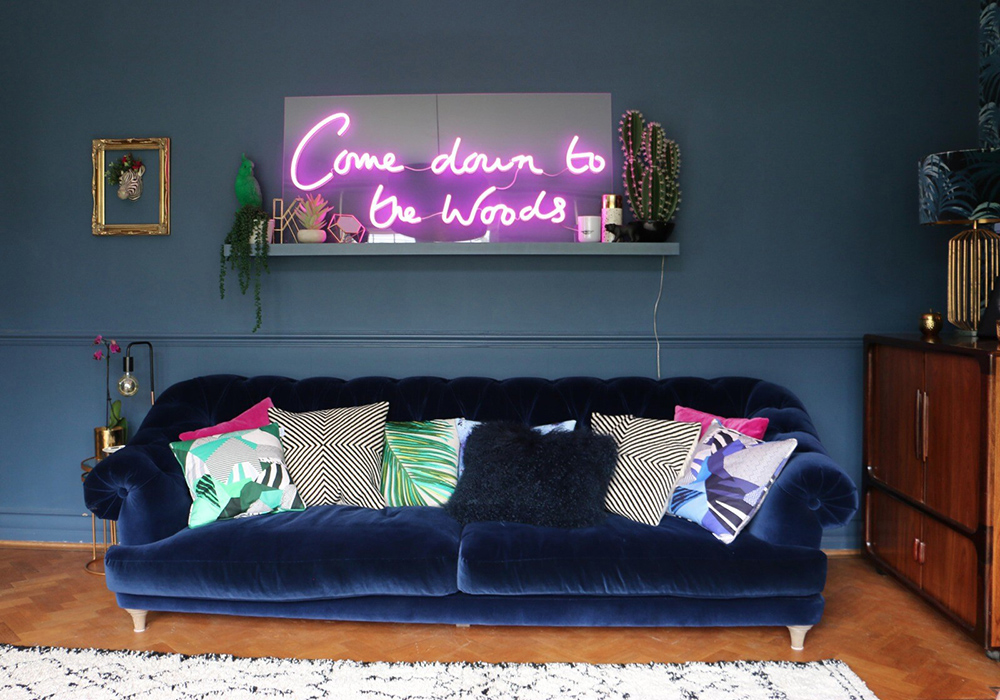 Hicks Blue, by Little Greene makes a great back drop to the lush dark blue velvet sofa, and shows off the neon pink sign Katie had made to celebrate her blog name.
J: How long did the renovating process (on this room) take from start to finish?
K: Whole process took about 4 weeks from start to finish, a week to install and finish the fireplace and then a few weeks to decorate and style.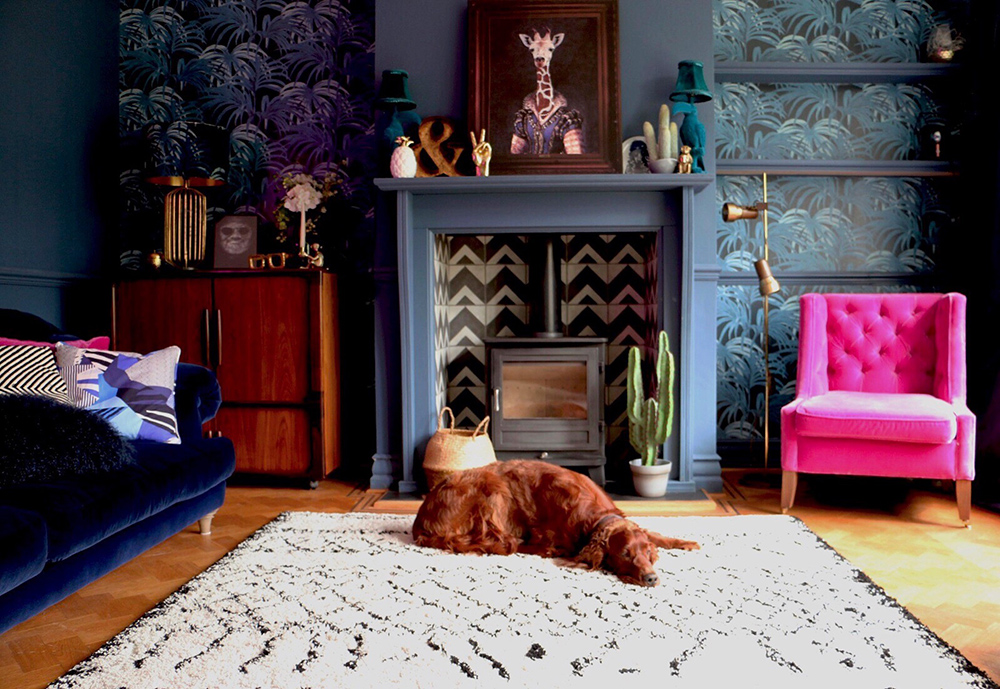 The fabulous Bert & May tiles are a bold choice with the House of Hackney wallpaper in the alcoves but don't they look fab together? The mix of 2 bold oversized patterns works well.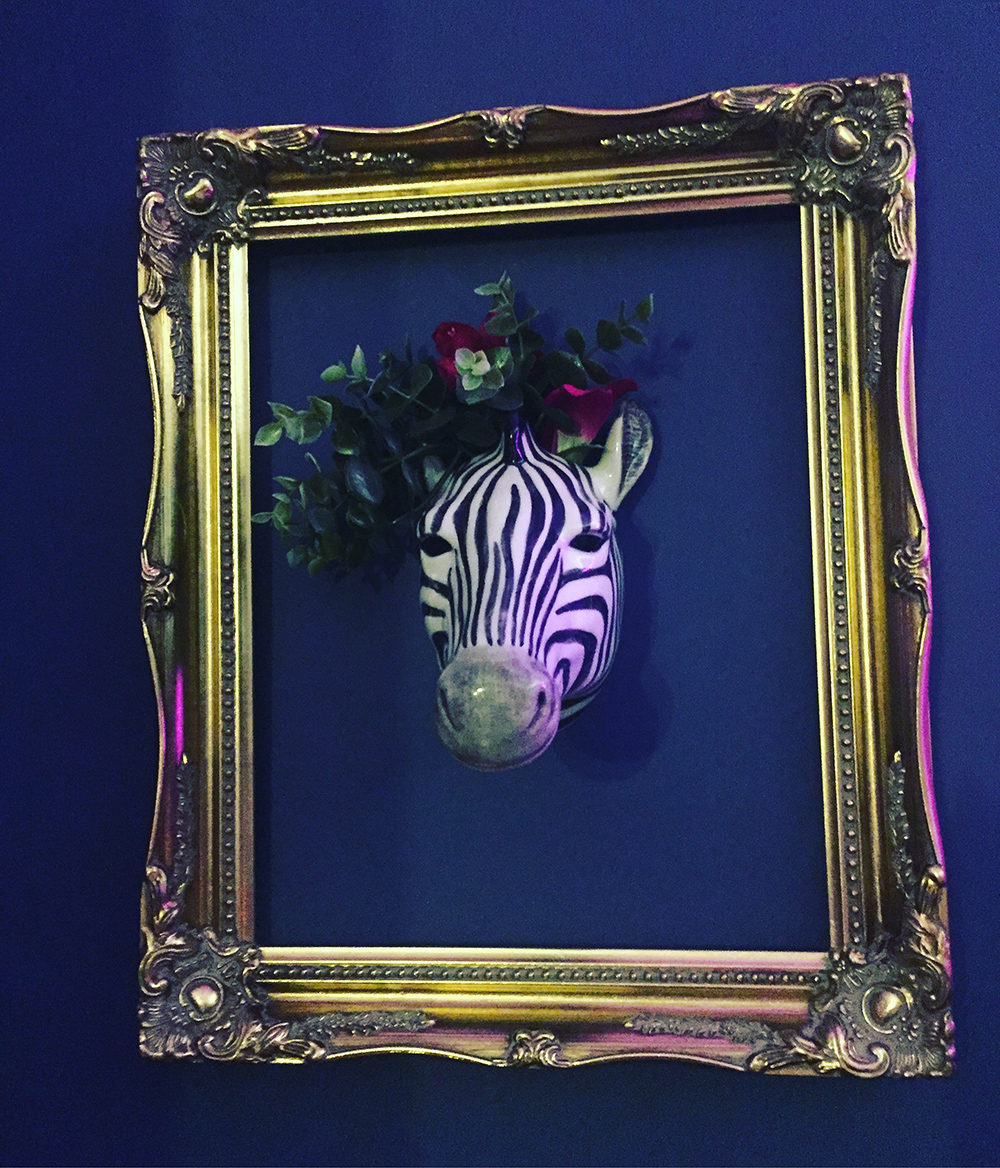 Katie bought the zebra wall vase from Audenza, and her ingenious idea of framing him with a fancy gilt frame won her a gift voucher to spend at Audenza (find out how to enter our styling competition). Doesn't he look majestic?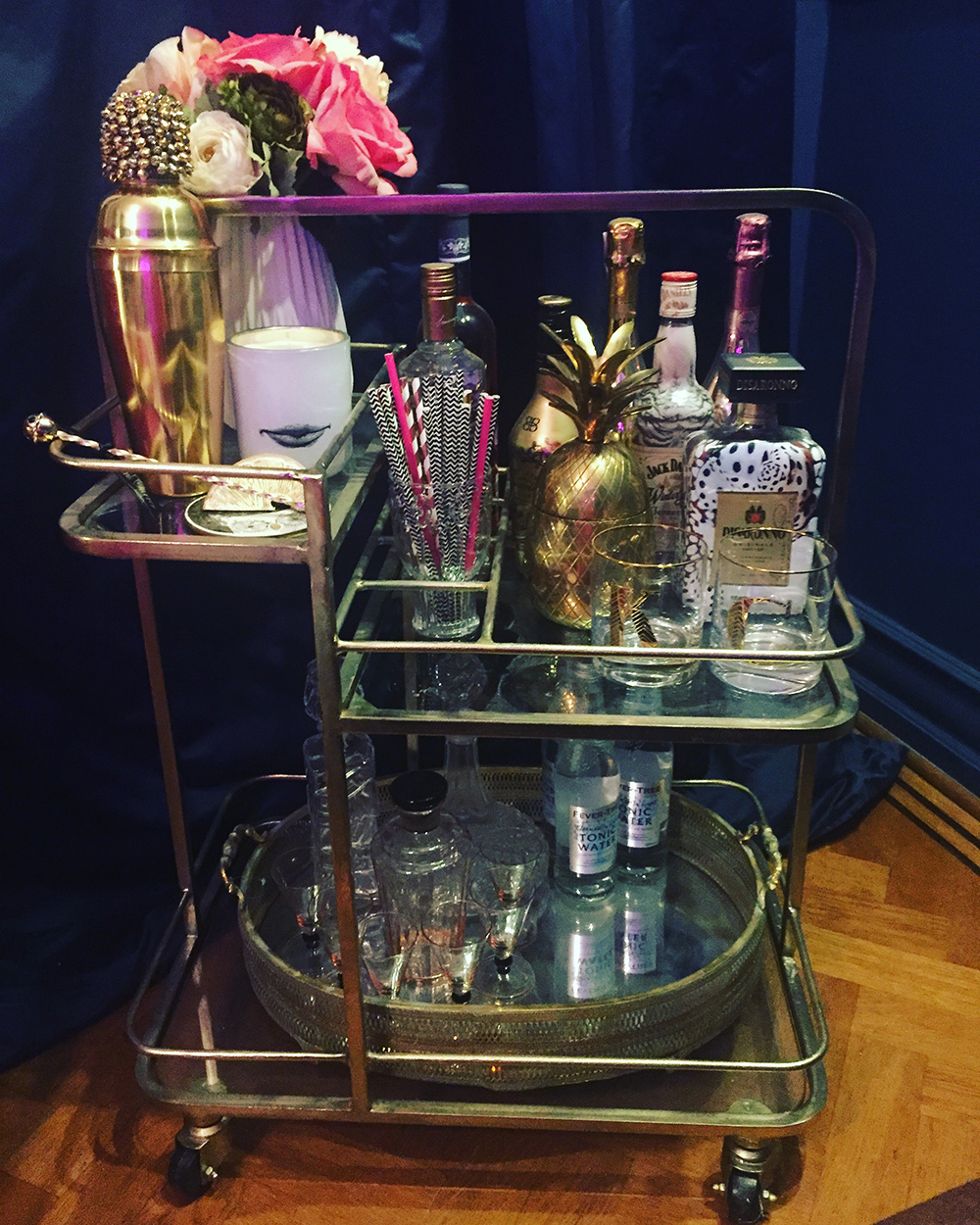 And last but not least the bar cart. What home is complete without a bar cart these days? It's an excuse for more display surface, and to purchase gorgeous bottles, of course.
Get The Look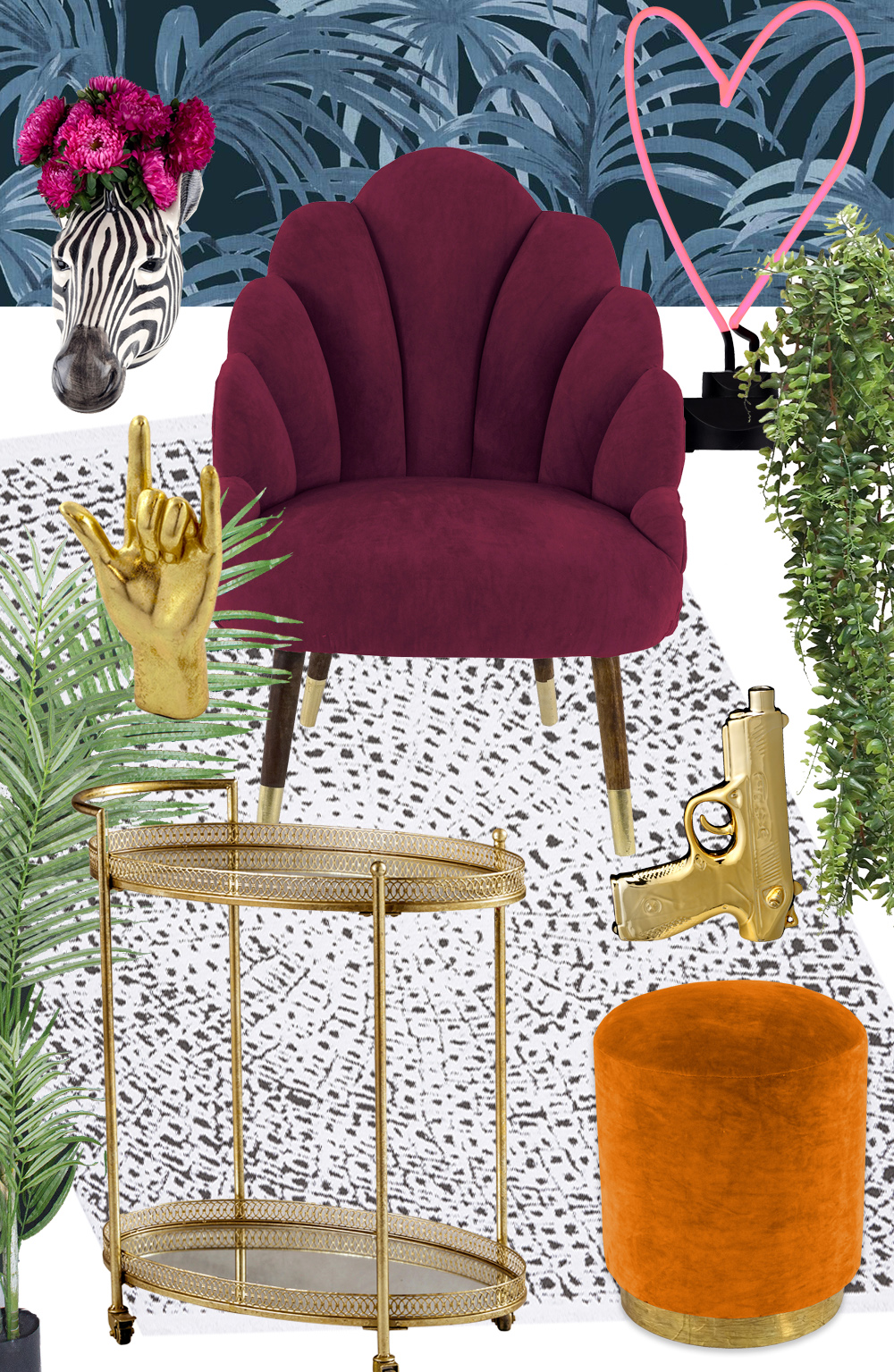 Zebra Vase | Claret Velvet Shell Chair | Pink Neon Heart Light | Artificial Trailing Fern | Gold Rock On Hand | Gun Vase | Faux Areca Palm Tree | Gold Metal Bar Cart | Velvet Stool with Brass Base | Aarunya Monochrome Rug | Palmeral Wallpaper
I hope you liked that little excursion into the Peach Palace transformation. Katie worked with Catherine from @mayskiesstudio on this project.  To see more before and after shots, and take a look at the rest of Katie's beautiful home, go to her blog, Come Down To The Woods or follow her on Instagram. I have serious bathroom envy for her fabulous ensuite bathroom, complete with pink claw foot bath. It's one seriously sexy bathroom! And if you love Katie's blog, and her dry wit, vote for her on the Amara blog awards.
Jacqui x
Never miss a post: follow us on Bloglovin'!
Image Credits: Come Down To The Woods | Melissa Photography
23 replies to "Before and After Living Room Reveal- The Peach Palace"
Leave a comment
Your comments make us happy!
Blog Etiquette
Please note that all content, including text and images are copyright of Audenza, unless otherwise stated.

If you would like to use content from our site, then we're very flattered to hear that, but please note its origins on your site or blog, provide a link back to us and kindly let us know where you have used our content.

Thanks!