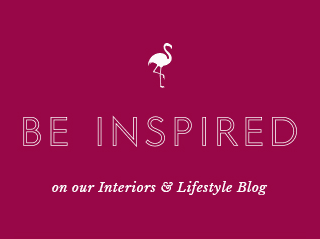 Jacqui's Garden Room Refresh – New Amtico Floor
31 May 2019
Finally, a new amtico floor in my garden room retreat! Since I moved in 8 years ago I've despised the hard ceramic floor in a shade of beige, but couldn't decide what to have instead, so I left it. Until the green oasis revamp that is, then I knew it had to be a variation of black and white tiles, similar to an old-fashioned glass conservatory. But, as is usual for me, I didn't get around to it for a while, until researching for the rest of the downstairs hard flooring, I came across these amazing tiles from Amtico. I love everything about Amtico floor, its ability to disguise itself as anything you can think of, from slate, to wood, to ceramic, and on and on, the range of patterns and designs you can create with them, and then, its durability – my 5 kids roller skated and skateboarded on my previous Amtico hall and kitchen floors and they still looked good when we left 25 years later! So, what's not to love?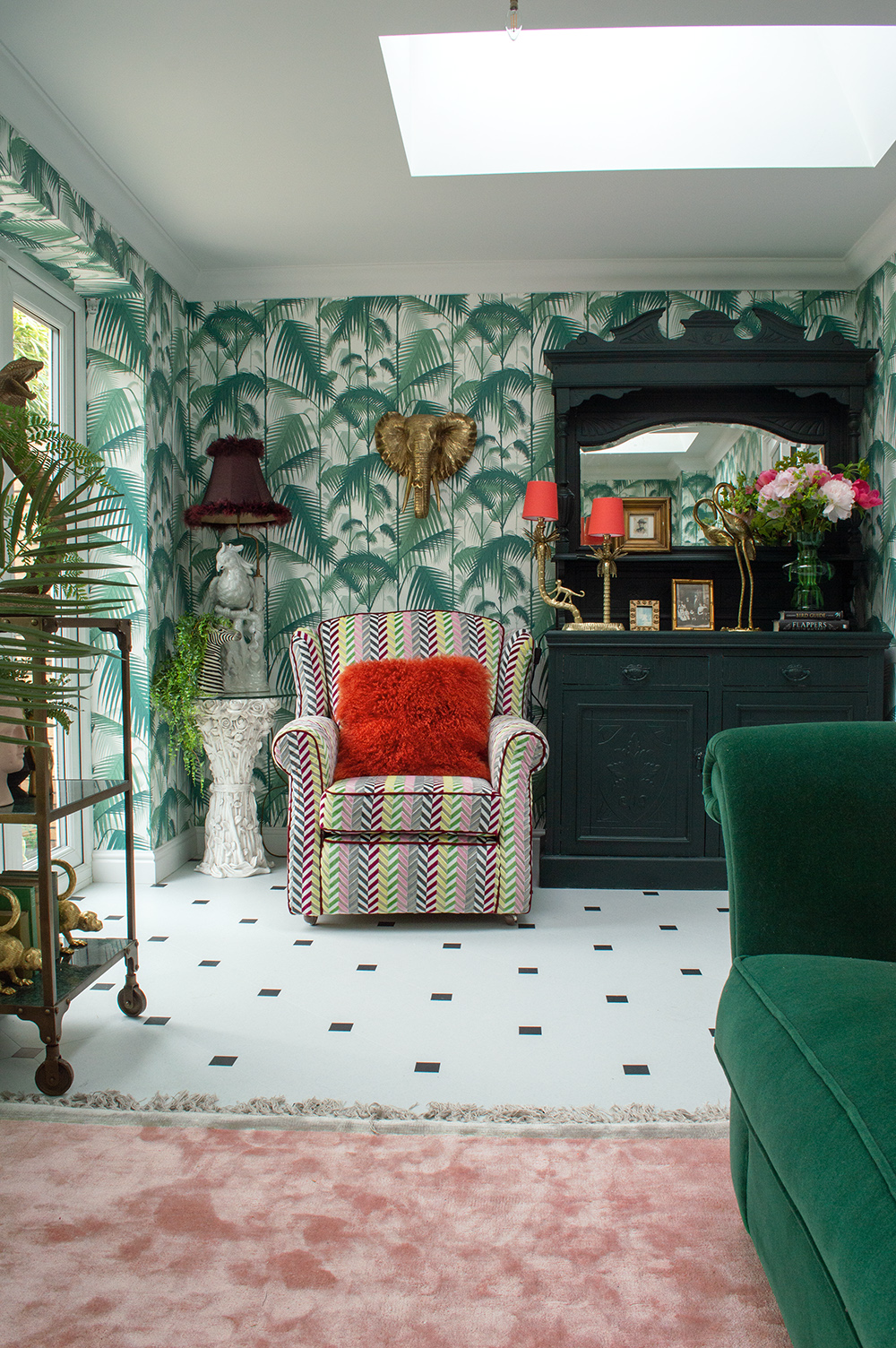 Elephant Head Wall Mount | Orange Tibetan Lambskin Cushion | Monkey Table Lamp | Brass Crane Statue | Pink Rug with Fringing
The guys from Michael John flooring (my local Amtico suppliers) simply screeded over the old tiles in the garden room and then laid the new tiles on top so no mess and a relatively quick job.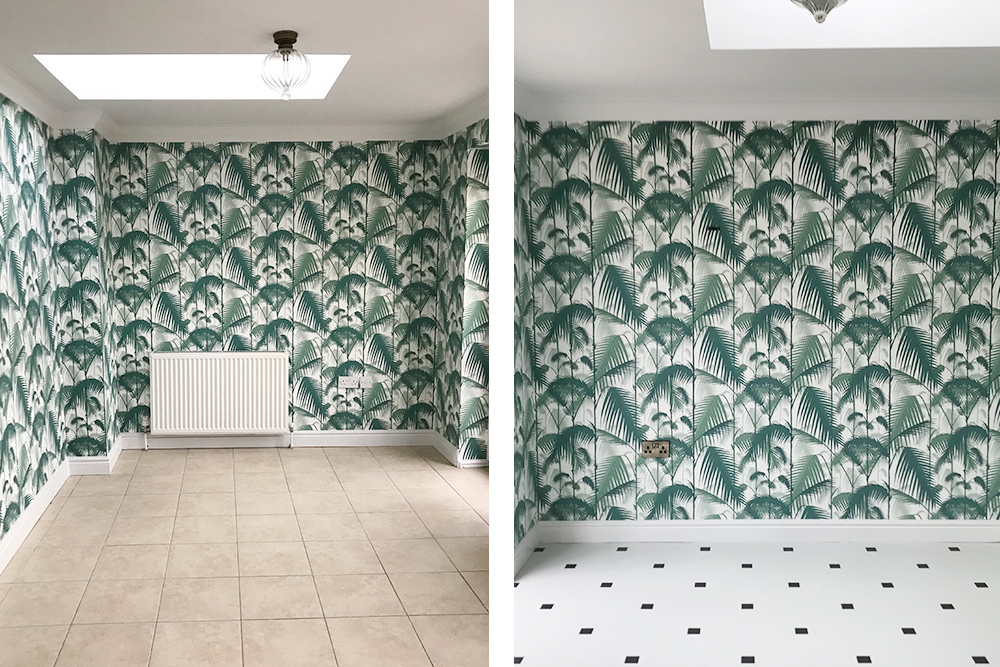 Before & After | Amtico floor tiles used: Composite Calcium & Graphite Slate
Back to the garden room revamp, and the decidedly gorgeous floor meant I had to have a new rug, and a change around of the accessories, of course! The soft, hand woven pink rug was perfect for the general soft pastel tones of the room and just the right size as I wanted a soft area to sit with grandkids and play, but some hard flooring left for Play Doh and painting, and I still wanted to be able to actually see the beautiful tiles, otherwise what's the point of them. The tiles tone perfectly with the paint work and wallpaper base colour for a more seamless flow, with the added pattern of the black squares, cos I do love a pattern.
When you work in the industry it's so hard not to be seduced by new stuff coming in all the time, which is something I'm trying to curb, but goodness it's so hard – like a kid in a sweet shop. Back in early spring at the trade shows I fell in love with the orange monkey table lamp and knew I had to have it, although where it was going was a mystery. The mystery is resolved now as an injection of coral/orange was just what the garden room revamp (the second one, that is) needed, for a bit of zing to cut through the ice cream look. And then I had to have the orange Tibetan lambskin cushion – and so it goes on. I can feel a need for an orange zebra plate coming next, to continue the animal, orange/coral, pattern theme! My abiding love has always been green and pink in all their varying shades – for the home and the garden – but I do want a shot of colour running through and I think orange is the one to really bring on the razzle dazzle. But hey, I was here on the orange heyday of the 60's and 70's.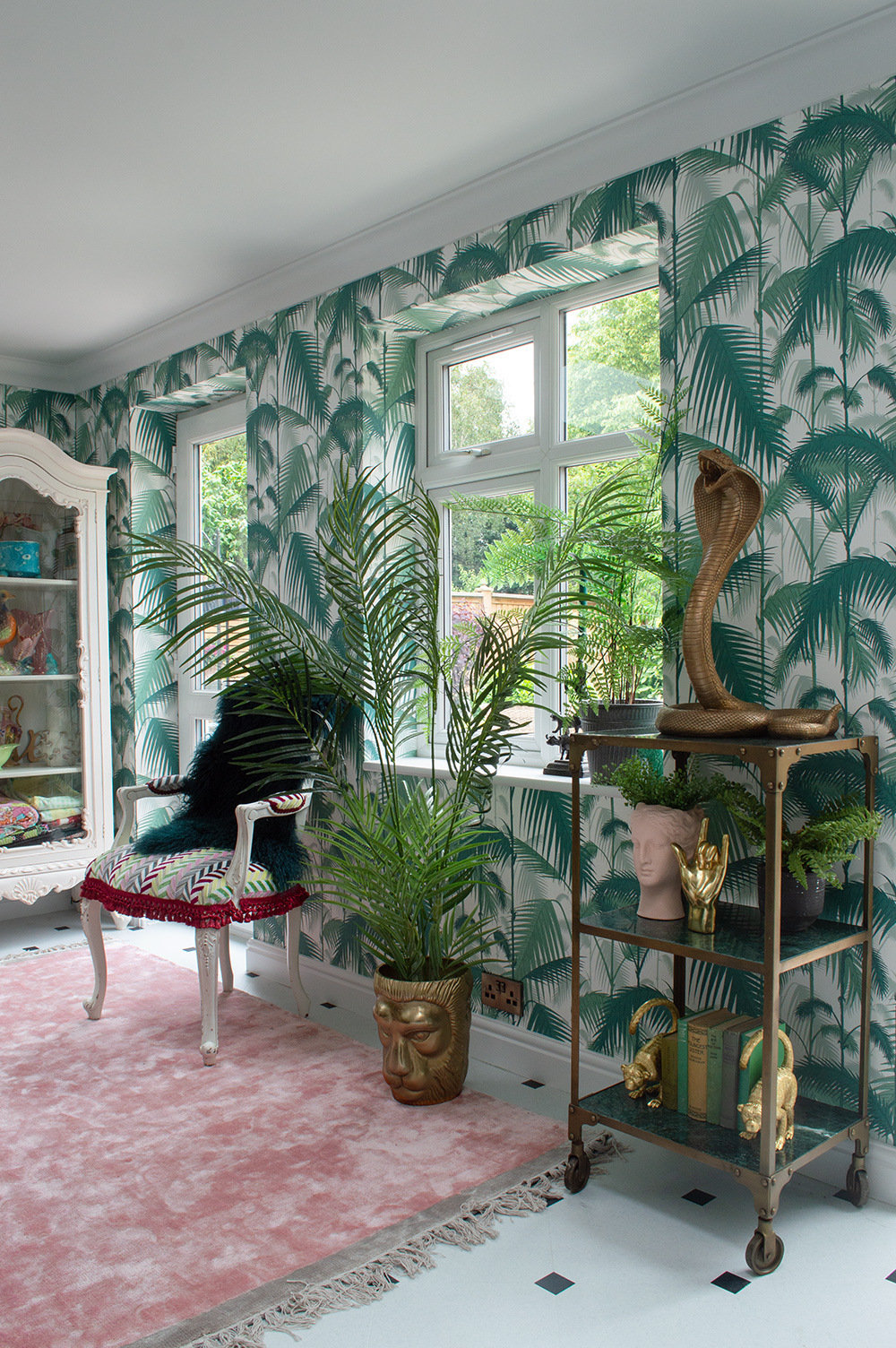 Lion Head Planter | Faux Areca Palm Tree | Gold Rock On Hand | Golden Monkey Bookends | Cobra Snake Ornament | Pink Rug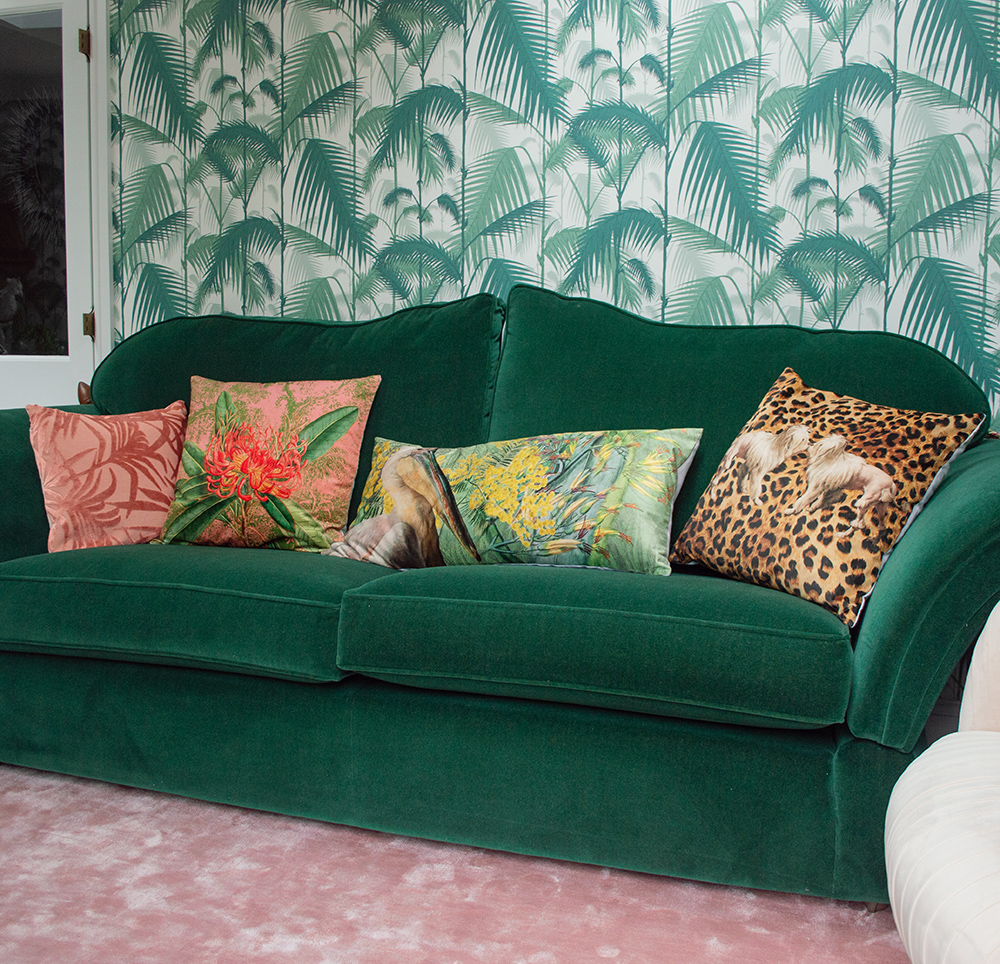 Palm Paradise Pink Cushion | Love Coral Cushion | Pelican Cushion | Dog Leopard Print Cushion
Cushions are the easiest way to revamp a room, so I added a couple of coral/orange cushions to keep the vibrant hits of colour going and, as gold is always welcome, my next new love is the gold lion planter. Another instant falling in love that called to me across a crowded trade show and couldn't be resisted.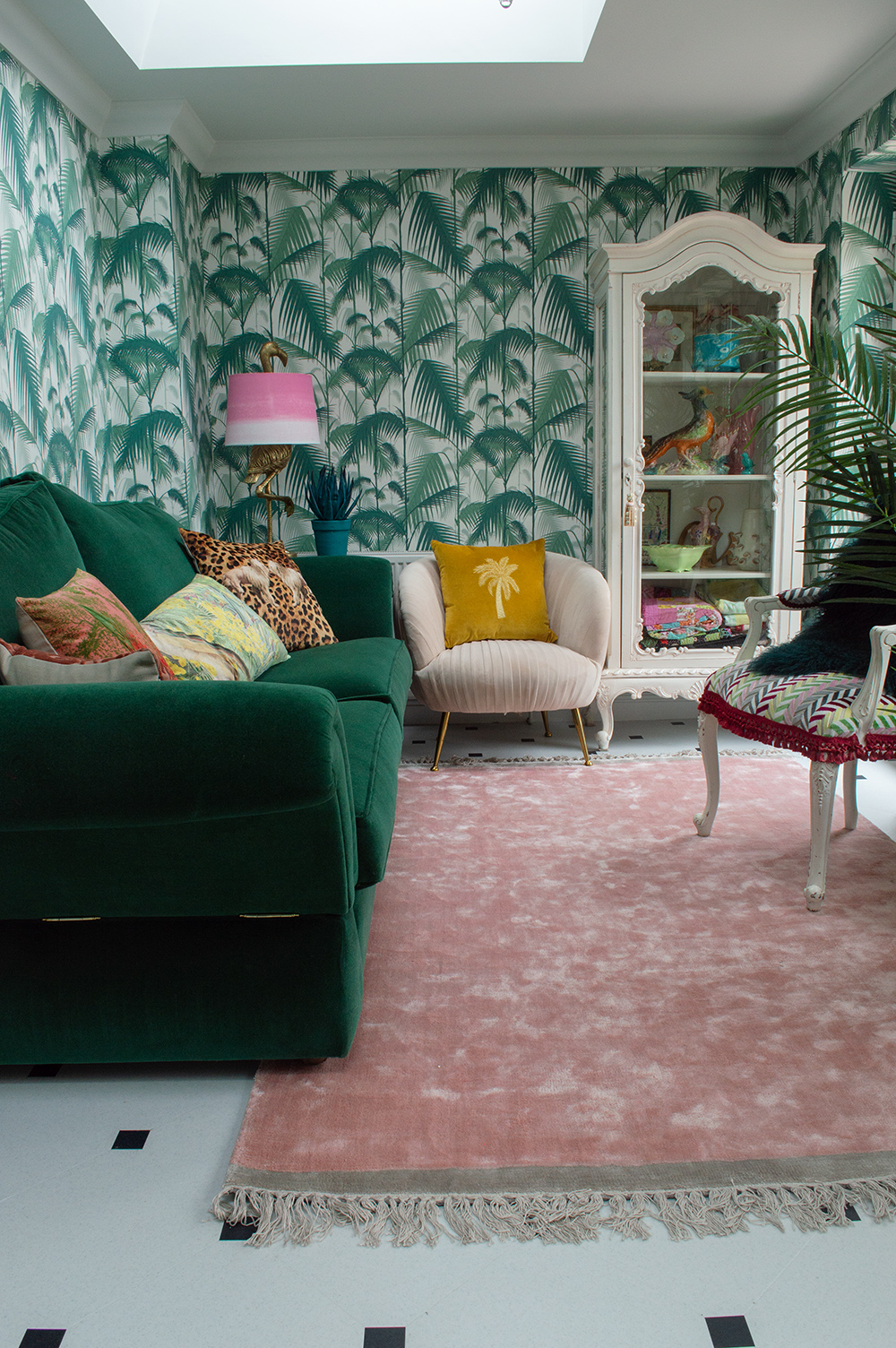 Pink Velvet Armchair | Mustard Palm Tree Cushion | Flamingo Table Lamp | Pink Rug
Still blank walls, you may notice, very unusual for me but I felt there was enough going on and I'm loathe to put up pictures and then want to change them and damage the paper, so blank walls it is, apart from the gold elephant head. Maybe one day I will find the perfect pictures and fall in love, until then blank walls. I really don't like to rush doing a room and feel things acquired over time give a scheme far more vibrancy and depth and avoid the catalogue look so common to instant revamps that don't change and evolve.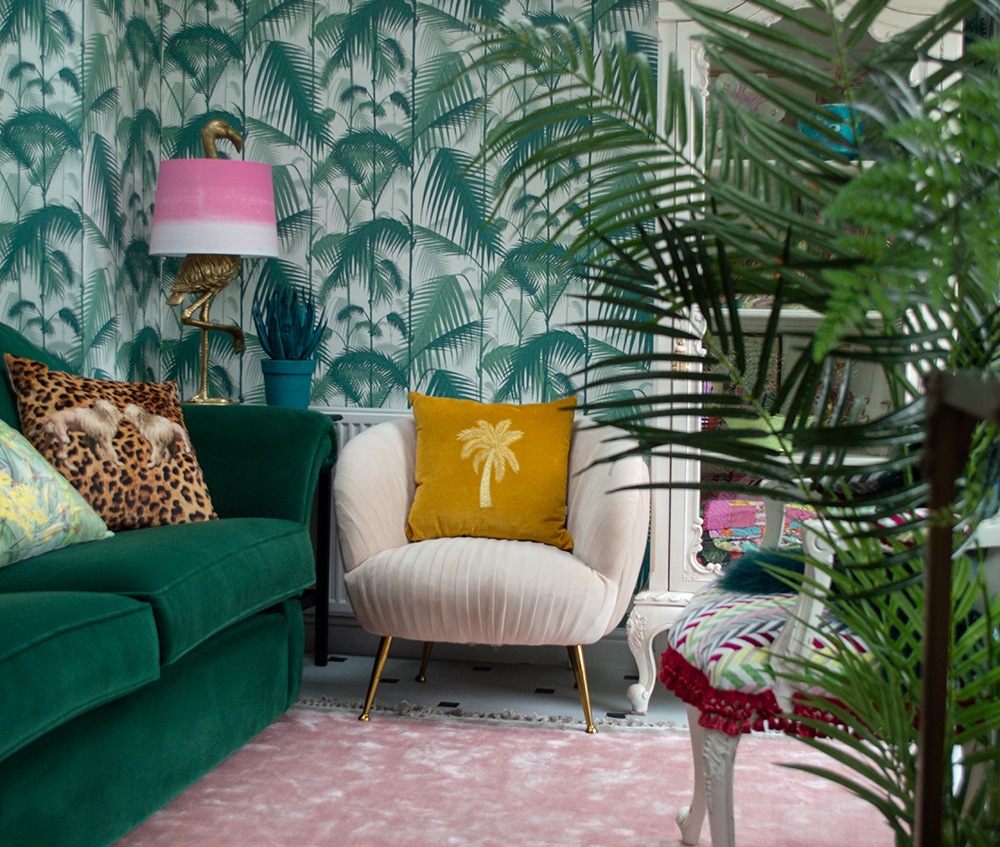 You can see how the room looked before on our previous before & after blog post, what do you think to the old ceramic tiles? Decidedly beige and very hard on the head when the babies fall over, and china doesn't bounce on a ceramic floor. A very important point for a clumsy person like me! I love Amtico floor, and no I'm not being paid for saying that, it's not only the range of styles, looks and colours, its Amtico's ability to always look good and the ease of maintenance. And the orange/ coral – are you loving it or hating it? It is a colour people are shy of, but it has an amazing ability to glow, and create warmth and ambience if used sparingly.
Leave a comment
Your comments make us happy!
Blog Etiquette
Please note that all content, including text and images are copyright of Audenza, unless otherwise stated.

If you would like to use content from our site, then we're very flattered to hear that, but please note its origins on your site or blog, provide a link back to us and kindly let us know where you have used our content.

Thanks!