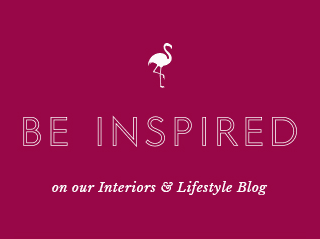 House Tour: A Colourful Open-Plan Apartment in Norway
21 Apr 2018
In today's house tour we're heading to the beautiful Scandinavian country of Norway to take a nosey around Simone Isaksen's colourful open-plan apartment. If you're looking to add a little vibrancy to your décor, whether it be a home or apartment, then this house tour is certainly a perfect source for inspiration. We just love the way that Simone makes colour feel calm and serene as opposed to loud and overpowering. She also shares how it was possible to move from a house into a rented apartment, without having to compromise too much on space or style.
Tell us a little bit about yourself and where do you live?
Hello, I'm Simone and I'm 29 years old. I live in cold Northern Norway in a small village called Storslett.
I have my own little interior shop here, which I love! I also have two very cute cats, Sophie and Lilly, who love joining me in my instagram photos.
You've recently moved- has your style changed at all with the move?
I have just moved from a big house into an apartment which I rent. I'm incredibly happy that I've found a new home that isn't too expensive and that can fit all of my possessions into, as I have a lot of items that I didn't want to get rid of.
Like my previous home, I still very much wanted to have a colourful interior, with colour on the walls too. However, as I now rent, I didn't think that would be a possibility but luckily, it is! The owners of the apartment are more than happy for me to paint the walls. That said, the kitchen is now painted in a lovely blue shade from Pure and Original and one wall in my bedroom is pink. My favourite colour! Next on the list is the entrance, which surprisingly is going to be grey, but with lots of colourful details of course.
I'm delighted that I can add my own style to the apartment. There are more white walls, but I'm Okay with that, I was getting a little tired of the dark walls from my previous home anyway.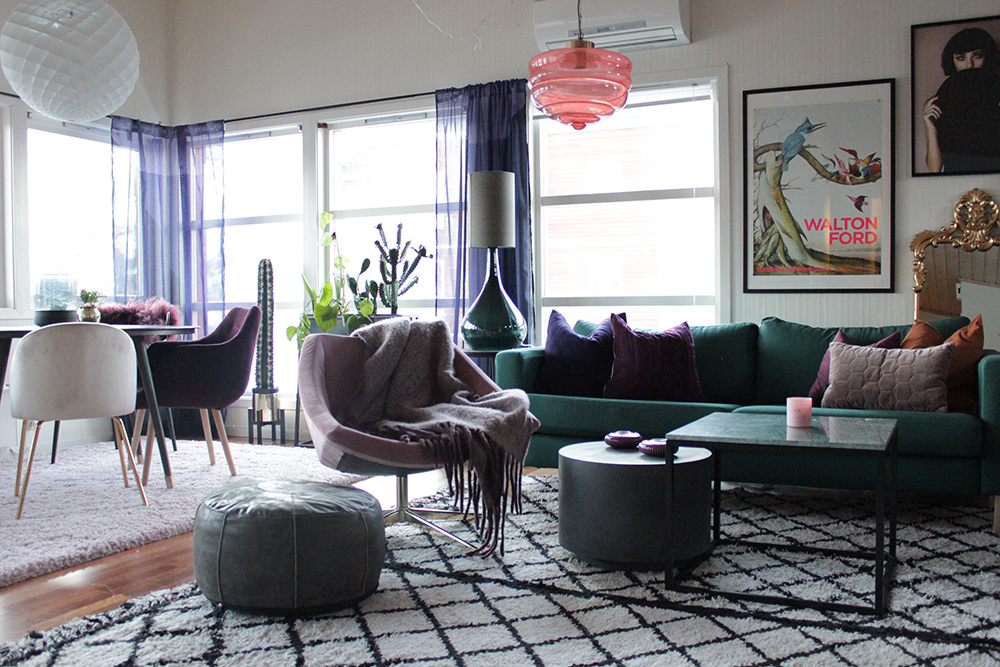 Making open-plan spaces work can be tricky, but this apartment is a masterclass in dividing up the space to create different 'zones'.
Where do you get your inspiration from? 

Most of my inspiration comes from Pinterest, Instagram, blogs like Audenza, as well as magazines. I don't have that typical Norwegian style, so Pinterest is perfect for me, although I don't post there myself. I love looking for inspiration and I use Pinterest to search for things like botanical interiors and colorful homes.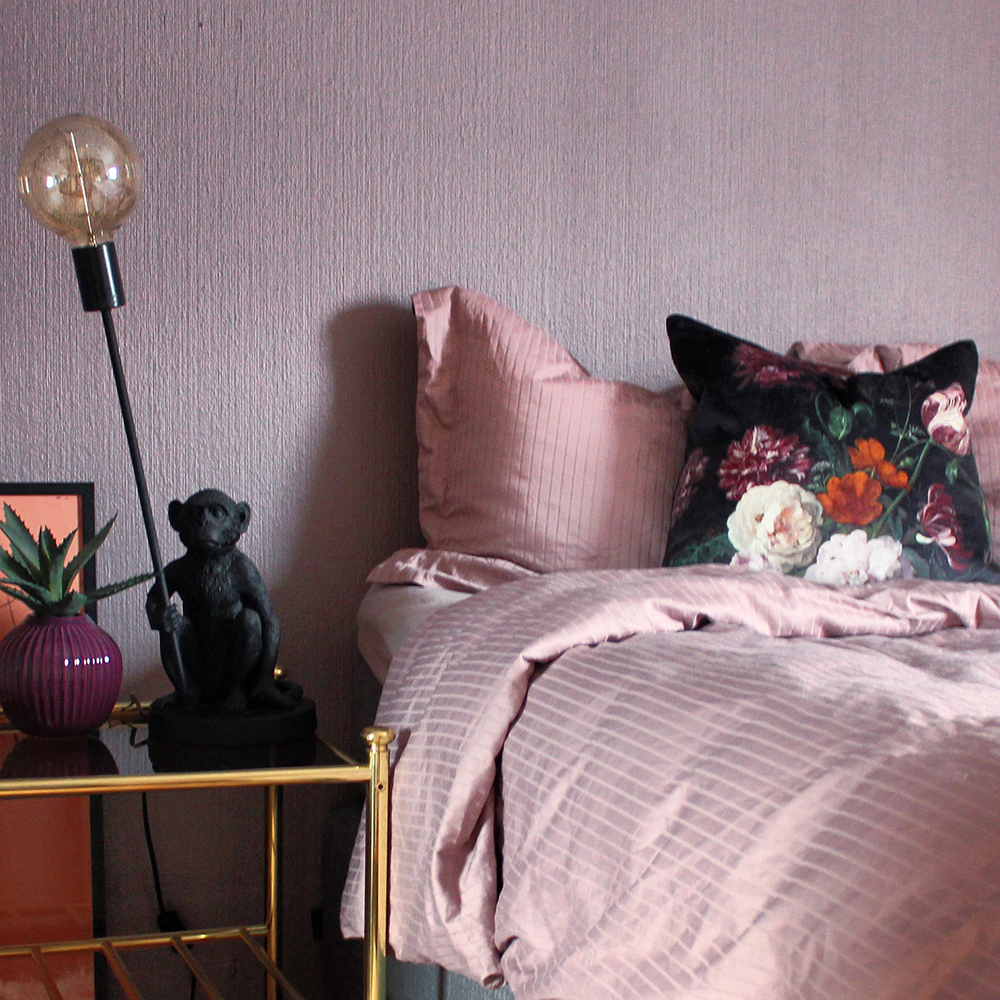 What's your favourite piece in your home?

My favorite piece in my home is the couch. It has a cover from Bemz.com, so I love that I can change the cover color on it if I was to get bored of green. It's comfy and was cheap too.
How would you sum up your style?
I'm unsure of how best to describe my style, maybe that's because I like a little bit of everything. It's certainly botanical and colorful, and maybe even a little urban.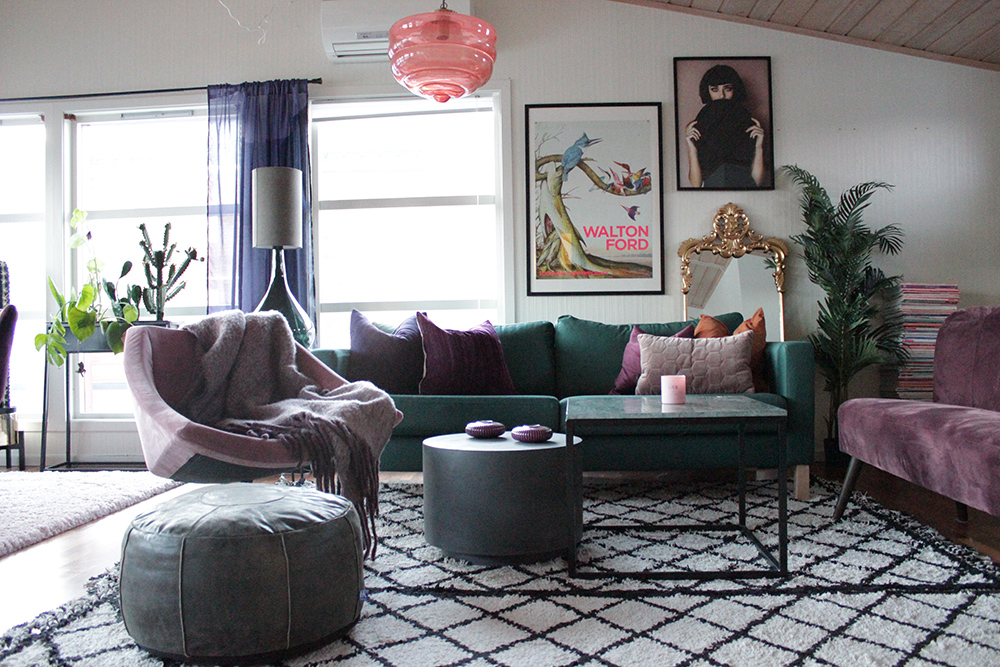 What do you think the secret to fabulous interior style is?
The secret to fabulous interior style is to be daring! Dont be afraid to stand out or worry about what other people will think. Also don't think too much about if you're going to get sick of colored furniture or walls. I think you have a bigger chance of getting bored of white, grey and black! Because they're boring. Also everything can be changed right?
If you stay at home a lot like me, you should have something fun to look at from the couch, something that gives you energy. At least for me that's important. Doesn't have to be noisy to be colorful (if you know what I mean).
I think that has been a little challenge for me, to make sure my decor harmonizes with the bright colours. I think I'm there now, but it took a while.
Get the Look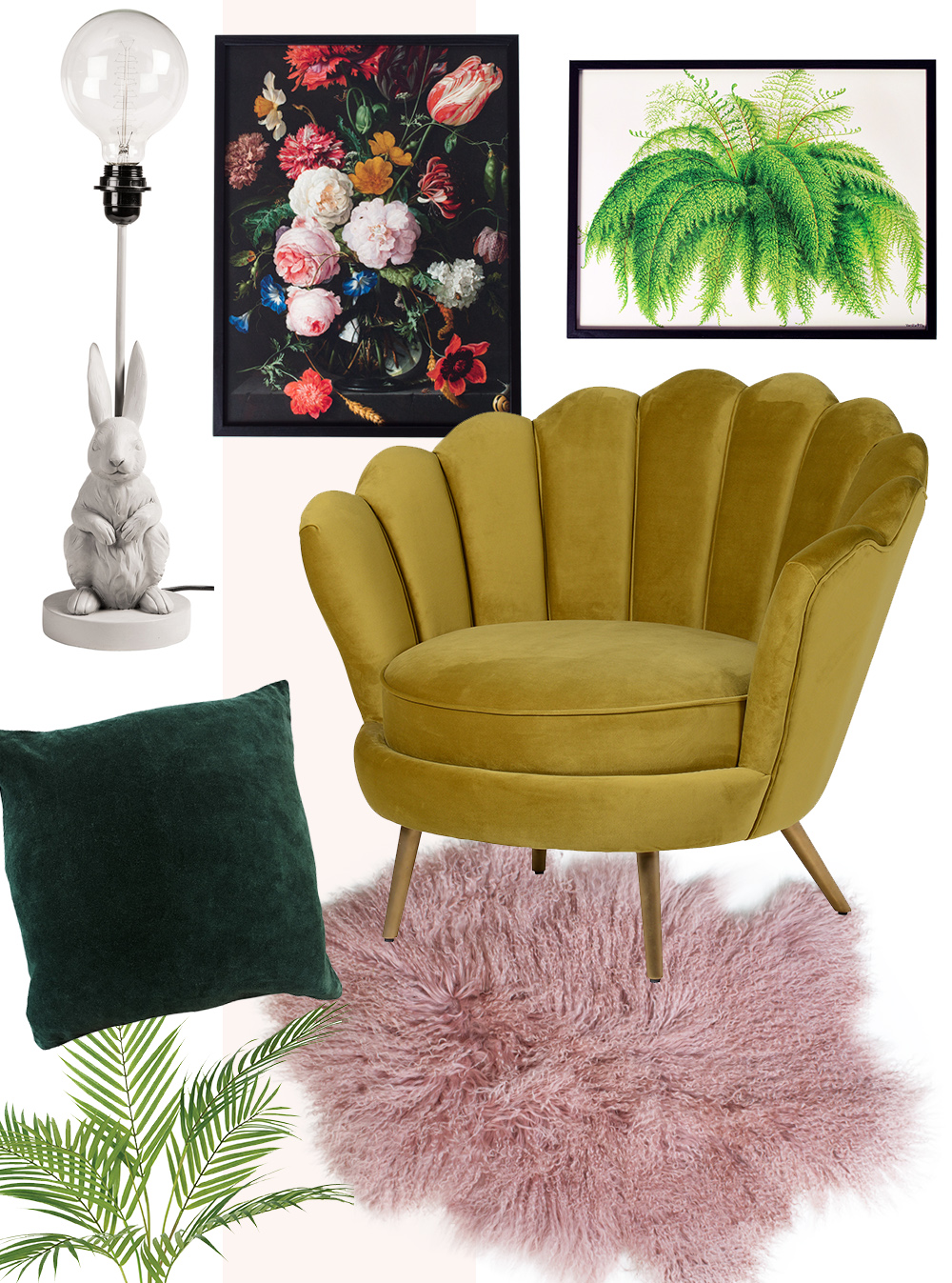 Rabbit Table Lamp | Floral Still Life Framed Print | Lush Fern Framed Print | Green Velvet Cushion | Gatsby Velvet Armchair | Artificial Areca Palm Spray | Tibetan Sheepskin Rug
What inspired you about this colourful apartment? How would you incorporate colour into your home?
You can follow Simone on Instagram @simzi88 for some great ideas on how to add colour and print to your decor that doesn't over power your space.
Leave a comment
Your comments make us happy!
Blog Etiquette
Please note that all content, including text and images are copyright of Audenza, unless otherwise stated.

If you would like to use content from our site, then we're very flattered to hear that, but please note its origins on your site or blog, provide a link back to us and kindly let us know where you have used our content.

Thanks!