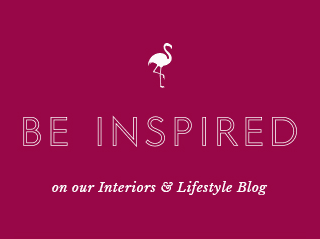 Nailing the Tropical Rainforest Vibe
20 Sep 2016
This trend is so fabulously lush that we can't resist it here at Audenza. You may remember Hollie talking about the tropical interiors trend at the start of the year but, as with all trends, they evolve through time so now we have the rainforest vibe to tempt you further into the steamy jungle. We've gone from Caribbean Island to Amazonian rainforest, which means layer upon layer to envelope you in paradise.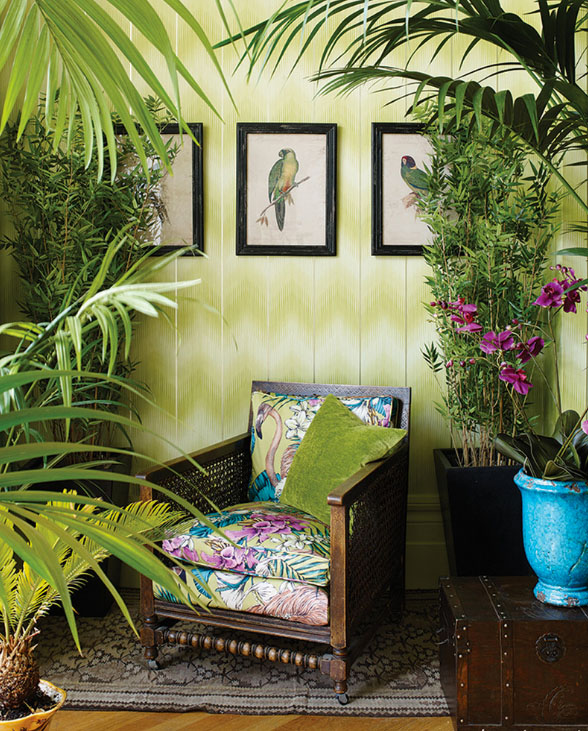 Image credit: Schulzes Farben- und Tapetenhaus
How fab is this room, it looks like a colonial bolt hole with its layers of green, tall palms that sway to the breeze, and parrots in the background.
The key points for nailing the tropical rainforest vibe are:
–     The trend now is definitely more Amazonian rainforest, than tropical paradise; so go really wild, exuberant and leafy, with tall layers of palms, bamboo and ferns.
–     Colour: think verdant and definitely green on green, but more muted, natural shades than the previous look. If you want to add some colour, blues work really well with this look (despite the ridiculous old adage, 'blue and green should never be seen).
–     Release the animals into this wild new jungle. It's all about the exotic animals you bring into the décor, never mind where their natural habitat is, from monkeys to elephants to zebra.
–     Pattern: think of the patterns of wild animals and their wonderful markings, and then add a layer of tropical flowers for a bit of excitement.
–     Jaguars are the King of the Jungle and we have some brand new leopard vases, yes we know a leopard is not a jaguar, but to the untrained eye, they're going to give the jungle rainforest look!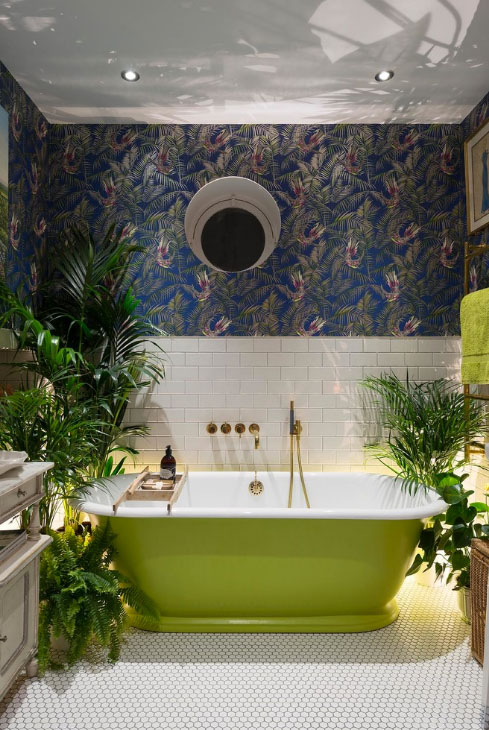 Image credit: Alexander Owen Architecture
Bathrooms are always the easiest place to go wild with your décor and this one certainly fulfils that brief with fantastical wallpaper, layers of lush greenery, and striking colours.
Monkeys are the new pineapple and they're showing up everywhere – from bookends to cushions – who can resist a monkey or two? Especially when surrounded by palm fronds!
Shop the tropical trend >>
The easiest way to add greenery is to fake it and this tall faux areca palm tree looks the part, with no TLC required, and an elephant side table to add to the exotic jungle look, albeit in an understated way.
So now you have the key points it's up to you whether you go the whole rainforest look, or just add some touches to your décor to give you a hint of the steamy jungle.
Jacqui x
Leave a comment
Your comments make us happy!
Blog Etiquette
Please note that all content, including text and images are copyright of Audenza, unless otherwise stated.

If you would like to use content from our site, then we're very flattered to hear that, but please note its origins on your site or blog, provide a link back to us and kindly let us know where you have used our content.

Thanks!