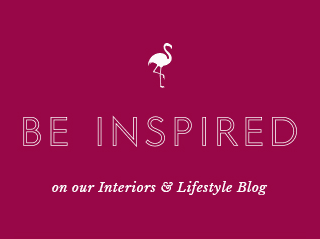 A Dramatic Black Living Room Transformation with a Gold Fireplace and Creative DIY's
26 Dec 2019
If your hearts desire is a black living room then we have just the thing with our tour of Lara Bezzina's dramatic black living room transformation. From a tired and soulless space, to a vibrant and welcoming room. Lara and her husband achieved all this with their own hard work and creativity. It's often the case, that a need to keep hold of the purse strings leads to an imaginative, and ultimately, a more unique home.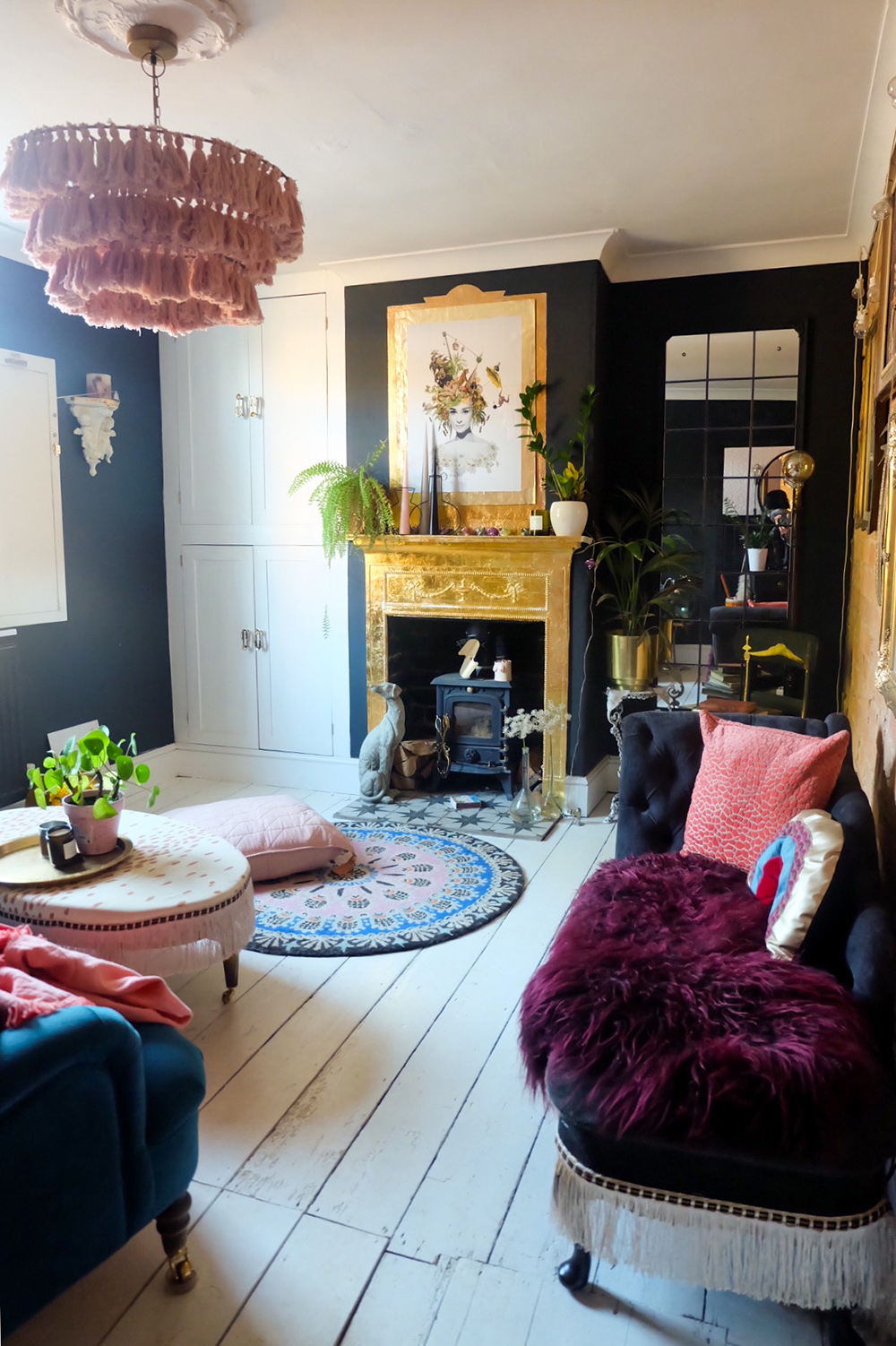 Tell us a little bit about yourself
I'm Lara and have a huge passion / obsession for design, especially in relation to interiors. I live in a village close to Northampton with my husband and Cocker Spaniel Coco. I've been interested in art and design from a young age but didn't find an outlet for it until we purchased our first house. It needed a lot of work, we could barely pay the mortgage and bills so had to be very creative, re-using, upcycling, visiting reclamation yards, searching for ebay bargains all became the norm and I absolutely loved it. We have now renovated / revamped four houses and have learnt so much along the way. Our current home is a Victorian brick cottage along a narrow little dirt track lane.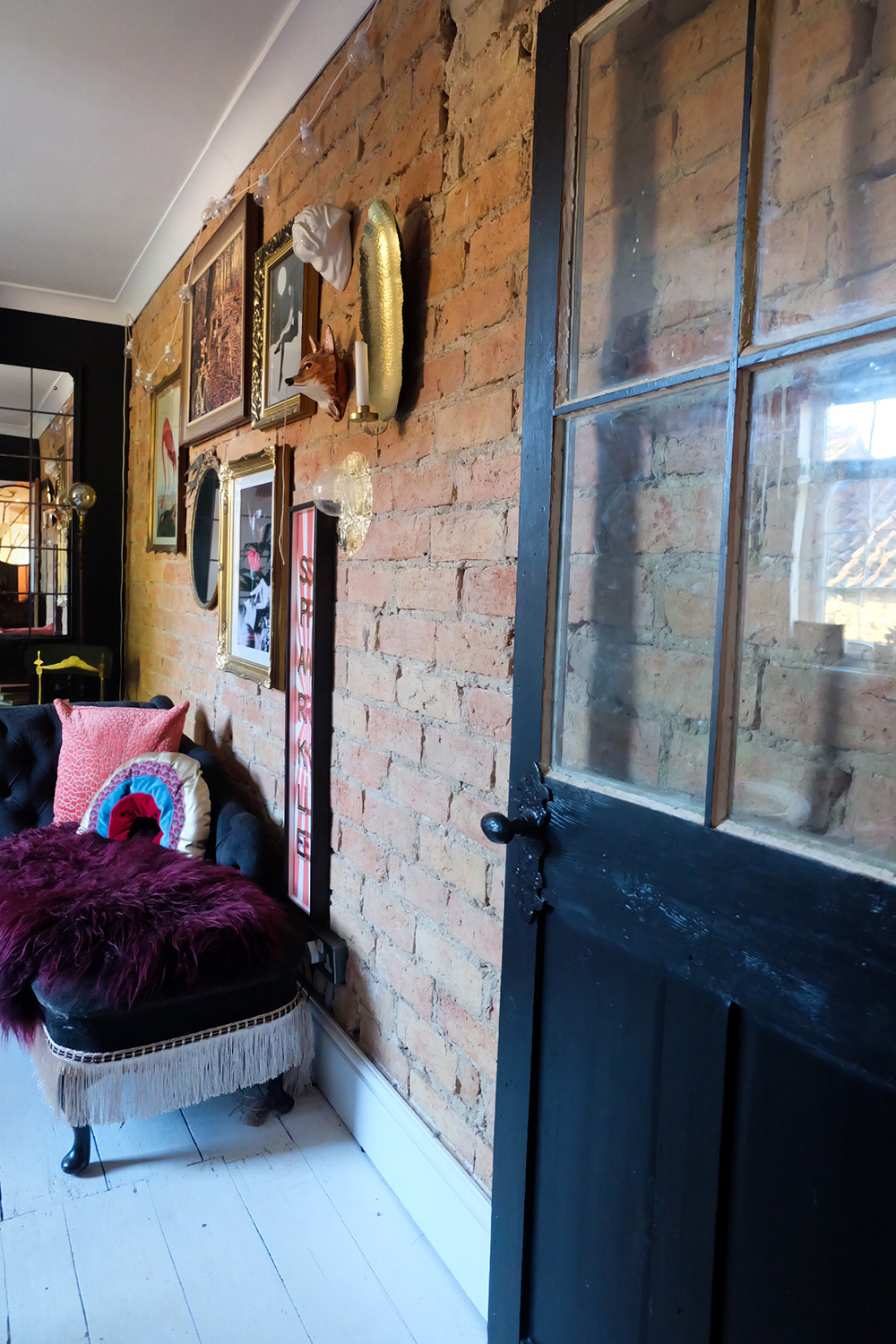 How would you sum up your style (in one sentence)?
Creative, eclectic and bold with vintage touches and rich colour pops.
Have you done much structural work to the living room, or has it been mainly decorative changes?
We had to get the external wall injected with a damp proof course. This meant taking the bottom half of the wall plaster off, was such a messy job!  We discovered a totally rotten lintel that was supporting the window, we had to very urgently get it replaced. We replaced some rotten floorboards, my husband fell through the hole in the floor at one point but luckily didn't quite make it all the way down to the cellar below! We replaced all the skirting with taller skirting, added coving and a plaster ceiling rose to add character. Built the alcove cupboard so we could hide the TV away and have some storage for all the CDs we never listen to. We decided to have one wall of exposed brick because we like it and it meant less money spent on plastering. We re-tiled the fireplace and installed the woodburner as it provides a lot more heat than the open fire. We did it all ourselves apart from the damp proofing.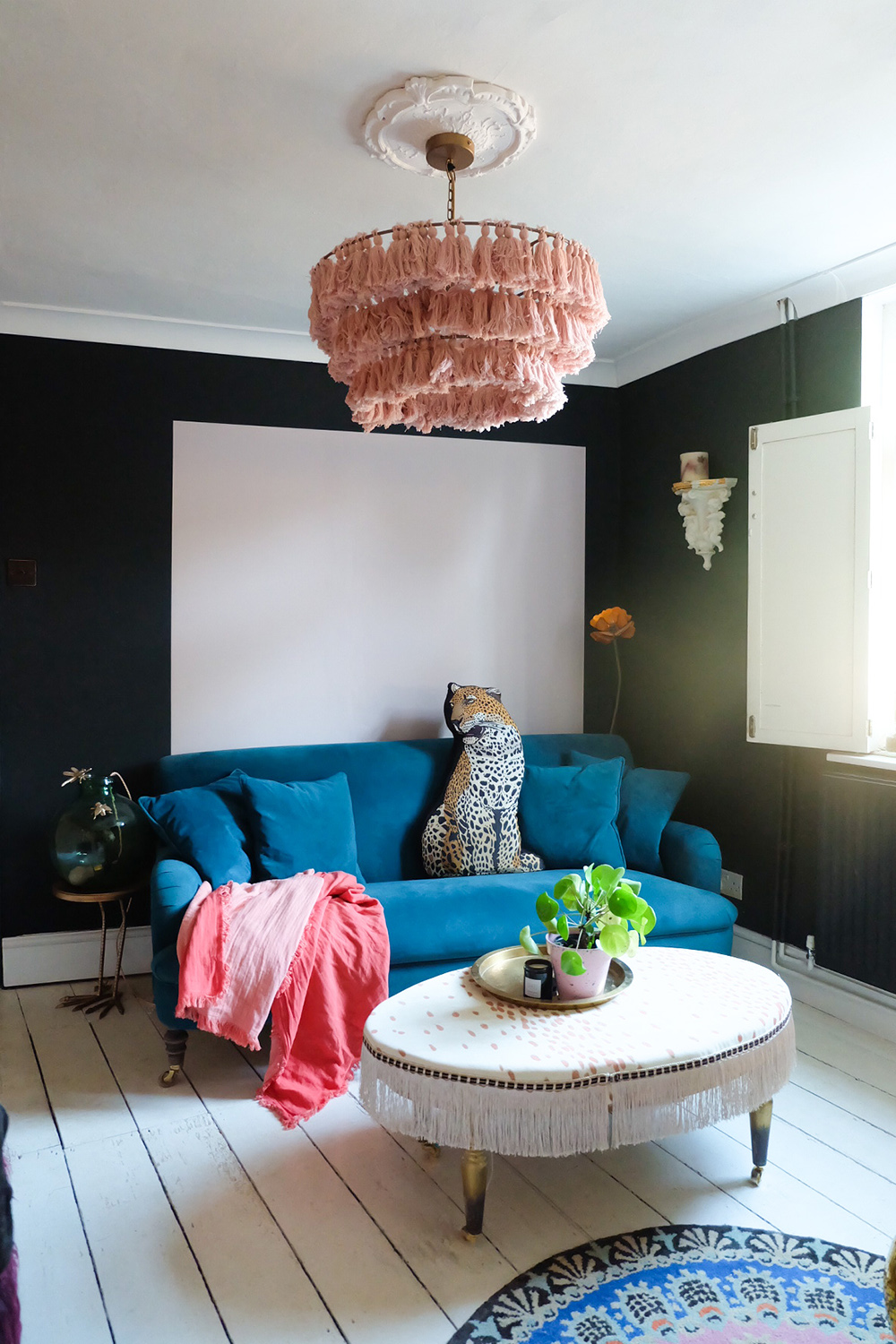 Where do you start when you're pulling a new room scheme together? 
I have been trying to get better at visually planning before starting a project but I have a tendency to keep it all in my head. I recently completed a revamp for a rental property and I did do sketches and shopping lists for that as I had to know exactly what I was buying before starting and had a set budget. With my own house the rooms usually start with an idea or a colour combination that I've been inspired by. I tend to know the major things before I start but after that the rooms usually evolve and ideas change as I go. I actually painted the living room light blue first, it looked nice but didn't have the impact or cosiness I wanted. I've realised its ok to make mistakes, the important thing is to recognise them and do something about it.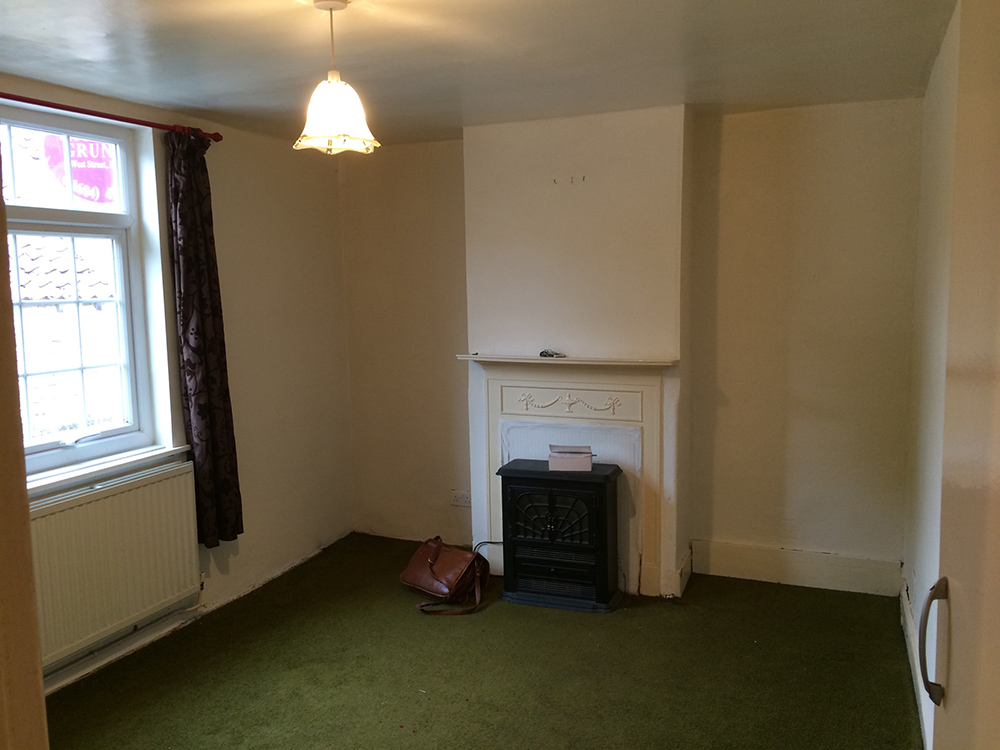 The living room before work began
The room now looks unrecognisable, what was the most challenging part about the whole process? What was the best?
It's so easy to forget about it but the amount of dust and mess from all the plaster was pretty awful. However, I think the coving was the most challenging thing! The room isn't square or oblong so the corners were an absolute nightmare.
Think the best thing had to be the original fireplace. It was boarded up with a gas fire in front of it but we were so lucky that the mantle was left in place and I loved gold leafing it to give it the wow factor it deserves.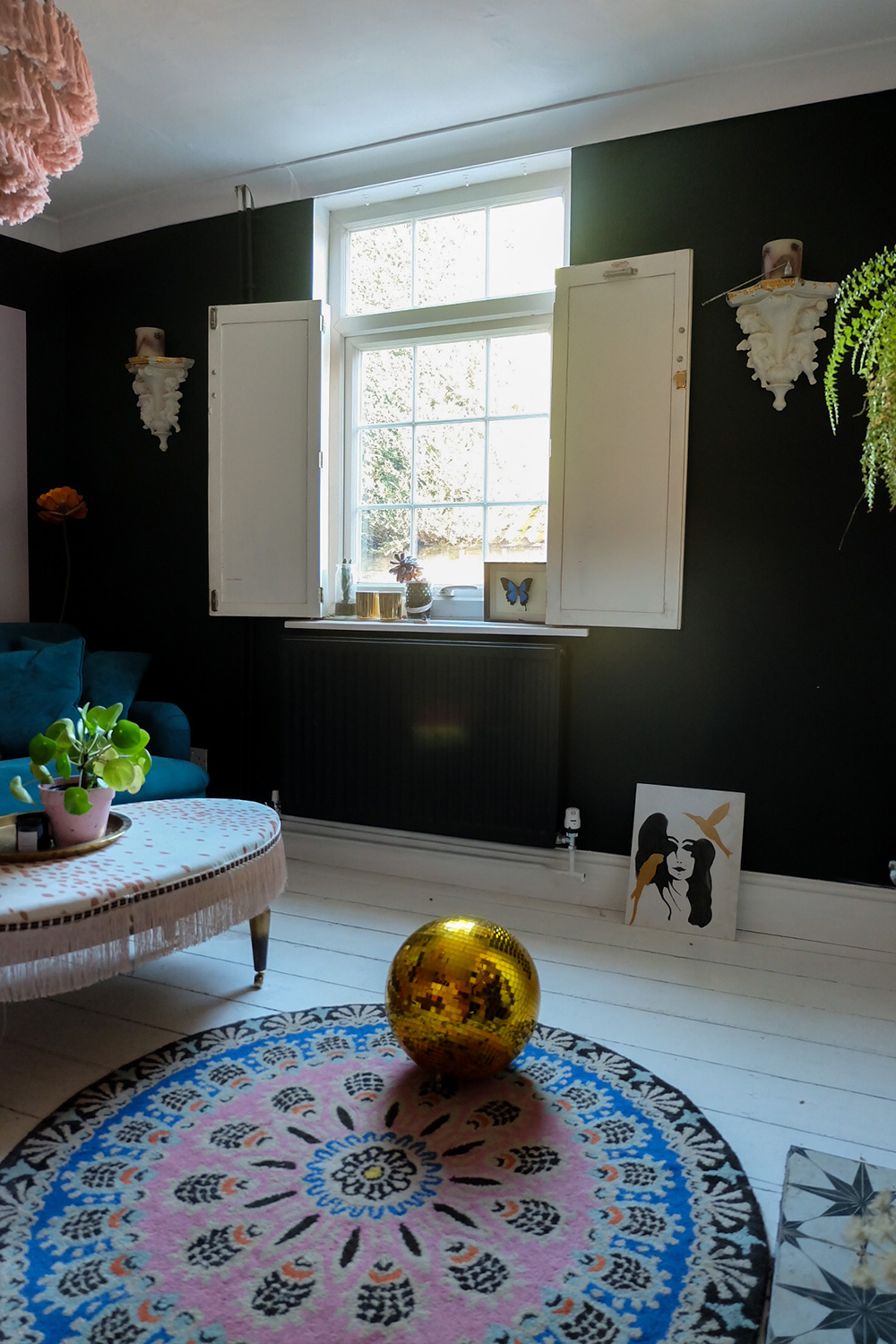 How long did the renovating process take from start to finish?
This room took us about 2 months because of the amount of work involved and we were doing it over our weekends and evenings. Although I'm always tweaking so I'm not sure it's ever really finished!
What's your best piece of advice for making dark interiors work?
Although I do think top to bottom dark interiors can look absolutely stunning, for me I love a bit of contrast too. The living room is small and I wanted it to be cosy, I think the black really helps to achieve this but all black would have felt too dark for me and we didn't have the budget to add extra ceiling lighting. I have a small dressing room with low sloping ceilings and painting the ceiling the same dark colour as the walls has done an amazing job in there, it really is like the ceiling has disappeared and feels so much higher than when it was white. I think it is important to get the lighting right in dark rooms with different options for different moods, subtle flush spotlights in the ceiling, lots of lamps and always a large focal ceiling light is a must for me. Be brave and try it, you can always paint over it if it doesn't work for you.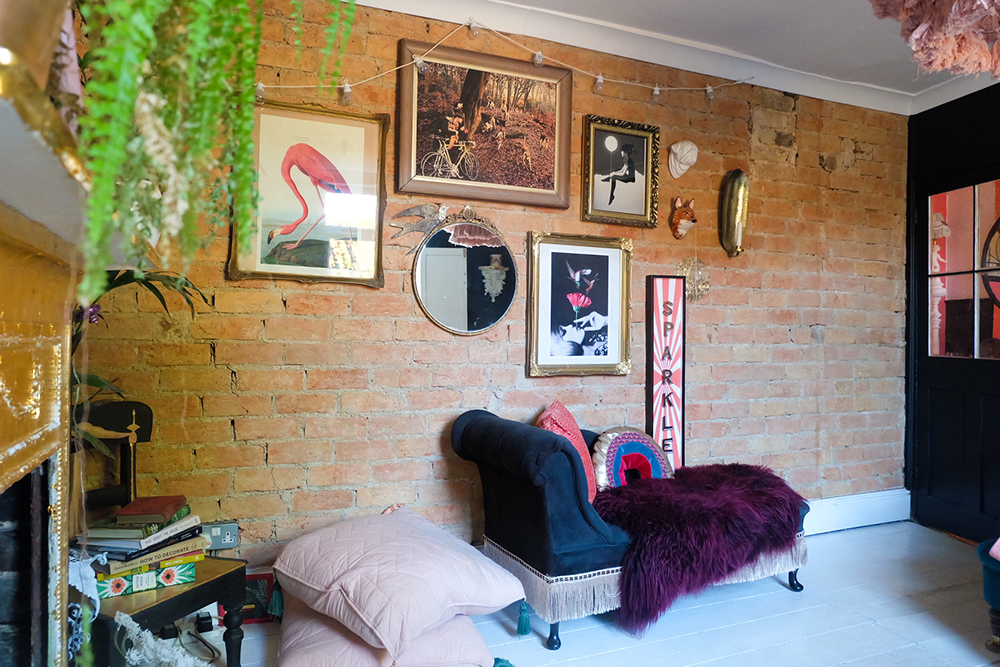 Who are your favourite interior Instagram accounts for inspo? 
Oooh I think this may be the hardest question, there are so many accounts I love, so many creative, talented people out there. This can be a problem as it inspires me to want to change things way too often. I know I need to keep this short and sweet so here's my top 7.
I can think of so many more!
A fabulous black living room but with a light an airy vibe, and pops of vibrant colour for happiness.  I absolutely love the gold fireplace surround, and have a desperate urge to gold leaf mine, but I'm terrified of making a mess of it.  I have done small projects, but it's quite daunting to tackle something of that importance in a room.  Lara is now running workshops for gold leafing not far from me so I think that will be my next challenge.  I will keep you posted as to how that works out!
Image credit: Lara Bezzina
Never miss a post: follow us on Bloglovin'!
Leave a comment
Your comments make us happy!
Blog Etiquette
Please note that all content, including text and images are copyright of Audenza, unless otherwise stated.

If you would like to use content from our site, then we're very flattered to hear that, but please note its origins on your site or blog, provide a link back to us and kindly let us know where you have used our content.

Thanks!