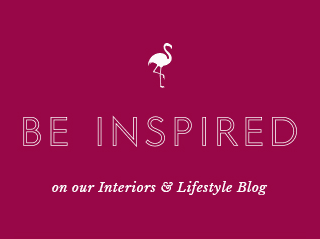 Top 10 Colourful Wallpapers You'll Fall in Love With
11 Feb 2022
I love, love, love, wallpaper!  I now have so many colourful wallpaper samples, as quite often they look fabulous online but the colour is wrong, or it isn't quite what I was looking for.  Sometimes I'm not sure what I want to achieve with a scheme, or even the atmosphere I want to create.  But once I start trying out the samples in a room, I start to get a feel of how I want the room to look.  It can be a long journey through the swatches, but there are nuggets of gold out there waiting to be found.  For those of you on the search for gold, or maybe just enjoying the browse, we have brought you 10 colourful wallpapers you'll fall in love with.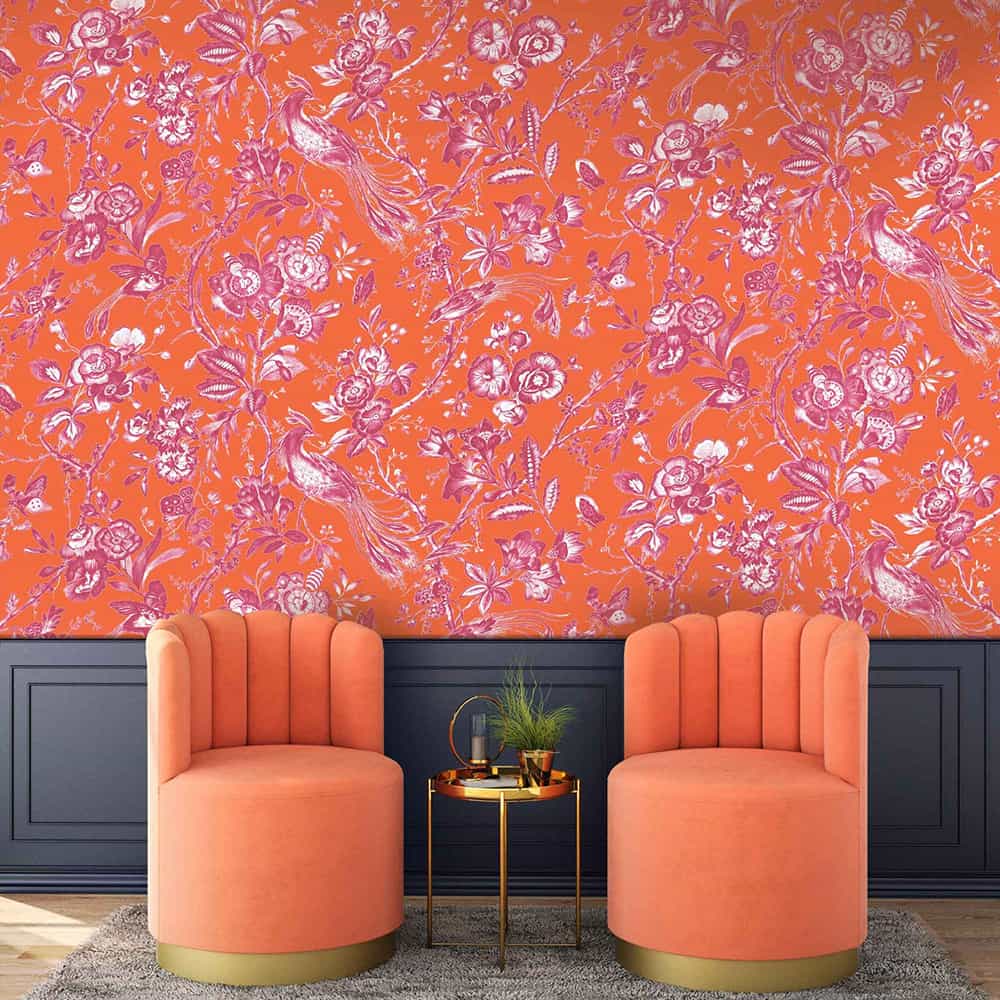 Such joyful colours.  Plumage, in orange and fuchsia, is by Woodchip and Magnolia, a husband and wife team who set up their own studio in 2016 with the aim of banishing said woodchip and magnolia!  Plumage is available in six colourways.  It never ceases to amaze me the different vibe you get by changing a colourway, from soft and subtle, to full on statement walls.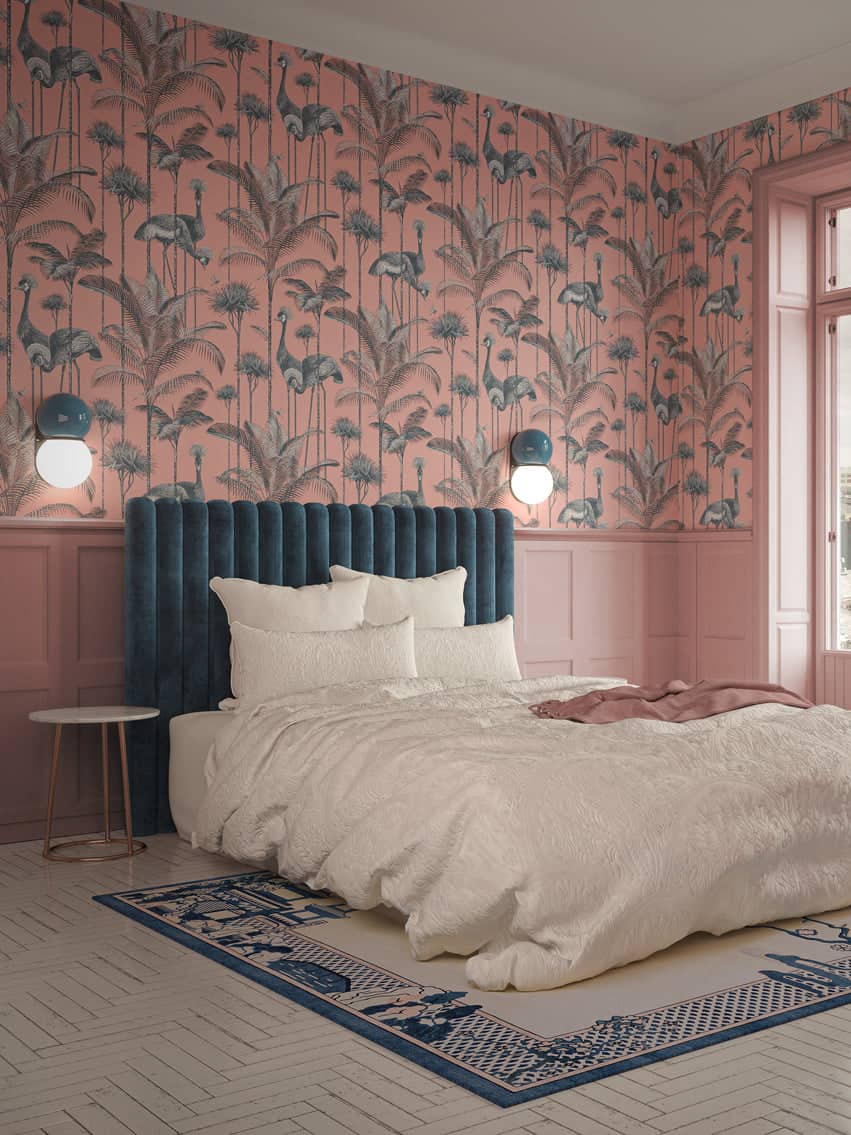 Crane Fonda, in coral, by Divine Savages is on Amelia's current wish list for her new party room.  The Crane comes in 7 colourways, but the best bit is fabric in velvet or cotton, cushions, lampshades, and even a shower curtain.  How fabulous is that?  As they say in their blurb, 'great British design with our signature divine and savage twist'.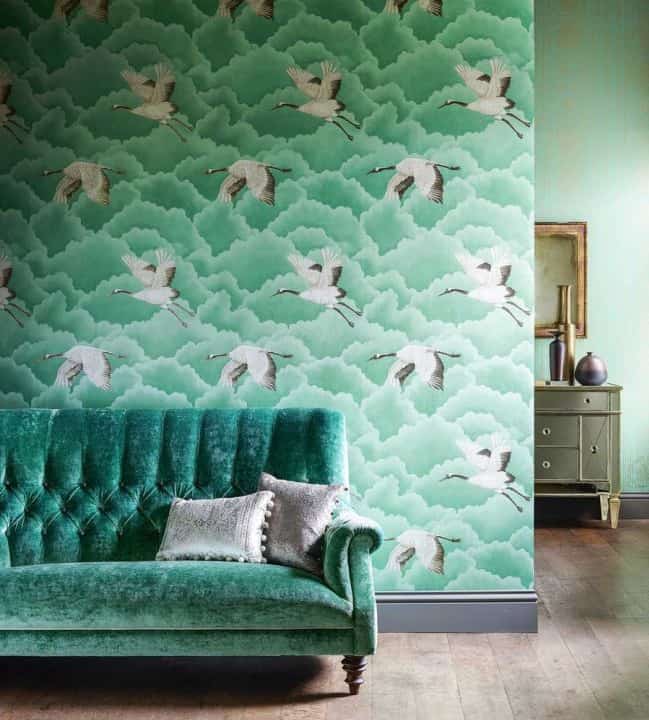 How gorgeous is this emerald green?  I have a soft spot for greens, and this really is a delicious wallpaper.  Not very descriptive, perhaps, but that's how I feel about it.  Cranes in Flight wallpaper is from Harlequin in six colourways and would look fabulous on a ceiling.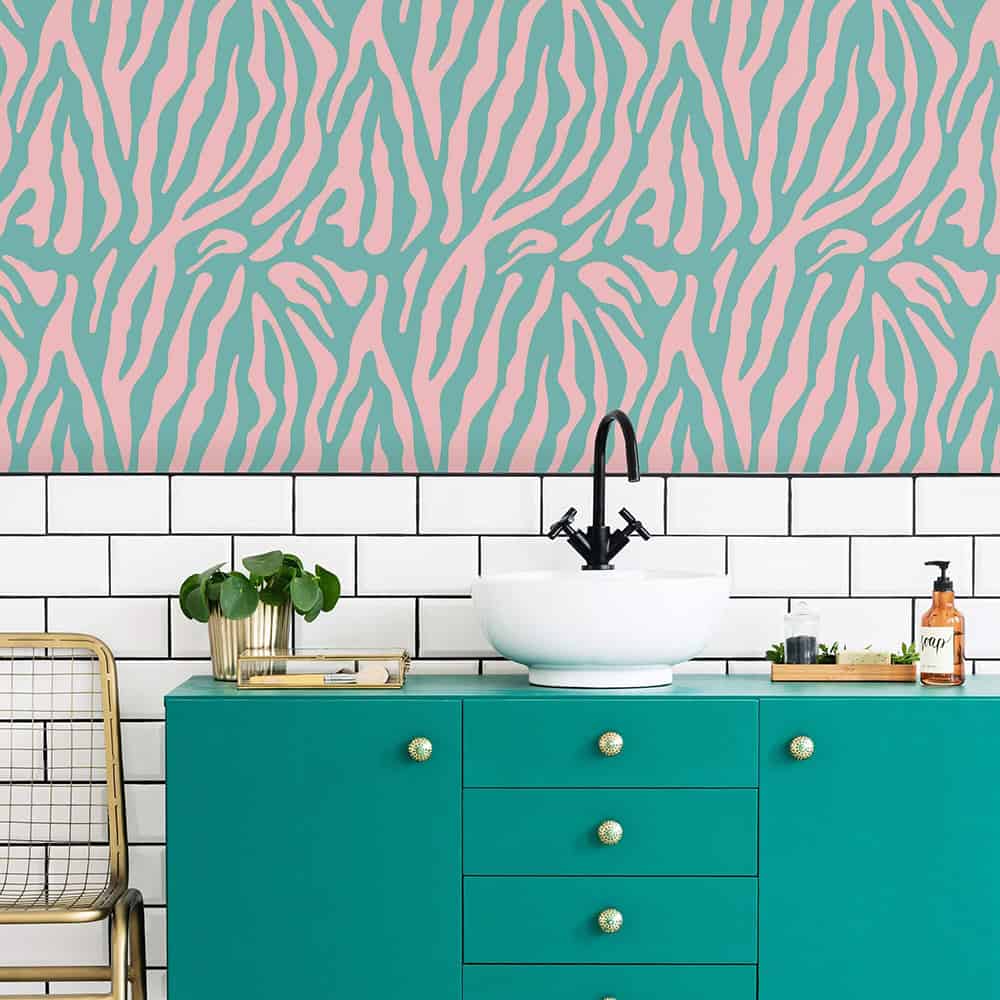 When is a zebra not a zebra?  When its candy pink and green.  This abstract zebra print wallpaper is from Lust Home, an independent British online home décor brand that produces reasonably priced paint and wallpaper in dazzling colours and patterns.  Perfect for the Miami deco look to bring sunshine into your home.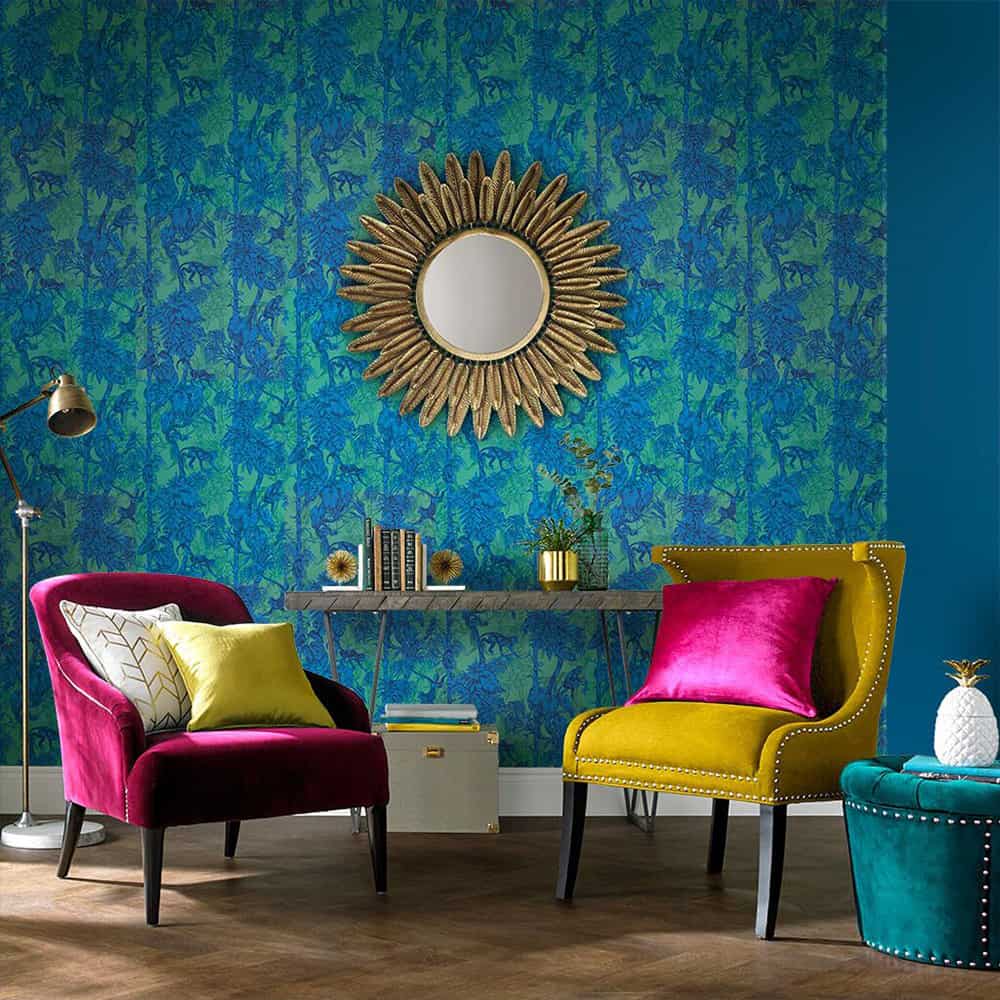 Ubud Tropic wallpaper by Graham & Brown is a lush tropical scene inspired by the Ubud Monkey Forest in Bali.  In vibrant blues and greens these mischievous monkeys bring a smile to your face.  Graham & Brown also produce paints that tone perfectly with their colourful wallpapers, making it simple for you to get the right match.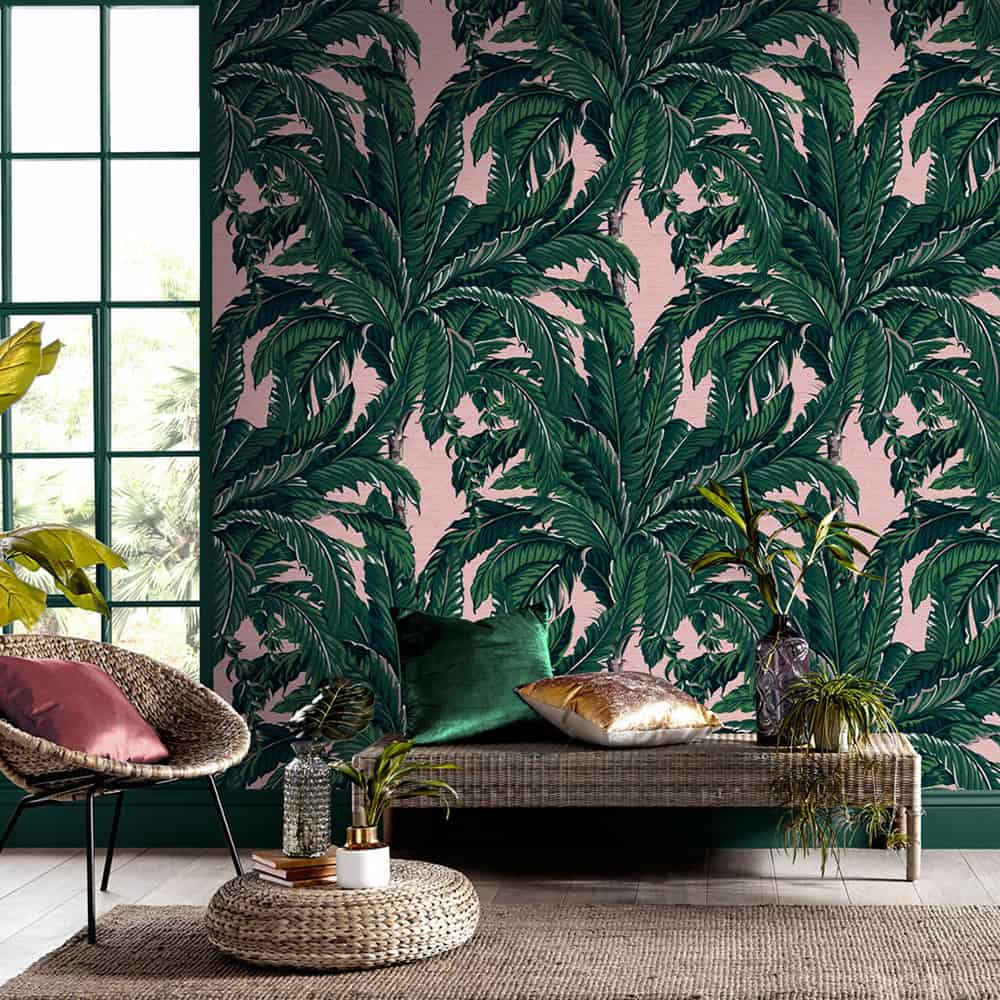 You need a big wall to appreciate the stunning Daintree Palm Blush wallpaper by Graham & Brown.  The background to the paper has a fabric look effect with a pearlescent finish, which gives it a lovely textural effect.  And with a perfectly partnered paint selection, they take the headache out of creating the perfect scheme, plus 4 colourways to choose from.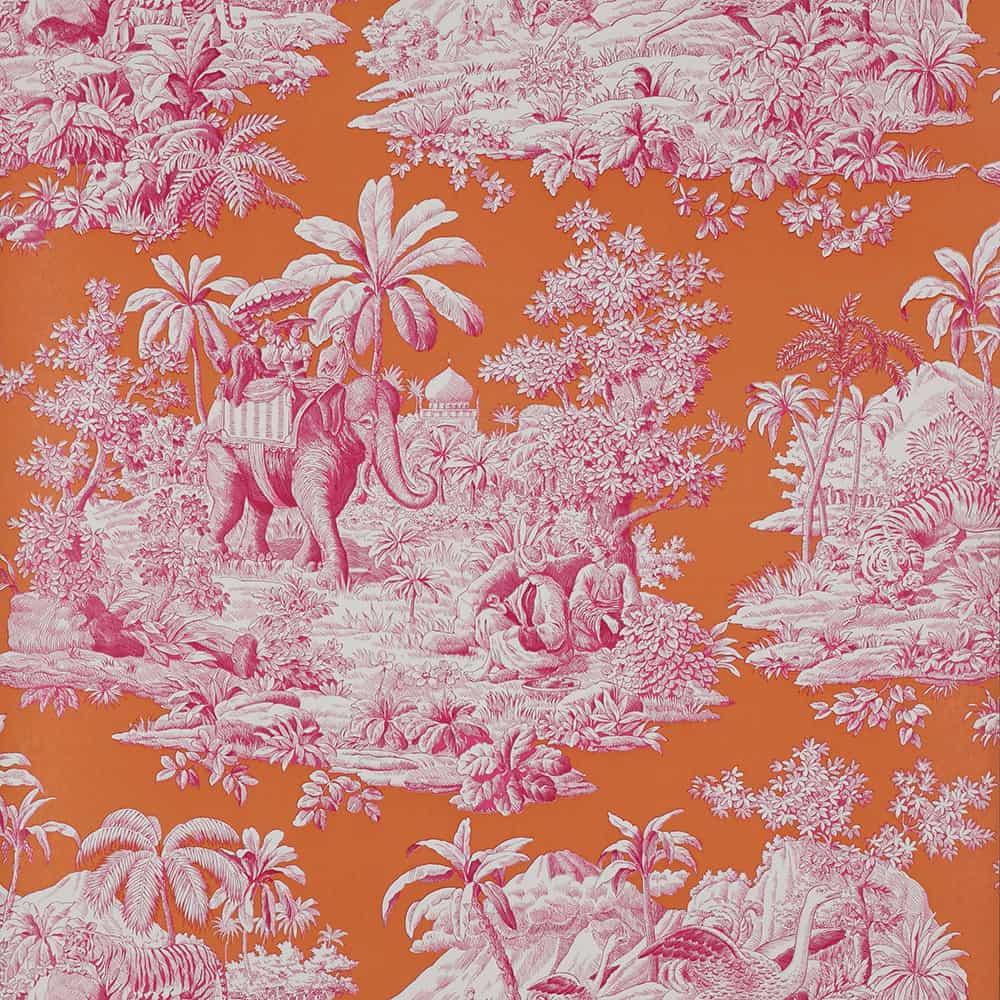 My ultimate favourite and a huge contender in my ongoing renovation of my home is, Bengale in paprika, by Manuel Canovas. It's a beautifully rendered toile design depicting an Indian scene in the time of the Raj.  A tropical jungle filled with elephants, tigers, and Moghul palaces, it really is a delight to let your eyes rove over the design, picking out the story.  Colefax and Fowler have a stunning range of toiles with different stories depicted, and in the most luscious colourways.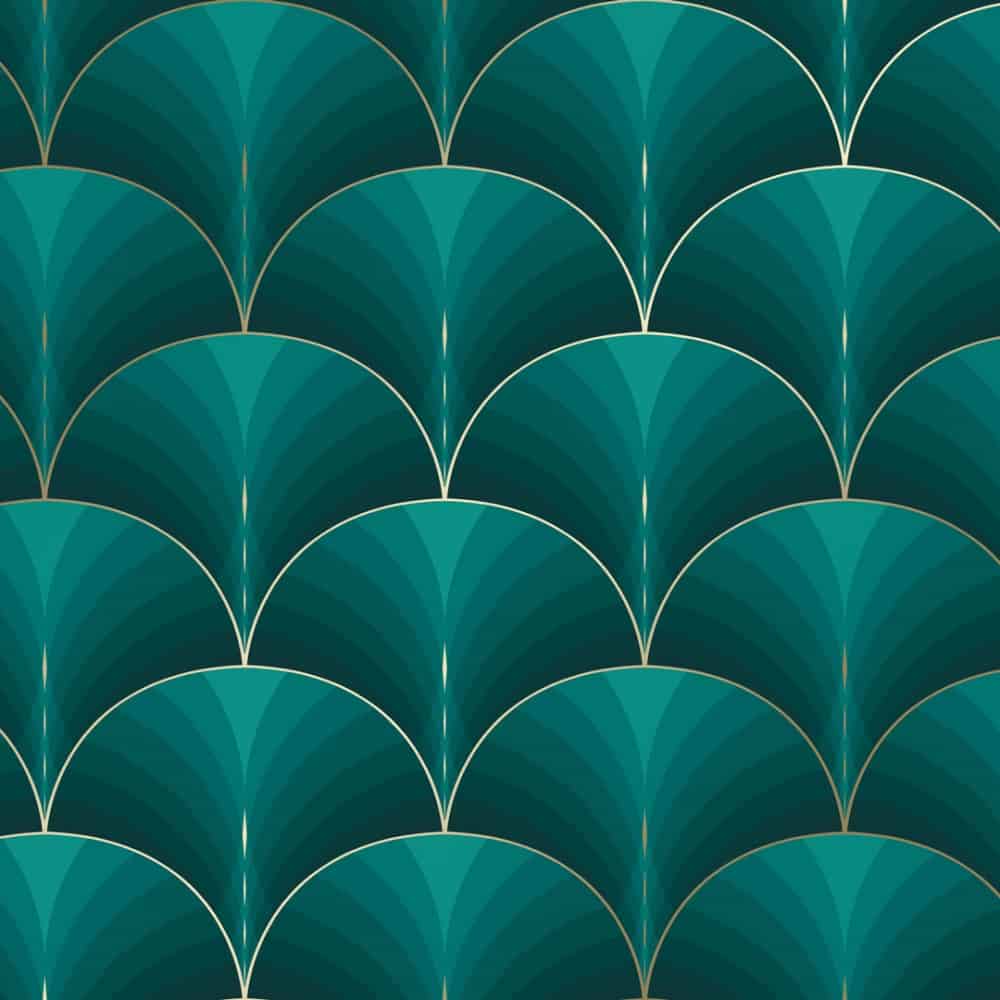 Bella wallpaper in green, by I Love Wallpaper is a stunning art deco design for maximum impact.  The simplicity of the fan design would make an amazing backdrop for serious pattern clashes in your soft furnishings.  I Love Wallpaper is a family run business with an exciting range of wallpaper at seriously bargain prices.  Bella is only £16 a roll.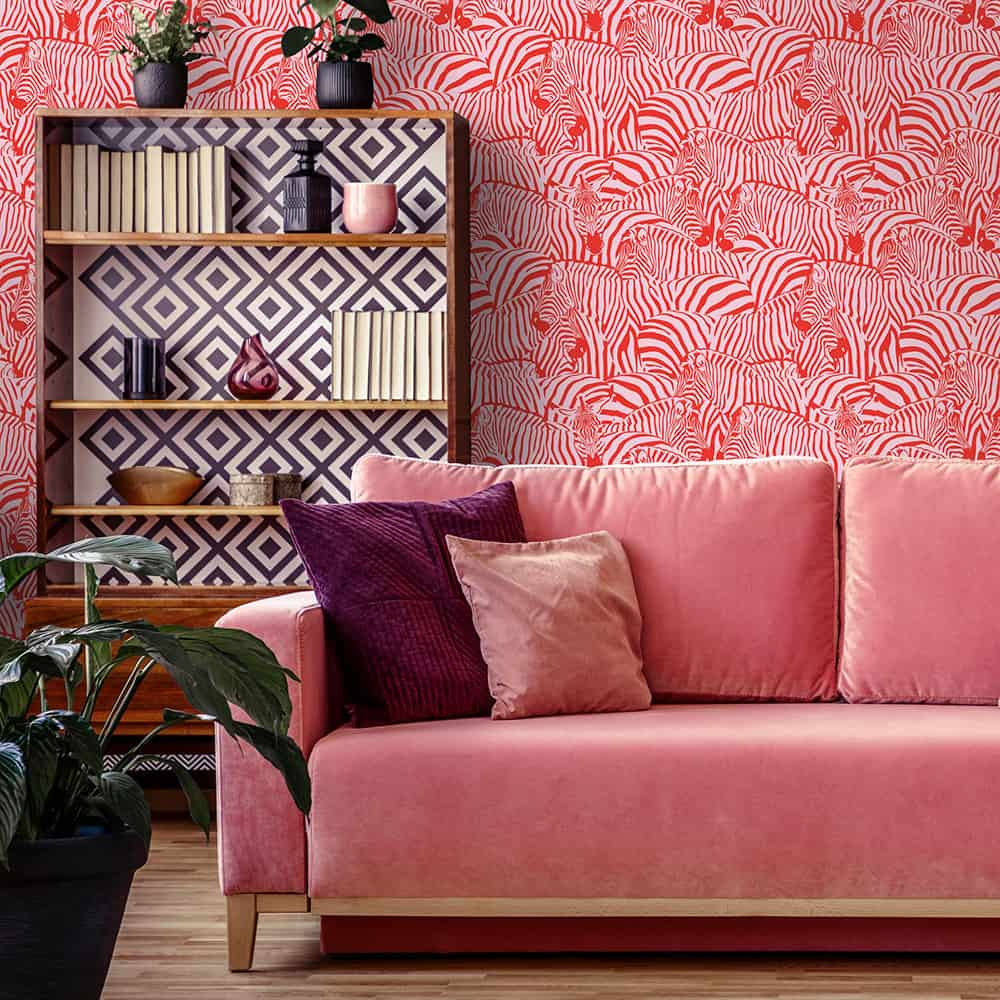 Dazzling or what?  Hide and Seek wallpaper in red and pink, by Lust Home, is a brave and bold move for the fearless.  Seriously fun and vibrant.  Did you know a group of zebras is most commonly called a dazzle of zebras, named for the motion dazzle effect created by running zebras?  I rather like that, and certainly appropriate for this wallpaper.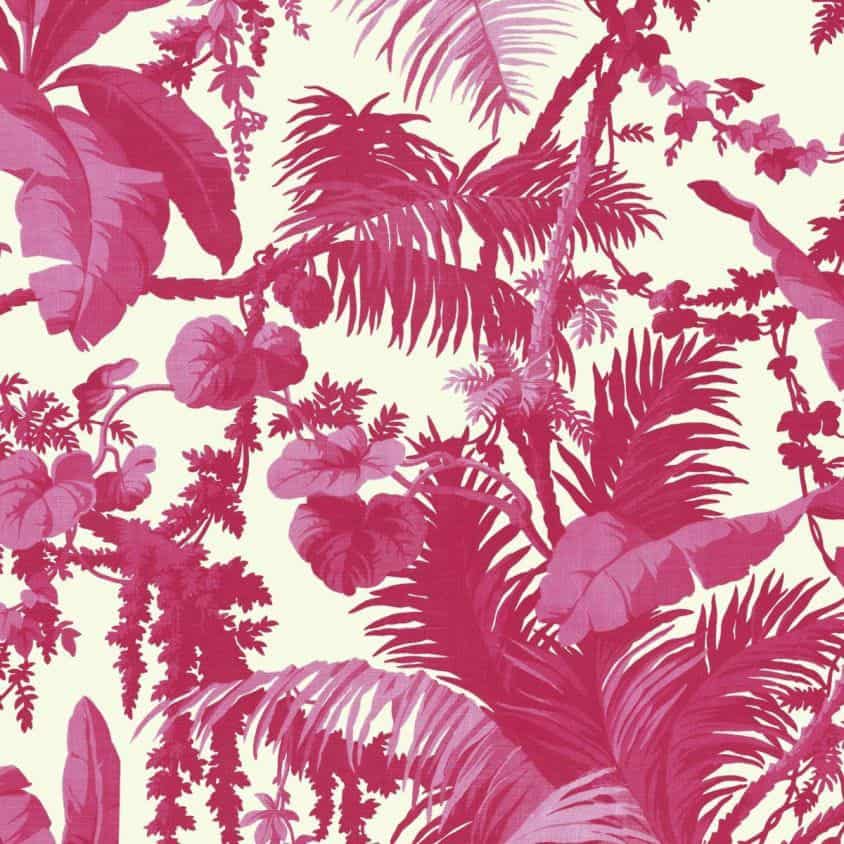 Pampas wallpaper, in off white and azalea, by House of Hackney is a fabulous depiction of banana leaves, ferns and grasses in a saturated colour that envelopes you in a tropical paradise.  And six delicious colourways to choose from.  House of Hackney are committed to helping conserve natural ecosystems and threatened habitats by their partnership with World Land Trust conservation charity.
A range of colourful wallpapers, worthy of Sophie Robinson.  We are all aware of Sophie's love of colour and pattern and her latest show on Channel 5, Dream Home Makeovers, is a celebration of all things vibrant and dynamic in interiors.  Very much the ethos of Audenza, and we hope you love our roundup of 10 colourful wallpapers. Maybe it will inspire you to start your journey to colour and pattern!
Leave a comment
Your comments make us happy!
Blog Etiquette
Please note that all content, including text and images are copyright of Audenza, unless otherwise stated.

If you would like to use content from our site, then we're very flattered to hear that, but please note its origins on your site or blog, provide a link back to us and kindly let us know where you have used our content.

Thanks!