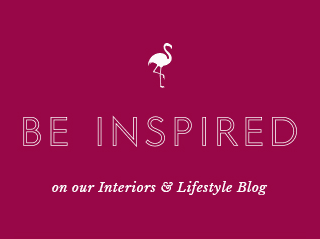 The Best Home Bar Ideas Which Ooze Character & Style
8 Jul 2021
The current buzz in home interiors has got to be your very own home bar – complete with stylish glasses, glamorous bottles, a cocktail shaker and a quirky neon light to show the way.  If you are looking for some home bar ideas – or just want to ogle at what's out there – we have brought you a fabulous selection.  From the smallest to the largest, you will be spoilt for ideas.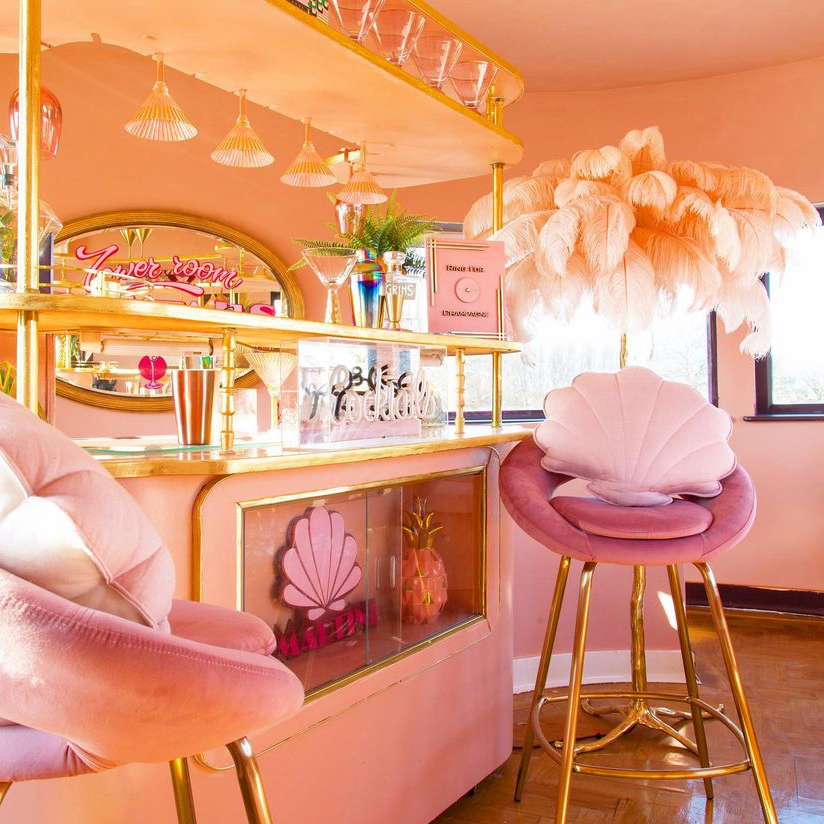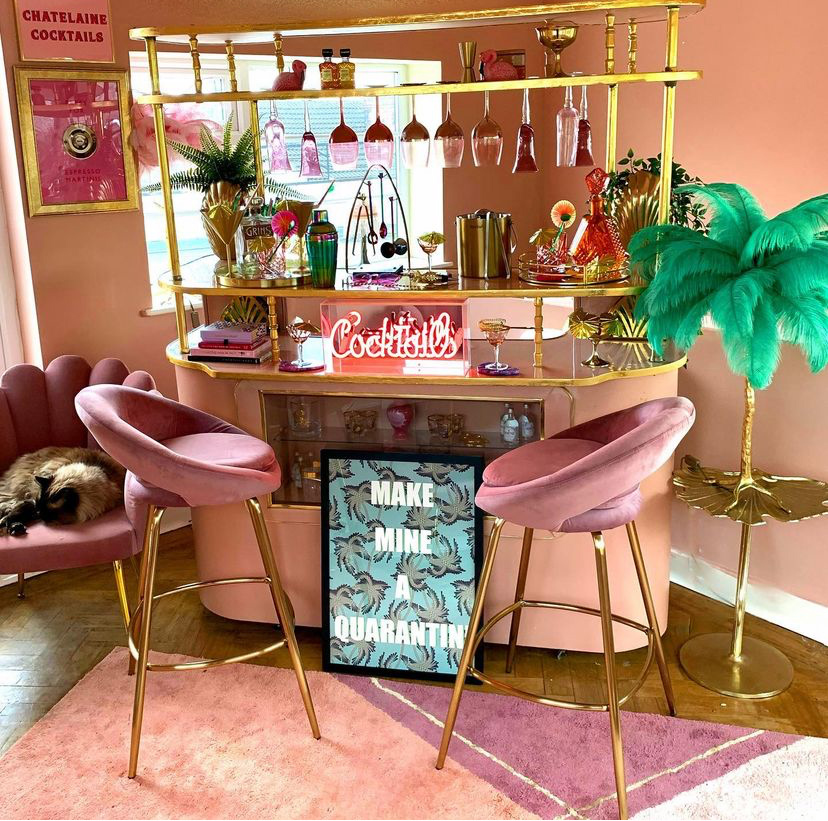 Image credits: @interiorcurve | Featuring our Ginkgo Leaf Table
To start you off we have the completely over the top and utterly fabulous home bar of Siobhan Hanna Murphy, runner up on the recent Interior Design Masters show.  Everything about Siobhan's home is utterly drop-dead-gorgeous, so we had to start with this one.  Hollywood glamour and a deliciously pink confection all rolled into one. Of course, if you are not a pink lover this might be a bit much for you, but we absolutely love it.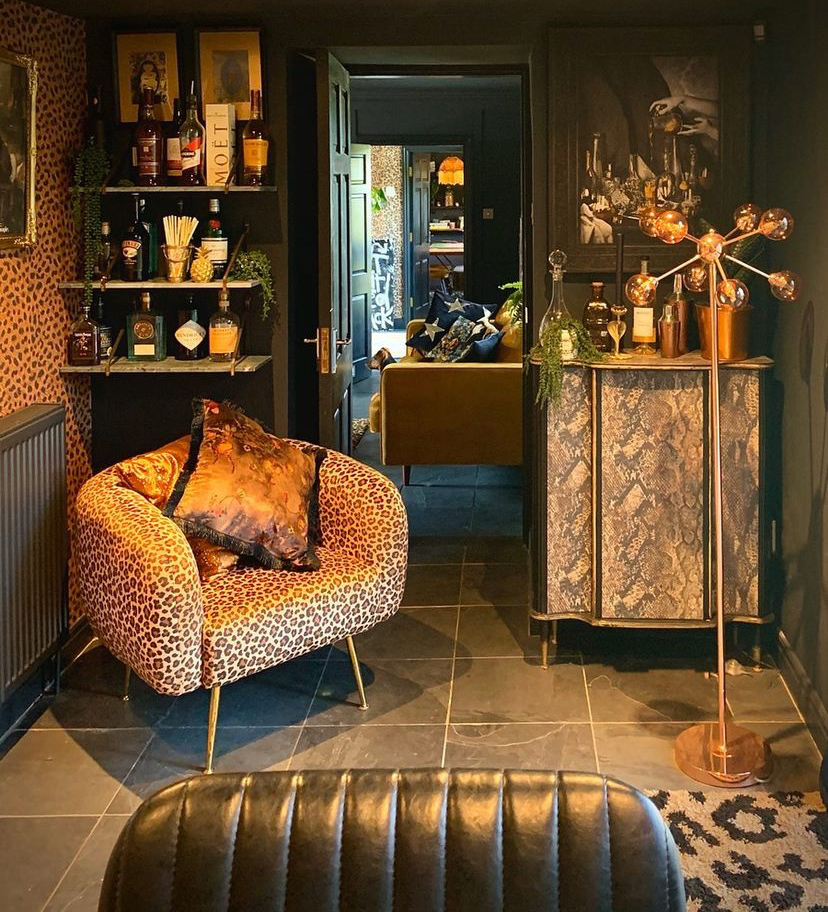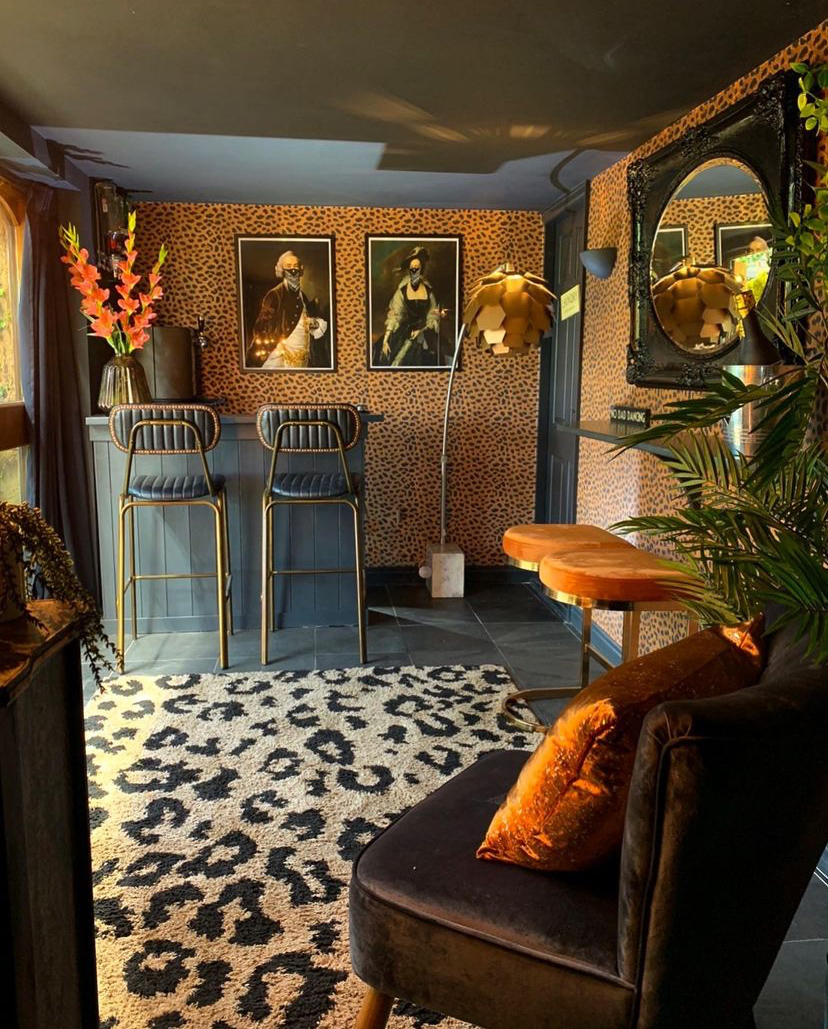 Image credits: @sallydoessassy
Another home bar that reeks of old-world glamour.  With lashings of gold, paired with leopard print walls, chair and even the rug, this is a statement room that speaks of sultry after dark parties.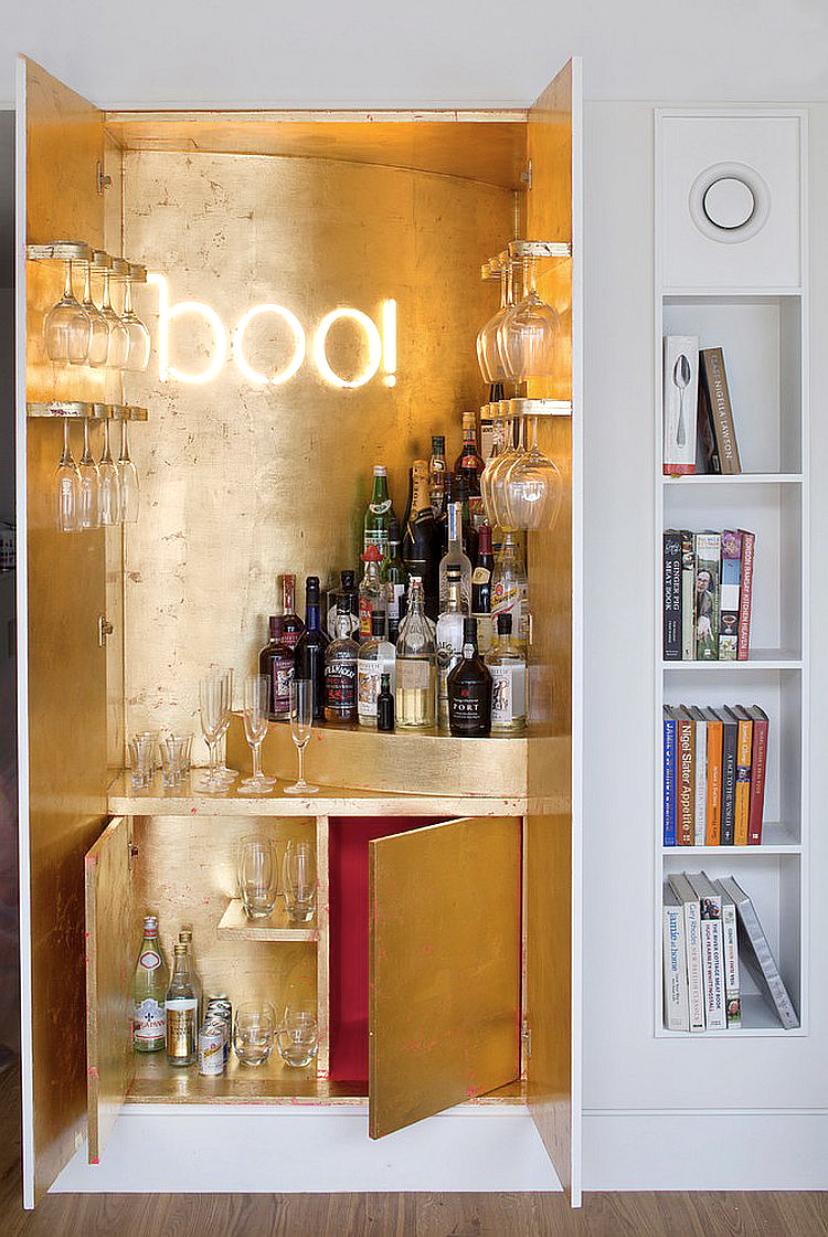 Design credit: Matt Architecture | Photography: Will Pryce
For the minimalist amongst you this is a great idea -a home bar within a cupboard.  What could be more clever?  Tuck it away during the day and then open up to reveal your very own party central.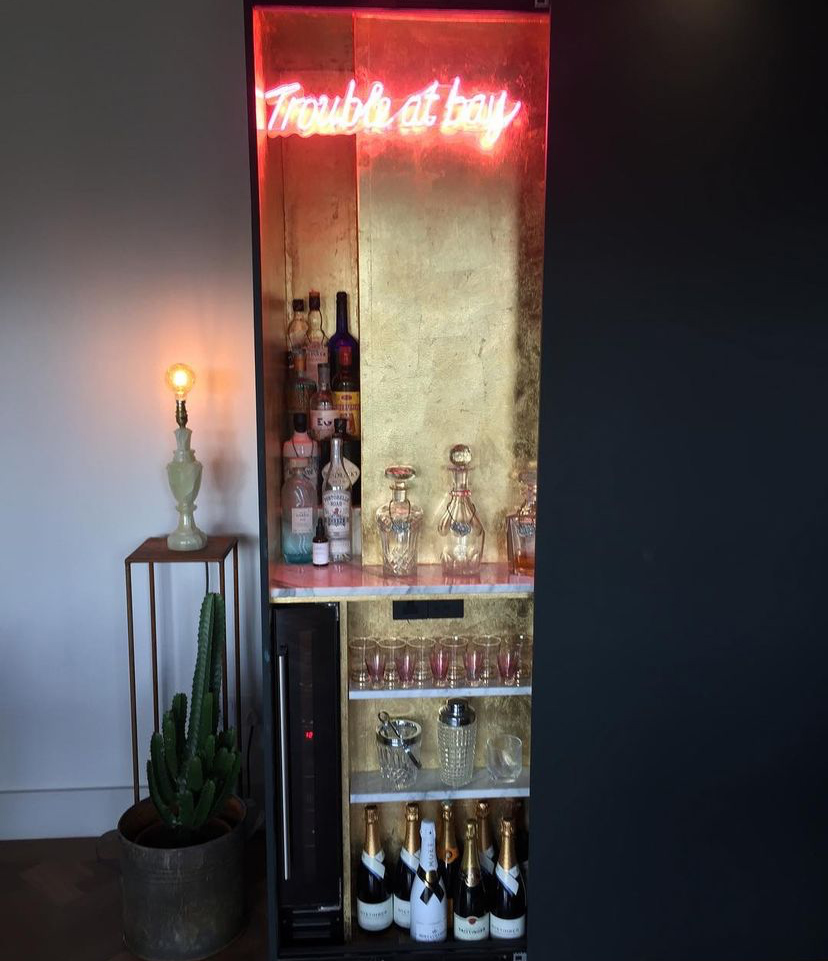 Image credit: @theoldpiggery_
I think this another great idea for bringing some glamour into a small space.  The back is lined with gold leaf to create a shimmering luxurious backdrop to your home bar.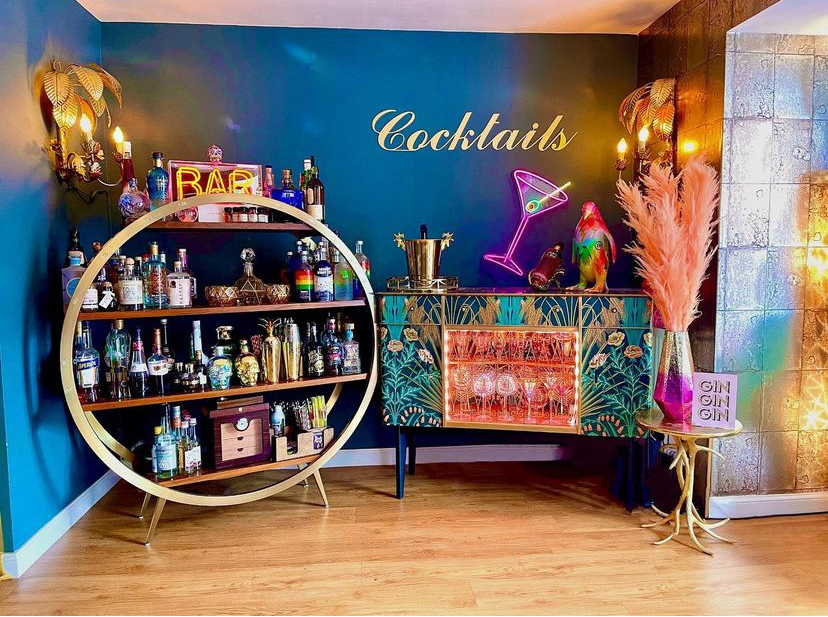 Image credit: @theelectricpenguin
This really is razzle-dazzle home bar!  You could party the night away and never run out of the booze.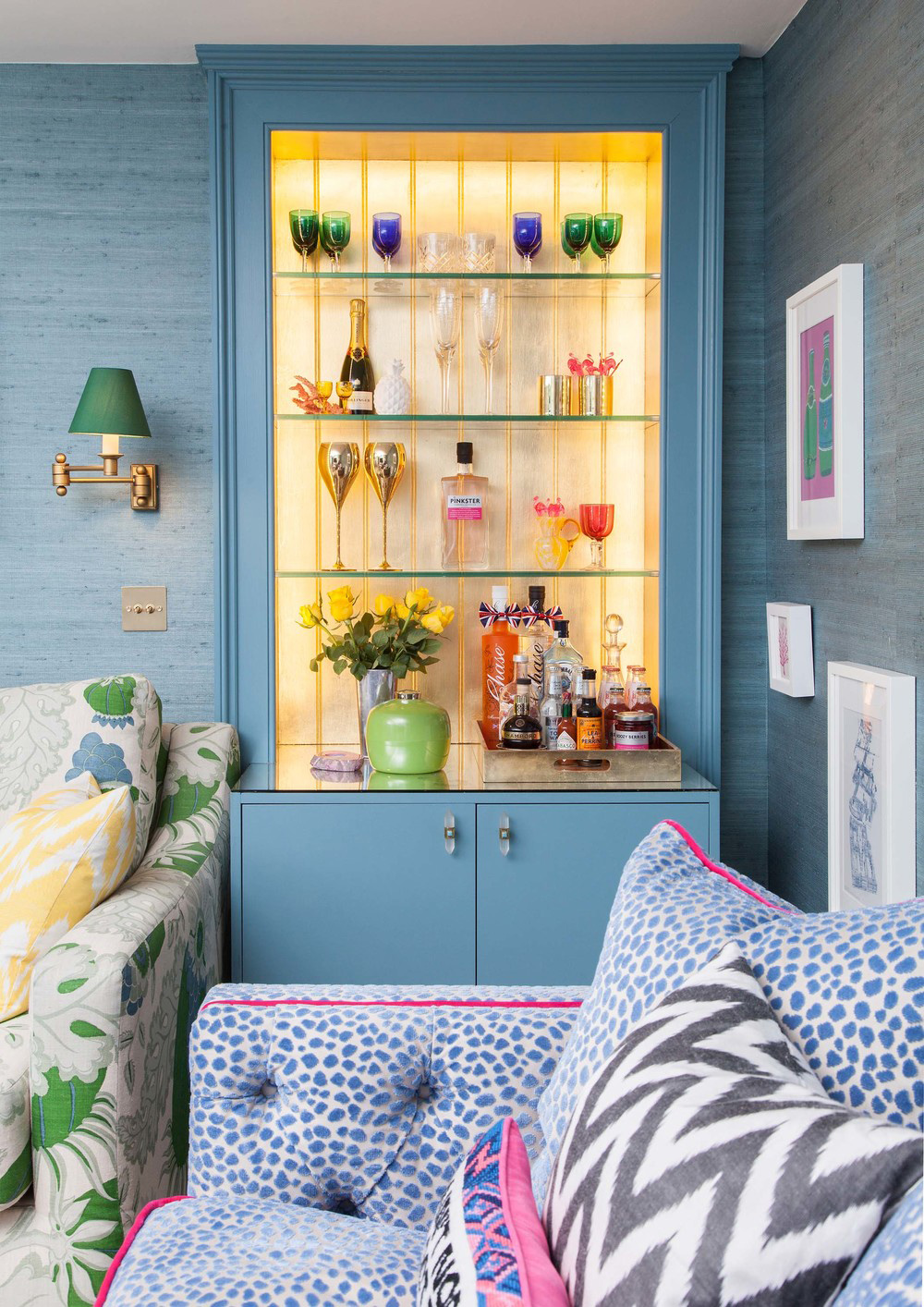 Image credit: The Pink House
For a small-scale home bar this is hard to beat.  So sophisticated with the back lit glass shelving, and stylishly arranged in a cupboard in the corner of the room.  There but not there – just a beautiful display.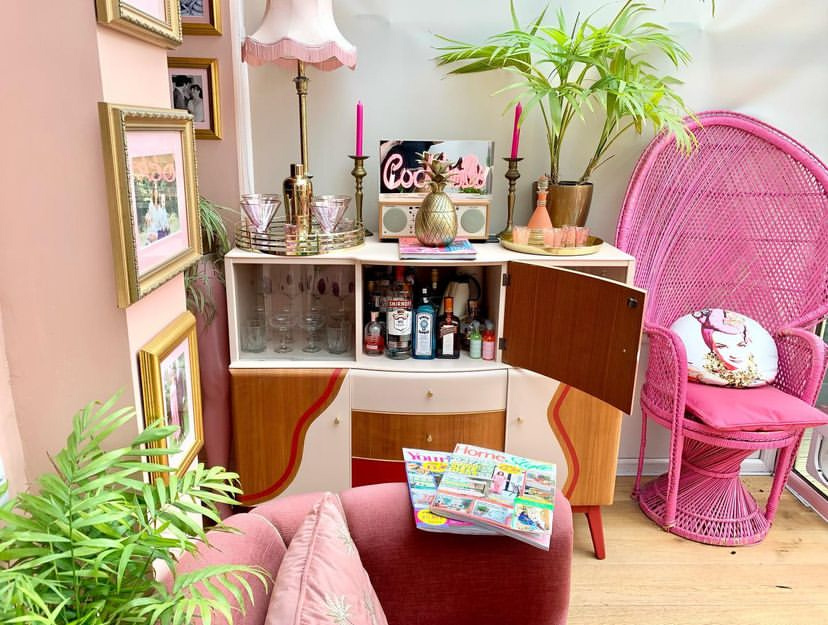 Image credit: @weeny_victorian_house_in_ware | Featuring our Pink Martini Glasses
This is another great idea for a small home bar.  An upcycled old sideboard that has been repurposed and repainted into a stylish drinks cabinet.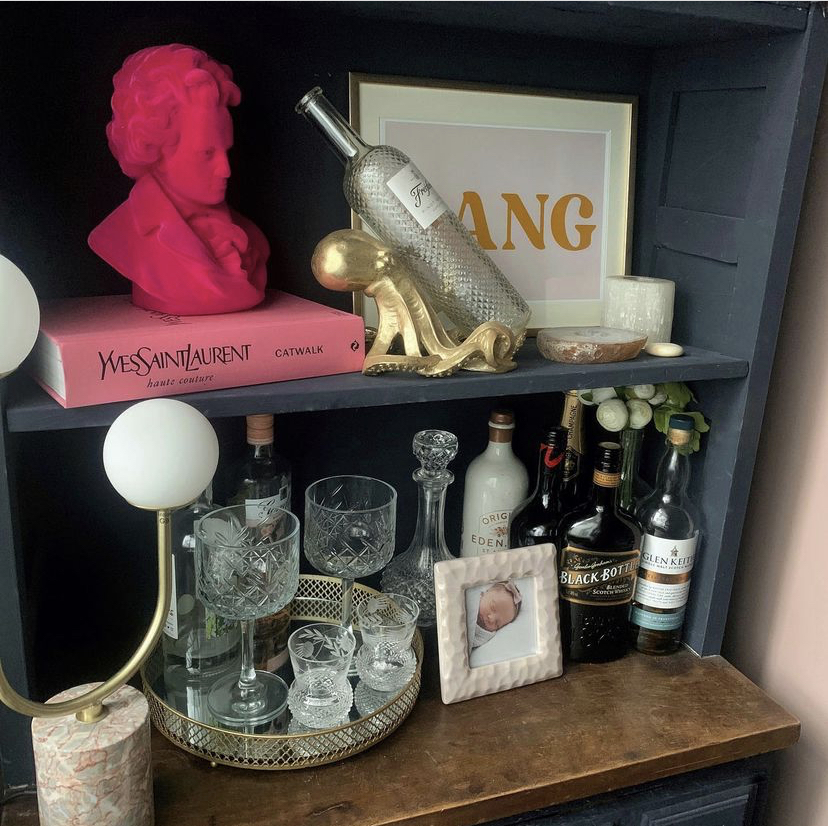 Image credit: @homeontheriverside | Featuring our Octopus Wine Bottle Holder
If you're short on space, an open shelving unit can be a great way to create a home bar feel.  Line up some of your favourite bottles and glasses, add a few quirky accessories and you have a stylish display that doubles up as a home bar.
Image credit: @weeny_victorian_house_in_ware | Featuring our Pink Martini Glasses
Obviously, a garden home bar gives you a whole different scope again. This vibrant outdoor home bar is a dreamy addition to any garden.  A charismatic fun way to celebrate the joy of the outdoors and revel in some sunshine, hopefully.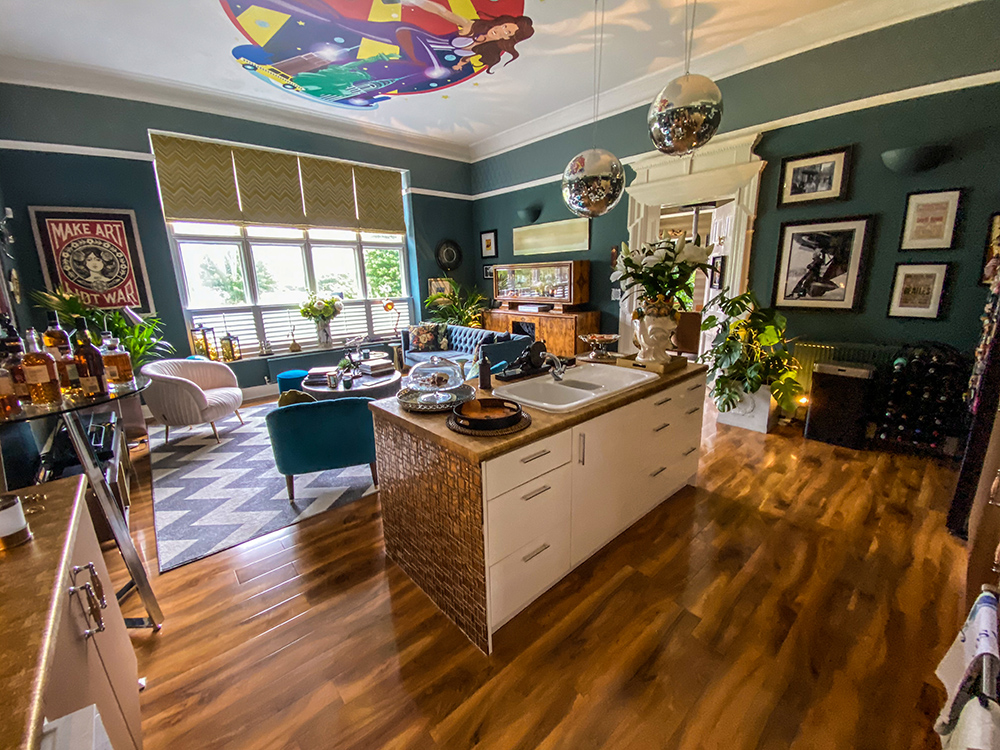 Customer Photo Featuring our Marilyn Blush Velvet Armchair
A customer sent in this photo of her snug.  What an amazing space!  Never mind home bar, more like a trendy restaurant bar, complete with silver disco lights.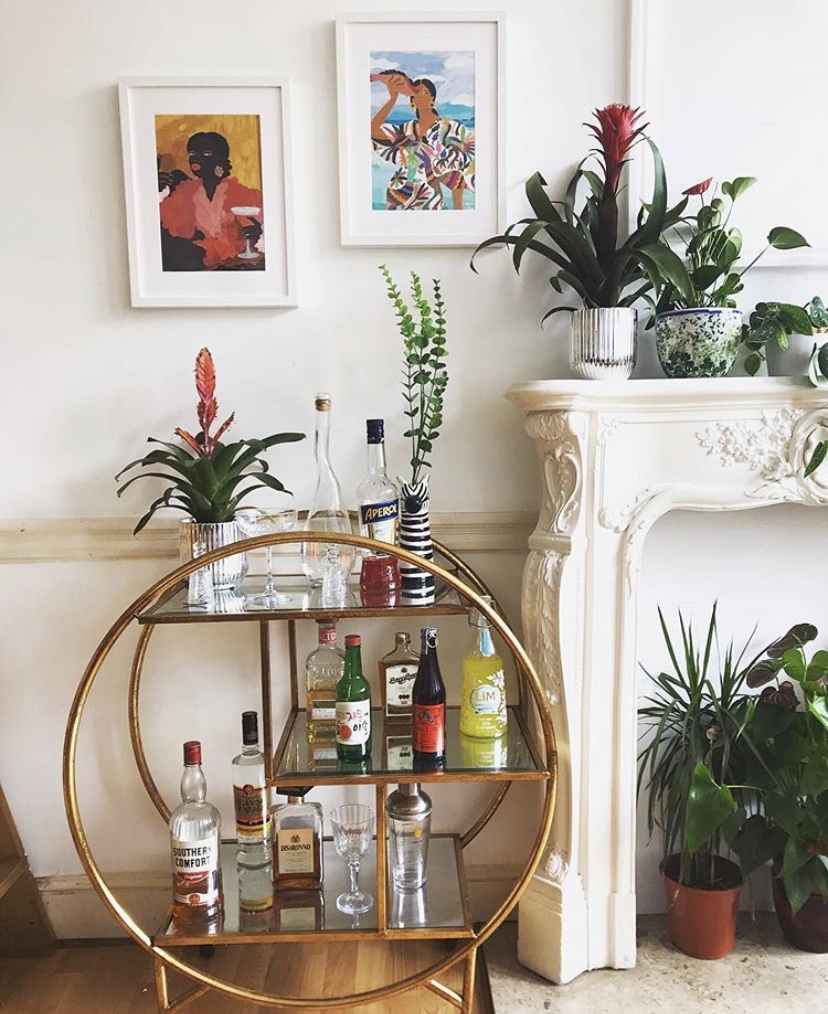 Image credit: @thefoodhun | Featuring our Luxe Round Drinks Trolley & Zebra Vase
A bar cart is a simple way to create some old-world glamour without too much input.  Great for styling, and a moveable liquid feast!
Image credit: @soph.at.home | Featuring our Lips Neon Box Light & Luxe Round Drinks Trolley
If you don't want to go with the whole home bar set up, a neon light adds some fun and creates a focal point to draw you into the scene.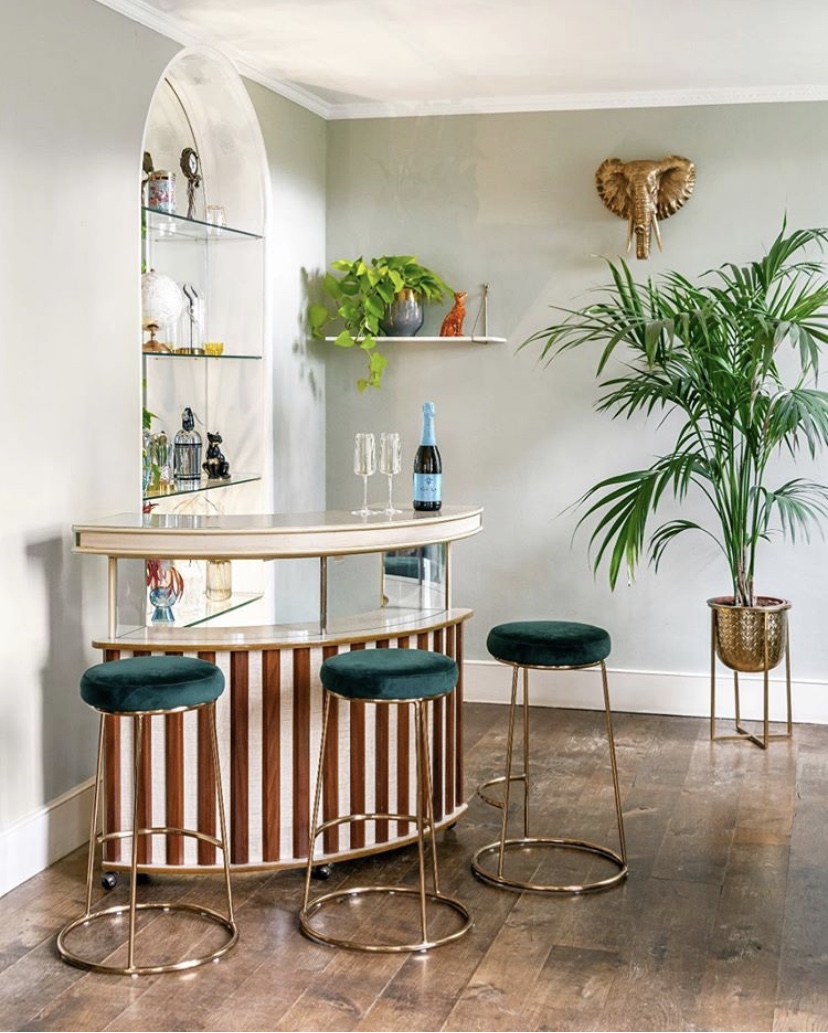 Image credit: @cotswoldmanorhouse | Featuring our Gold Elephant Head & Dripping Gold Concrete Plant Pot
A slick, chic home bar for those of you with the space to create your own relaxing party venue.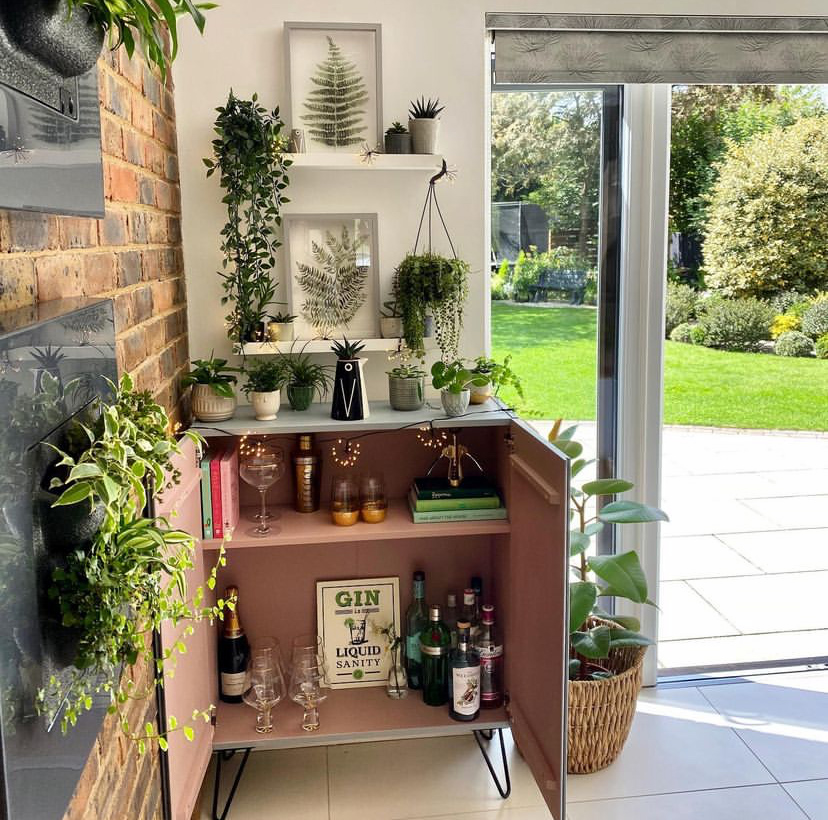 Image credit: @fayes_homestyle | Featuring our Timeless Gold Rim Gin Glasses
This cupboard is a green oasis during the day that opens up into a roomy home bar when the party starts.  Perfect for small spaces.
Shop Home Bar Accessories…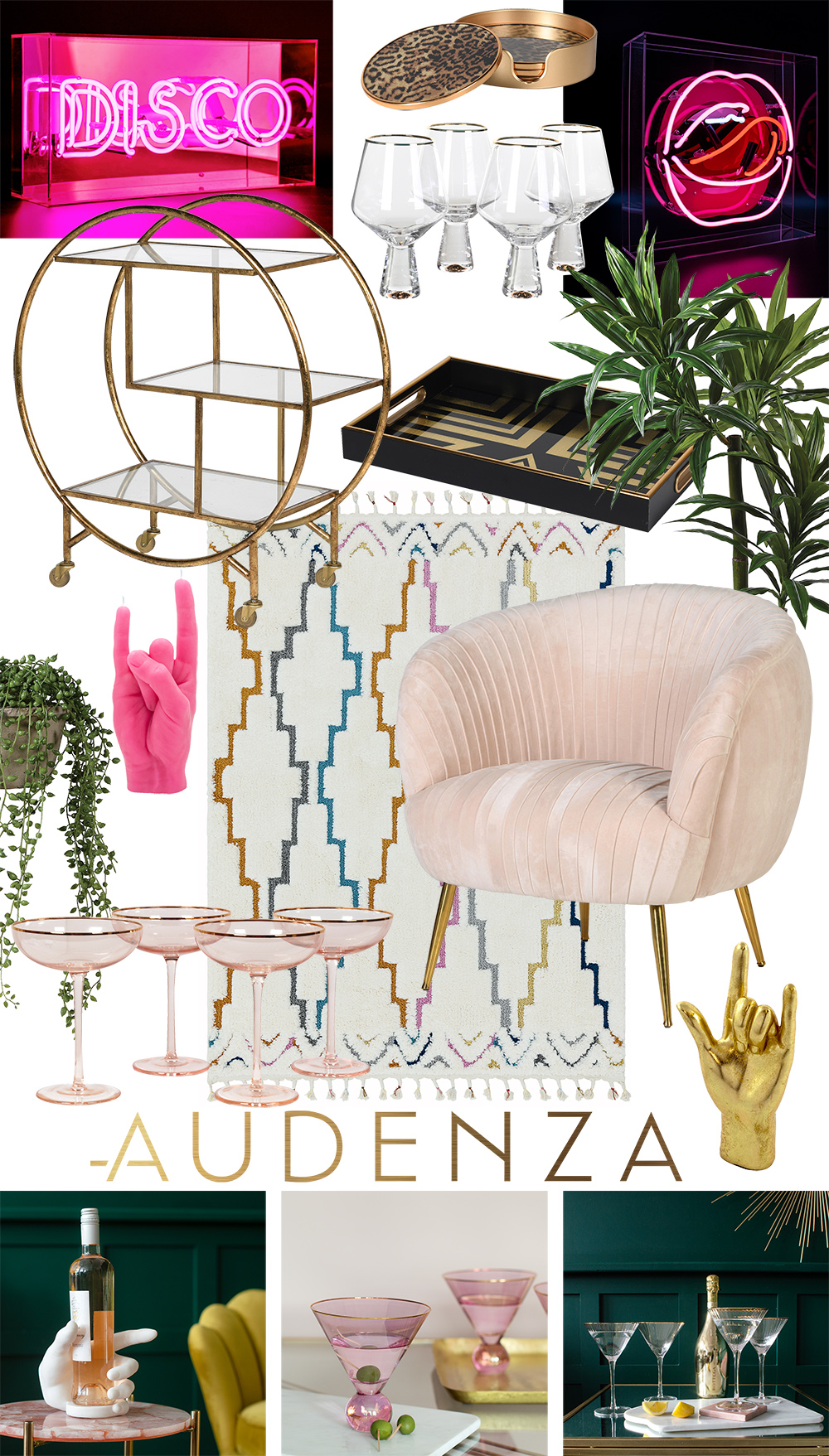 Shop home bar accessories
So, what do you think?  Have we got your creative juices flowing to come up with your own home bar ideas?! From palatial to a small shelf, there is a wealth of choice here, and they all have one thing in common, they are all fabulous.  Celebrate the joy of friends and family with your own home bar – it doesn't even have to be alcoholic!
Leave a comment
Your comments make us happy!
Blog Etiquette
Please note that all content, including text and images are copyright of Audenza, unless otherwise stated.

If you would like to use content from our site, then we're very flattered to hear that, but please note its origins on your site or blog, provide a link back to us and kindly let us know where you have used our content.

Thanks!