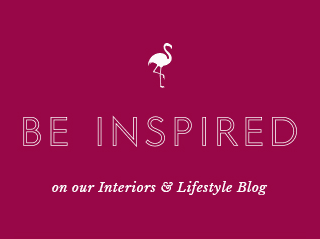 House Tour: A Crazy and Colourful Pop Art Inspired Rental in Sheffield
28 Jun 2019
Crazy, colourful, and totally inspiring sums up our house tour this week. Rachael's vibrant home is a wonderland of striking colour combinations and fun décor. So much so it may not be to everybody's taste, but we Audenza ladies think it's fab. And it embodies what we always say 'decorate for you and nobody else'. So, sit back, relax, and enjoy the zany picture show of this quirky, pop art inspired home.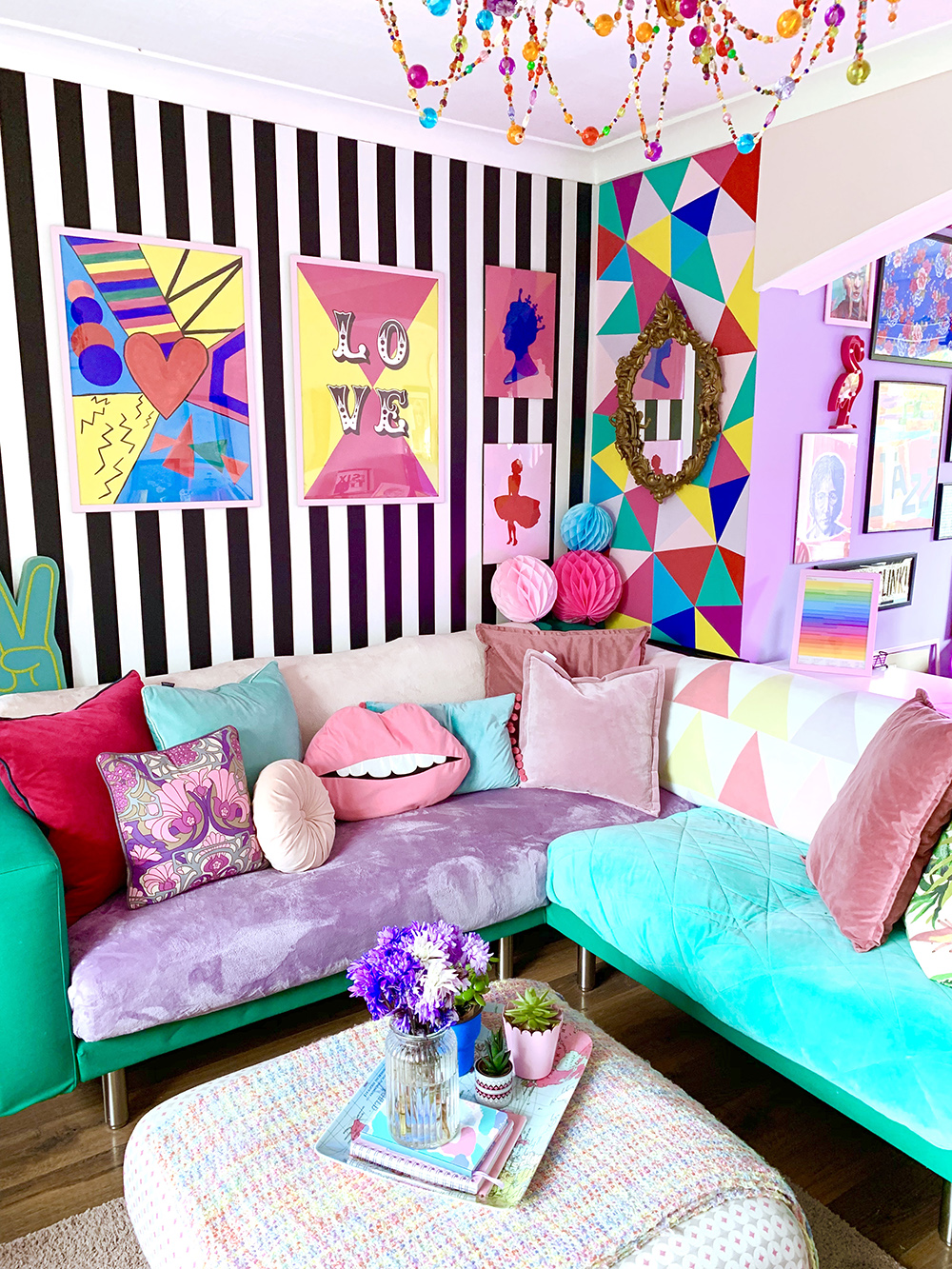 Tell us a little bit about yourself?
My name is Rachael. I'm a mother to two beautiful girls, Gabriella – 8, and Florence – 4. We live together in a semi-detached, rented house in Sheffield, England. Most of my friends and family will call me crazy – but all the best people are right?
How would you sum up your style?
Colourful, eclectic, the opposite of minimal and totally individual to my personal tastes.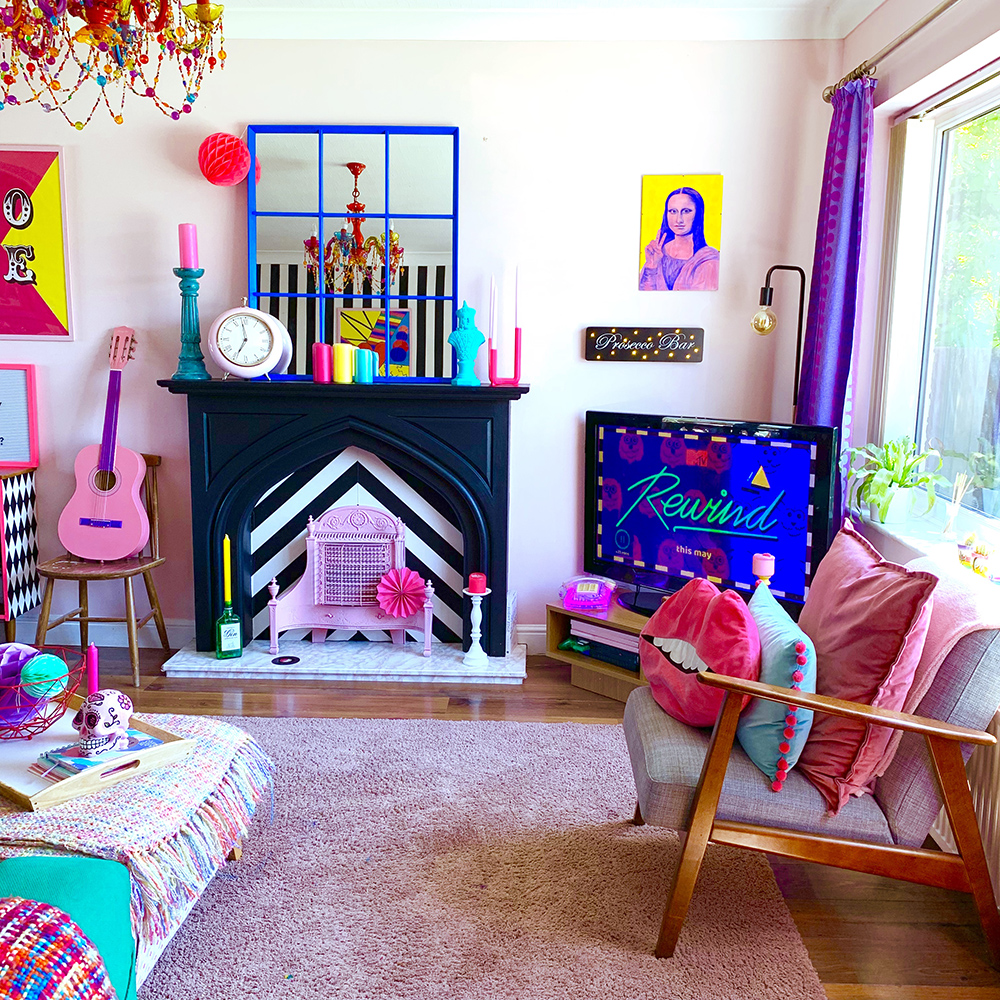 What sort of condition did you buy the house in? Have you done much structural work to it, or has it been mainly decorative changes?
I don't own my house unfortunately, but my landlord lets me have free reign thank goodness. If I did though, I can guarantee I'd have knocked down lots of walls, adding and extending rooms etc. But because I don't, the work I have done is only superficial, but I bet you I have spent years of my life painting over these walls. It was a pretty beige, blank canvas when I moved in – and now it's the opposite.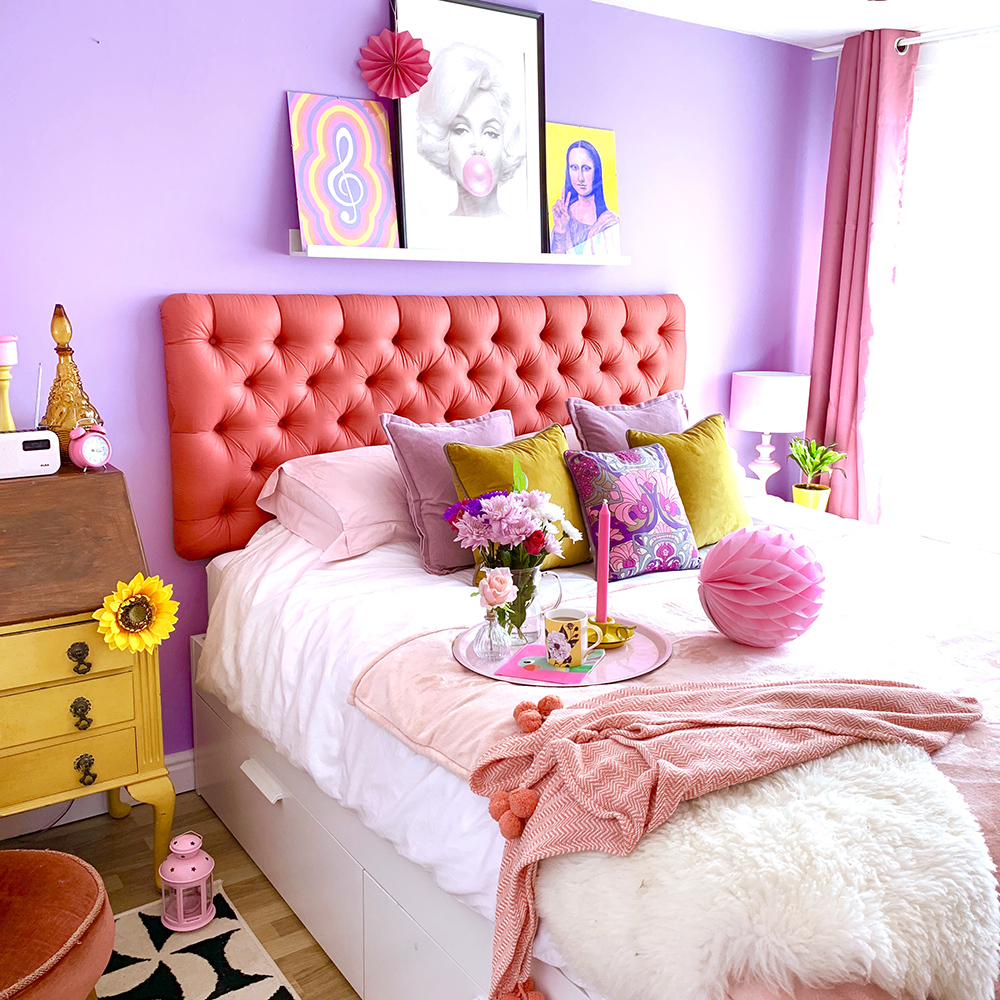 You manage to use lots of different colours within one room, whilst still making it look considered and edited. What's your top tip for pulling this off?
Although I'm far too impulsive to do proper design plans, I do seem to have a bit of an instinct when it comes to knowing what colours will and won't go well together. I usually get an urge to use one colour, and then I'll try to put contrasting, but complimentary colours together – either in my head or by producing little colour collages on my phone. Then I take it from there. I try to do things that I've not seen done often before because I like to go against the grain of what the 'norm' is – whatever that is. I usually use a pastel colour or two as a bit of a base on walls etc and then I add in the brighter colour pops in the details and accessories.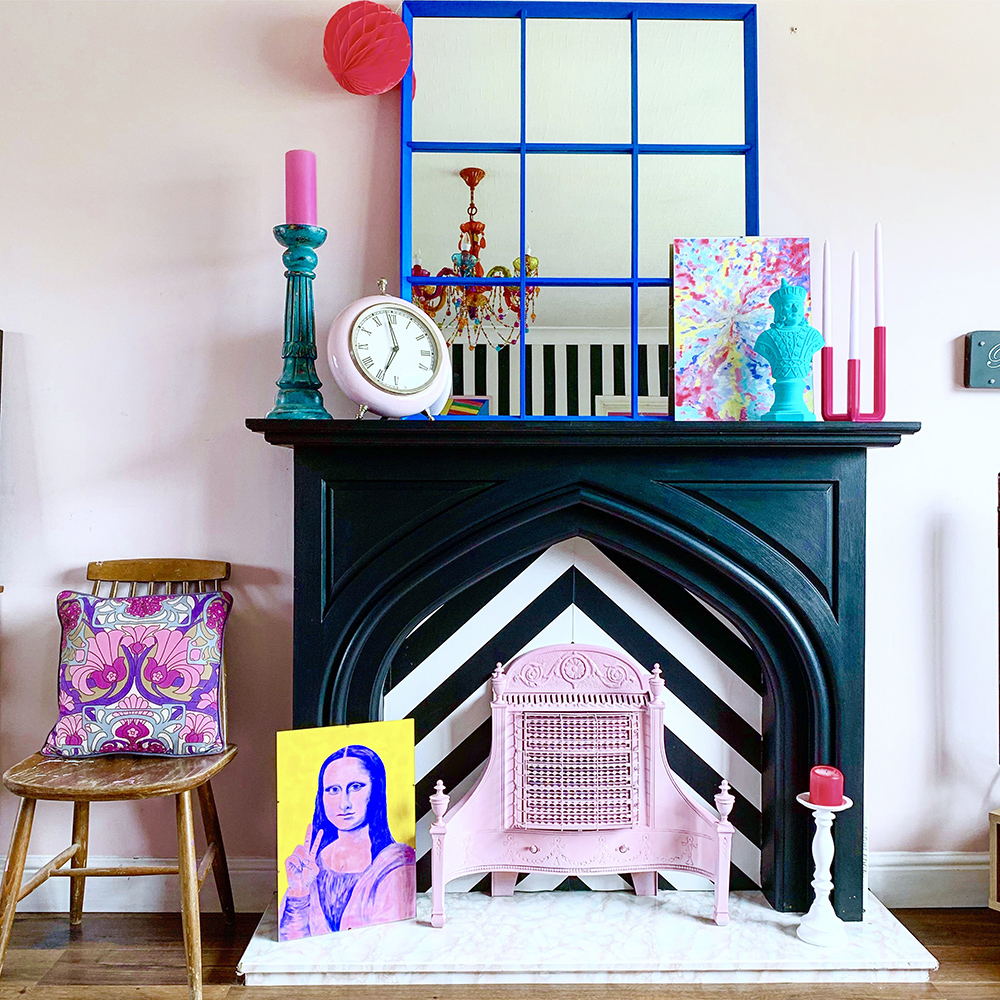 Where do you start when you're pulling a new room scheme together? 
I usually feel inspired by something I've seen, whether it's on tv, whilst I'm out and about or whatever else, then I begin to visualise what I want to do. My first thought is always choice of colour and my first port of call is to find and purchase the paint, and then the practical side of the design comes in after that – backwards right? But it works for me. I definitely wing it until I'm satisfied with a design and sometimes, if I'm not happy with how it's coming together, I will press pause whilst I re-evaluate and then potentially change the design until I'm happy.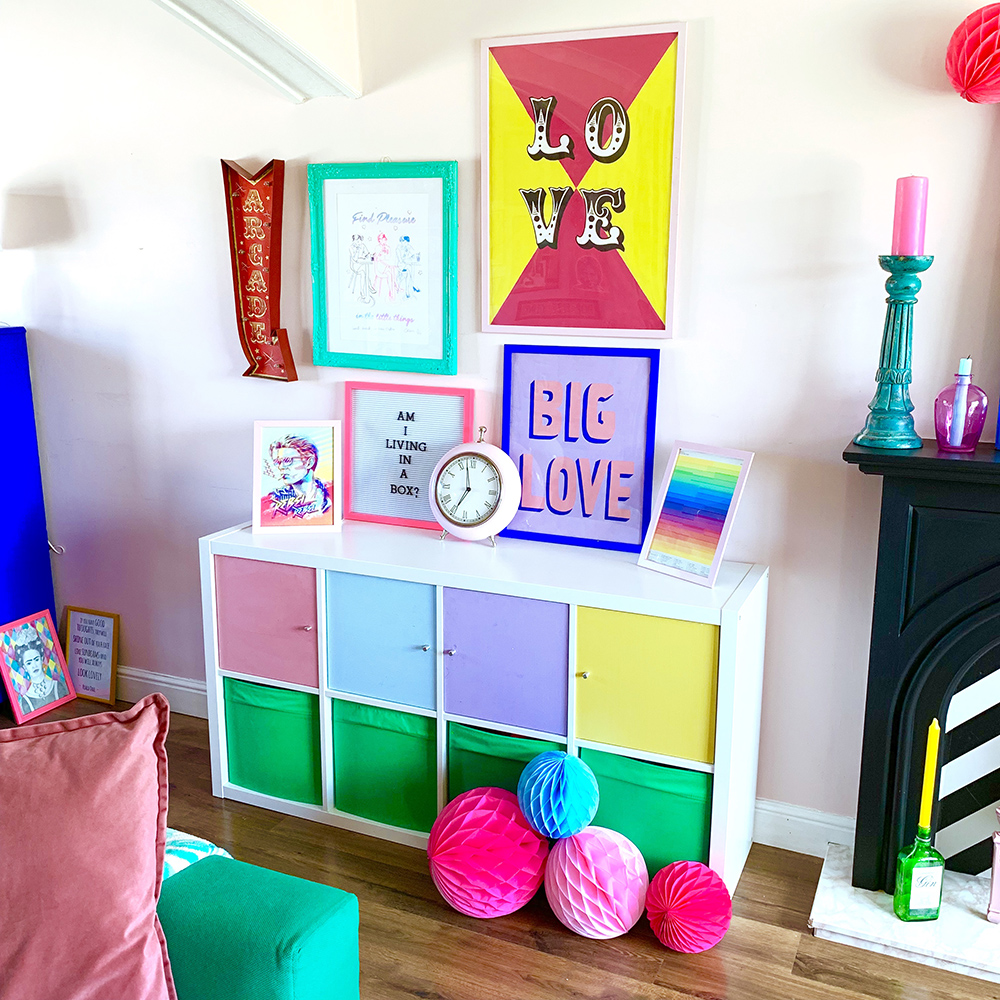 Have you made any decorating mistakes over the years which others could learn from?
Definitely! Because I'm so laid back, I've made decisions on paint colours before I've really committed to them, and before I know it, I've had a whole room painted in a colour I dislike. These days, I never use a colour unless I am absolutely in love with it! Also, forget trends – I've tried to follow what others are doing before and I've ended up with a colour scheme that doesn't make me happy at all.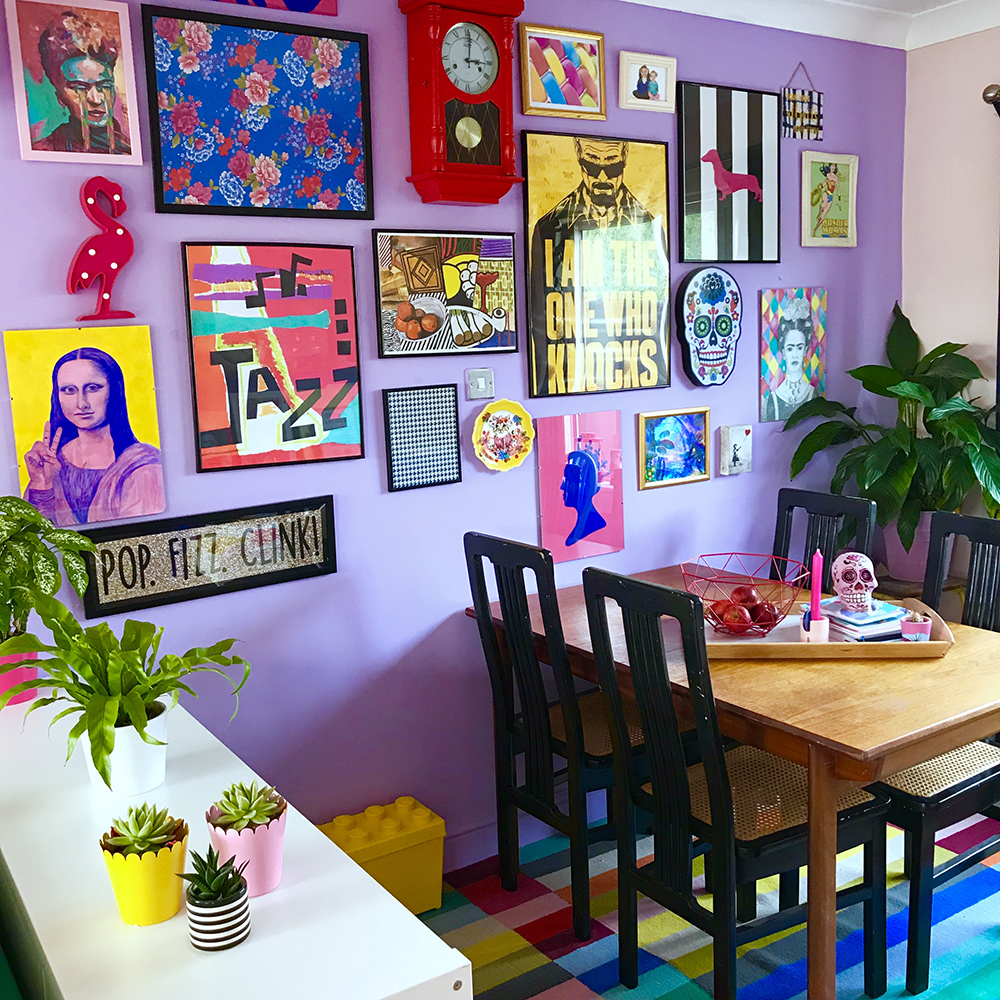 You totally nail gallery walls – what are your top tips for creating these?
I try to use a variety of different sized frames on my walls – both portrait and landscape and I also collect smaller things to fill gaps such as plates or lights. I always get the frames up first and then I work on filling them. And I tend to start from the middle and work outwards – sometimes having to buy some extra bits to fill the wall up. And if I'm using a variety of colours, I try to spread them evenly throughout the pieces.

What do you think the secret to fabulous interior style is?
Be you and totally own your personal style! Fabulous to me may not be somebody else's fabulous. Your home is the place you wake up, you go to sleep and do everything in between. It has to be personal to you and be an expression of who you are. As long as it makes your own heart sing – then to me, that's fabulous! For me, that's colour and lots of it because colour always has and always will lift my spirits on a rainy day.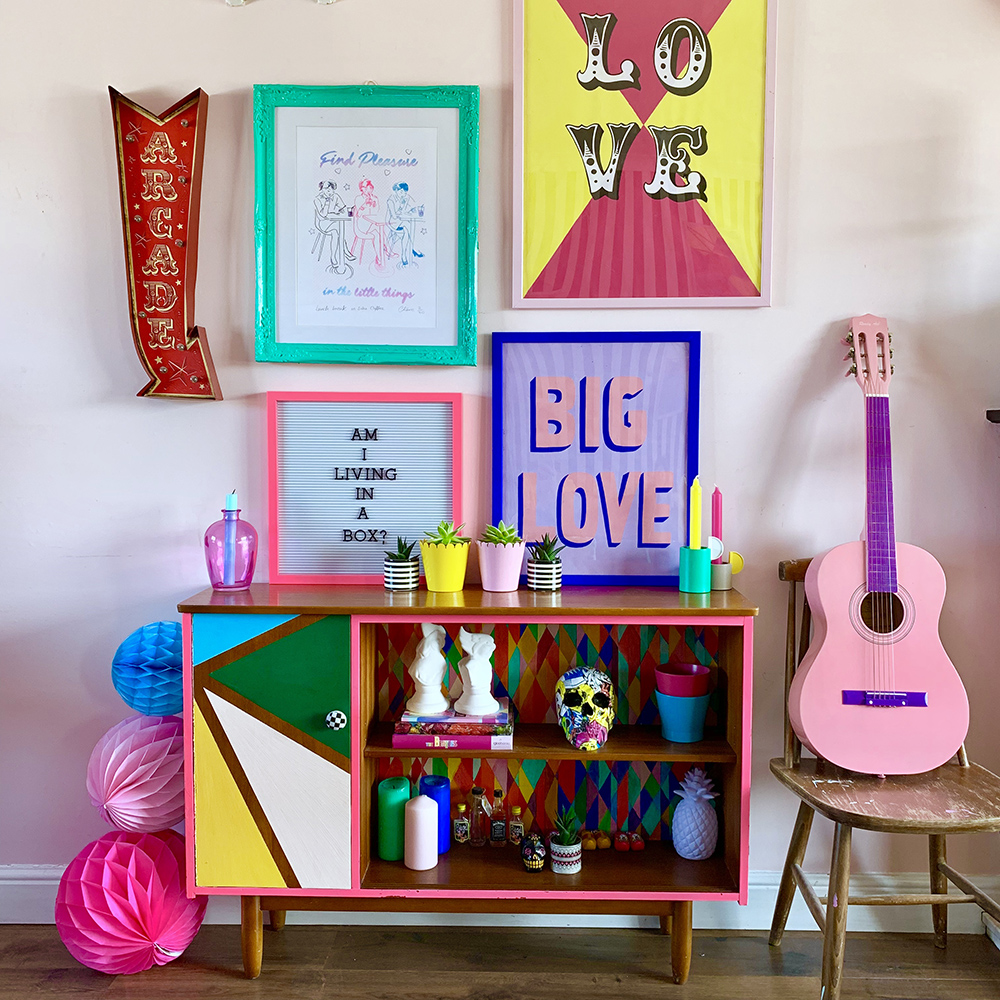 What's your favourite piece in your home?
It has to be the mid-century sideboard I upcycled. It took me weeks of hand painting as well as waiting for paint to dry and it was the first time I really allowed myself to let my ideas spill out onto a piece of furniture. My heart and soul went into that piece and I'm not sure I could ever part with it.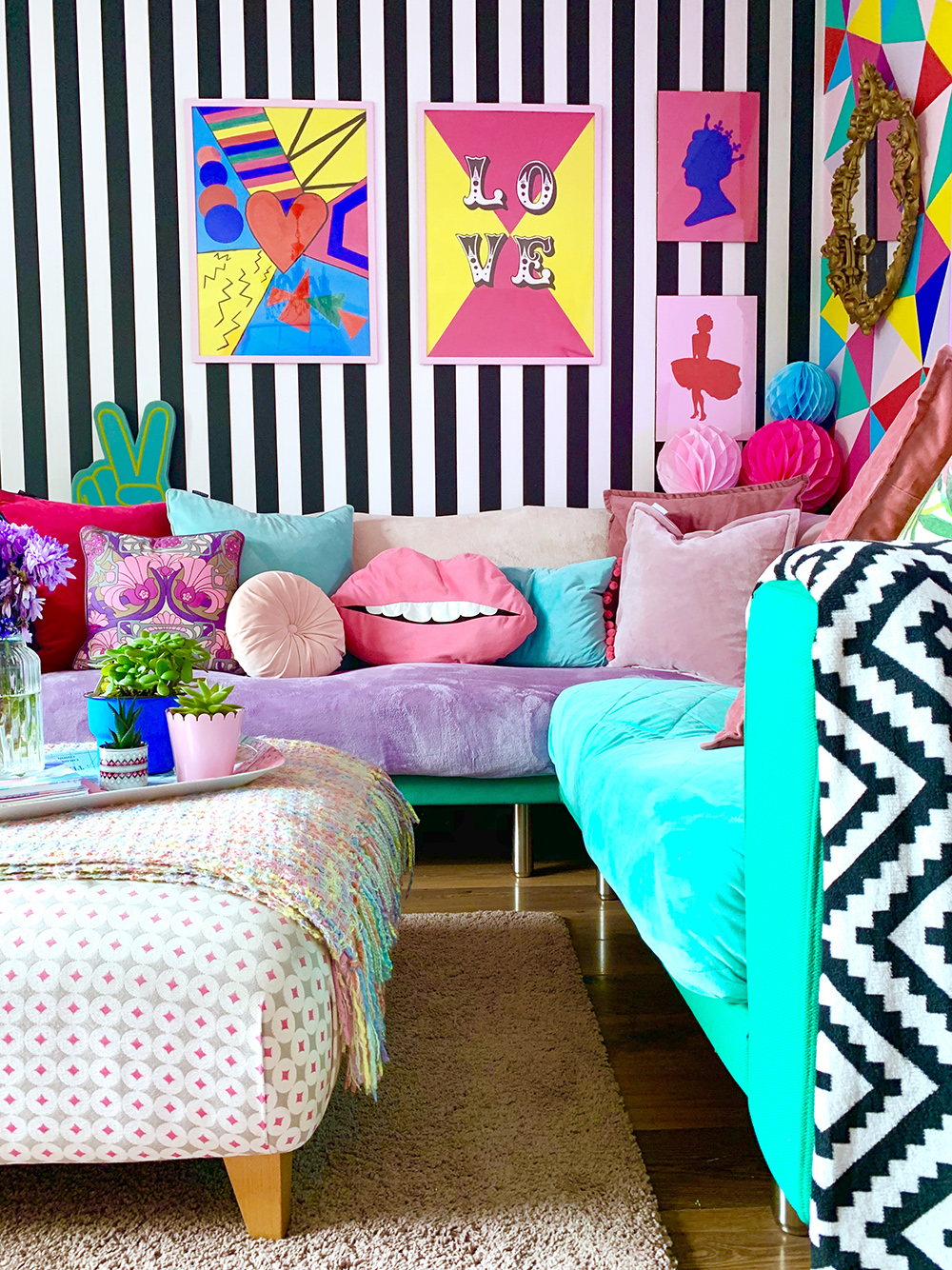 Rachael's home is wonderful, witty and exuberant, and I just love Rachael's gallery walls, it's something I find really difficult. I think you have to be brave and just go for it and hope it falls into place, which about sums up Rachael's style ethos. Do what you love and sod everybody else because, after all, it's your home and where you want to feel happy and relaxed! I think it should be called the pop art inspired house, what do you think? You can follow Rachael on Instagram @rachaelhavenhanddesign and shop her prints on Etsy.
Image credit: Rachael @rachaelhavenhanddesign
Leave a comment
Your comments make us happy!
Blog Etiquette
Please note that all content, including text and images are copyright of Audenza, unless otherwise stated.

If you would like to use content from our site, then we're very flattered to hear that, but please note its origins on your site or blog, provide a link back to us and kindly let us know where you have used our content.

Thanks!