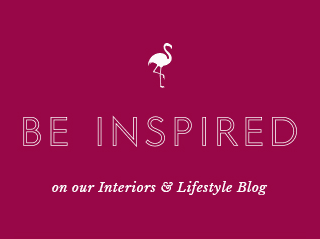 House Tour: A Fabulously Unique Home with a Retro Vibe for Lovers of Colourful Interiors
19 Feb 2021
Welcome to the home of Rich, a self-confessed colour queen from Birmingham who loves colourful interiors, and has created a joyful and radiant home, all done with the technique of colour blocking.  Rich is an interior stylist and content creator and his love of colour makes his home zing with vitality.  Even the ceiling is a work of art!  Gone are the days of slapping the same colour of paint on all 4 walls – this is the way to go if you want to create a unique home full of personality.  So prepared to be inspired!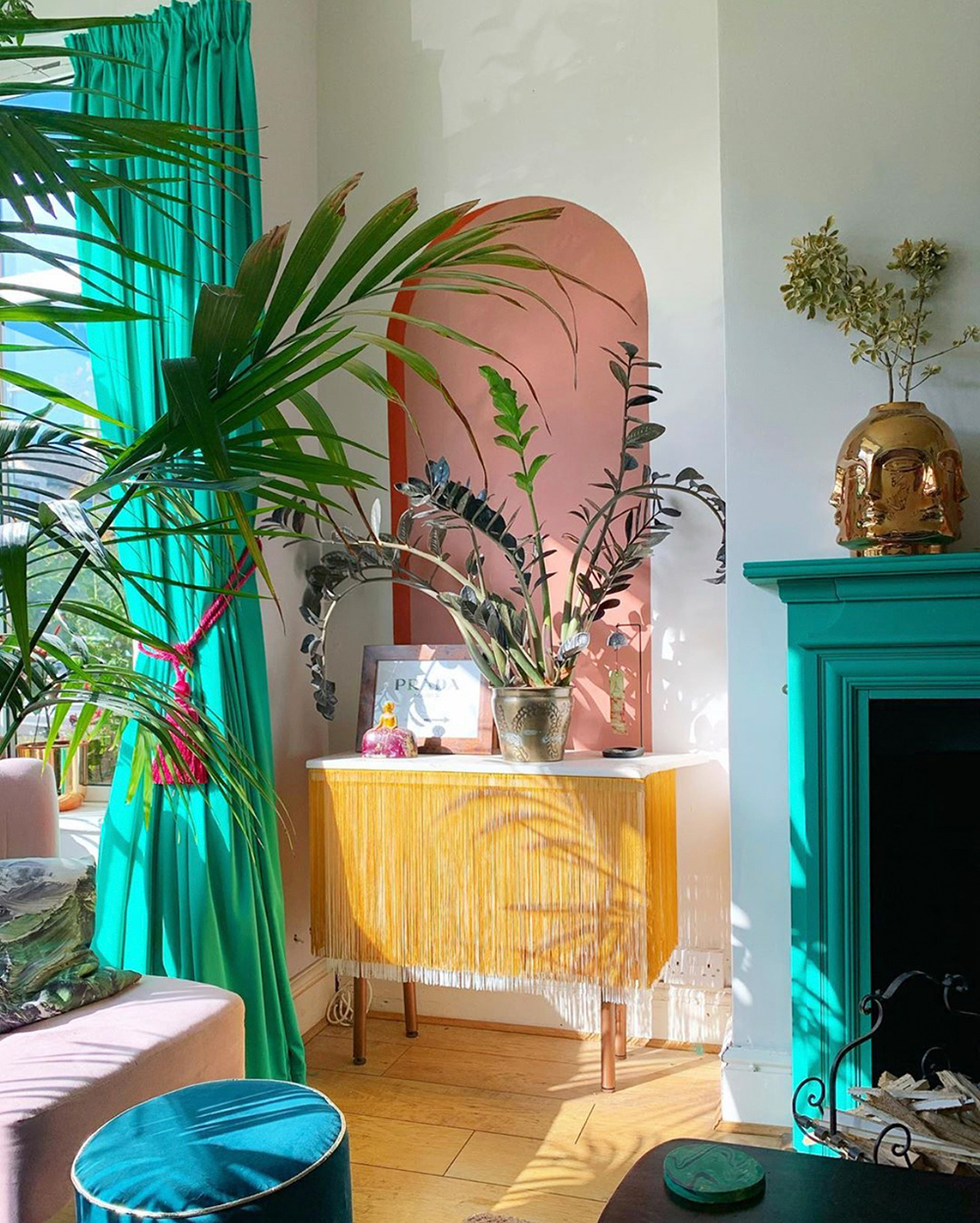 How would you sum up your style?
I find this so tricky; people often describe my style as 'colour blocking' but something about that doesn't feel right to me, I'd say it's more a retro futuristic colour crazy casa! … So I guess colour blocking is the more succinct answer! 😂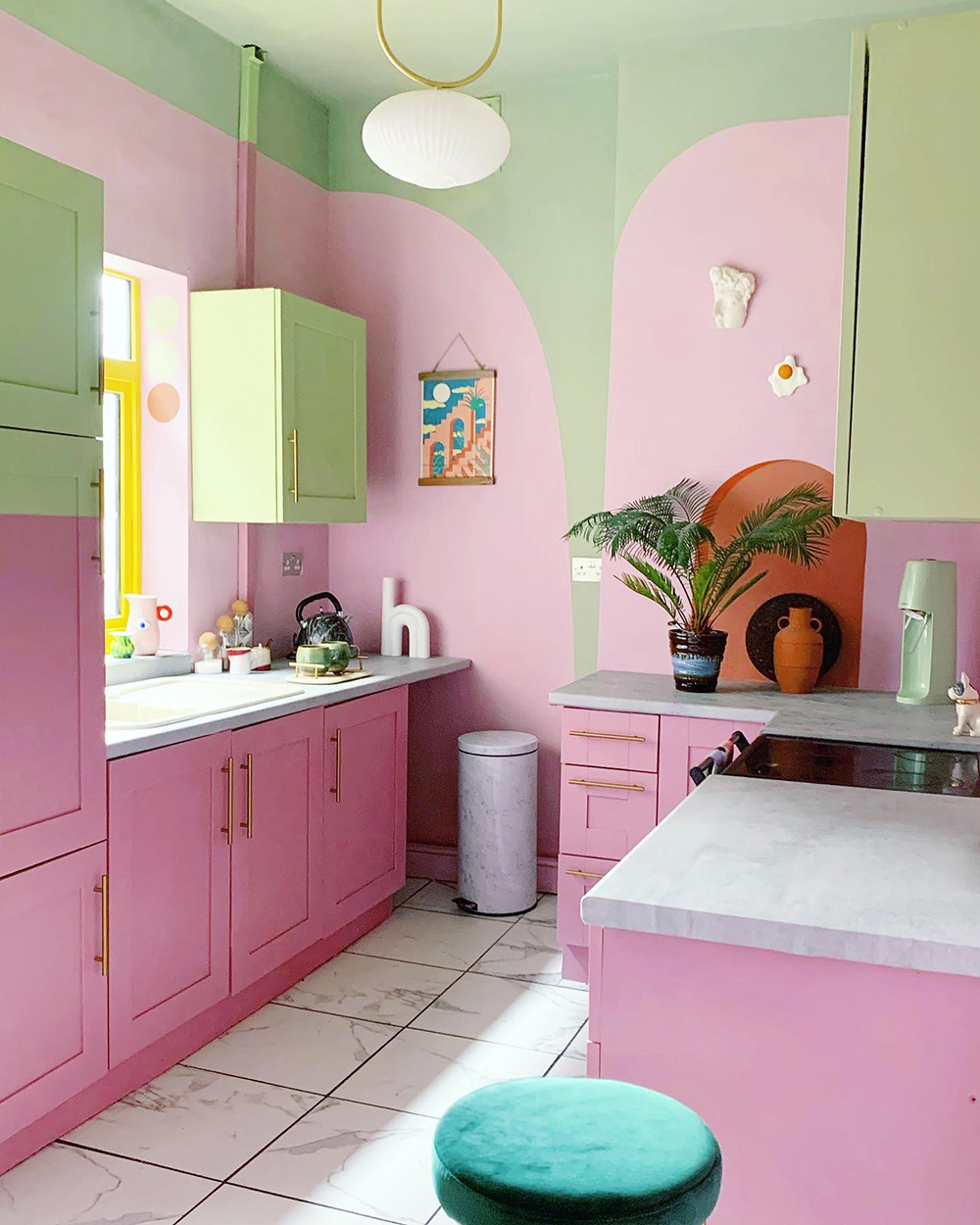 What sort of condition did you buy the house in?
The house was in great condition when I moved in, aside from a lumpy lino in the kitchen, the majority of the work was cosmetic – for now! I have grand structural plans but that's far off in the future!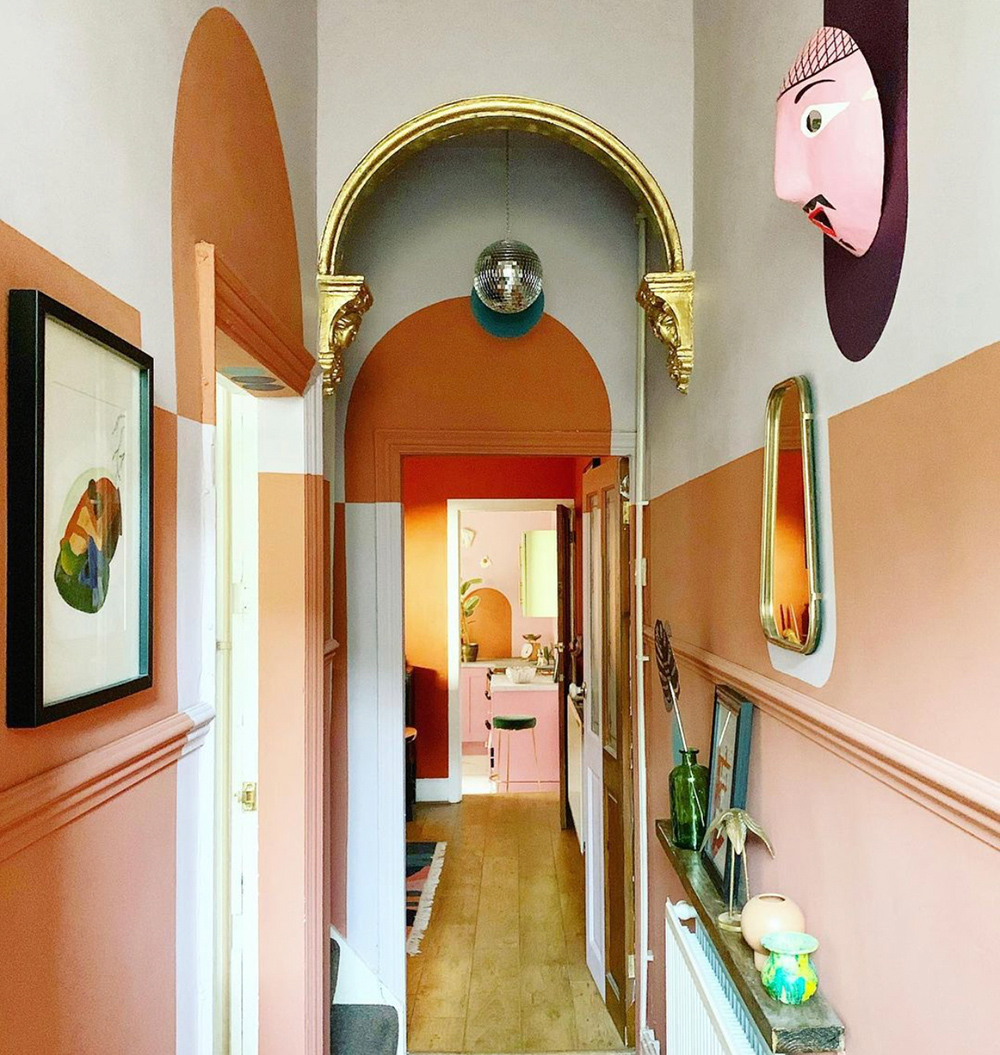 Decorating is very much a learning curve – can you tell us about a decorating mistake that you've made over the years which others could learn from?
I'm only a year in, so I'm still in the early phases of the learning curve, but the best advice I can give is to trust your gut; when you listen to/follow others too much or hesitate half way through, it can dilute your idea and you can end up wishing you'd gone full tilt, so always go full tilt!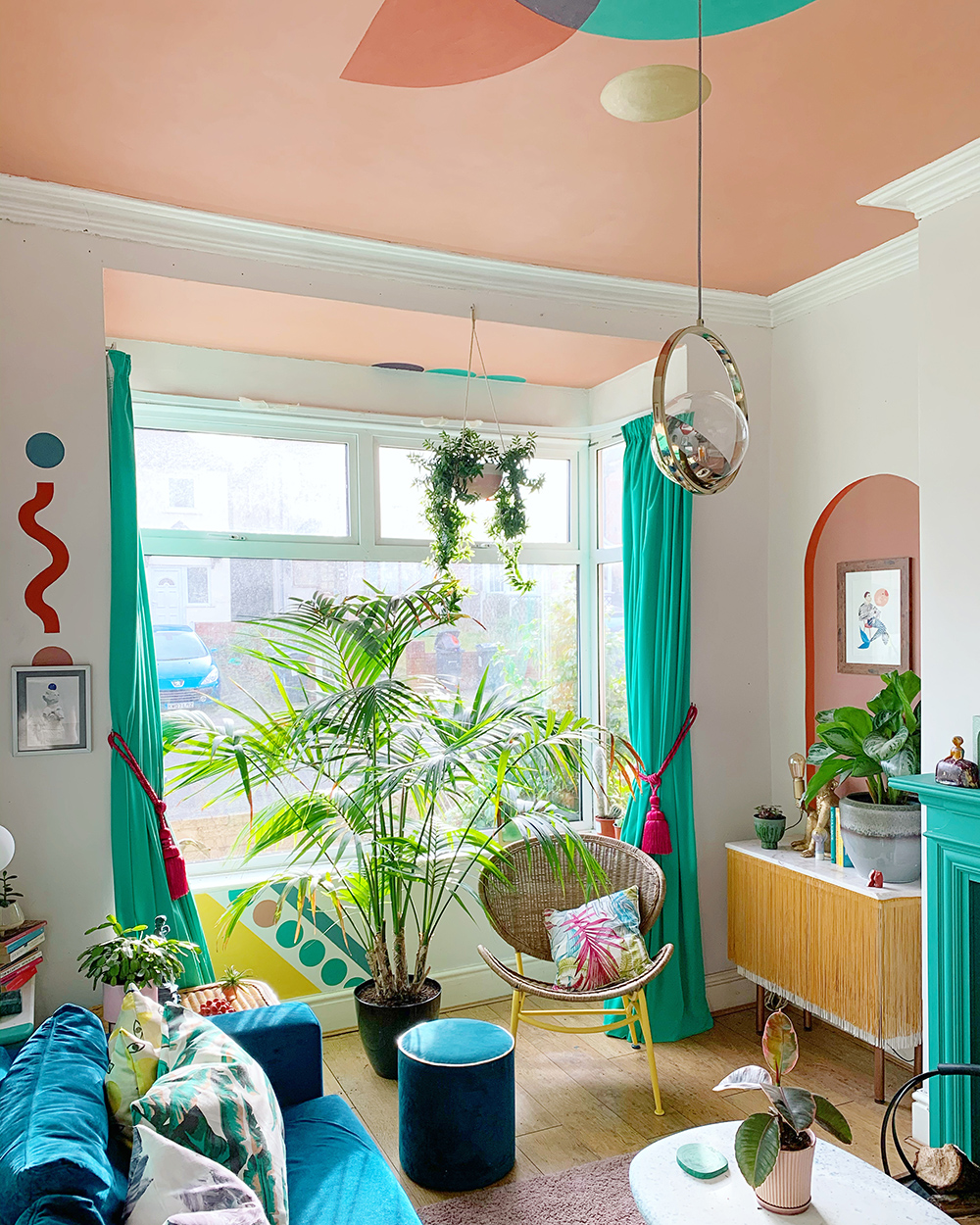 You manage to use lots of different colours within one room, whilst still making it look considered and edited. What's your top tip for pulling this off?
My biggest tip for this is to always consider the balance in the room; if you use a bold colour on one side, make sure to add elements of it across the room so it feels cohesive, taking the time to stand back and consider the colour combinations too (lots of standing back, artistically pondering 👨🏻‍🎨).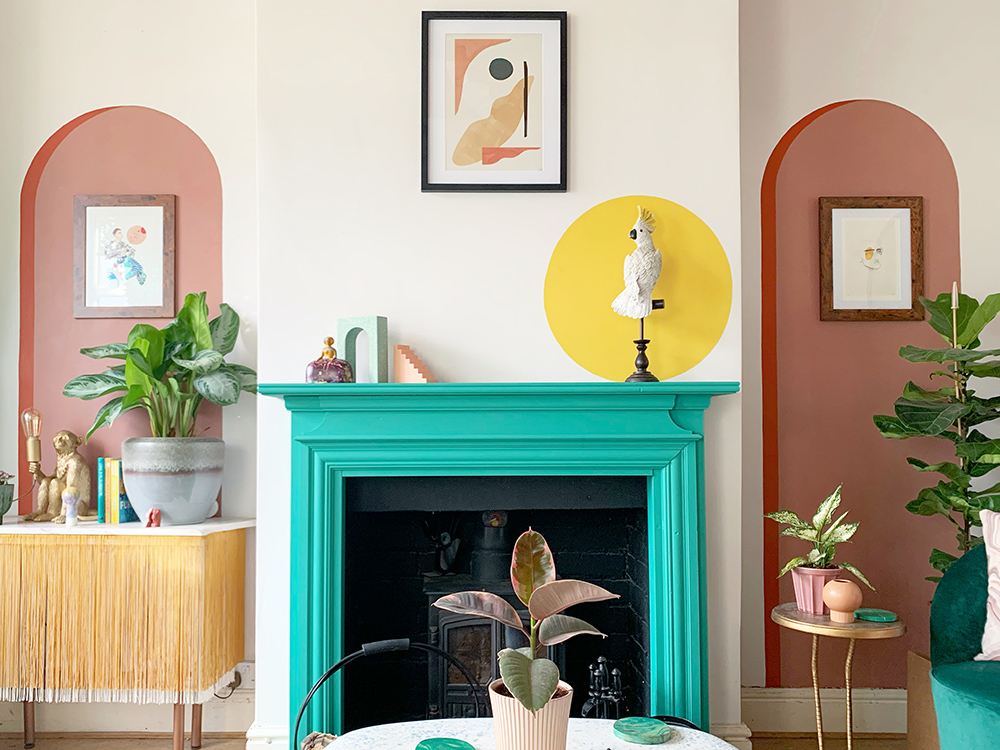 You're a paint effect extraordinaire! What are your secrets for executing these without making a mess?!
Oh I ALWAYS make a mess, it's just the side you don't see! Don't be afraid to get down and dirty, I guarantee Picasso didn't paint Guernica without ruining the floor in the process 😂. I tend to just set aside a day of cleaning up – a bottle of white spirit is my dearest friend – and a day of touching up gaps and slips on shapes will see you right!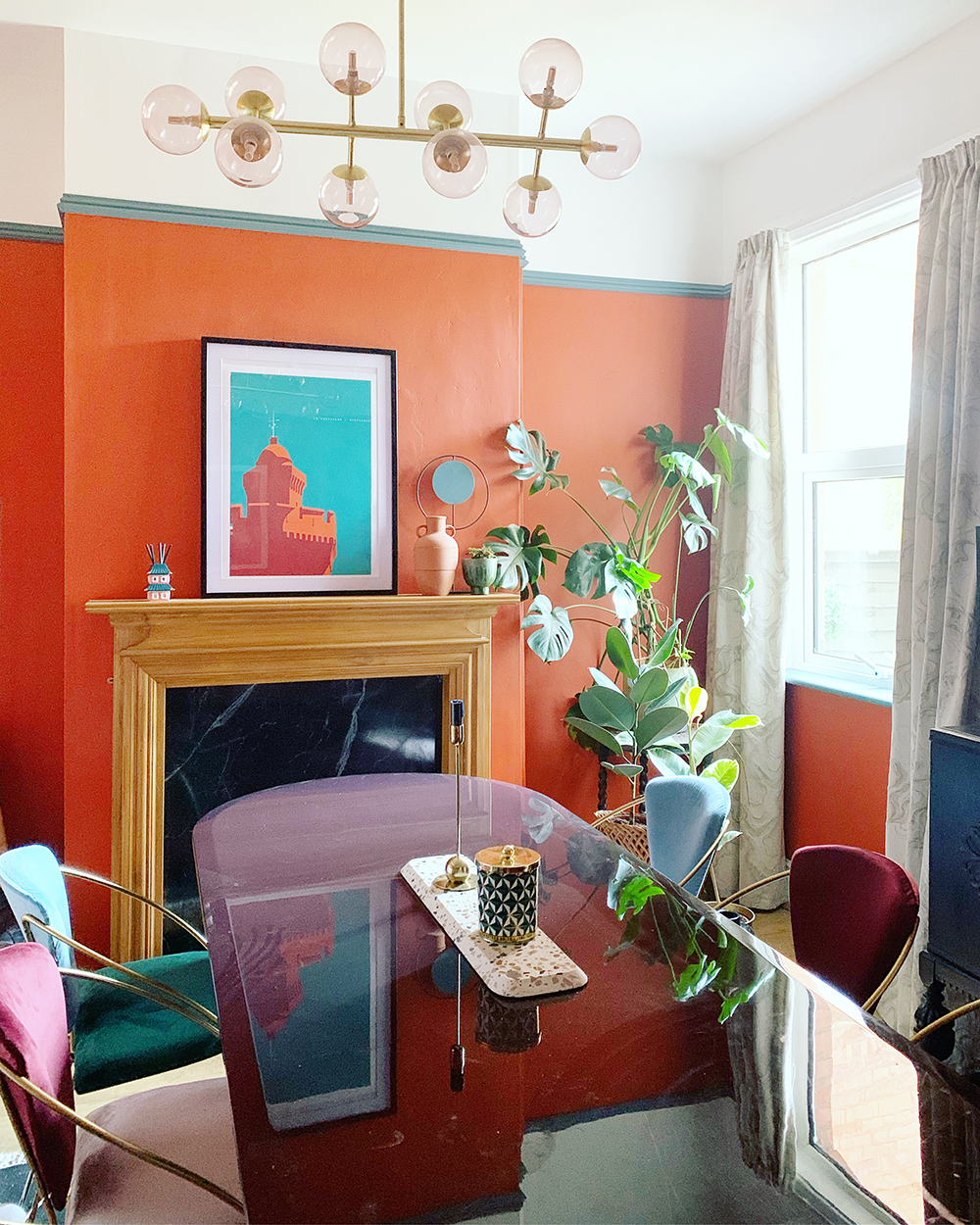 What's your top styling tip?
My secret weapon is definitely plants; the use of plants in a space brings life, softens the edges and unifies the space. I now have over 50 in the house and I honestly owe a lot of the styling success to my leafy children!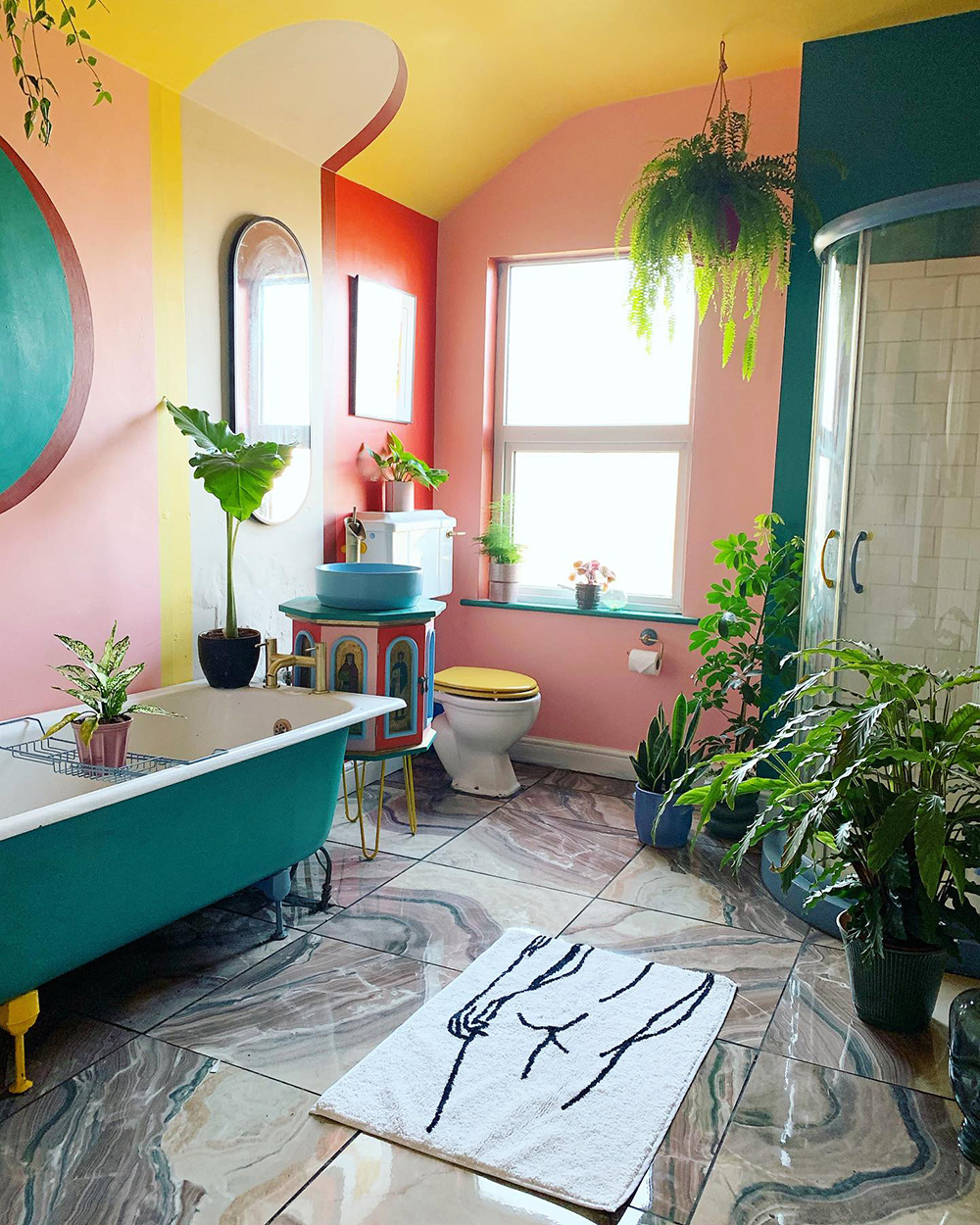 What's your favourite room in your home and why do you think it works so well?
Definitely the bathroom; it was the first room where I picked multiple colours (5 beautiful shades from Pickleson paint) and I opened all the tins and just let the paints decide where they were going to go – I know that sounds very hippy but it was the most wonderful way to decorate, and I'm so in love with the result- even if it did take me months 😂.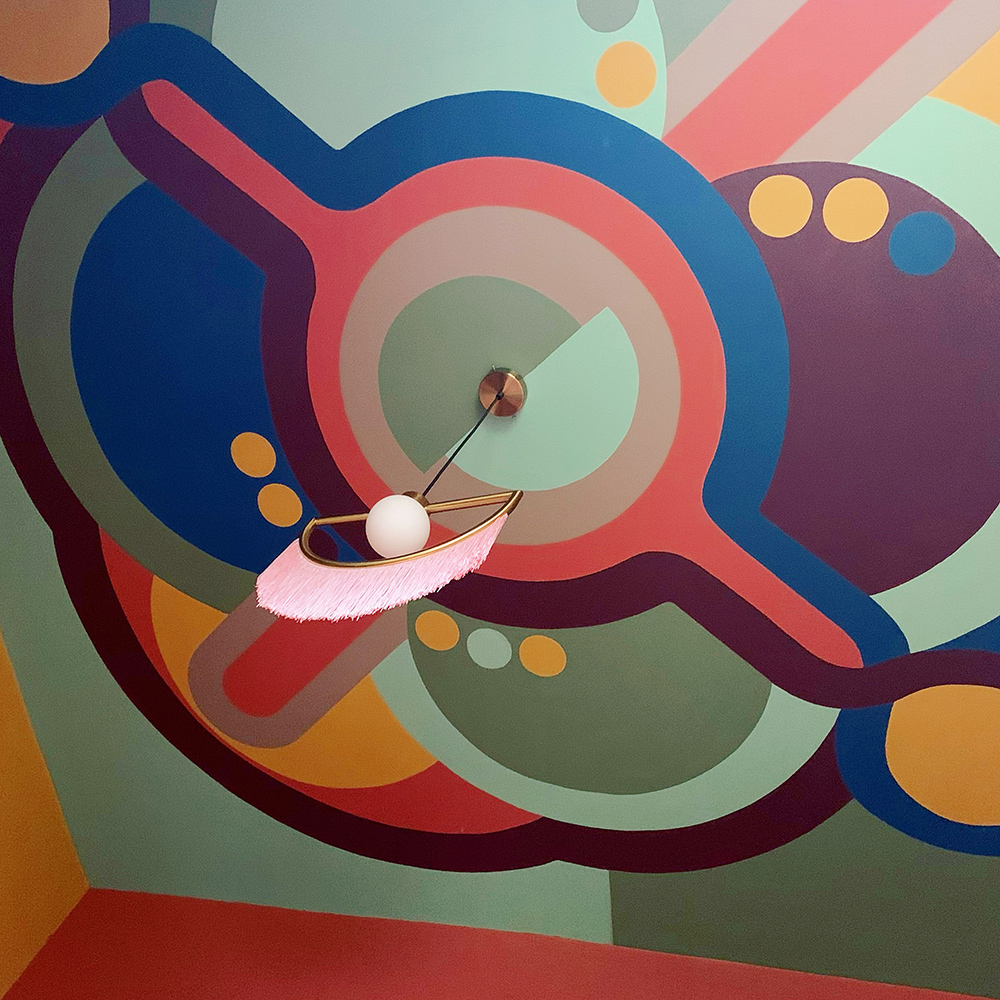 A fabulous, crazy home that really makes you think about how to create your own unique piece of paradise.  I love it, being a big fan of colourful interiors, what do you think?  Does it tempt you to try colour blocking?  Paint is the cheapest way to decorate so you can't lose really.  Just a bit of time and effort for a fun, creative home. If you want to see more, follow Rich on Instagram @househomo, for plenty more colourful interiors inspiration.
Never miss a post: follow us on Bloglovin'!
Image credits: @househomo
Leave a comment
Your comments make us happy!
Blog Etiquette
Please note that all content, including text and images are copyright of Audenza, unless otherwise stated.

If you would like to use content from our site, then we're very flattered to hear that, but please note its origins on your site or blog, provide a link back to us and kindly let us know where you have used our content.

Thanks!