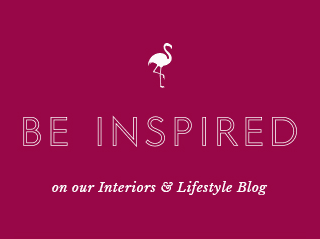 How to Style A Console Table Like a Pro
28 Nov 2020
Console tables are a delight to style – so many possibilities, whether you are a minimalist or a maximalist give free rein to your inner artist, and wow with a curated collection of your favourite pieces.  We have a lot of fun arranging and rearranging displays for our Audenza console table shoots.  Always over the top, of course, for we do love a dramatic and colourful display, but you don't have to be quite so dramatic in your own display's if you prefer a calmer look.  By following a few simple guidelines anybody can create a pleasing and vibrant console table.  We have brought together some of our pics with a few ideas, to show you how to style a  console table like a pro.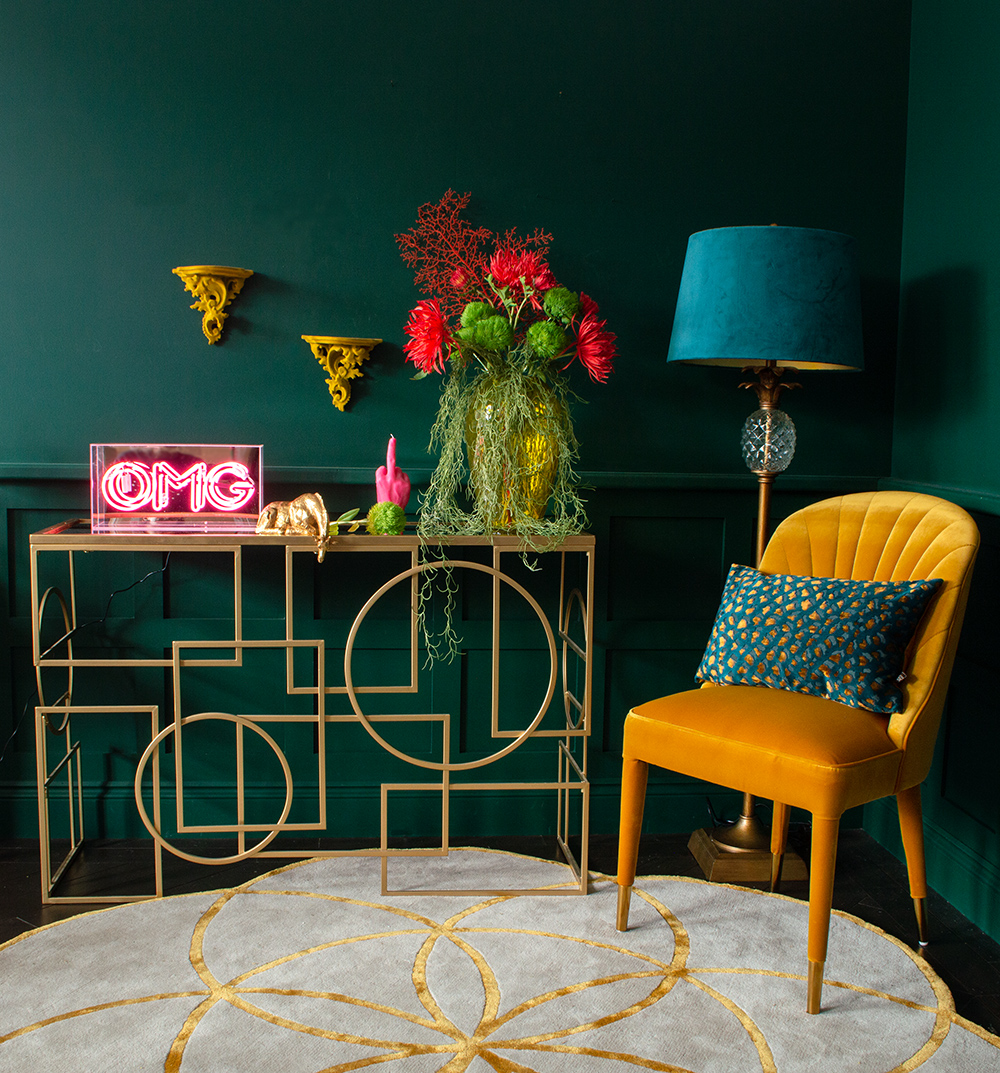 Gold Links Console Table | Pink OMG Neon Light | Yellow Flocked Wall Shelves | All other items available from audenza.com
Consider Heights
The most important rule is to consider the heights of your objects. If everything is the same height it will never work. In the above photo the chair and the console table are very similar in height, if the Pineapple Floor Light wasn't there, adding extra height to draw the eye up, it wouldn't work as it would all look too flat.  But also bear in mind, the heights of all your items on the console table should vary too. The eye should wander around the scene. If you have a piece you really want to display but it's the wrong height, a stack of nice books under the item is great for adding extra height.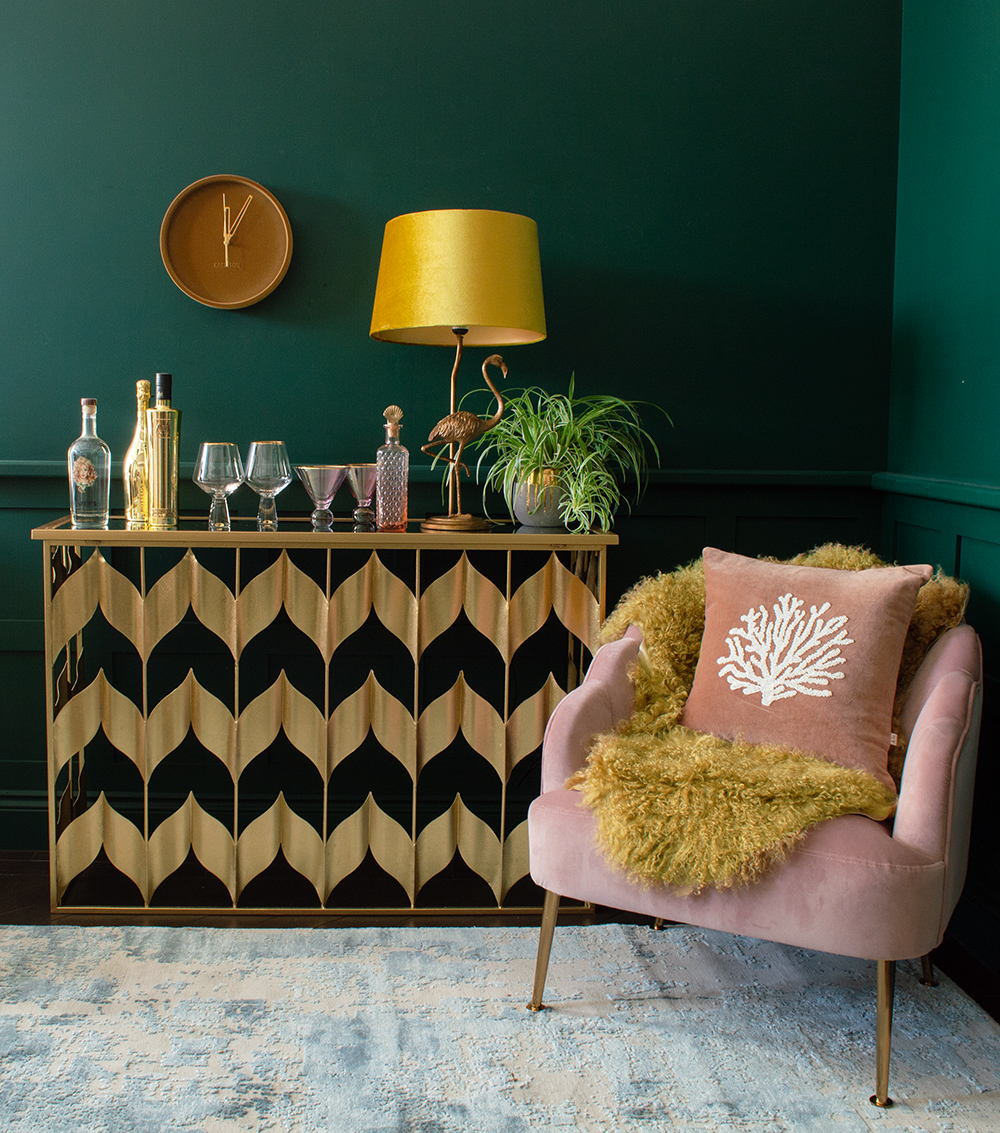 Gold Chevron Console Table | Flamingo Table Lamp | All other items available from audenza.com
Change up The Function
It doesn't have to be just a table for decorative items, it also makes a great alternative "drinks trolley". It can sometimes be hard to style lots of bits like glasses and bottles as they are all similar heights and shapes. So, make sure to add in something extra to break up the scene. We have used a Flamingo Table Lamp to add height, and a lush spider plant to add some texture and greenery. A tray is also a great way to group lots of bitty items.  A decorative serving tray, like our Jazz Age Tray, arranged with some bottles and glassware, collates them so they look like a well thought out vignette of their own.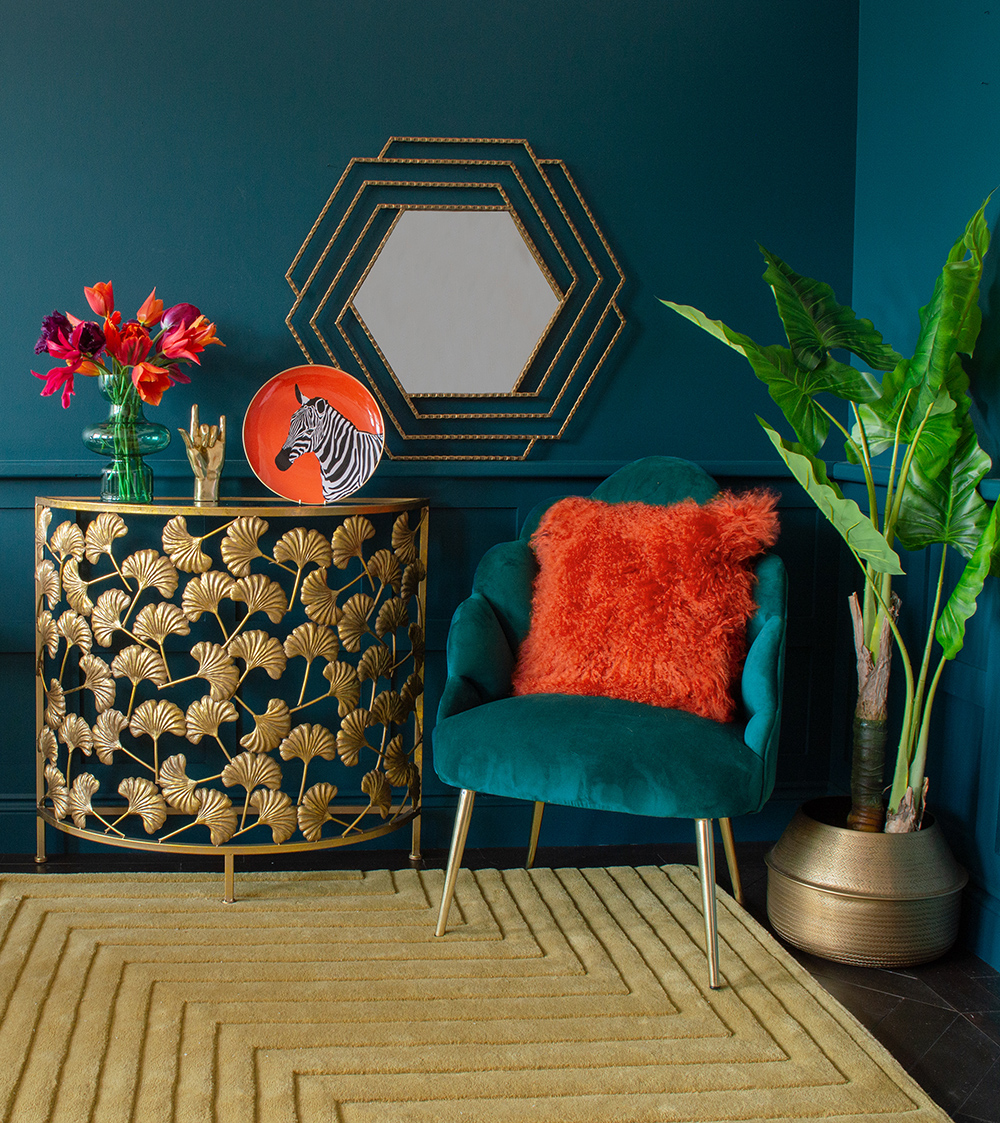 Gold Ginkgo Leaf Console Table | Orange Zebra Plate | Gold Rock On Hand | All other items available from audenza.com
Mix Textures and Shapes
In styling you should always mix different shapes and textures. It's particularly important on a console table as you are showcasing the display.  Mix the rough and the smooth, shiny and matt, round and square etc. to create more interest. In the above pic, we have contrasted the round Orange Zebra Plate with the angular, hexagon mirror. But also, the plate is very smooth and shiny, which looks fab contrasted with the fluffiness of the Tibetan sheepskin cushion. Even if you decide to stick to one colour theme make sure you have lots of textural and size contrasts going on for a dynamic scene that sings with excitement and vibrancy.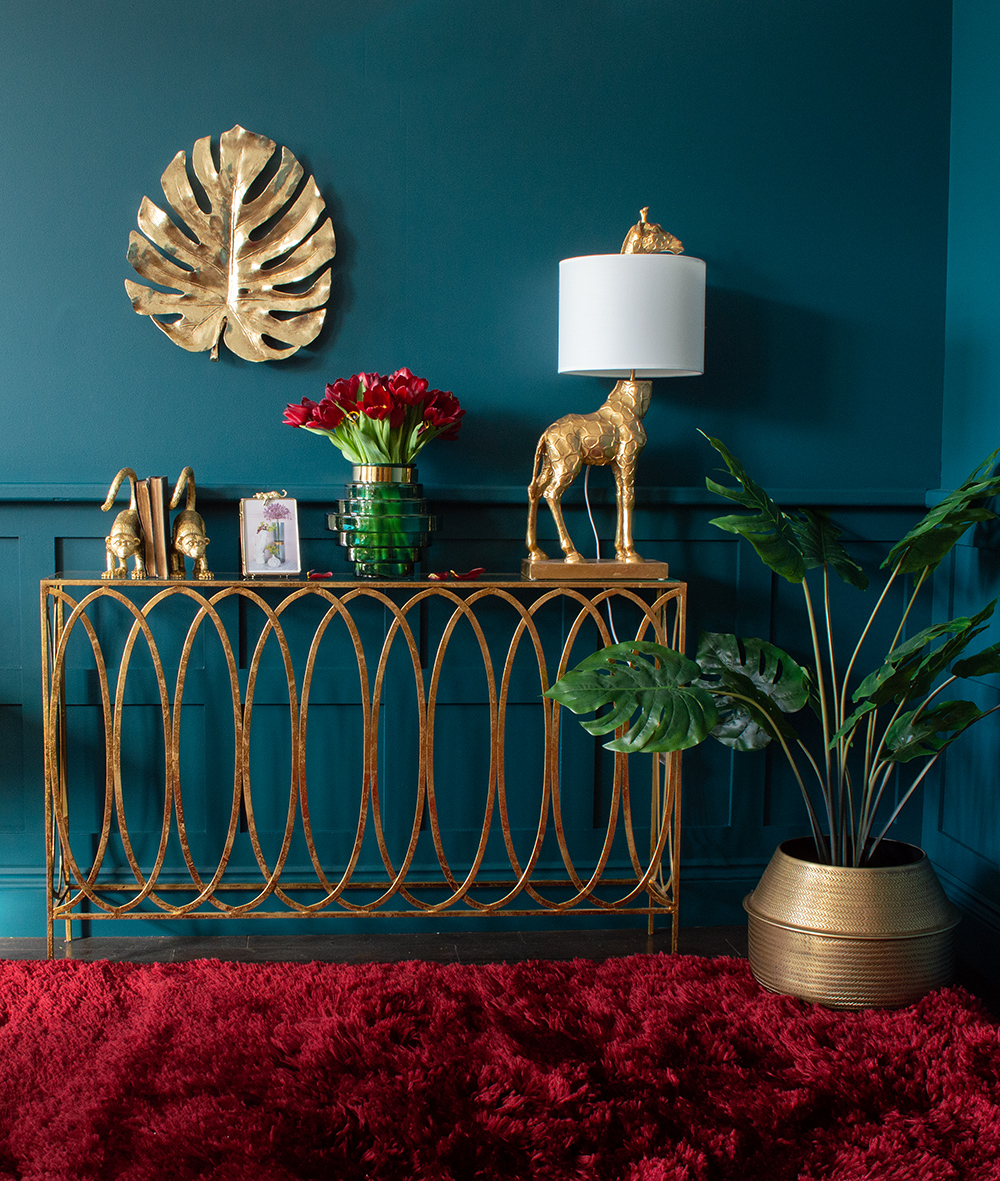 Gold Circlet Console Table | Gold Monstera Wall Decor | Gold Giraffe Lamp | All other items available from audenza.com
Add Flowers or Foliage
In all of our pics we have used either real/faux flowers or greenery for a dash of that essential comforting feel of the natural world. They add something that no decorative item can add, whether you go for real or faux. If you go for flowers, you can tie them in to an existing colour in the room to enhance the colour pop. We went for red tulips to match the fabulous shaggy red rug, and in another pic, we used a dazzling display of orange tulips to bring out the vibrancy of the orange Tibetan cushion. Trailing plants are great too.  Hang them down the sides of the console table to soften the hard edges, or trail across the console table and twine around the decorative objects.  Strands of ivy are great for this.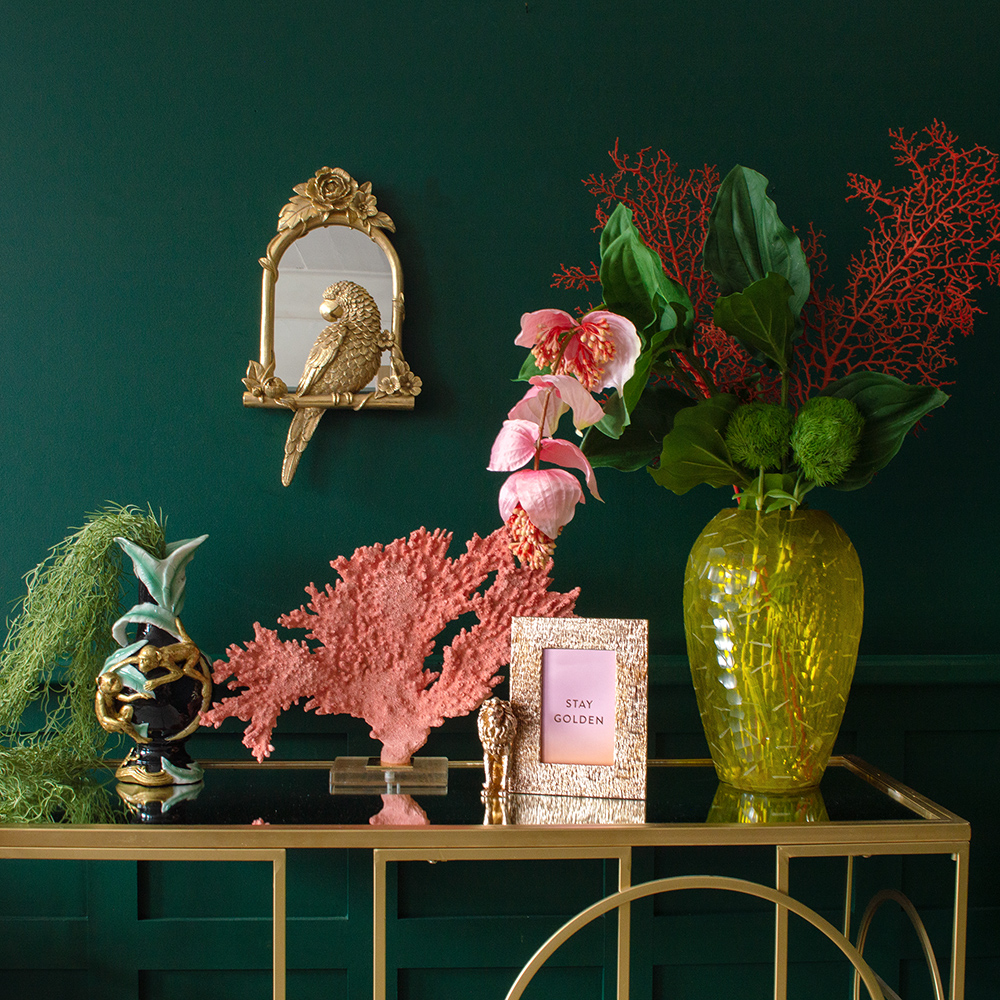 Perching Parrot Mirror | Monkey Vase | Pink Faux Coral | All other items available from audenza.com
Don't Forget the Blank Wall!
We are not big fans of blank walls at Audenza, so obviously we ALWAYS style our console tables with a backdrop of a gorgeous piece on the wall!  A console table is almost like a frame. So, instead of having a piece of art or mirror floating on a big, blank wall, it creates a vignette around what you choose to put on the wall. Whether you go for artwork, mirror, or a decorative piece, a console table is a great way to frame that item and style around it with cohesive pieces. If you rent and can't hang items, a big framed piece of artwork looks just as good propped up on the console and styled around (as in pic below). Doesn't the dramatic Frida Kahlo Print look fabulous – the decorative objects frame her and draw the eye into the picture.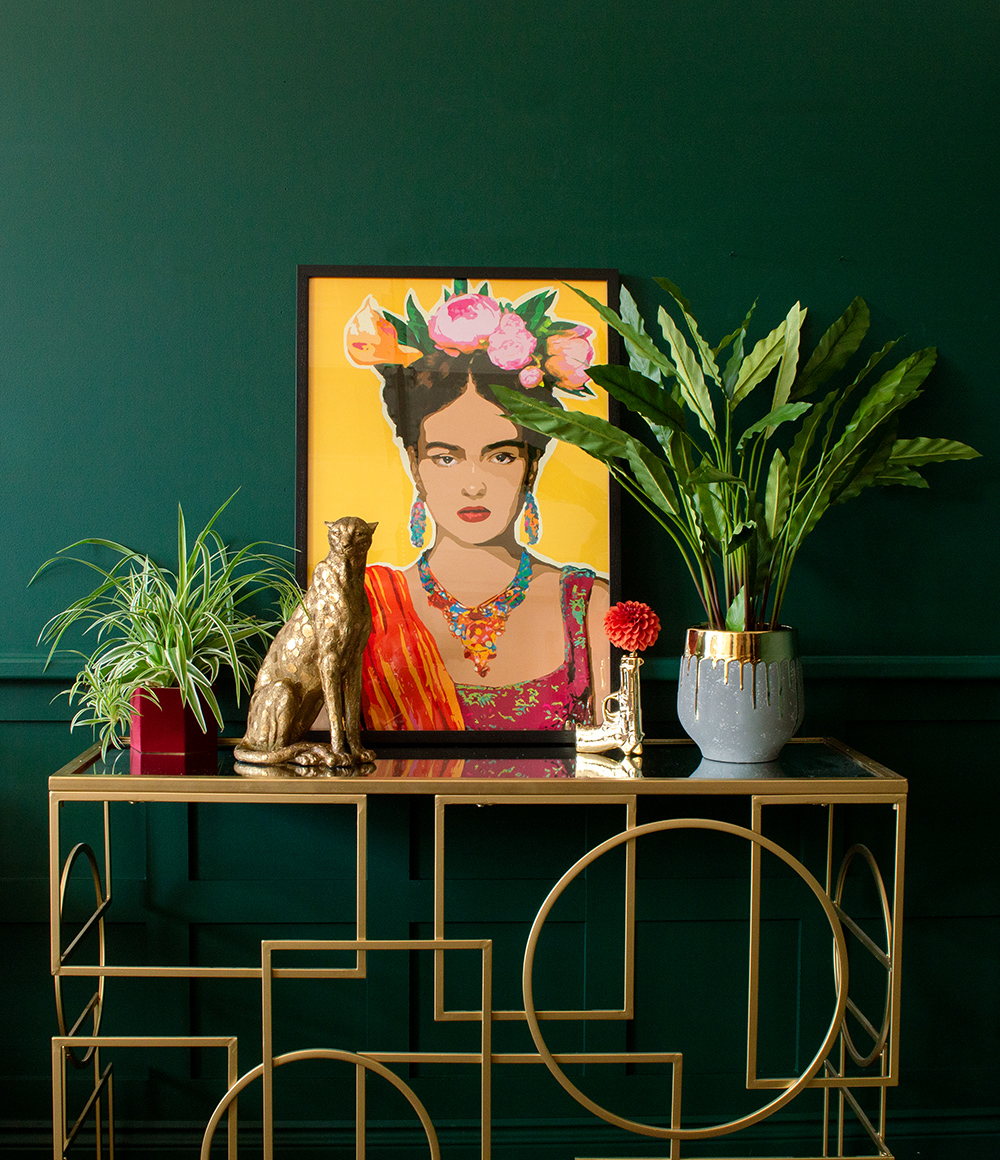 Gold Links Console Table | Gold Sitting Leopard | Frida Kahlo Print | All other items available from audenza.com
What do you think?  Tempted by our pics to get the creative juices flowing, and design your own mini masterpiece?  It's a great way to change the look of a room by restyling your console table every now and again for a fresh vibe.  And the same guidelines apply to sideboards and mantelpieces for a wow display that brings vibrancy to your interior space.  So, join the fun and get styling your console table like a pro!
Leave a comment
Your comments make us happy!
Blog Etiquette
Please note that all content, including text and images are copyright of Audenza, unless otherwise stated.

If you would like to use content from our site, then we're very flattered to hear that, but please note its origins on your site or blog, provide a link back to us and kindly let us know where you have used our content.

Thanks!