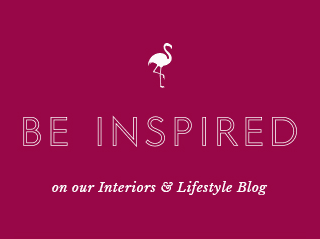 Affordable Art Edit
6 Dec 2019
We all need a revamp now and again to put some fresh new zing into our interiors, and what easier way to do it than with affordable art?   So, glam up your walls and brighten up your day with a fun selection of colourful prints that won't break the bank, but will bring a smile to your face.  Think about the space and whether you want a gallery wall with a selection of prints, or keep it simple and showcase one or two prints.  Decide on your preferred look and go all out to create a cool vibe that injects that bit of extra chutzpah to light up your walls.  From quirky, to mellow, to glam, the choice is yours.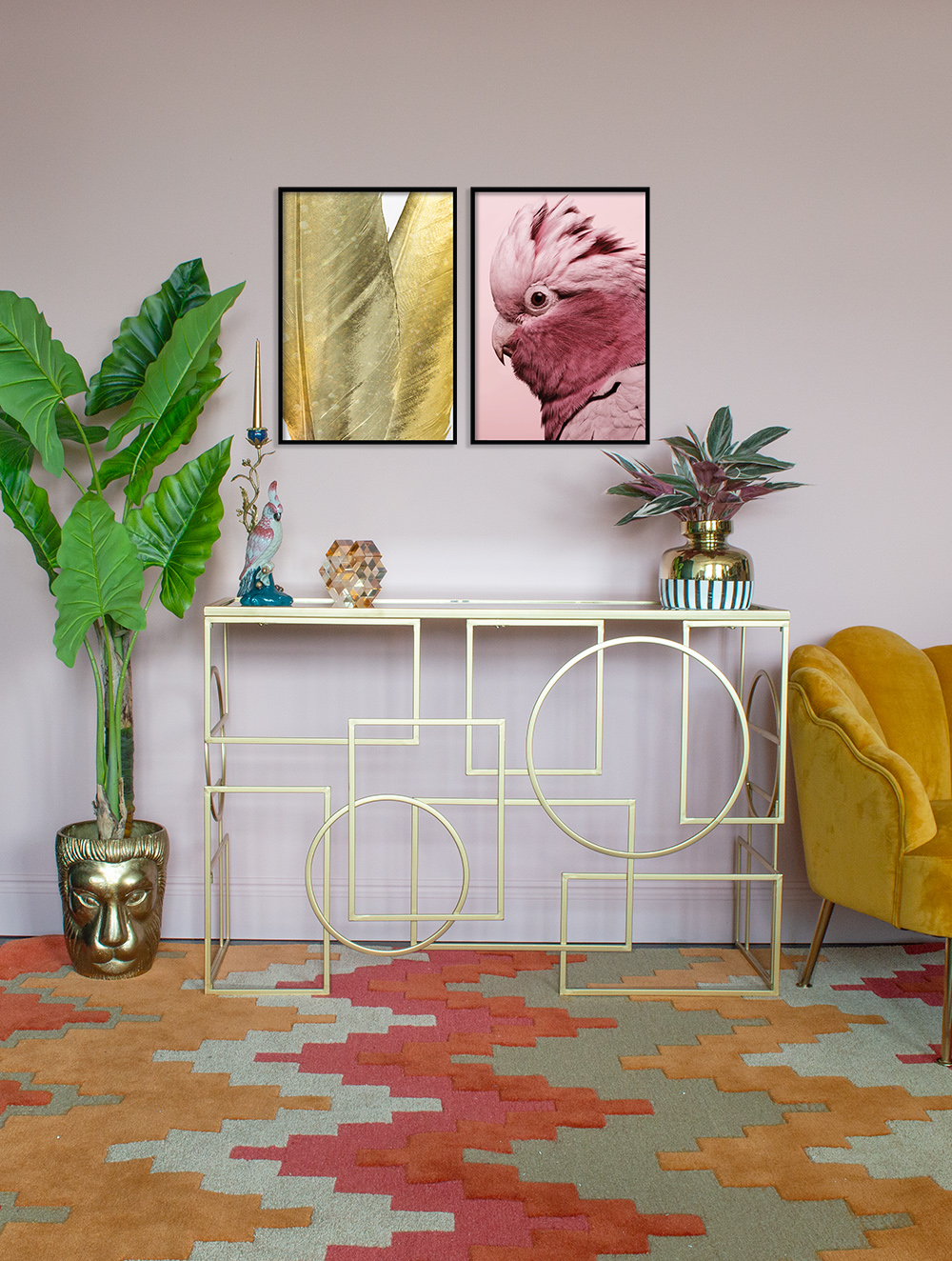 Pablo Pink Parrot Print | Golden Feathers Shimmering Print | Gold Links Mirror Console | Lion Planter | Chevron Sienna Patterned Rug
For a simple but glamorous injection of colour the Pablo Pink Parrot print paired with the Golden Feathers Shimmering print makes a stunning duo.  These 2 beauties are going up on my spare bedroom wall.  It's a gold and white oasis that just needs the finishing touch of some glamorous wall art.  The use of opalescent ink really makes the golden feathers print glow.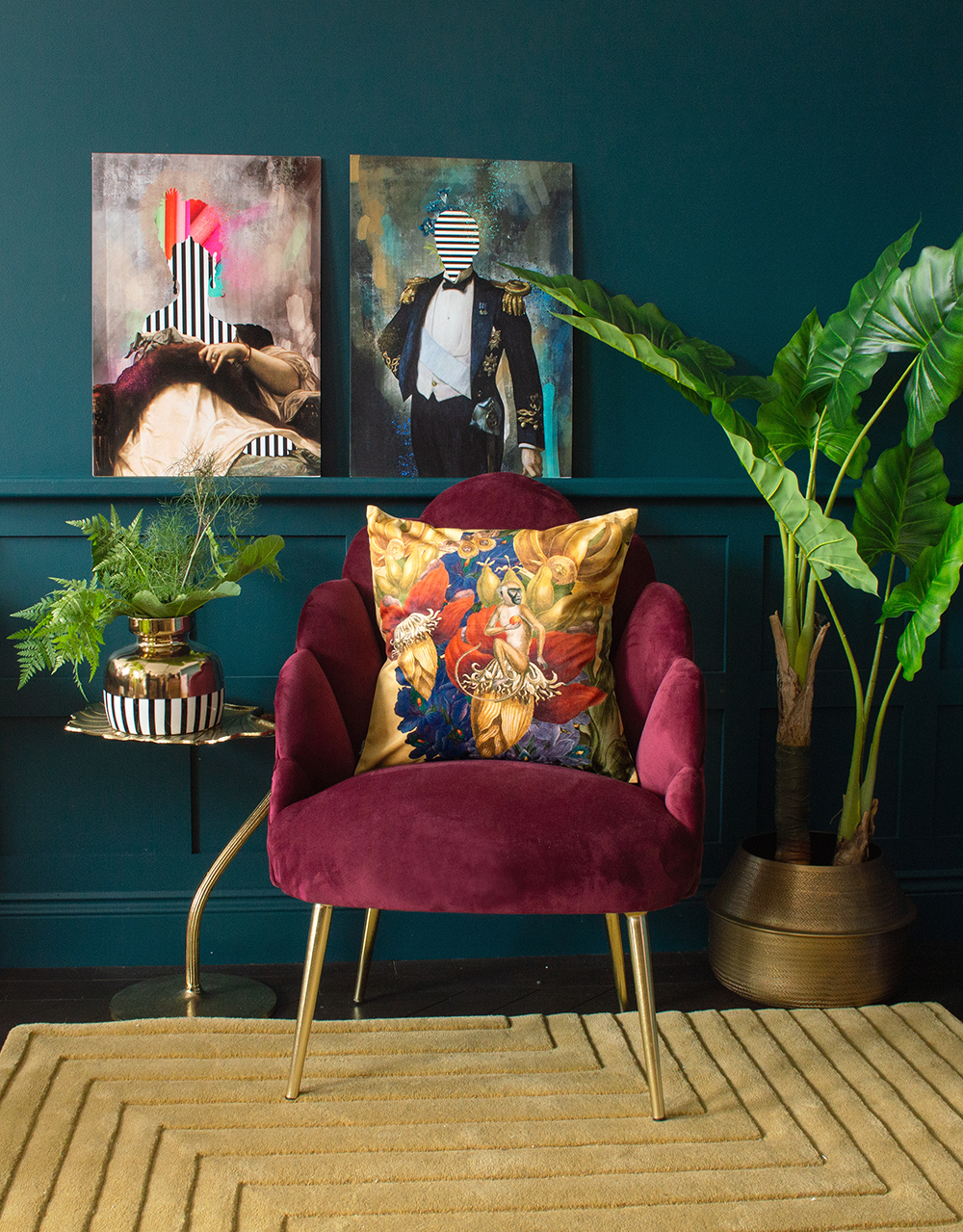 Princess Leopold Print | The Duke Print | Tropical Monkey Cushion | Empress Striped Vase | Ginkgo Leaf Table
Colour and quirky all in one go with The Duke and Princess Leopold print from Diedododa.  All her prints are taken from her original artwork. You don't need to live in a castle to have ancestral portraits with these two, just a sense of humour.  They make a bold statement, and look particularly impressive as a pair.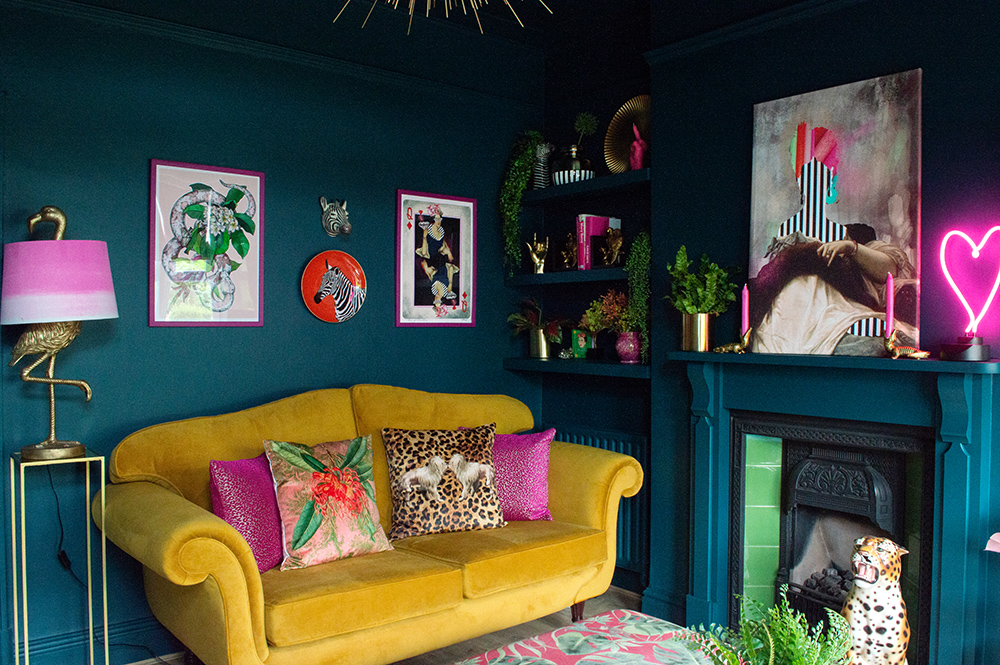 Orange Zebra Wall Plate | Zebra Wall Vase | Queen of Diamonds Print | Snake Print | Princess Leopold Canvas | Flamingo Lamp
To add more drama and texture try hanging unusual objects next to your prints.  Amelia has hung a zebra vase and a zebra plate next to a Queen of Diamonds print on her sitting room wall.  She bought a simple wooden frame and painted a vibrant pink to pick up on the colours in the print and the rest of the room.  It also creates a real zing of colour next to the orange zebra plate.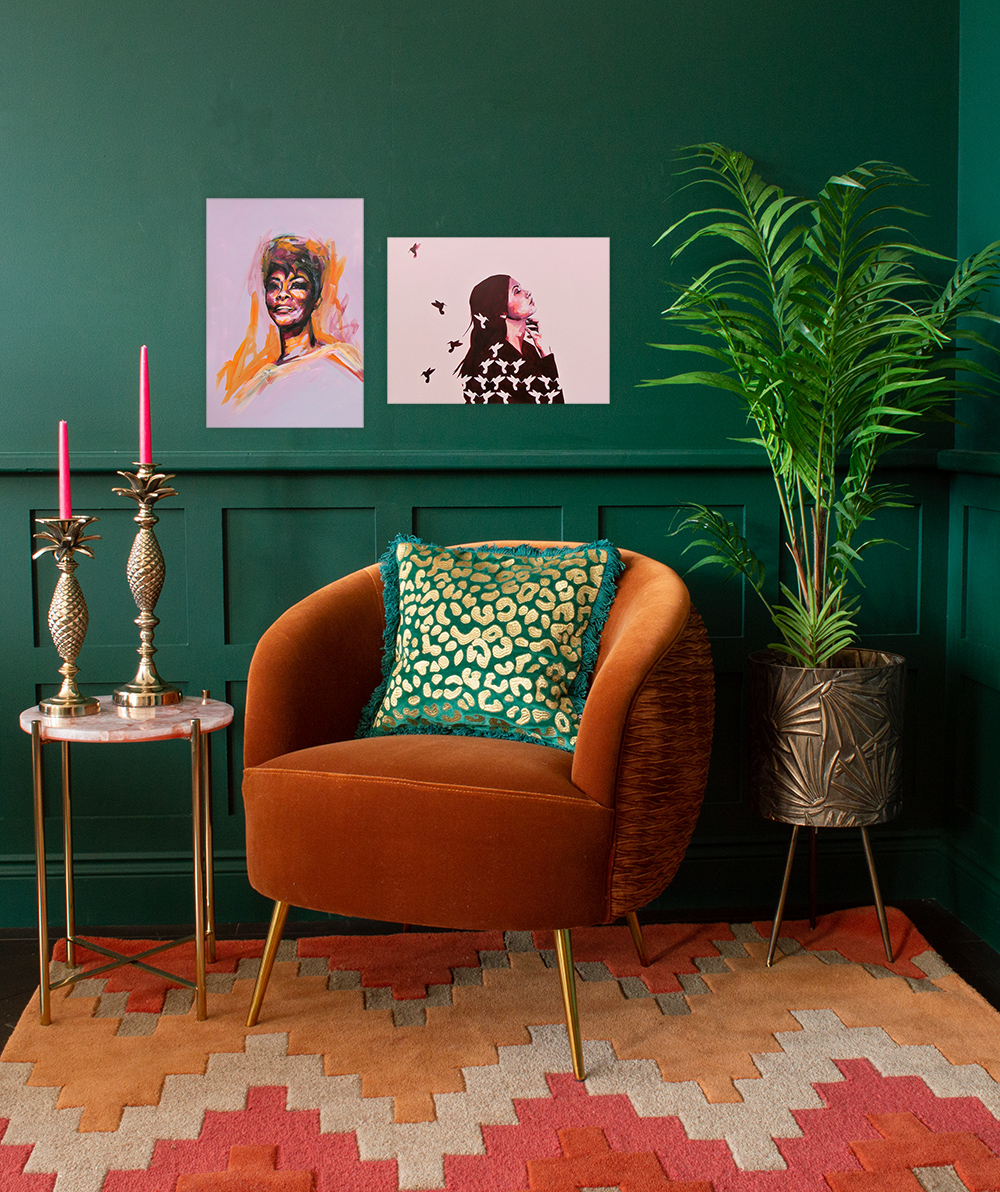 Dionne Warwick Art Print | 'What if you Fly' Art Print | Green Leopard Print Cushion | Burnt Orange Velvet Armchair |  Bronze Embossed Planter
The Dionne Warwick Pink Art print and the 'What if you Fly' art print are softly coloured for a mellow vibe and make a great pair.  Hanging 2 different shaped prints together creates more interest, and could be the start of a gallery wall to include smaller prints.  The prints are by Florence Lee and are taken from her original paintings.  They have been hand signed by the artist.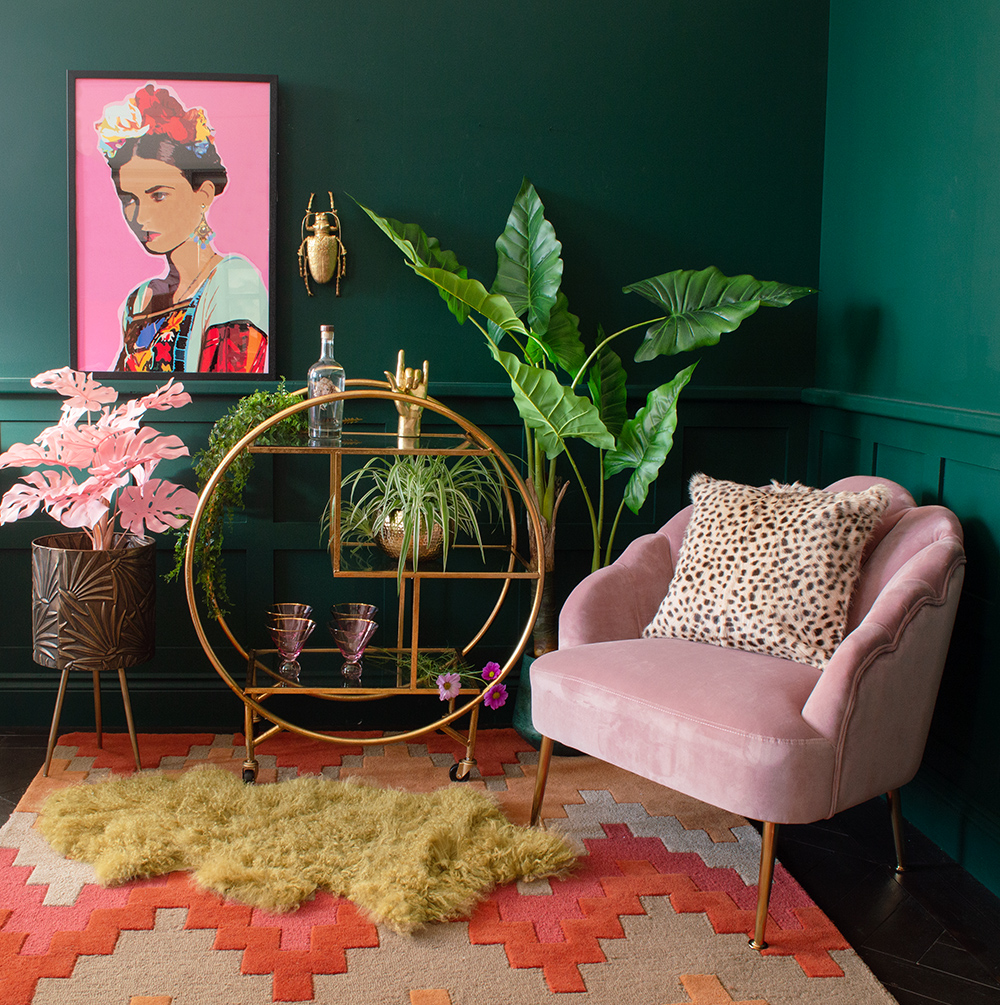 Frida Kahlo Styled Framed Prints | Gold Round Drinks Trolley | Scalloped Velvet Chair | Leopard Print Goat Fur Cushion | Gold Beetle Wall Decor
For a real hit of colour, and the wow factor, these 2 Frida Kahlo style self-portraits stand out from the crowd.  Such an array of vibrant colours means they stand out, whether hung on a pale wall or against a dark and moody backdrop.  They are sold as a pair, but don't think you have to hang them together.  They make an intense statement hung singly.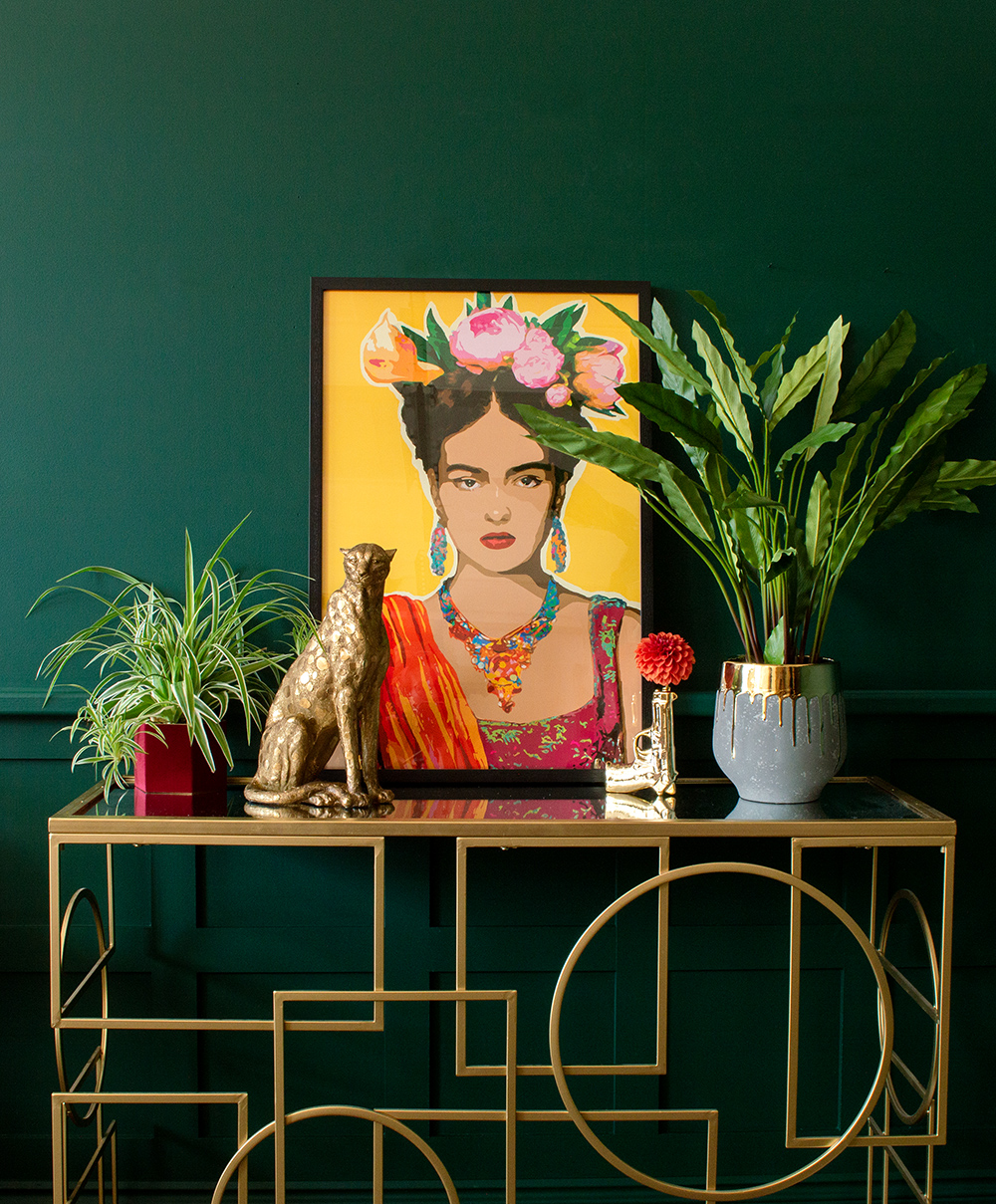 Frida Kahlo Styled Framed Prints | Gold Sitting Leopard | | Gold Links Mirror Console | 'Flowers Not War' Gun Vase | Dripping Gold Plant Pot
A good selection there to get you thinking on how to update your walls.  Affordable art can make all the difference to your interior style.  All these prints would look great as part of a gallery wall, but that's a whole other subject for another day.  Just remember if you are hanging prints singly or in pairs, not to hang them too high, they should be at eye level for maximum impact.  If in doubt use washi tape to mark the places on the wall before you hang to see if the position looks right, before getting that hammer out.
2 replies to "Affordable Art Edit"
Leave a comment
Your comments make us happy!
Blog Etiquette
Please note that all content, including text and images are copyright of Audenza, unless otherwise stated.

If you would like to use content from our site, then we're very flattered to hear that, but please note its origins on your site or blog, provide a link back to us and kindly let us know where you have used our content.

Thanks!