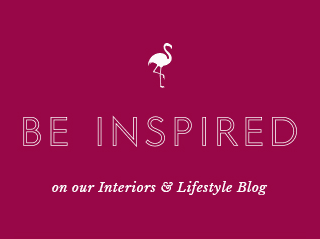 FYI: Sheepskin Rugs Don't Need to be Rustic!
27 Mar 2017
Sheepskin rugs are back, with a new twist – colour – and don't you just love this new incarnation of the seventies trend? I do, and much more so than the last time around, because FYI: sheepskins don't need to be rustic anymore! Well, they have always been around but they are really grabbing the scene now, with their delicious colours and crimped hairdo. Just right for snuggling up to and making a chair cosy, or to sink your bare feet into as you get out of bed.
Sheepskins have a reputation for being limited to the rustic/Nordic trend, but these new boys are above trends and fit right in wherever you want them to, from quirky, to glam, to boho, to outright 'I want one'!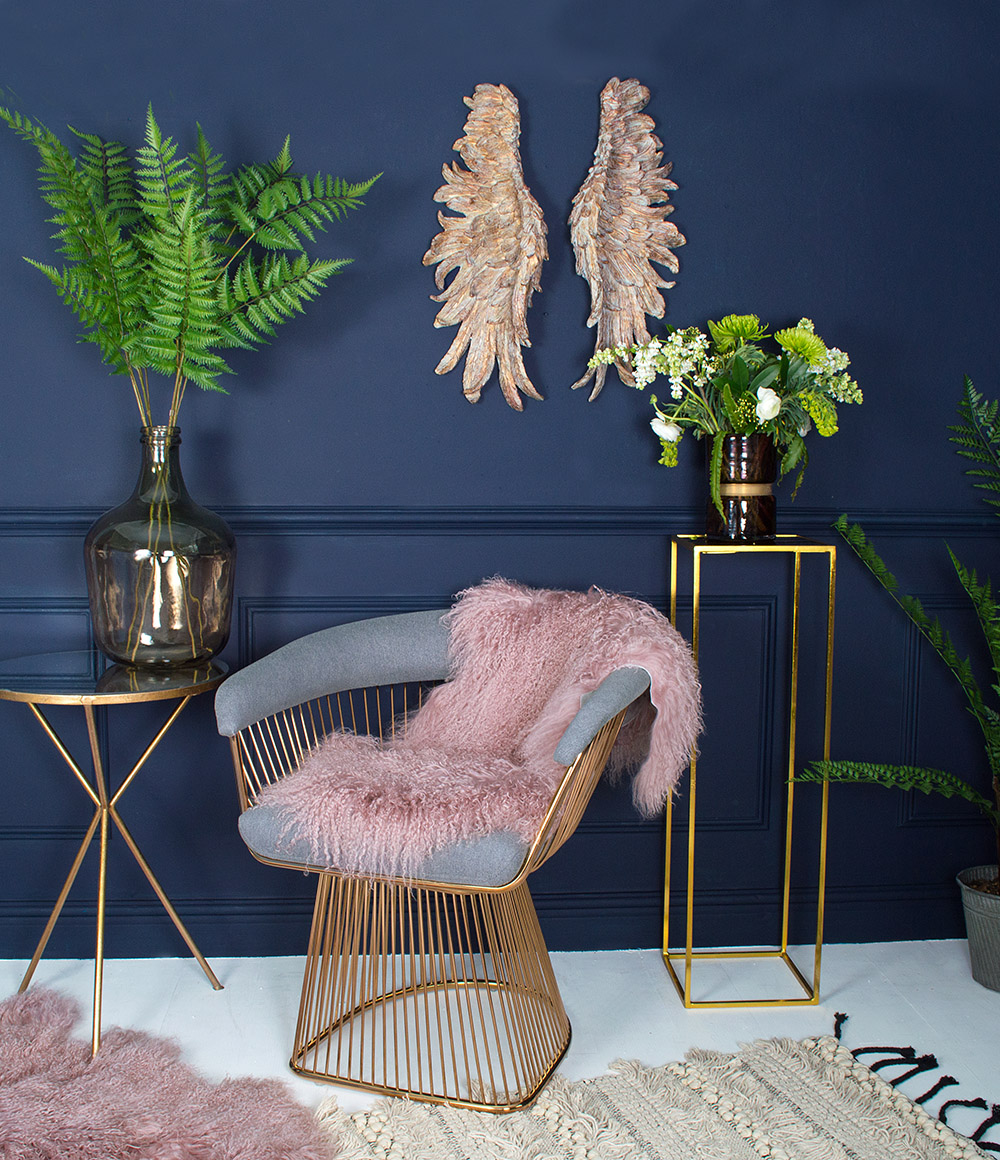 Luxury Tibetan Sheepskin Rug- Pink | Spoke Edge Tub Chair | Golden Carved Angel Wings | Faux Leather Fern Spray | Brass Plant Stand | Gold Tripod Side Table
We've styled this luxury Tibetan sheepskin rug with golden angel wings, gold tables and a spoke chair, which makes for a really glam vibe, add a few plants to the scene and you get seriously glamorous, but grounded in comfort and warmth. And we all want comfort and warmth in our interiors – don't we?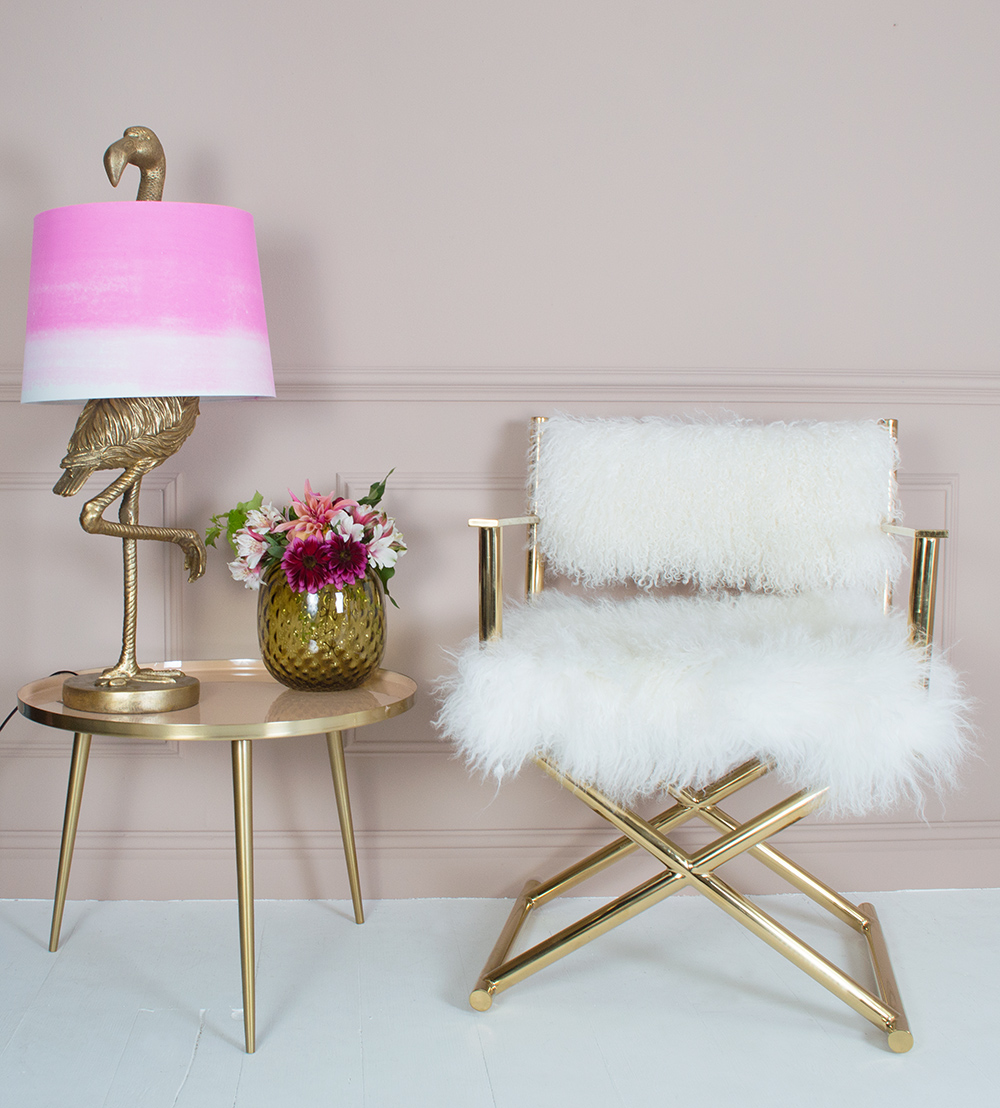 Gold Mongolian Fur Chair | Flamingo Table Lamp
The wonderfully textured Mongolian fur on the chair above, juxtaposed again the uber glam gold frame, makes for a really usual pairing and a perfectly balanced look.  Of course, throw in a pastel hued paint such as 'Button' by Little Greene and this look is anything but rustic.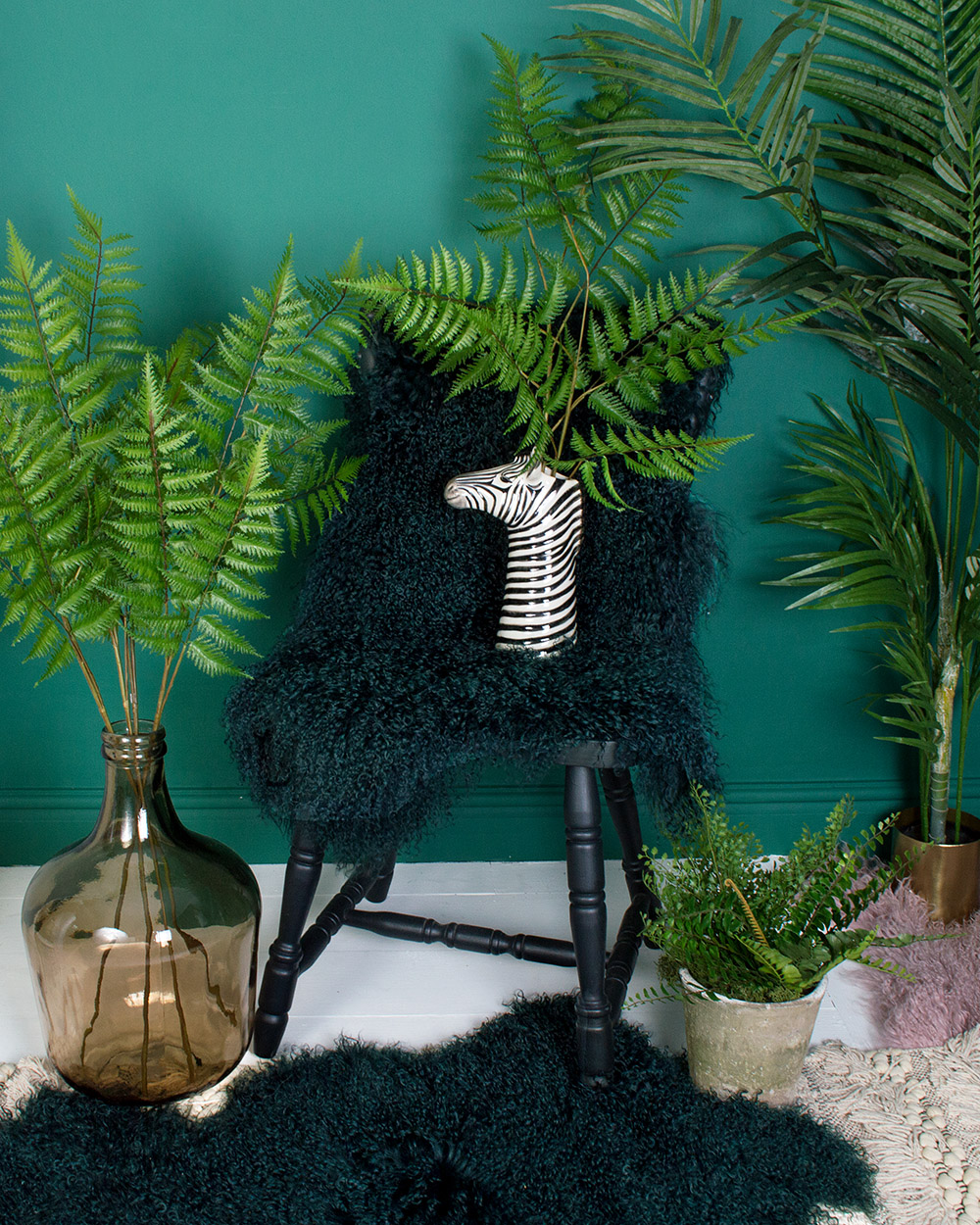 Luxury Tibetan Sheepskin Rug- Caspian | Zebra Vase | Faux Leather Fern Spray
If it's quirky you're after, then throw in a few exotic animals to liven up the scene – not real ones, of course. That would be too quirky, and possibly dangerous! With the trend for exotic animals portrayed in vases, jugs, wall art and so much else you will be spoilt for choice so go wild and accessorise your sheepskin – and don't forget the faux or real greenery to increase the exotic jungle vibe, and maybe a green wall to further enhance the scene.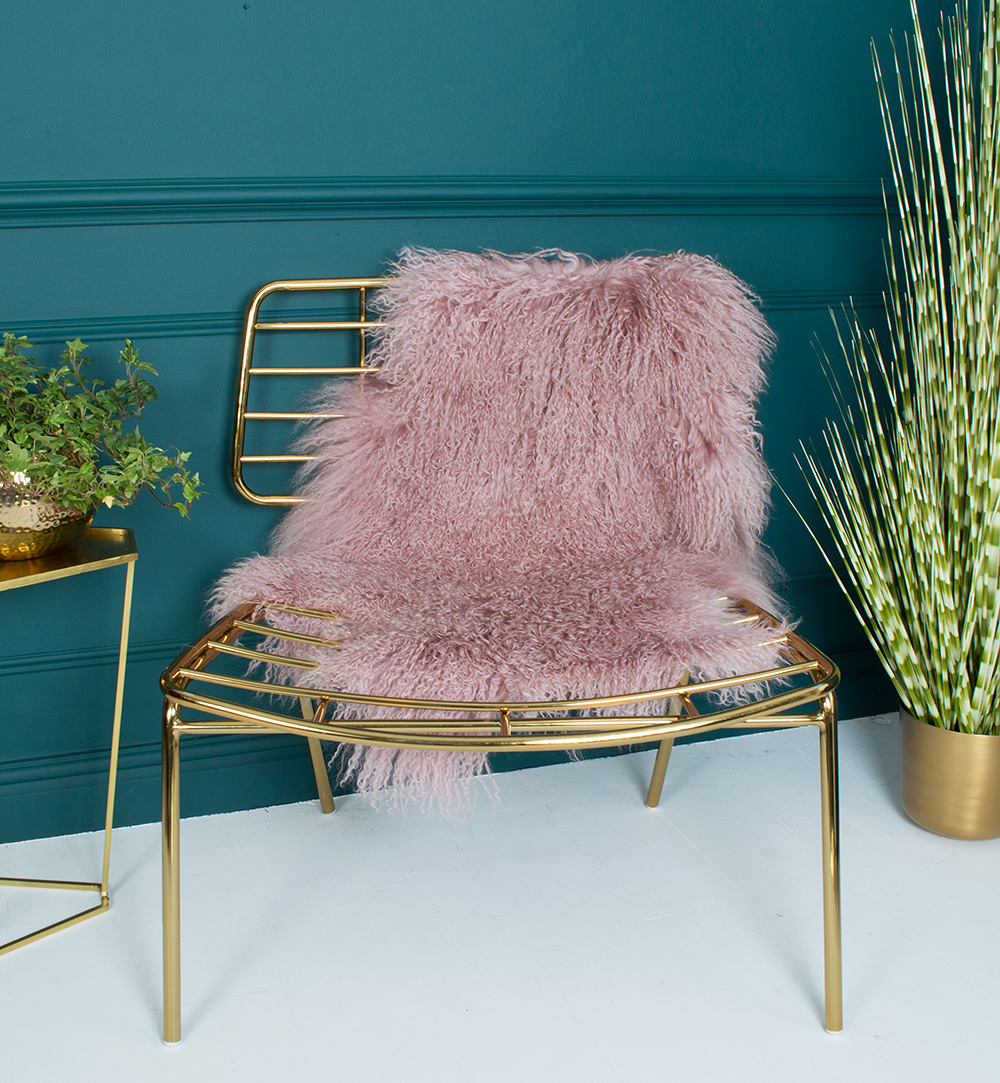 Luxury Tibetan Sheepskin Rug- Rosa
We all know how great a sheepskin looks thrown over the back of a chair and doesn't it look especially great with this one?
Of course, if Nordic or rustic is you're bag then go for it, and enjoy the colours of the new sheepskins, but if you prefer a walk on the wild side then come into the colourful, glam sheepskin trend.
Jacqui x
Never miss a post: follow us on Bloglovin'!
Photography: Amelia Brooks/ Styling: Jacqui & Amelia Brooks
Leave a comment
Your comments make us happy!
Blog Etiquette
Please note that all content, including text and images are copyright of Audenza, unless otherwise stated.

If you would like to use content from our site, then we're very flattered to hear that, but please note its origins on your site or blog, provide a link back to us and kindly let us know where you have used our content.

Thanks!