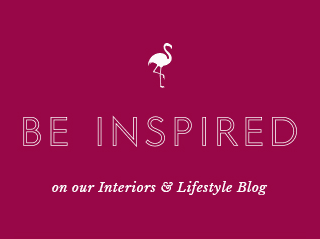 You Will Never Believe this Caravan Transformation!
17 Mar 2017
What a treat we've got for you today!  Picture this…. the sun's shining, the sky's blue, you're surrounded by the glitz and the glamour of St Tropez on the South Coast of France, yet you're tucked away in a bohemian paradise, just strides from a beautiful beach, on a…. caravan site…. huh?! 
Not quite how you'd expect that sentence to end is it?  Glamorous, trendy and visually stunning are not words you hear too often in the caravan world (we have a family caravan in Norfolk, which ticks none of those boxes).  But along came 'Brigitte' – the glamavan who now calls St Tropez her home.  Bought for £250 from eBay and transformed into a bohemian paradise by her owner, interior designer and blogger, Jane Ashton.  We couldn't wait to share the renovation with you, so we asked Jane to tell us more….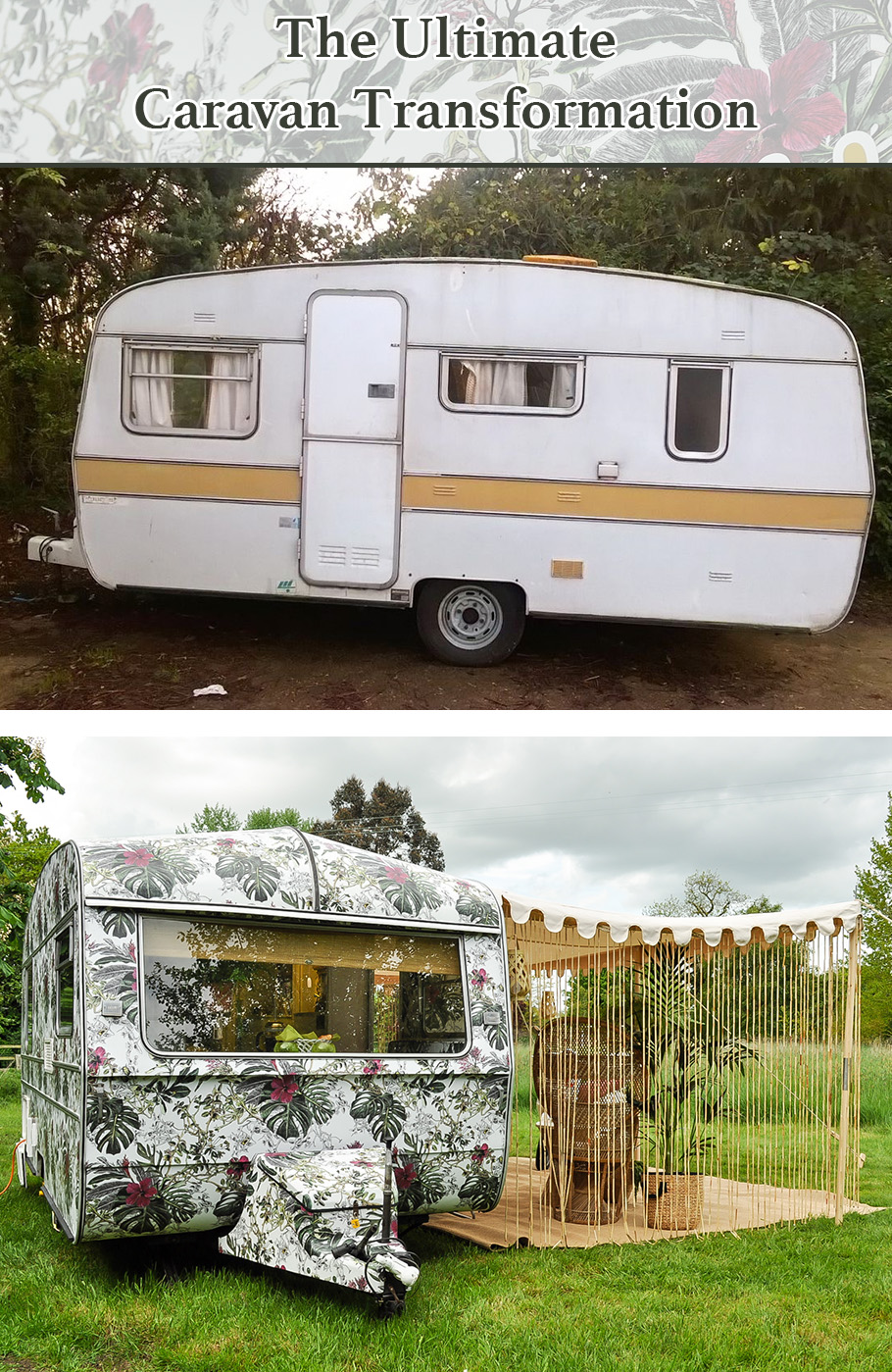 First off, could you introduce yourself and tell us what you do?
I'm an Interior Designer by trade. After spending many years as what I refer to as a 'Serial Renovator' completing numerous personal renovation projects, from alpine farmhouses to port side harbour apartments, I decided to make a career out of my passion and experience,  so I went and got myself professionally qualified. Now I offer full service Interior Design as well as Design Mentoring for people who need help getting their ideas and focus together for their own renovation projects. I also still manage to fit a few of my own pet projects in, hence Brigitte!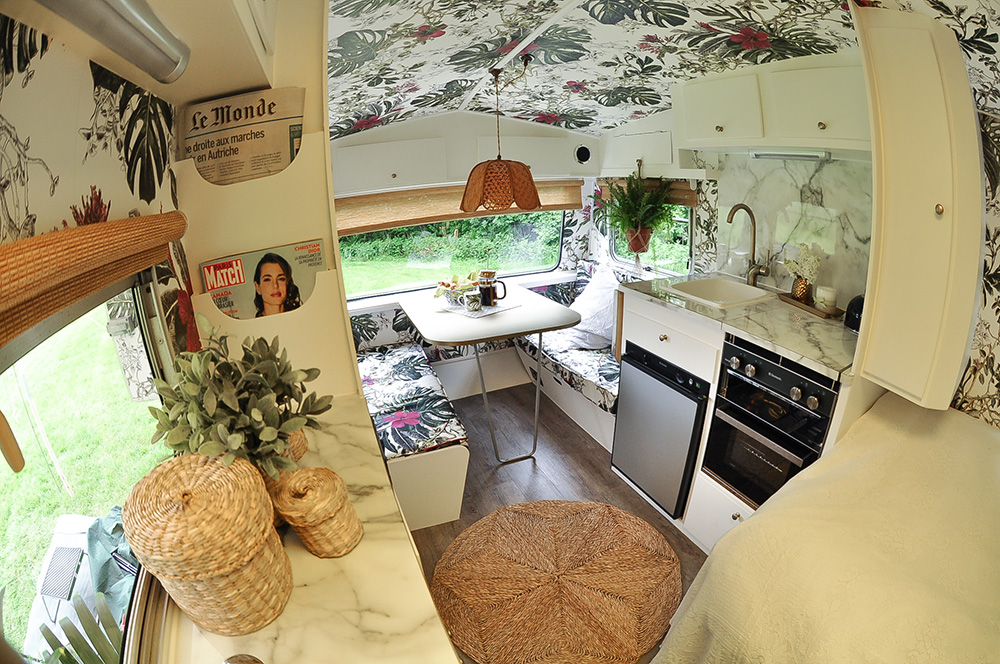 What made you decide to want to buy a caravan?
Decide? Well it didn't really happen like that. Like most of my 'schemes' or should I say dreams, it started out as a romantic whim. I must state right here that I am an incurable romantic with a Bohemian spirit and so wild and whimsical ideas that I weave into stories are usually how my best work happens! Brigitte started out as a musing and ended up becoming the boho beach home of Brigitte Bardot, well in my head anyway!
It started in the summer of 2015, though I suspect it had been building for much longer than that.  We were on our annual holiday in St. Tropez which is one of  my favourite places. We noticed a small campsite just literally off of the beach 100 metres, a stroll via the sand, no roads. It was like the place had stood still in time, it looked like something from the 1970's  there were no gleaming vans, all were well used and the whole thing was set on a simple grassy area surrounded by rushes. On investigation we met the owners, a lovely old Tropezian couple. The lady's family owned the farm and had done for generations, so this was truly home to her and her guests on the site had been coming for, in some cases, annually for 30-40 years, always guaranteed in their favourite pitch! This wasn't about money, which is very unusual in St Tropez, this was a real love for her land and her clients, who, we have since discovered have invariably become friends. Once I saw this place I knew I had to spend time here and so the plan took shape, all I needed now was a caravan..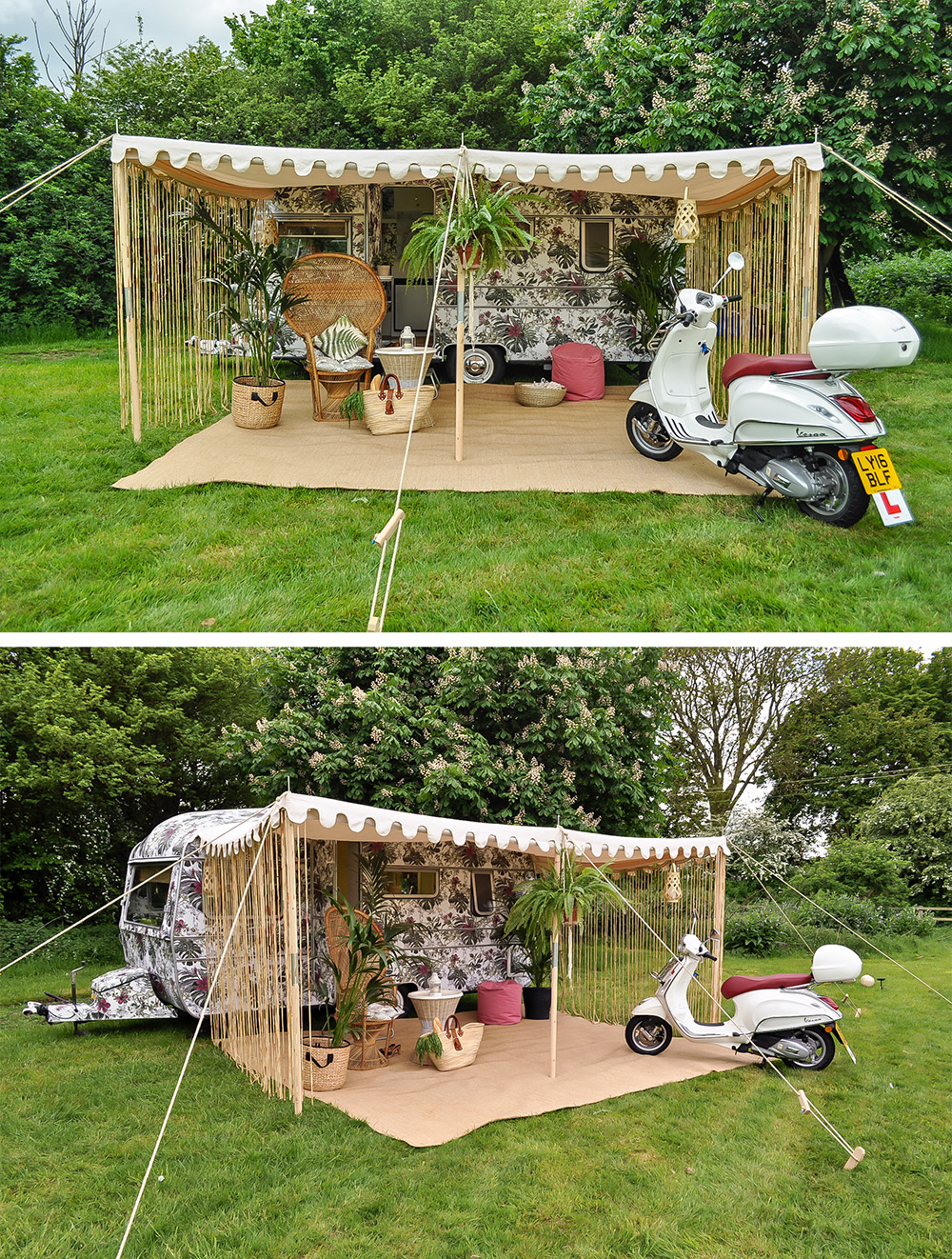 Can you tell us more about the design concept and what inspired you?  You're an interior designer, so I imagine you had a mood board for the scheme? 
Once I had decided I needed a caravan, I knew it had to be a vintage/retro caravan. Apart from the fact I am not a fan of new caravans, I find them extremely uninspiring generally, I knew it had to be 'ours' and completely individual, so I got to dreaming… the combination of the 1970's campsite vibe, the boho scene in the Côte d'Azur during the 70's and the glamour of St. Tropez conjured only one image for me, Brigitte Bardot (BB as she is affectionately known in France), the former resident, queen and mascot of the town.  I started to visualise her living all boho and hippy chic on the beach.  This initially seems quite odd when I say this to people as when they think of BB they think of an international glamorous star, which indeed she was, but in fact, she led quite a simple life down in her beloved St Tropez, her home was beautiful but quite rustic and relaxed, certainly not at all the high glamour you might expect, she drove around in a simple rugged open top jeep with her dogs on board and ate in the simple beach restaurants, enjoying a casual boho lifestyle.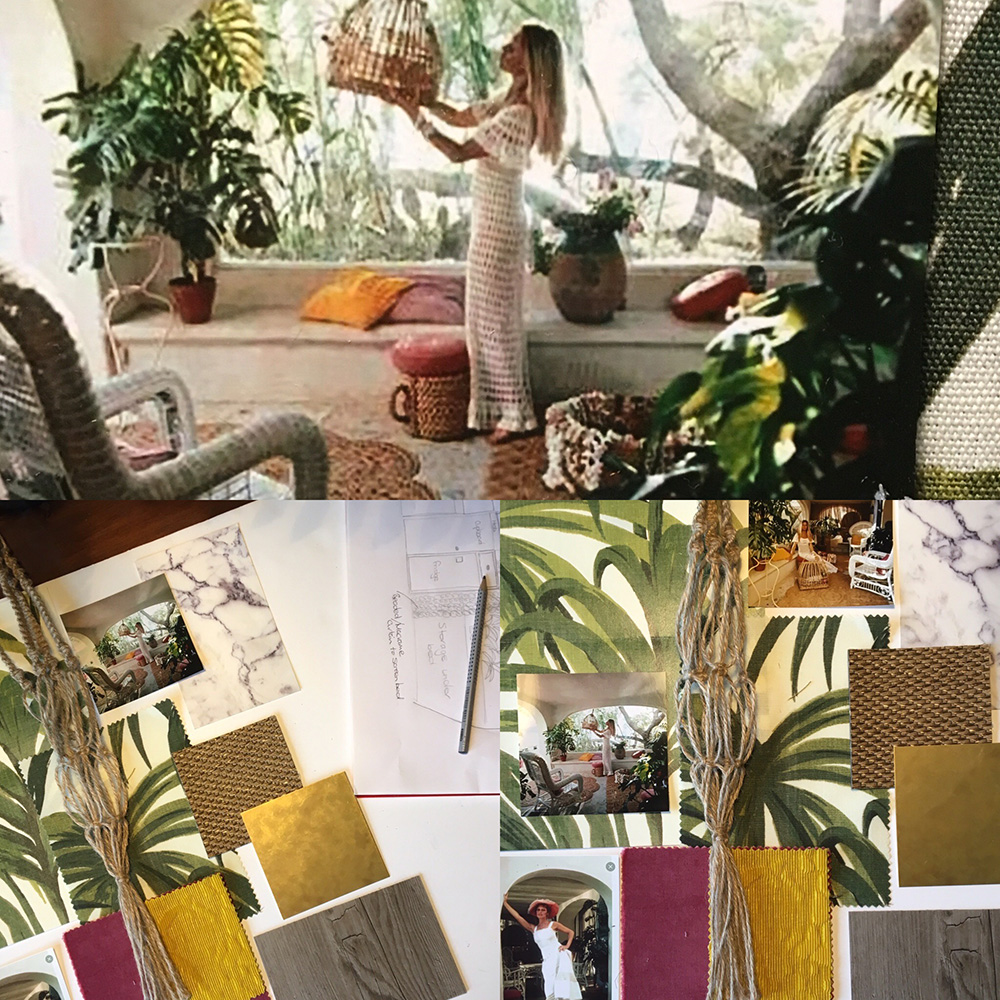 When working on the concept I searched for images of her for inspiration for the interior and I came across a couple of images of her in her St Tropez home in the 70's 'la Madrague' a waterfront property . As you can see it was a bright, light and plant filled space with fashionable both then and now, boho wicker chairs and touches of pink and orange. Very natural and chic like Brigitte herself. Obviously it wouldn't have been practical to hang plants in a caravan so I opted for the amazing wallpaper by Sian Zeng to give it that verdant feel and wood plank flooring for rusticity.  Her white crochet dress was the inspiration for a macrame curtain I added to the bedroom area, plus as it is Brigitte it needed a touch of luxe gold to finish it off.
Can you tell us a little bit more about the renovation work needed?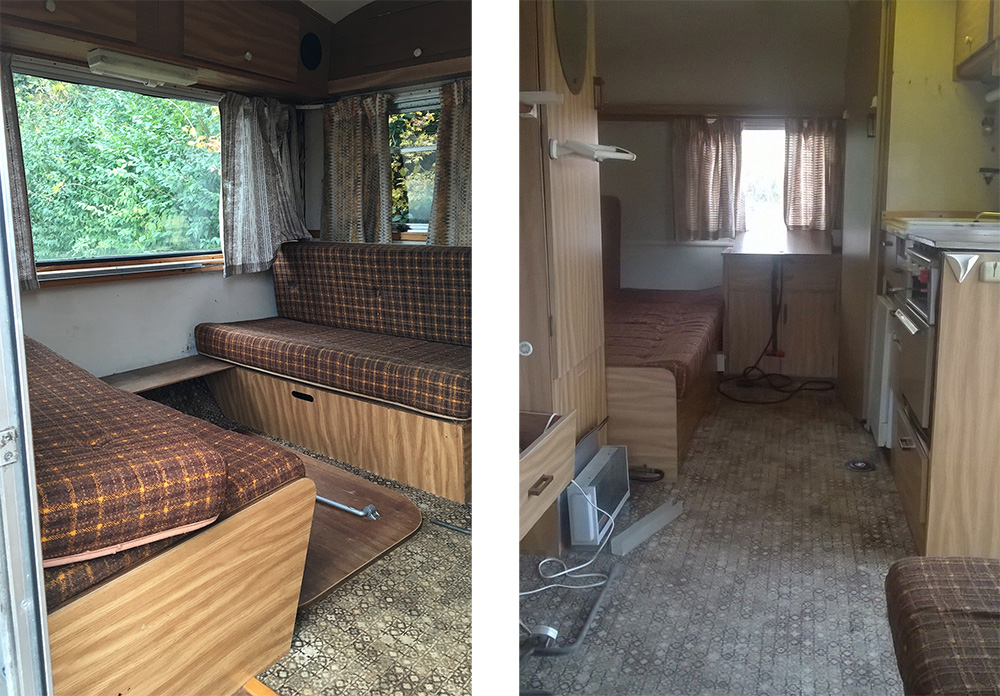 I  won her in an auction on eBay for £250 so I wasn't expecting much, it was her shape I was drawn to.  I wanted a retro van from the 70's, she is a 1974 Abbey.  Despite having clearly been disused and probably sat in a field for quite a while she was in pretty good shape. There was a little damp in one area which we had to strip out and replace, but apart from that it was mainly redesigning, refitting and decoration rather than hard core body repairs. Once stripped and relined where necessary, we added a shower and loo, compact but effective and far nicer than the grim little porta potty in a cupboard which was there to begin with. Next to this we added a small vanity area with sink, where the old kitchen used to be. We had a fixed double bed fitted in next to this as we didn't want the hassle of having to keep making up a bed. We moved the window from the back to the side to make the back to the bed more comfortable and fitted a brand new kitchen, with oven, fridge, hob and added flaps to cover the hob and an additional flap for extra preparation space. We left the bench seats as they were as there was nothing wrong with them and I had new cushions made and covered the old original table
How long did the renovation + design work take?
She was stripped out just before Christmas and we completed her by the end of April, so 4 months, if only a whole house renovation was so quick!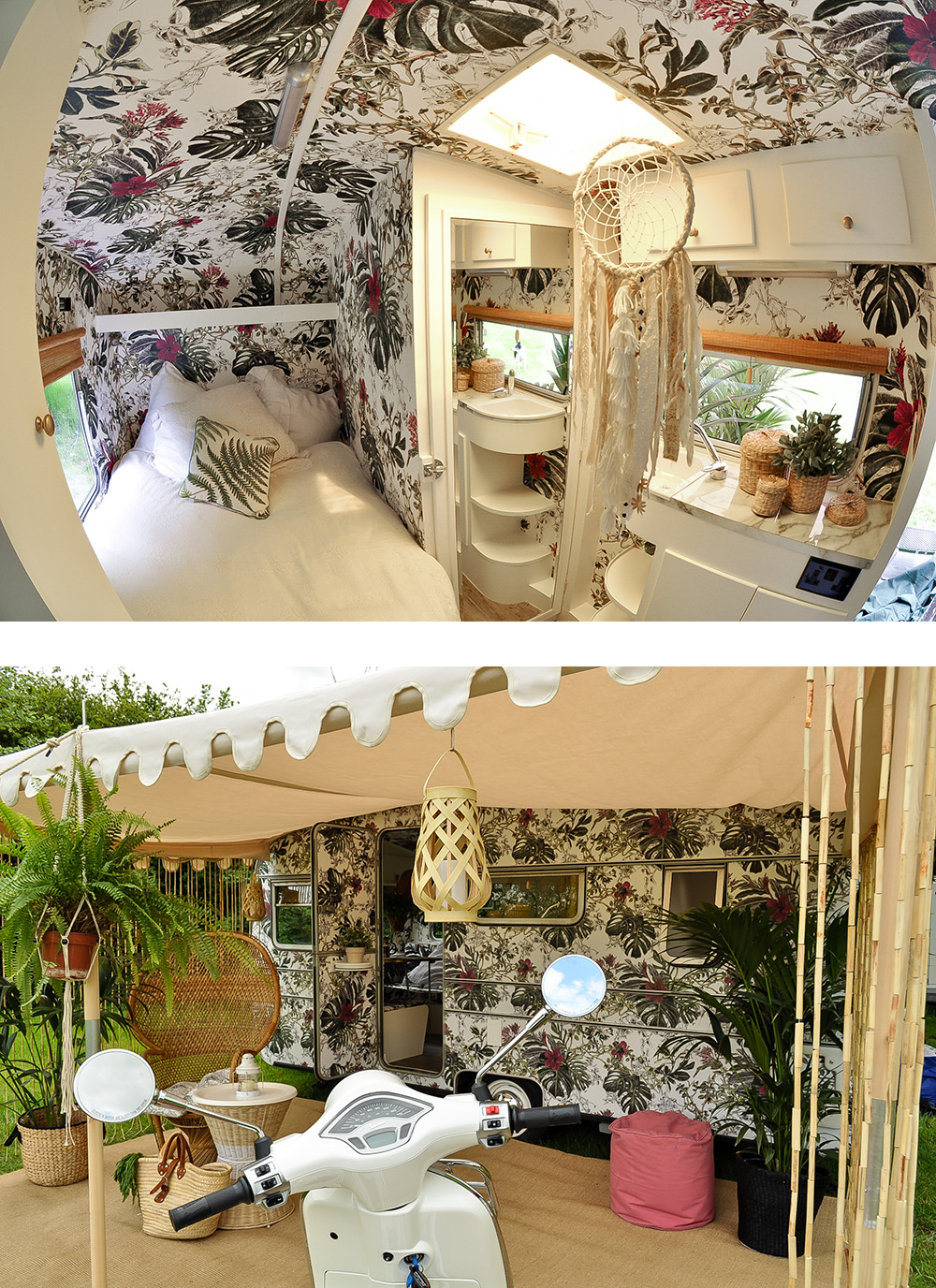 Were there any challenges you faced along the way?
All renovations present challenges but that's really the fun for me, it's finding solutions and going the extra mile to get exactly what is in your head, that's what makes it so rewarding. Often the dream doesn't correspond with what is actually obtainable off the shelf. For example, I had originally shortlisted a House of Hackney palm print wallpaper and the Sian Zeng and had decided to go with the House of Hackney because they also did a fabric for the upholstery in the same print, but due to copyright  issues they weren't happy to let me get the vinyl wrap for the exterior printed in the same design which was essential to my overall concept. So I had to opt for the alternative, Sian Zeng and I am so glad I went for this design now as I think it works even better that the palm design would have done. However Sian only does wallpaper in this design so I had  to get some linen fabric especially printed, to achieve this
I also wanted to have an aged brass table top but the weight of this would have been far too heavy, another consideration when renovating caravans, but I was so happy with the Formica effect Carrara marble (again the real stuff or stone was too heavy), I had the original table overlaid with a hammered brass Formica. It also wasn't so easy finding the right company to work on the vinyl wrap and we ended up taking her all the way down to the south coast, and getting a good paint finish on 70's mock walnut laminate is also not much fun! Apart from that, fitting all the home comforts you desire into a tiny space presents a big challenge, I will never again complain about designing small rooms!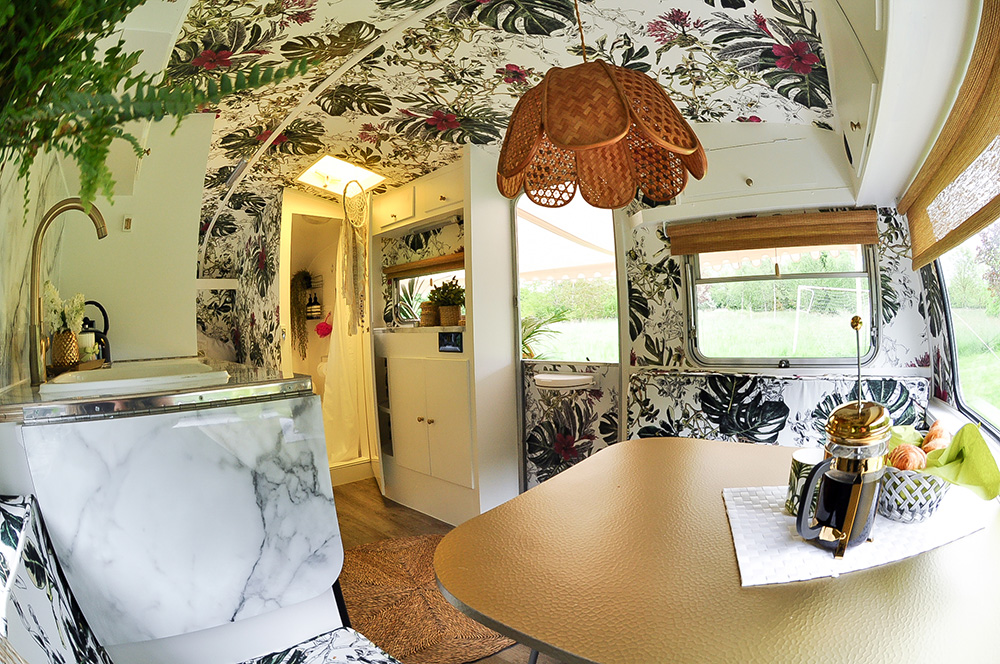 Would you do anything differently now that Brigitte is finished?
I would change absolutely nothing about her she is perfect as she is, but I would love to do another, I already have a concept planned!
Well, I think it's safe to say, if you weren't into the idea of caravanning before, you certainly will be now!  Even Amelia (who prefixes any search on Google for holidays with 'Luxury') is very taken with this idea.  Jane actually offers caravan design and refurbishment services, so if you fancy having a go yourself, but you'd love some design help, or you'd rather someone else just do the lot and you get to enjoy the holidays at the end, then do get in touch with Jane via her website.  You can re-track the whole process of Brigitte's makeover via Jane's blog, including video tour: Brigitte Caravan Tour.
So tell me, which is your favourite bit?  For me, it's the wrap – the interior décor is divine, but that pattern, on the OUTSIDE of a caravan?! C'est formidable!
Hollie x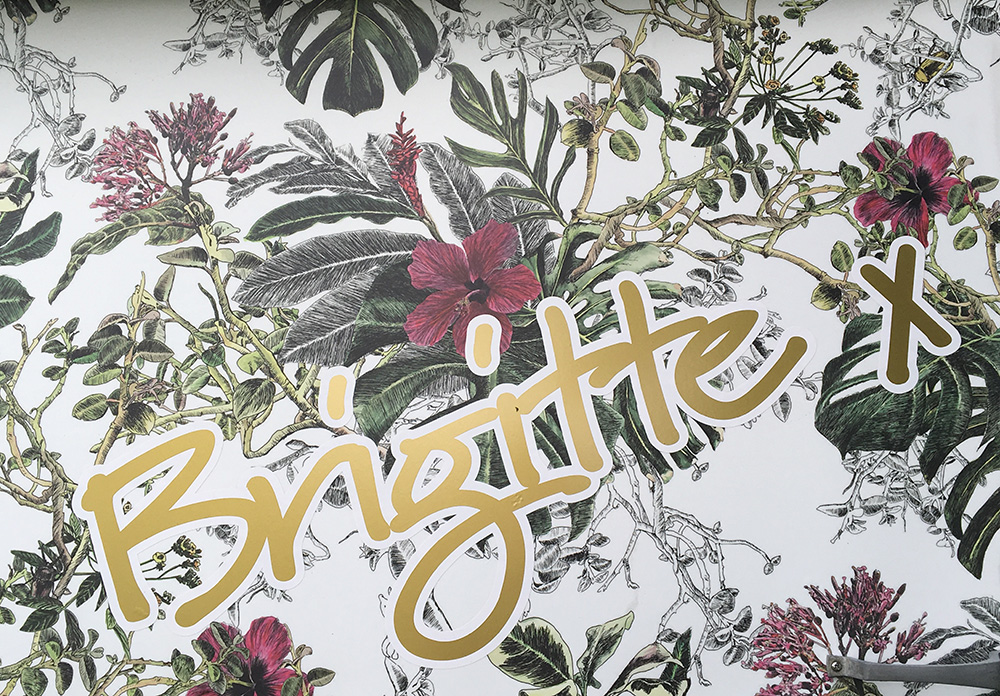 Never miss a post: follow us on Bloglovin'!
Image Credit: Jane Ashton
4 replies to "You Will Never Believe this Caravan Transformation!"
Leave a comment
Your comments make us happy!
Blog Etiquette
Please note that all content, including text and images are copyright of Audenza, unless otherwise stated.

If you would like to use content from our site, then we're very flattered to hear that, but please note its origins on your site or blog, provide a link back to us and kindly let us know where you have used our content.

Thanks!