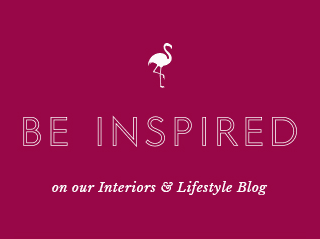 How to Choose the Right Chair for your Room
5 Oct 2017
So you're looking to buy a new armchair, but wondering how to choose the right chair for your room? It's a daunting prospect for many, more so than the sofa actually. You know the sofa is going to dominate the room and going to be the costliest item, but the right chairs are the finishing touch. Gone are the days of a matching three-piece suite – oh so simple were those days. And, of course, not just the sitting room benefits from a chair, the hallway, the bedroom, the home office, all spaces where a chair makes a feature with colour and texture.
1. How are you using the chair?
The biggest consideration should be what do you want from a chair? To curl up and read or watch TV, upright and firm for back support, an occasional chair for family gatherings, or are you looking for that statement piece to give your décor wow factor? Is it going to be well used, or as a style statement for show, as in a hallway or bedroom?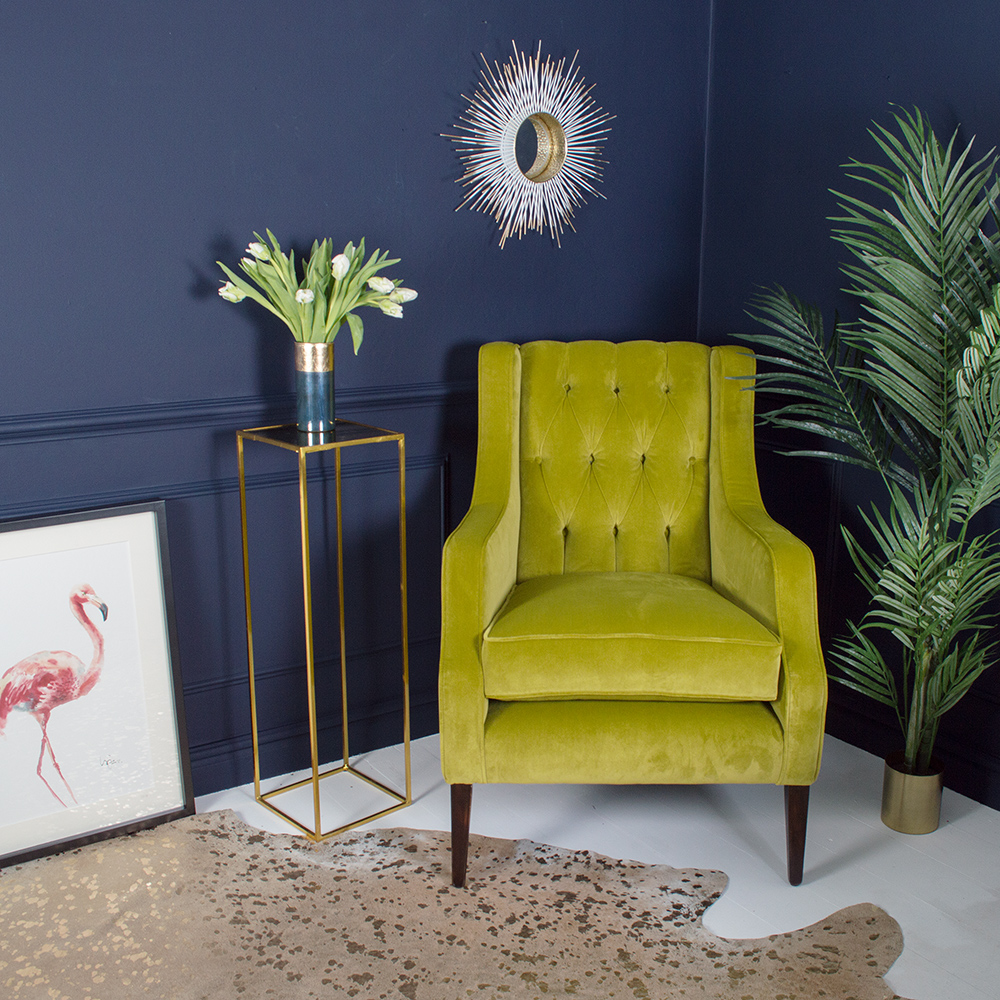 The Sumptuous Winged Back Armchair is the perfect chair for relaxing with a good book. Great back support and a comforting feeling of being enveloped and cosseted.
2. What's Your Style?
Once you've decided on that the next consideration is style. Do you lean towards art deco, mid-century modern, traditional, or do you want something modern and funky? Do you want it to blend in with your décor, or is it a stand out piece to give focus to a room? It's easy to play safe but maybe you need to be more daring and create some drama and charisma. Far easier with a chair which can be recovered in time much more cheaply than the sofa.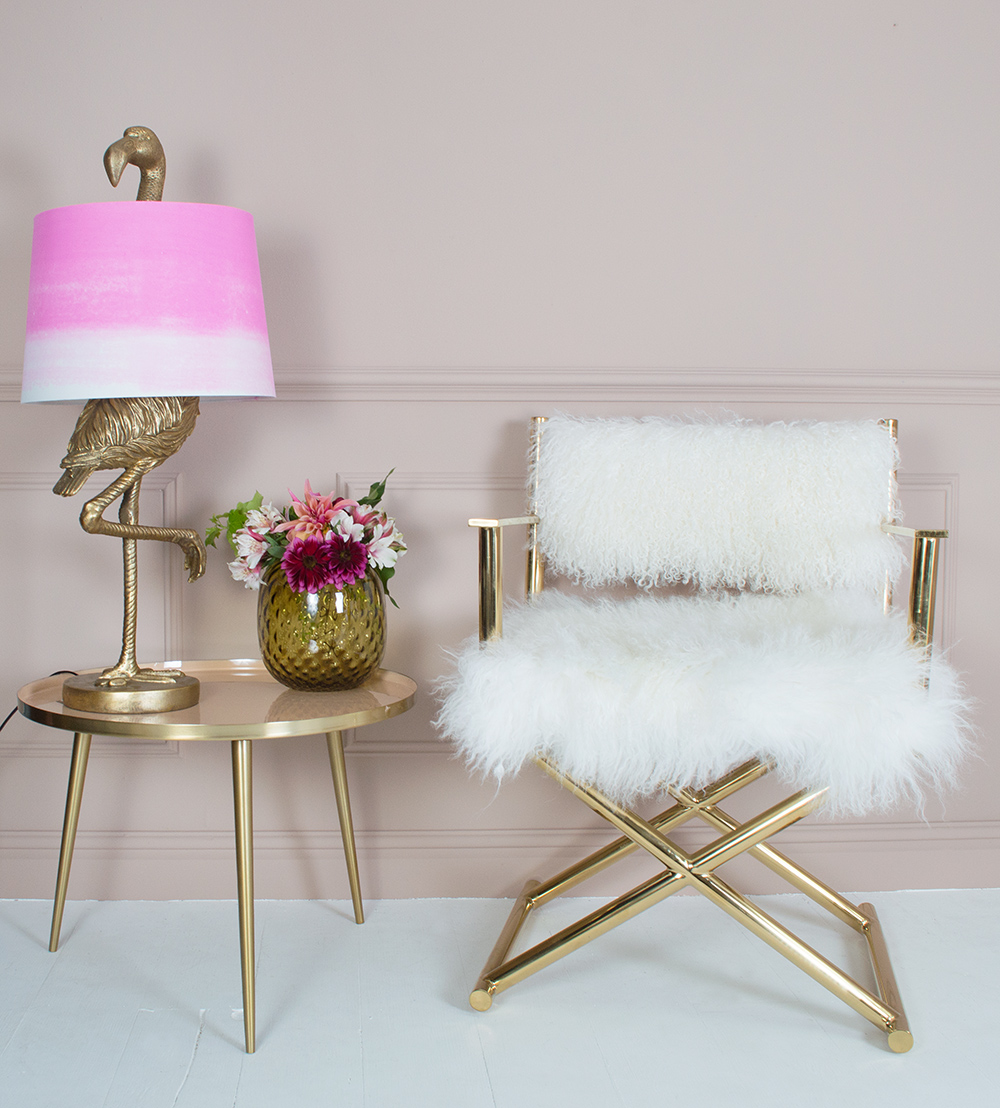 This Mongolian Fur Chair is the one for wow factor! Shiny gold with white fur for a seriously sexy stand-alone piece – but not one for curling up with a good book, obviously.
3. Consider Size Carefully!
Size is a very important factor and can be very deceiving. I would strongly urge you to mark out the measurements of the chair with string on the floor where you want the chair to be. This will give you an idea if it fits with the dimensions of your space.  Also, the height is one of the things people often overlook, but it's very important.  You don't want all of the pieces of furniture to be at the same level or the room looks bland and boring.  A variety of heights is what creates visual interest.
Another thing to bear in mind is chairs with space underneath and spindly legs create a feeling of space and lightness in a room.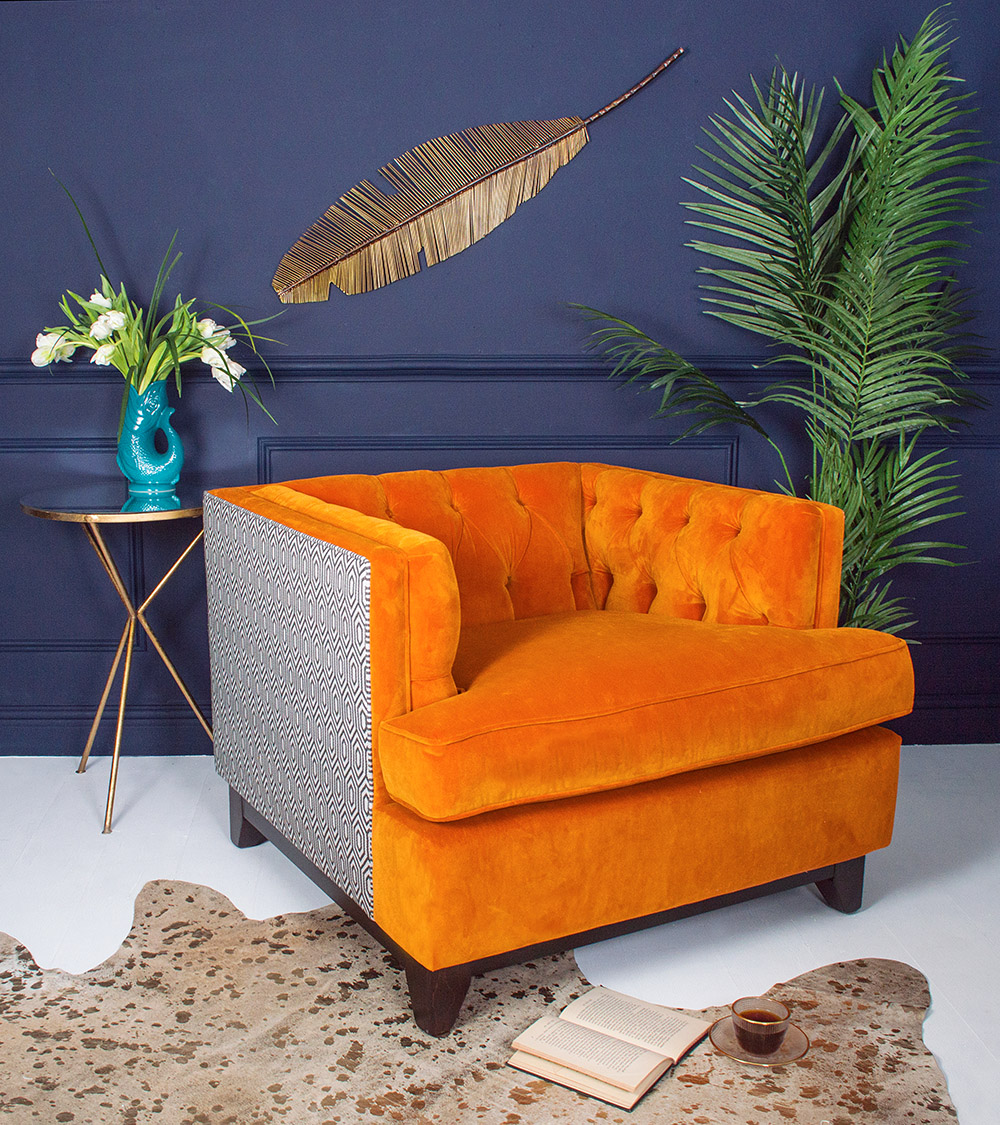 The Sumptuous Deep Button Velvet Armchair is a fabulous chair for curling up in front of the telly, but its a large chair that sits close to the floor so not one for a small space. On the plus side it's a real statement chair that draws the eye, with the added bonus of great comfort factor.
4. Fabric Type – Practical or Adventurous?
The serviceability of the fabric is a big consideration. Children and dogs can wreak havoc on upholstery, so maybe in heavy wear areas it's worth considering washable loose covers, or at least fabric that can be sponged, if necessary. But the most exciting aspect of the fabric is colour, texture, pattern – the world is your oyster so go for it. Velvet is the go to fabric of choice at the moment and who wouldn't fall in love with the texture and lushness of velvet? So many delicious colours to choose from that can really give your room that jewel like quality. Or pick out a colour from your room scheme and look for a patterned fabric that incorporates that colour (and patterned fabrics are more forgiving of marks). Fur is a fabulously textured fabric that's very luxurious but more for an occasional chair or for show.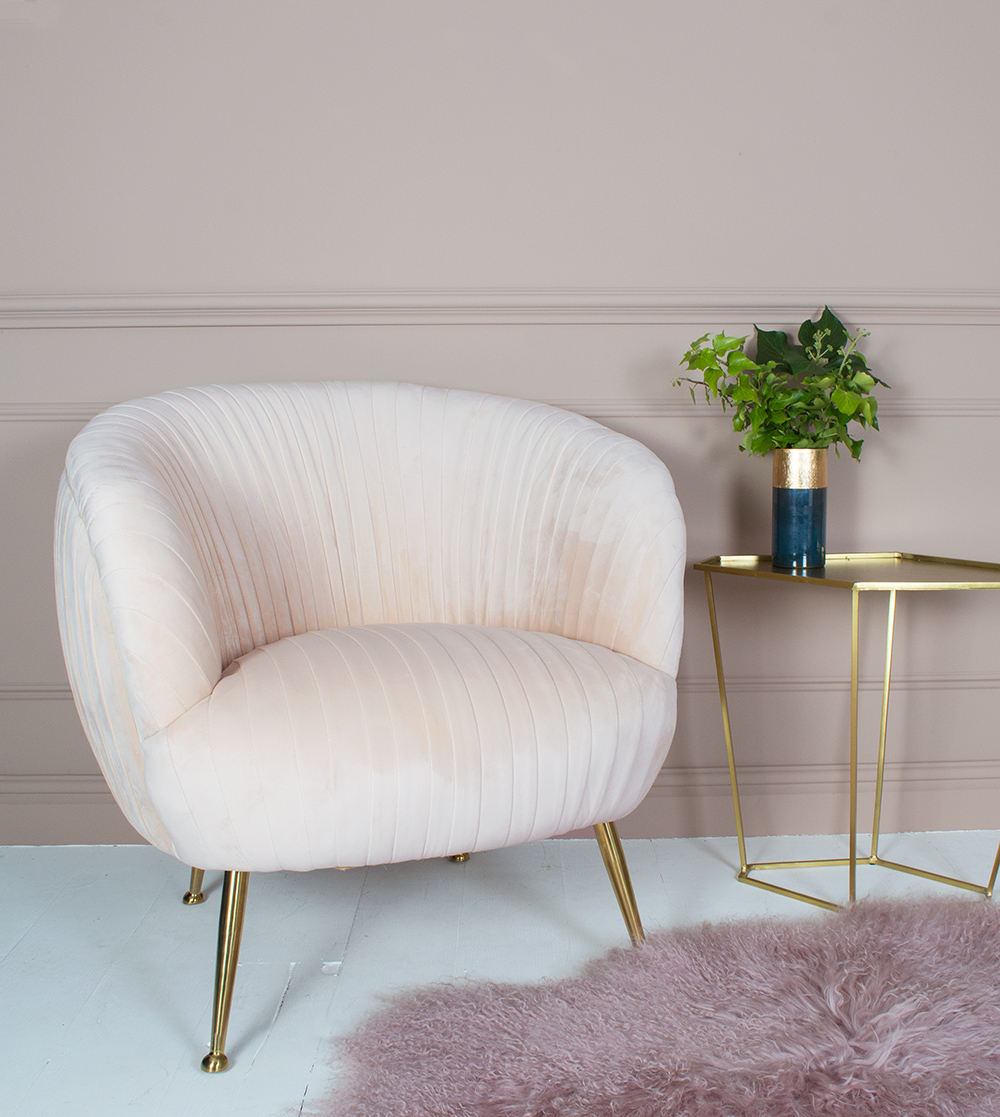 Serious Hollywood glamour here with the Marilyn Velvet Armchair but not one for the kids or the dog. If you are afflicted with either of these pesky things then drape a throw over until they've gone to bed!
Well that's all the sensible stuff to bear in mind but if you fall in love what can you do but accommodate that love? And who knows it might take you down a different path, décor wise, which is always exciting.
Any tips of you're own to add about how to choose the right chair for your room?
Jacqui x
Never miss a post: follow us on Bloglovin'!
Photography: Amelia Brooks/ Styling: Jacqui & Amelia Brooks
2 replies to "How to Choose the Right Chair for your Room"
Leave a comment
Your comments make us happy!
Blog Etiquette
Please note that all content, including text and images are copyright of Audenza, unless otherwise stated.

If you would like to use content from our site, then we're very flattered to hear that, but please note its origins on your site or blog, provide a link back to us and kindly let us know where you have used our content.

Thanks!