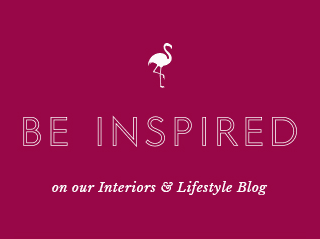 Fabulous & Fearless Women: Jaz O'Hara, The Worldwide Tribe
1 Jun 2018
Our next Fabulous & Fearless Woman is one truly incredible lady! We're delighted to introduce you to Jaz O'Hara, founder of The Worldwide Tribe. Back in 2015, Jaz had a 'normal' job working in the fashion industry for an ethical underwear brand. She'd always been interested in helping others, and during this time the refugee camp in Calais, known as 'The Jungle' had just started to appear in the news. Captivated by the devastating events, Jaz had so many questions about the people living in the camp, which the media had no answers for. It was these unanswered questions that motivated her to visit 'The Jungle' to find out the for truth herself, a life changing trip that would spark the idea for The Worldwide Tribe.
Since its humble beginnings, the organisation has become something bigger than Jaz had ever imagined, its first initial JustGiving page was the biggest crowdfunding campaign ever yet, she's successfully fought for a bill to be passed in parliament and given a TedTalk. Today, she shares with us her remarkable story…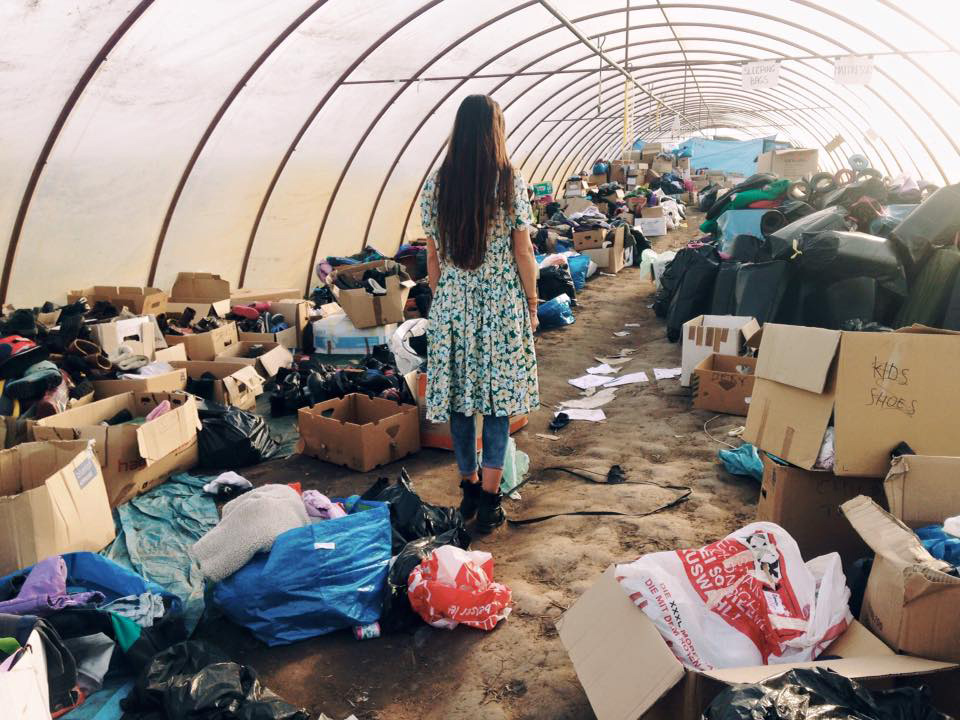 When you first decided to go to 'The Jungle' in Calais, mainstream media was scaremongering about the refugee crisis.  It was a really brave decision to go, given the picture the media had painted.  What made you decide to go?
The reason why I went was because my mum and dad were going through the process of taking on another child. There were four of us already, four biological brothers and sisters. It was a long and vigorous process, with lots of interviews and they had to go and be accepted, as long-term foster parents, and they were. (You can't adopt a refugee who has family already or doesn't have asylum in the UK so there's long term fostering instead.) They were willing to take on an older child who was male or was foreign. Many people don't want these things, they want younger children, they want girls and they want local children. So, it looked very likely that my new brother or sister would be coming via the Calais jungle, they would be a refugee because there were many unaccompanied minors coming across from Calais to Kent where my mum and dad lived at that time.
The mainstream media was using words like,'swarms of migrants' and 'marauding migrants' to describe the people that were living in the Calais jungle and they weren't answering the questions about where my new brother or sister might have come from or what life in the camp was like or why they fled their country, what had happened to them and what the journey had been like. I had a lot of questions that I really wanted to answer, so I went to try and find the answers myself.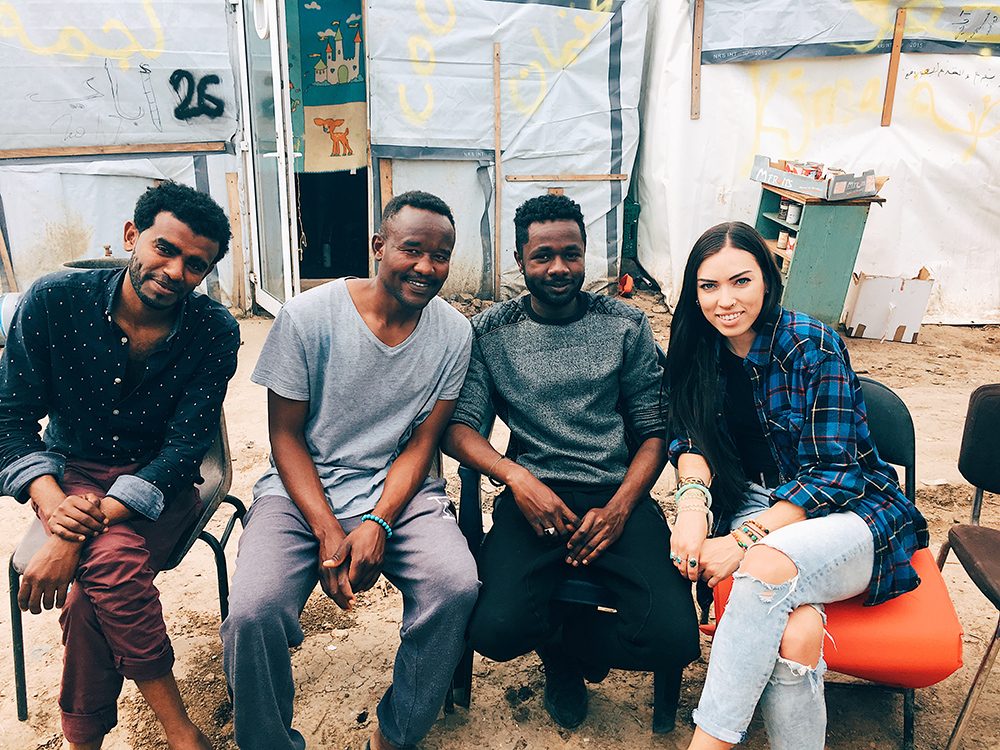 What was your first experience like of entering a refugee camp and how did it make you feel?
The first experience of going into the camp was absolutely life changing. It wasn't because of the conditions that I was so shocked, it wasn't because of the thousands of people living in tents in the mud, or the fact that there were no NGOS, no big NGOs on the ground at the time at all. That wasn't what shocked me the most, it was the fact that the reality of the situation was so drastically different from the media's perception. People were kind, welcoming and open and they wanted to share their stories, cups of tea and food. We had an incredible day and met amazing people. It made me feel very emotional that these people were so wrongly misrepresented by the media. People were telling me that they were risking their lives on a daily basis, trying to make it to the UK to cross the border, hiding in trains or hiding in the back of lorries. The fact that we were so easily able to cross the channel in the comfort of our car when people were risking their lives every night to do the exact same thing, made me very emotional.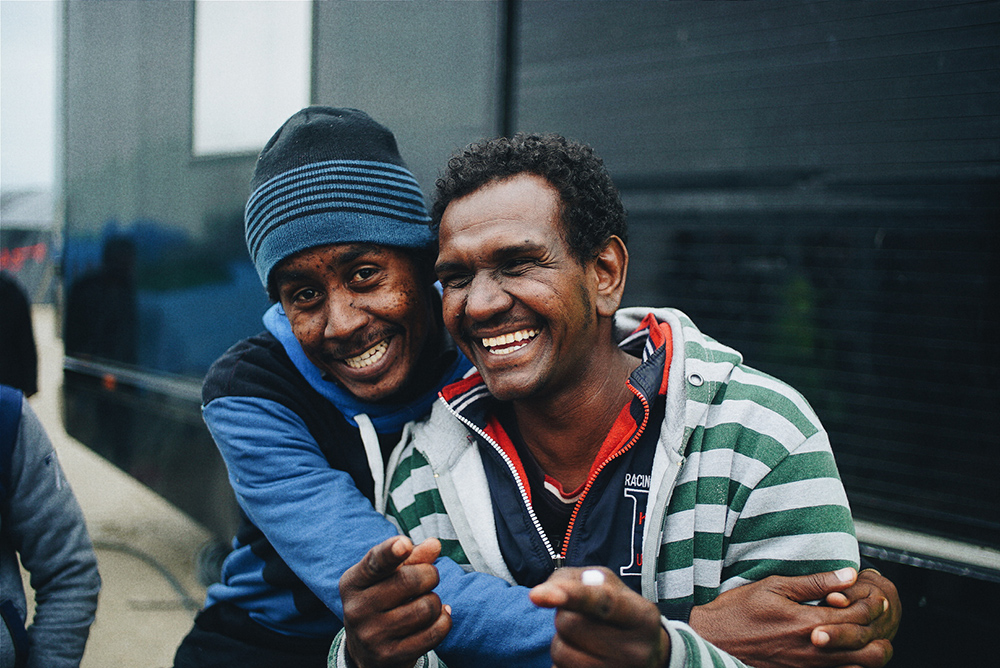 Can you share a story from someone you've met along the way, which particularly stuck with you?
One of the things that sticks with me and is the most shocking for me is a collection of stories from many Afghans that I've met. In Calais, I was meeting a lot of Afghans that were really good at English and I would ask them, 'how come you speak such good English?' And they would say, 'I worked with the British and American armies, I was a translator for them for years in the Helmand province.' I was quite shocked to hear that when the British and American armies left, they were then persecuted by the Taliban for being allies of the British and Americans so they fled to Britain, to us, hoping to seek asylum based on the fact that they had been working alongside our soldiers. Some of them had been doctors and nurses for our soldiers but they were denied asylum and not recognised by the British and that was very shocking for me on a political level.
One story that sticks with me naturally, is the story of my Eritrean brother, Mez. He fled Eritrea when he was 13 due to compulsory military service. He went with two friends to Sudan where they waited in the refugee camp until they had enough money to pay a smuggler to cross into Libya. They crossed the Sahara Desert, they didn't eat for more than 2 weeks and one of Mez's friends died and he carried on from Libya alone. From Libya he crossed the Mediterranean sea to Italy in an unsafe boat. His boat capsized and he couldn't swim. Mez had never seen the sea prior to that crossing so he thought he was going to drown, fortunately, he was saved by the Italian coast guard, pulled out of the water, given some food and treated for some skin conditions in Italy and then left to his own devices. He crossed Europe on foot until he made it to the Calais jungle. Sometimes he bunked trains because he didn't have any money, or he would hide in the toilets of the trains. From Calais, he hid underneath the Eurotunnel train to make it to the UK. On the very same day he came to my family and has been my little brother since. Rash (my other foster-brother) has an equally crazy story but Mez was my first brother and the first of the two to come to myself and tell his story. He's always been my inspiration since the very beginning of doing this work. If I ever think I can't do this anymore or it's too hard, I just think about him and think if he can do that, I can do this.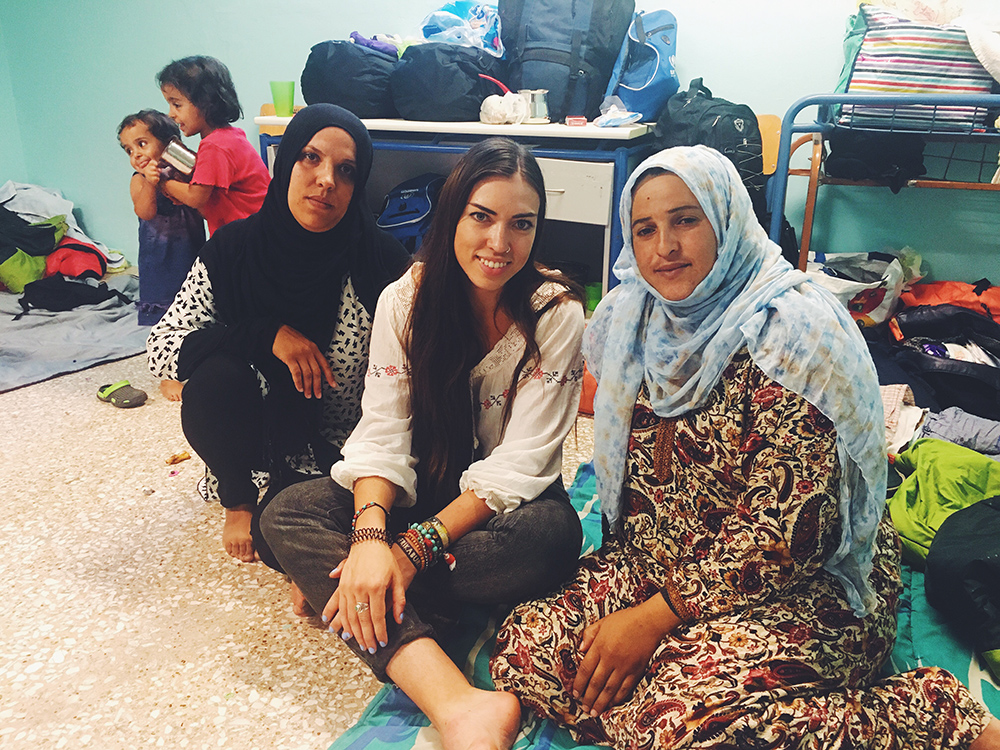 How do you switch off from the things you've heard and seen in the camps?
 It's very difficult, once you hear these stories of such extreme trauma first hand. I would say that I don't, I think about and talk about and work in this space 24/7. It's constantly filling my mind and once you do hear and see these things, you can never unsee and unhear them so once you know… Yeah it's tricky to let that go. There are lots of things that sometimes I wish, 'god I wish I didn't know that' because once you do, you feel compelled to do something about it, this is my life's path now, so it's tricky to switch off. Although, I have learnt over the years to have a bit more balance because if you're not 100% yourself or looking after yourself, how can you be expected to help others?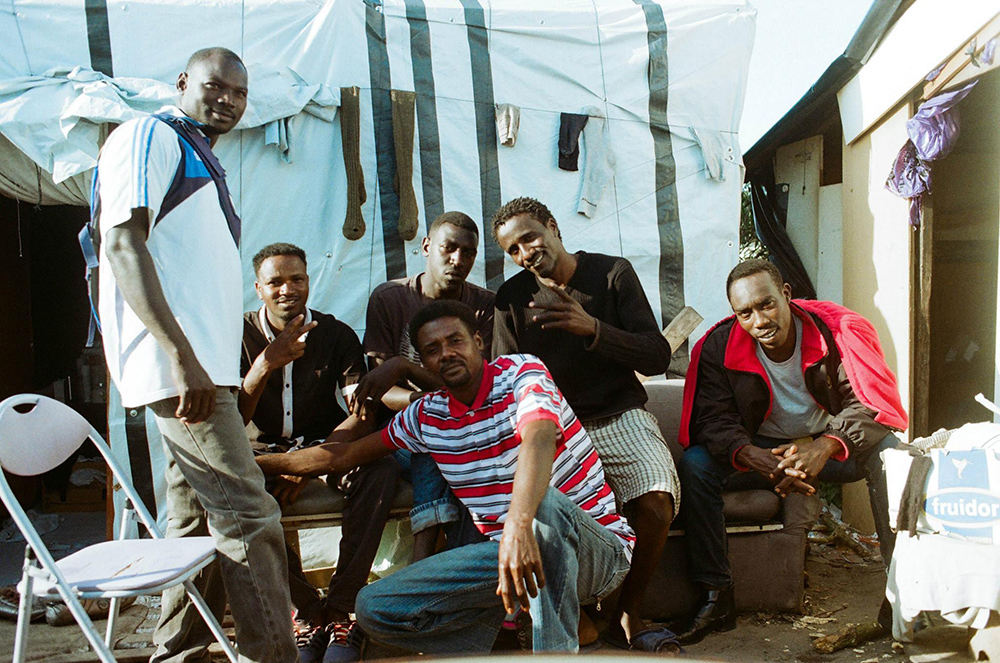 How has The Worldwide Tribe developed?
It's developed a lot since it began, because of the things that were constantly changing around us. When we first started working in the Calais jungle, we were the only British grassroots group working there, so we had a lot of responsibility to make sure that people were getting basic things like food and clothing etc.  But then more organisations started to form and work in the camp, and cover certain things really well, so we were constantly evolving to see where we fitted into this space. I think the best space for us has been telling stories and raising awareness through a very raw, authentic voice. That has become our niche. Also, our project Jungala wifi has developed into an organisation of its own.100 of these wifi boxes will be going out into refugee camps across Europe and the Middle East throughout 2018. Never did I think I would be working full time in the humanitarian sector when I was working in fashion and never did I think that I would be running a tech startup. We have gone from a small team working in the Calais Jungle to working in France, Greece, Turkey and Jordan, so it's been constantly developing and we're very malleable. That's the great thing about being small and grassroots, we can change and develop and make decisions based on the need of each individual place and camp.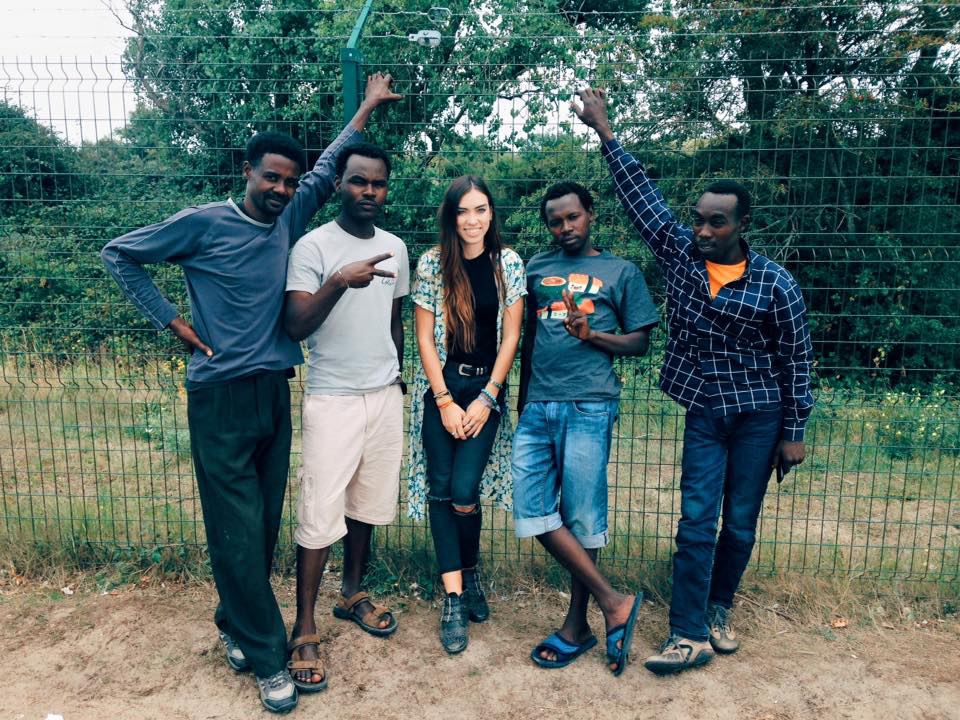 What are your hopes for the future of The Worldwide Tribe?
I have a very clear vision of an international community, a growing, online, international community of people who care about each other and the world and the people that we share this world with. I really hope for a global community of people who care and feel empowered to take action for someone else and for it to be ingrained into everyone's mentality, culture and day to day life. For people to have a real understanding and compassion and openness towards one another and lead with love instead of fear.
For us, you are the true embodiment of our Fabulous & Fearless Women column.   But in your eyes, what do you think makes a woman Fabulous & Fearless?
 I think just following what you believe in, sticking your head above the parapet and really speaking your truth is scary, and that makes you fabulous and fearless, because it's very important to stand up for what you believe. To stand up for one another and do something for others, identify what you're passionate about, what your interests are and where your curiosities lie and make sure to follow them and take action. I think a lot of people think things and talk about things, but actually doing them, actually taking the steps to do the things you want to do, that makes you feel fabulous and fearless.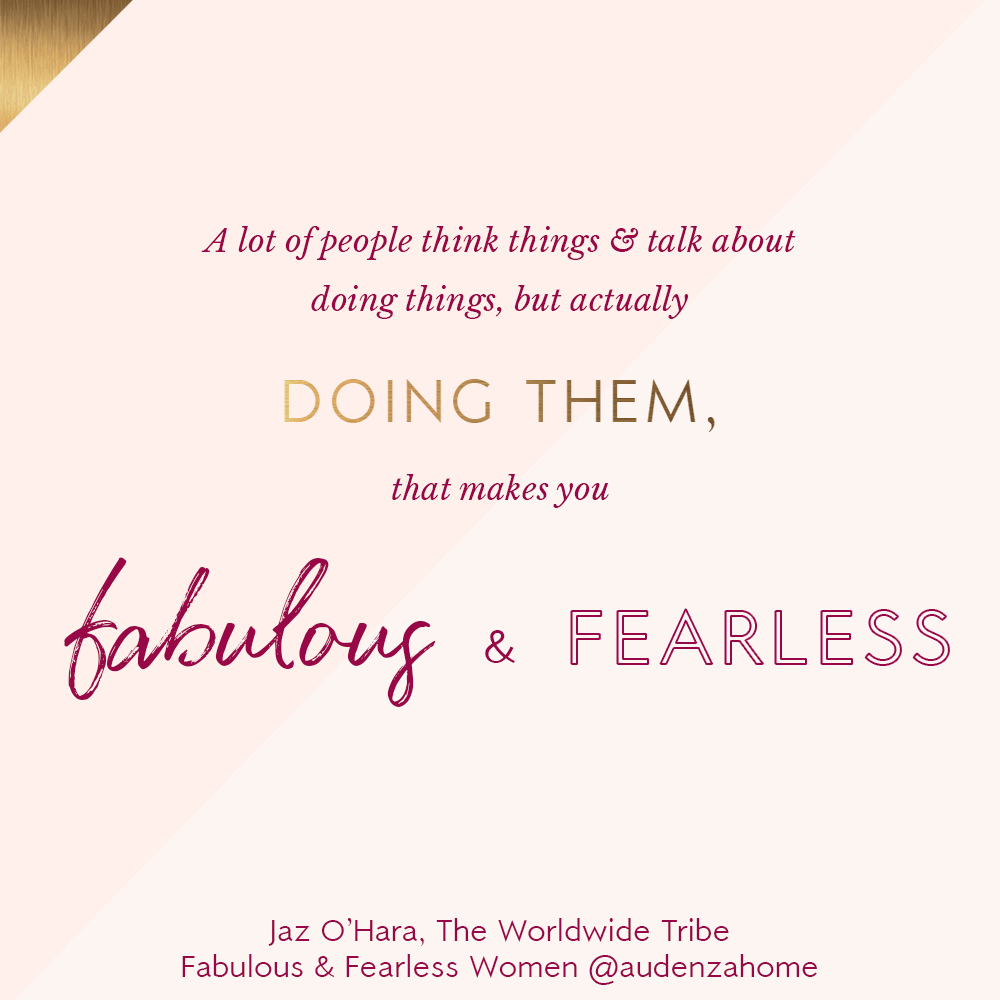 How can people get involved with your work?
 People can get involved with our work by going to our website which is The Worldwide Tribe or alternatively, connect with us on Facebook or on Instagram. Come and join the tribe – we share daily updates of life in a refugee camp.
A truly captivating and incredible story, wouldn't you agree? Thank-you so much to Jaz for sharing your truly amazing and courageous journey.
Leave a comment
Your comments make us happy!
Blog Etiquette
Please note that all content, including text and images are copyright of Audenza, unless otherwise stated.

If you would like to use content from our site, then we're very flattered to hear that, but please note its origins on your site or blog, provide a link back to us and kindly let us know where you have used our content.

Thanks!