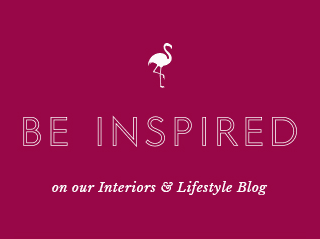 Gift Wrapping Ideas by Jane Means
31 Oct 2014
A lovely new book plopped through the letter box the other day, Jane Means' new book, 'Giftwrapped'. Hollie met Jane at a blogging event a while ago and was impressed with the gift wrapping ideas on Jane's blog. The publishers, Jacqui Small got in touch and asked if we'd like to review the book and offer a discount code to our readers. Now, Hollie may love the ideas but there is no way she would put any of them into practice (she has the patience of a gnat and her cutting and sticking skills leave a little to be desired) so passed the book onto me as my chief role in life seems to be to act as Hollie's PA. Though of course, I was only too happy to delve into this book.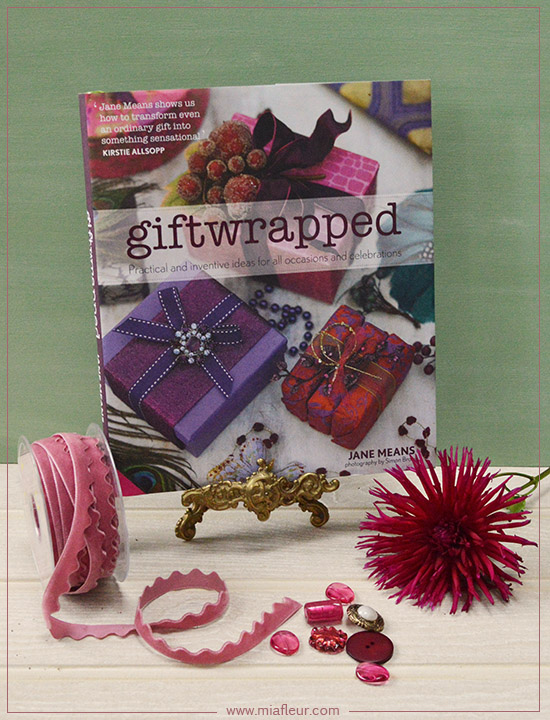 The instructions for gift wrapping are clear and show you not only how to wrap awkward gifts but how to make a neat job of it so no more sellotape on view! I was particularly impressed with the instructions for gift bags and gift envelopes – so simple but not something I had thought of making before.   It's also a very inspiring book if you want to get creative and certainly makes you think about the presentation of gifts more and if, like me, you have boxes and tins full of ribbons, beads, feathers and other such fripperies it is a guilt relieving way to use them up, and bring joy to the recipient.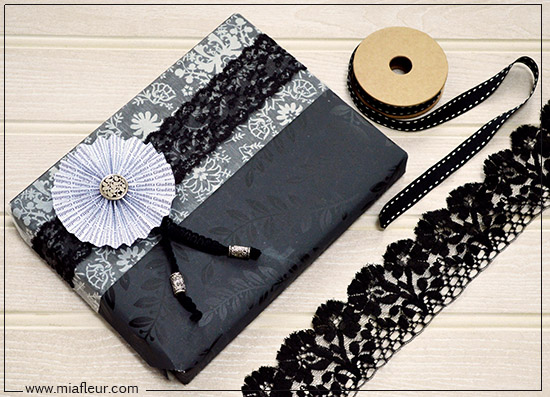 This black gift wrapping is an oddment of wallpaper and it's so easy to add a bit of lace and ribbon on top to make it prettier (not something I had thought of doing) and the icing on the cake has to be the flower made from pleated paper that has been printed with the person's name –what a good idea – and I am sure my eldest boy's lovely girlfriend is going to be suitably impressed with this beautifully wrapped gift with her name printed on the flower.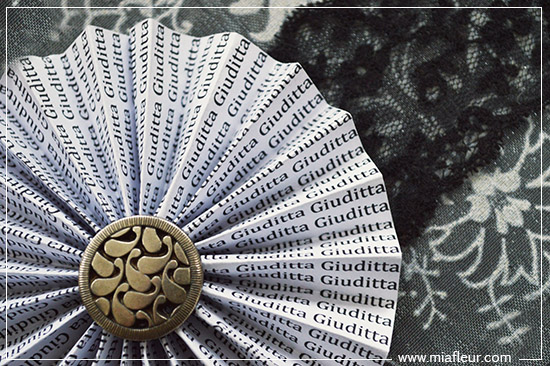 I really liked the idea of pleating the paper but I think I chose rather a busy paper so it's not so effective. Next time I will use a plain paper for the pleated wrapping as I think it's a really simple and effective way of wrapping that doesn't need to be embellished, making it perfect for a man. Of course I couldn't resist adding to mine with more frou-frou.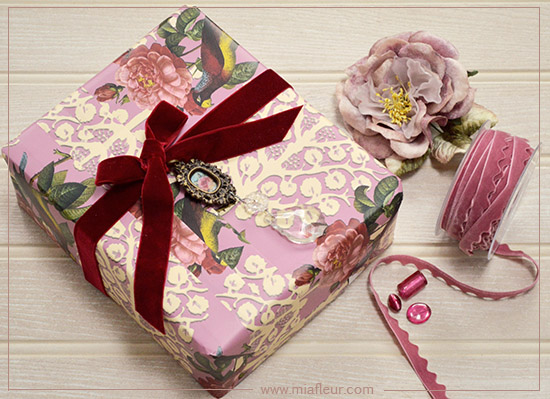 Round objects are so difficult and I usually end up with scrunched up paper that looks messy on both ends but Jane's tip of pleating the paper makes for a really neat package. I had fun making the feather rosette and then topped it off with a silk flower for a really lavish looking gift. Very chic.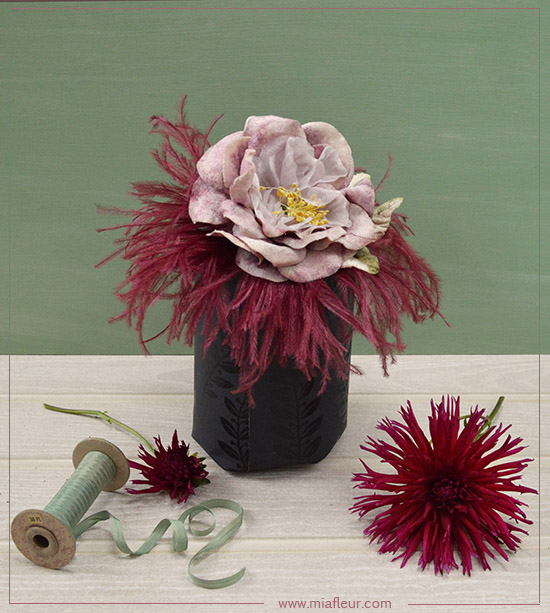 I loved the ideas in this book and would be thrilled to receive a present that had been so lovingly gift wrapped.   It's a wonderful way to play about with all the odds and ends I've collected and has inspired me to be more creative with my gift wrapping. The instructions are clear with plenty of photos showing how it's done. Definitely the way forward for birthday presents but with five children I don't think I will be wrapping Christmas presents like this – it's more a case of wrapping against the clock on Christmas Eve for me!
Not only is this a great book for your own gift wrapping, but it makes a lovely Christmas gift as well.
Giftwrapped officially launches on November 20th and retails for £20, but we have special discount code for you, which means that you can get the book for £16 which includes P&P to the UK. If you would like to purchase this book with discount, you can telephone 01903 828503 or email [email protected] and quote the offer code APG252.
Jacqui x
Photography: Amelia Brooks/ Styling: Amelia and Jacqui Brooks
Gift Wrapping Ideas by Jane Means by Jacqui Brooks
2 replies to "Gift Wrapping Ideas by Jane Means"
Leave a comment
Your comments make us happy!
Blog Etiquette
Please note that all content, including text and images are copyright of Audenza, unless otherwise stated.

If you would like to use content from our site, then we're very flattered to hear that, but please note its origins on your site or blog, provide a link back to us and kindly let us know where you have used our content.

Thanks!