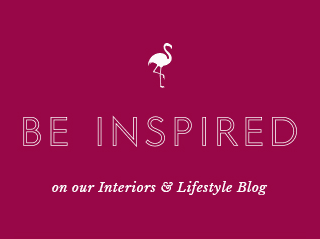 5 Ways to do Gold Décor Without Being Brassy or Boring
25 Oct 2017
I've always loved gold décor – for its warmth, vibrancy and luxuriousness – but it's a tricky one to pull off.  The key to going gold and bold without being brassy or boring is texture and contrast!  The interiors world is awash with gold home accessories and furniture this year, and rightly so, to my mind.  It never goes out of fashion, it's just subtle changes that create a new vibe which move onto all out gold luxe.  The luxe look is a backlash to the world's problems whereby we all want to create that haven of peace and serenity in our homes and nestle down.  So, think gold, texture, pattern and colour, all mixed up for warmth and richness but, above all, be playful.
1.  Drama! Create drama with full-on gold luxe vibe in a dramatic with a statement piece as in a palm tree floor lamp.  I love it when traditional interior accessories get jazzed up and they don't get more jazzed up than a standard lamp in the shape of a gold palm tree, do they?  Dramatic pieces need dramatic contrast to bring out the richness.  Hang a feather Juju hat on the wall for the perfect complement.
2.  Wild! Go wild and embrace your inner sassiness with a wise monkey statue. With his size and commanding presence, he makes a statement piece that can be played lots of ways. Keep him calm and regal on a plinth for a touch of gold, or surround him with greenery (faux or real) for wild jungle moves.
3.  Luxe! The Mongolian Fur Chair is a new take on a director's chair with chutzpah. The juxtaposition of a super shiny gold frame and white Mongolian fur brings it into the realm of super luxe. The epitome of new gold for a new season that's fun, playful and shouts look at me. Keep the lightness of touch by adding small accessories in a super shiny finish that are modern and cool. Luxury fabrics like velvet and fur are a great contrast for the luxe look.
4.  Subtle! What's a subtle way, you might ask? Well, gold spindly legs on an armchair or coffee table instead of heavy wood, a gold mesh chair instead of wicker, gold cutlery instead of stainless steel – these are all ways to bring gold, and brass for that matter, into your home in a subtle understated way. Nothing brassy about any of that and think of the lovely contrast, whether you have dark or light walls it's going to look good. Again, layer up with textural elements to soften the look and add warmth. Accessories are a great way to add subtle touches of gold to your interior. The 'rock on' hand is trendy and fun for a discreet touch of gold, but equally at home with full on bling.
5.  Quirky! The brass flamingo table lamp has it all – fun, quirky and definitely a scene stealer. Adds that touch of exotic gold even on a traditional wooden table, or accentuate the bling -partnered with a gold table and lots of gold accessories.
Are you going gold any time soon? Or maybe you're already there and just want to freshen it up and put some character into your décor, with a touch of opulence, and a touch of luxuriousness. If you're new to the gold vibe there are lots of ways to play it, from full on gold with dramatic shiny gold home accessories. Or you could go the subtle way for a simpler more pared back look, with delicate gold legged furniture and discreet gold accessories The choice is endless with lighting, vases, and mirrors, gold splashed wallpaper and rugs, all juxtaposed with fabulous textural elements such as Mongolian fur, velvets, feathers, marble and wood for a richly layered home. Whichever way you play it though have fun and experiment, the age of opulence is here to stay.
Jacqui x
Never miss a post: follow us on Bloglovin'!
Photography: Amelia Brooks/ Styling: Jacqui & Amelia Brooks
Leave a comment
Your comments make us happy!
Blog Etiquette
Please note that all content, including text and images are copyright of Audenza, unless otherwise stated.

If you would like to use content from our site, then we're very flattered to hear that, but please note its origins on your site or blog, provide a link back to us and kindly let us know where you have used our content.

Thanks!