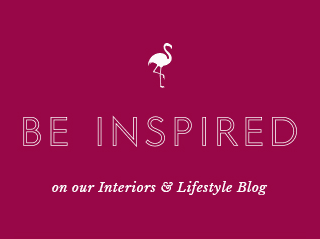 7 Tips for Styling a Shady Garden
11 Jul 2014
Most of us are good at planting in the sun, but shady corners are often neglected and this need not be the case as there are so many lovely foliage plants that need shade, and quite a few flowering ones.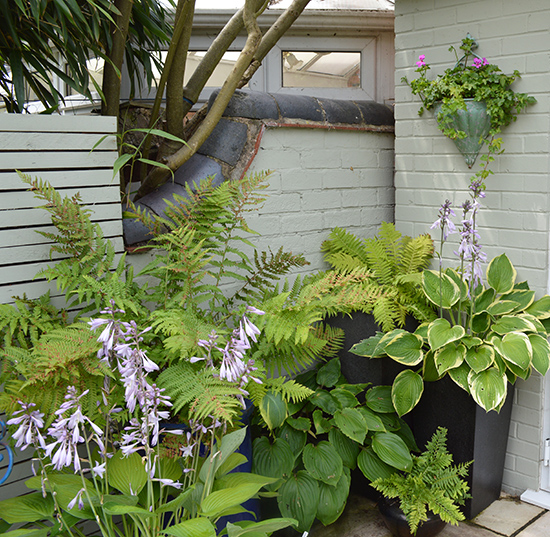 1. Pick the right foliage plants and you will have a lush, verdant space. Typically ferns, hostas and ivy love to be in shade. I've always loved hostas and they vary from 3ft monsters to dainty little miniatures and from white through lime green to dark and brooding. Ferns are delightful and again the range of colours and textures will have you spoilt for choice. Fibrex Nurseries are fern and ivy specialists and have a comprehensive selection.
2. Flowering plants that like shade are some begonias, fuschias and heucheras. I picked up these gorgeous orange begonias (below) as plug plants from B&Q and they are great for adding a splash of colour. Heucheras now come in a startling array of colours and textures – purple, striped, lime green, frilly, spotty and, as they them are evergreen, they give all year round interest. Plantagogo specialises in them and holds the national plant collection.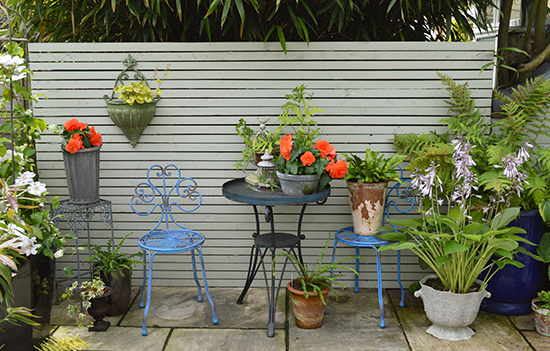 3. Vary the size of your pots so that your eye moves around the space – it's more interesting to look at objects of different heights. The large pots stay in situ and I move the smaller ones about as the plants outgrow their pots and to add splashes of colour in the different seasons.
4. Have a table and chair in your shady space so that you can enjoy a welcome respite from the sun. The table is a great way to create a vignette with garden accessories such as a lantern but also for smaller potted plants that would be lost on the ground. I've also used a chair as a display stand for a rather lovely fern (below).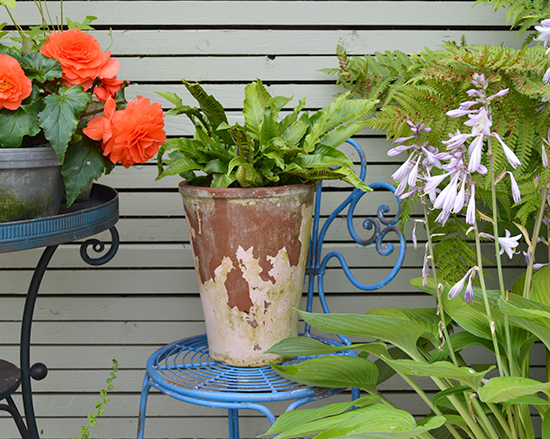 5. Use hanging wall planters and vary them seasonally. I've planted a heuchera in the metal wall planter which, being evergreen, will eventually cascade down the fence and create visual interest. The other metal wall planter (below) has ivy and a trailing pelargonium in for a dash of colour. I'm not sure how well the pelargonium will take to the shade but if not a trailing fuschia would look lovely in with the ivy.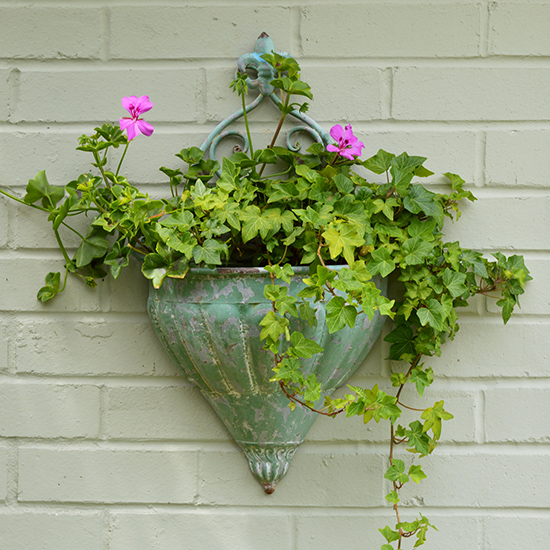 6. Change your display with the seasons. Some varieties of tulips like shade so pot a few up this autumn to get a spring display and when they are over fill up the pots with bedding for summer colour.
7. Use accessories to give a feeling of an outdoor room and to make the space personal. A stone bust peeping through a fern or a cheeky bird perched on the ivy. Have fun with it and treat it as you would an interior space.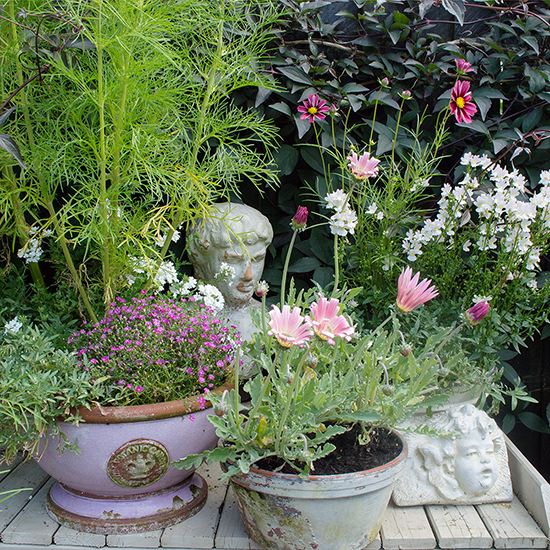 Jacqui x
Never miss a post: follow us on Bloglovin'!
Photography: Amelia Brooks/ Styling: Jacqui Brooks
4 replies to "7 Tips for Styling a Shady Garden"
Leave a comment
Your comments make us happy!
Blog Etiquette
Please note that all content, including text and images are copyright of Audenza, unless otherwise stated.

If you would like to use content from our site, then we're very flattered to hear that, but please note its origins on your site or blog, provide a link back to us and kindly let us know where you have used our content.

Thanks!